Today's Blogger Spotlight is Amy McCoy – author of this month's Cookbook of the Month – Poor Girl Gourmet, as well as the blog by the same name. I'm so excited to have Amy with us here today! I have been loving her cookbook (one more recipe and a review coming up on Friday) and I'm so happy to have it on my shelf. And I'm so happy to learn a little bit more about her!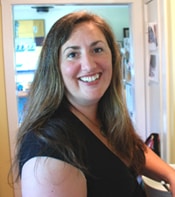 Amy McCoy is the author of Poor Girl Gourmet and the cookbook "Poor Girl Gourmet: Eat in Style on a Bare-Bones Budget" (Andrews McMeel, 2010).
Amy began Poor Girl Gourmet in October 2008 when work in her first career as a broadcast producer of graphics and promos for cable networks dried up, and she found herself with an increasingly diminished bank account. Not wanting to sacrifice her food standards, she set out to make high-quality food on a tiny budget and documented each meal. The blog led to the book, which features recipes serving at least four for $15 or less, a chapter of "splurges" – company-worthy entrees that serve four for $15-$30, a chapter on value wines, and a menu planner to help craft complete meals from the recipes in the book while staying on budget.
Amy is the chairperson of Slow Food Rhode Island. She and her husband, JR, live on a tiny gentleman's farm in Rehoboth, Massachusetts, where they keep bees for honey, raise hens for eggs, maintain a large vegetable and herb garden, and have recently started raising heritage chickens and turkeys for meat. They are committed to supporting local farmers and farm stands, and have found that shopping local and shopping on a budget are not mutually exclusive.
What inspired you to first start writing your blog?
I had always wanted to work in food, though I was pretty certain that being a chef wasn't for me. My grandmother had owned an Italian restaurant, and I knew that the hours were long.
I had been a freelancer producing graphics and promos for cable networks for 14 years, and had always taken continuing education classes on the side, ostensibly to help me figure out what I actually wanted to be when I grew up.
I had taken a food writing class in 2006, and the instructor had recommended that we students keep a blog. At the time, I was busy working and thought starting a blog sounded good, but I didn't have the time to put into it, being busy with work and all. At the end of 2008, when the economy soured, my freelance work dried up, and I had all the time in the world.
Of course, at the same time, my income disappeared, so I knew that my husband and I had to live on less until I was working again, and one of my biggest clients had told me that it would be 9 months to a year until she was able to hire outside contractors.
I started the blog to chronicle the meals that I was making – for as little money as possible – and to try to hone my writing skills in the hopes that I might be able to get an occasional writing gig while I wasn't producing.
Once I started blogging, I was totally enamored. It combined all of my main passions: writing, food, recipe development, and photography. What could be better?

What kinds of posts are your favorite to write? What do your readers seem to like the most?
It turns out that I really enjoy writing about keeping chickens. I'm not sure if I should read into this, but the chickens bring out the best in me. My readers seem to enjoy the chicken stories, too, though any funny stories seem to go over well, and, of course, posts on baked goods. Baked goods tend to get a thumbs up all around.
Do you plan a weekly menu? If so, what inspires your menu?
Weekly menus have always been part of our routine. Otherwise, I find it difficult to keep organized. We've always eaten seasonally, too, so menus are inspired by what's in season, as well as what the weather will be like that week. Cold weather equals soups, roasts, and stews, warm weather finds us eating salads or grilling out.
What is your favorite kind of food to make?
Italian food inspires me because it's so in tune with the seasons and has a sense of place based upon what's grown in one region versus another – inland, you'll find game dishes, on the coast, you'll find seafood. I try to use that philosophy in our meals so that they're full of fresh flavors from where we live.
What is your favorite recipe posted on your blog?
This changes from season to season, but right now, I'm all about fall produce, so it's a toss up between this beet soup, if I'm being somewhat healthy: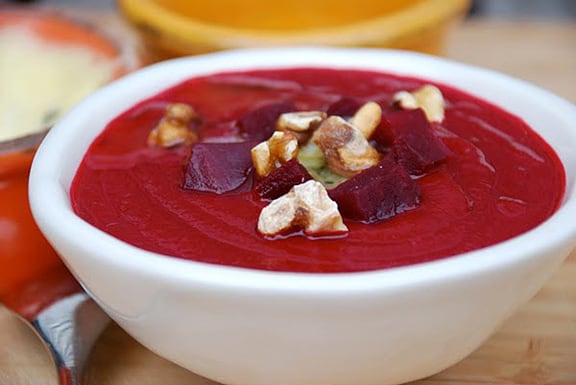 Honey-Thyme Beet Soup
Or these pumpkin scones – if I'm feeling the need for baked goods. Hey, at least there's a vegetable in there, right?: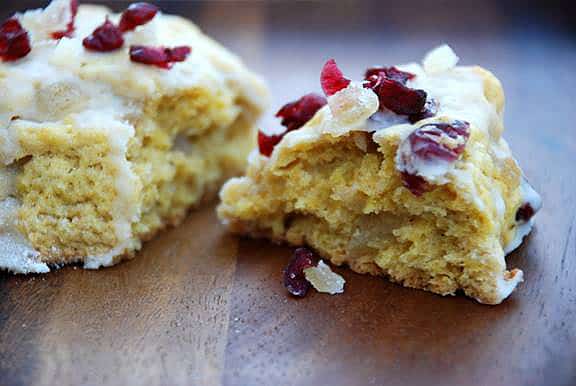 Pumpkin Scones with Ginger-Honey Glaze
Will you show us your kitchen? What is your favorite thing about your kitchen?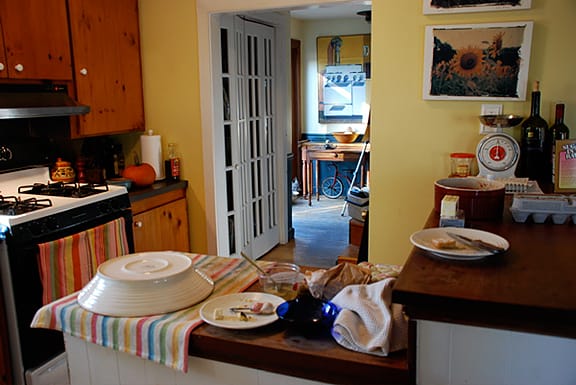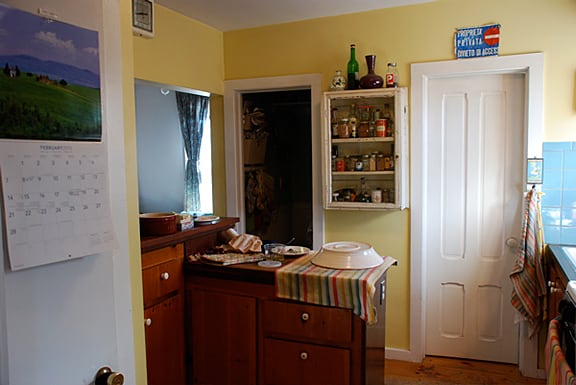 My kitchen is SO tiny that the refrigerator is not actually in the kitchen proper. It's under the stairs just outside the kitchen. When I'm cooking and baking for the holidays, I usually have cookies cooling on the coffee table in the living room, mixing bowls on the dining room table, and a pile up on the kitchen counter (an even worse pile up than the one that's in these photos). However, I love my kitchen despite the smallness – it's a cheery little space and gets the job done.
What is your favorite kitchen tool/appliance?
I love my stand mixer – that bad boy gets a work out each week, whether it's making butter, batter, dough, or rolling out pasta. I realize that it's a bit of a luxury, but if you don't have a stand mixer, I highly recommend putting it on your list.

What is your best tip for getting dinner on the table?
For me, cooking is relaxing and a creative outlet. I think the key is that if you find making dinner enjoyable, it's easy to get it to the table, though a little bit of planning goes a long way on weeknights. This is a big part of the reason that I've always planned meals – if you know that your weeknights are going to be hectic, choose a stir-fry type dish for those nights, and if you have time over the weekend, prep a meal that can just be reheated, like lasagna or soup.
Where do most of your recipes come from? (Family favorites, you make them up, magazines, cookbooks, etc.)
I make up most of the recipes that we make, but there are definitely some family favorites in the mix, and I use cookbooks as well. Right now, I'm totally into Rebecca Lang's "Quick-Fix Southern", and have Maria Speck's "Ancient Grains for Modern Meals" on deck. I also am really enjoying P. Allen Smith's "Seasonal Recipes from the Garden". The recipes are great, and his storytelling makes you feel like you're hanging out on his front porch with him.
What would you eat as your last supper?
I would quick get on a plane and go to Mondo X in Cetona, Italy. I would eat anything they served me. It's a monastery that trains young men in rehab for drug and alcohol addiction to work in fine dining, and they produce most of the food that they serve on their property. Add to that, it's served in the most amazing environment, a sprawling old (circa 1212 – that's pretty old) stone-floored monastery in the Tuscan hills. That would be a good way to go.
However, if I were making the meal myself, I'd make fresh pasta and serve it with a rich meat ragu – probably involving beef short ribs and mushrooms, with freshly grated Parmigiano-Reggiano, of course. I'd probably start the meal with an insalata caprese with tomatoes and basil from our garden. Boy, I sure hope it's tomato and basil season at the time! And I'd have to have dessert – either an apple cake, or maybe this zucchini cake I'm working on now. With ice cream, of course. I'm stuffed just thinking about it!
What kind of camera/lens/equipment do you use?
I use a Nikon D80 and alternate between a 75-300mm and an 18-105mm lens.
Any suggestions or hints to have great food photos?
Take your time, experiment with angles and points of view (shooting at eye level, shooting from above), and, for me, natural light is key. If it's nice outside, I shoot on our back deck in indirect sunlight, and when the weather is rough (which seems to be often here in New England), I shoot indoors in an area right next to large windows.

What kind of food did you eat growing up? Do you cook the same kinds of things today?
My mother was a very good cook and baker, and I definitely draw inspiration from her cooking as an adult. Her meatballs are one stand-out that I can't live without, as is her apple crumble, her blueberry kuchen, and her banana bread. My brothers still request that she makes banana bread for them, and, yeah, they're in their 30's.
What was the first dish you ever cooked?
The very first dish I ever made on my own (not as a kitchen assistant to my mother – in that case, it would have been the tossed salad for dinner each night) was my nana's red sauce. I had no recipe for it (of course), so I was quite excited when it came out almost (almost!) exactly like hers did. I was in high school at the time.
When you really want to cheat, what do you eat?
Chocolate chip cookie dough. When I first moved into an apartment on my own after college, I was so excited that I could eat raw cookie dough without my mother chiding me. It's still one of the small pleasures of adulthood to be able to eat it without being reprimanded – not that I recommend eating raw cookie dough to anyone else, or anything.
If you could travel anywhere in the world – just for the food – where would you go?
I think I might have given this away already! Italy is first on the list, though I really want to go to Turkey and also to India. Actually, I'd love an around-the-world food exploration trip. Is that asking too much?
What are your favorite blogs to read?
There are SO many fabulous blogs out there that I love, and I feel like every day there's a new discovery (ah, the beauty of Twitter!). I've been reading Simple Bites, Sassy Radish, Food on the Food, Running with Tweezers, Last Night's Dinner, Fresh New England, and A Tasteful Garden for ages (yep. Three years is ages, apparently!). But that's just a smattering – the list is LONG!
What is your best tip for saving money on groceries?
The two biggest things that changed when I was first out of work were that I made a shopping list and actually stuck to it (the shopping list and meal planning were always in play, I just improvised a little too much once I got to the market when I was gainfully employed, and there is no more certain way to jack up the grocery bill than to impulse buy), and we ate far less meat overall. When we did eat meat, it would be a so-called lesser cut (ribs, shanks, chicken thighs) or a whole chicken, rather than buying boneless skinless chicken breasts, which were always a staple before I was out of work. Now, if I'm going to buy boneless skinless chicken breasts, they're in bulk and on sale. In fact, all meat is purchased on sale – and we love store brands. I guess that's more than one best tip, right?!
—————————
Thank you so much, Amy! It has been a true joy cooking from your cookbook, and I look forward to trying even more recipes from your blog! If you want more of Amy, here is where you can find her:
Blog: Poor Girl Gourmet
Facebook: Poor Girl Gourmet
Twitter: @poorgirlgourmet
Book: Poor Girl Gourmet: Eat in Style on a Bare-Bones Budget