Along with the surplus of peppers I have been getting from my garden, I have a good amount of herbs as well. When I was deciding what kind of herbs to plant, I knew I wanted basil. To buy fresh basil here is really expensive, so if I don't have it growing in my back yard, I don't use it. I decided to plant some in a container, so that I could try to bring it inside when the cold weather hits and maybe keep it around, although I have heard that basil is one of the hardest herbs to grow indoors. The other plant I planted out in my garden. While they are both growing well, the plant in my garden has become HUGE!! The leaves are gorgeous and big, and the smell is amazing. Oh, how I wish I could grow it outside all year round!!
I decided I wanted to make some homemade pesto to make a dent in the large amount of basil that is growing. This was my first time making it, and it couldn't be easier. But what did I want to use my pesto on??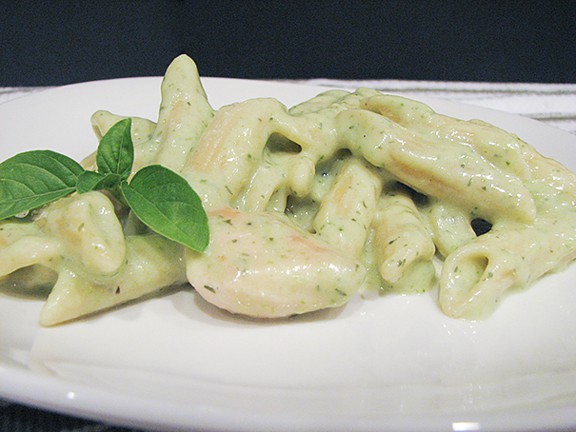 The first is really not a recipe at all. This is one of my favorite ways to eat Alfredo. Just take your favorite Alfredo sauce and stir in a couple tablespoons of pesto. Chicken Alfredo with pasta is my husband's favorite meal, and he doesn't complain at all when I add in the pesto!!
I still had some pesto left, so a couple of nights later I decided to make mini pizzas. I would have made the dough from scratch, but I decided to do a freezer clean out. I had a few frozen Rhoade's Rolls in the bottom of my freezer, so I figured they would work perfectly for mini pizza crusts. I also had the leftover filling from the Calzones I made awhile back, so there was my topping. All I had to do was thaw the dough, add a bit of pesto to some, pizza sauce to the other, top with the filling, add a bit of cheese, and bake. Super easy when most of the ingredients come from your freezer!!
Basil Pesto
2 cups basil leaves
1/2 cup grated Parmesan cheese
1/3 cup pine nuts
2-4 minced garlic cloves
1/2 cup olive oil
Salt and pepper to taste
Pulse all ingredients except olive oil in a food processor or blender until chopped. Add olive oil in a stream to incorporate all ingredients.
So what's your favorite way to eat pesto?