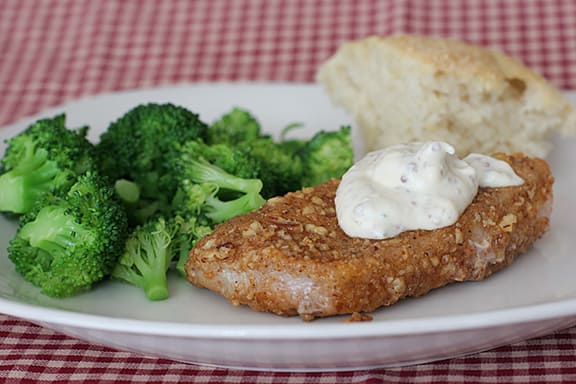 I am coming up on my 3-year anniversary of blogging here at Taste and Tell. And it has had me thinking over the last few days just how much food blogging has evolved over those last 3 years. It seems like when I started, there were only maybe 300 or so food blogs out there. Now, I'm guessing there are thousands. All in a matter of 3 years. That just goes to show how much we all love food, and how much we love to share all of the recipes that come out of our kitchens.
I don't read as many blogs as I did a few years ago, mainly because being a work-at-home mom takes up all of my time. But I do know all that if I ever need an idea for dinner, food blogs are where I can find more than one idea! I'll admit that I have hundreds of recipes bookmarked to make. And when I'm feeling lost or uncreative, I can head to those bookmarks and find something great. Like this pork dish. It came from a fellow blogger. I've had this recipe bookmarked since 2007, and I don't know how it took me that long to try it. Because it was simple and delicious – just the way I like recipes!! I loved the pecans in the breading of the pork chops – it adds a whole new level than just plain old bread crumbs. Pair it up with some simple steamed broccoli and Blitz bread – you have a wonderful meal!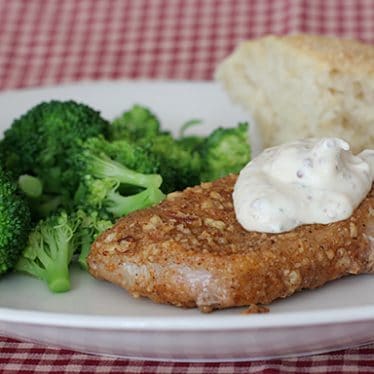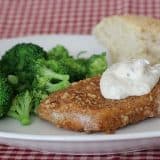 Pecan Crusted Pork Chops with Creamy Mustard Sauce
---
Prep Time: 15 minutes
Cook Time: 5 minutes
Total Time: 20 minutes
Yield: 2-4 servings 1x
Description
Boneless pork chops are crusted with pecans and served with a creamy mustard sauce.
---
Scale
Ingredients
4 thin-cut boneless pork chops
1/4 c chopped pecans
1/4 c cornstarch or rice flour (regular flour works too)
1 egg
Salt, pepper, paprika and cayenne pepper
Olive oil as needed for sauteing
Sauce:
1/2 c light mayonnaise (or use regular)
2 tsp (heaping) whole grain mustard
2 tsp (heaping) Dijon mustard
1 tsp white wine vinegar
1 tsp chopped fresh parsley plus extra for garnish
---
Instructions
Mix sauce ingredients, set aside. Meanwhile, grind nuts, cornstarch and spice mixture in a food processor then pour into a shallow bowl or plate. Mix egg with a splash of water in a shallow bowl or plate. Coat pork chops in egg mixture, then coat in nut/cornstarch mixture. Add salt and pepper if needed.
Saute chops, about 2 minutes per side (DO NOT OVERCOOK, they are so lean they'll get very dry). Serve, topping with sauce.
—————-