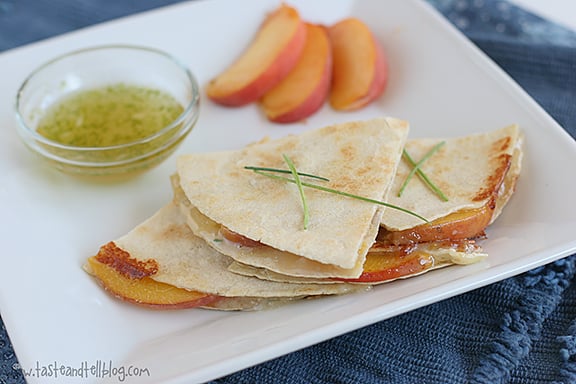 I will often get on the computer when the kids go down for naptime in the early afternoon. That's usually my chance to grab a bite to eat and catch up on work or emails (or spend some time on Pinterest! :)) I usually keep my Twitter open, and I'm amazed quite often when people post about what they had for lunch. It is often these glorious, delicious meals that often look and sound better than what I am making for dinner. And these people are eating these meals for lunch. Seriously, I'm lucky if I even get to eat lunch most days. And when I do, it's something as glamorous as leftovers or a pb&j. I definitely have lunch envy.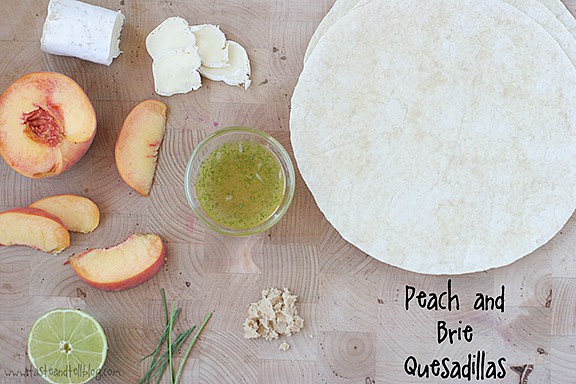 But then I made these quesadillas for lunch. It was such a simple recipe that took very little time, but I felt so sophisticated. I almost ran to my computer to tweet about what I was having for lunch. It just made me realize that even though sometimes meals look or sound fancy, sometimes the best ones are quite simple and don't take very much time at all. And it's made me realize that sometimes I need to step up lunch a little bit! (Although there is still nothing wrong with a good pb&j – in my opinon!)
If you are a brie fan, you will love these quesadillas. I was afraid they were going to be too sweet at first, but the sweetness of the peach actually mellows out a little bit as it is cooked. The sauce was super sweet, and I wasn't totally convinced that I liked it, but the quesadillas were just perfect for me. If you are looking for something a little more substantial, I think that some pulled pork would be absolutely amazing inside of these quesadillas. Or even a grilled, sliced chicken breast.
So don't be surprised if I start tweeting about my fancy fake-out lunches now!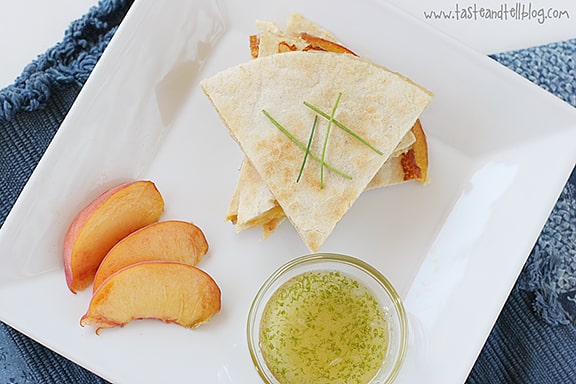 Peach and Brie Quesadillas
adapted from Cooking Light June 2005
serves 6 as an appetizer or 2 as a meal
total time: 10 minutes
Sauce
2 tablespoons honey
2 teaspoons fresh lime juice
1/2 teaspoon grated lime zest
Quesadillas
1 cup thinly sliced firm peaches (about 2 large)
1 tablespoon chopped fresh chives
1 teaspoon brown sugar
3 ounces Brie, thinly sliced
4 (8-inch) flour tortillas
Prepare the sauce: In a small bowl, whisk together the honey, lime juice and lime zest. Set aside.
Make the quesadillas: In a bowl, combine the peaches, chives and brown sugar; toss gently to coat. Heat a skillet over medium-high heat. Coat the pan with cooking spray. Lay down 1 tortilla and top with half of the cheese and half of the peach mixture. Lay another tortilla on top. Cook until golden brown, then flip over and cook until second side has browned. Remove from heat and repeat with remaining ingredients.
Cut each quesadilla into 6 wedges; serve with sauce.