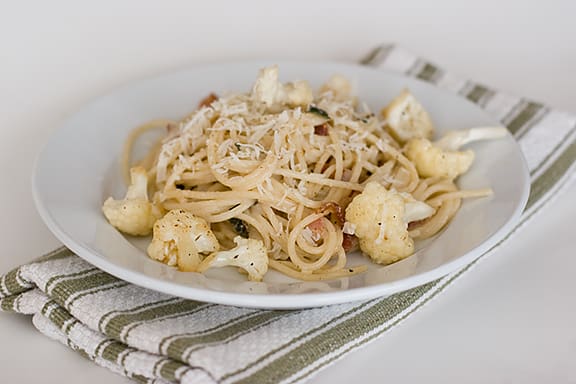 I have really been into pasta lately. Maybe it's because most pasta dishes are so easy, or maybe it's because I have a huge carb addiction. Either way, we seem to be having more and more pasta lately. So when I saw this recipe, I thought – this is a way to change things up a bit! Cauliflower in pasta? I had never seen it done before. Yes, it was a little different, but I actually liked it quite a bit. That way the vegetable balances out the bacon, right??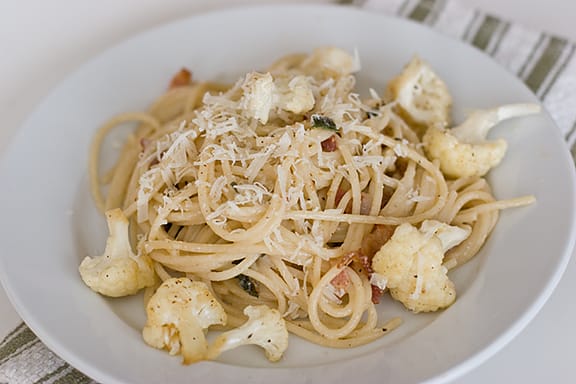 Pasta with Bacon and Cauliflower
from Real Simple March 2010
Serves 4
total time: 30 minutes
12 ounces spaghetti
6 slices bacon
1/3 cup fresh sage leaves
1 small head cauliflower (about 1 1/2 pounds), cut into small florets
salt and pepper
1/4 cup grated pecorino (3 oz.)
Cook the pasta according to the package directions. Reserve ¾ cup of the cooking water. Drain the pasta and return it to the pot.
Meanwhile, cook the bacon in a large skillet over medium-high heat until crisp, 6 to 8 minutes; transfer to a paper towel–lined plate. Crumble.
Add the sage to the bacon drippings in the skillet and cook over medium heat, turning once, until crisp, 1 to 2 minutes; transfer to the paper towel–lined plate.
Add the cauliflower, ¼ cup water, and ¼ teaspoon each salt and pepper to the bacon drippings in the skillet and cook, covered, for 2 minutes. Uncover and cook, tossing frequently, until golden and tender, 3 to 4 minutes more
Add the reserved pasta water and ½ cup of the pecorino to the pasta and toss until creamy. Add the cauliflower, sage, and bacon and toss. Sprinkle with the remaining ¼ cup of pecorino.