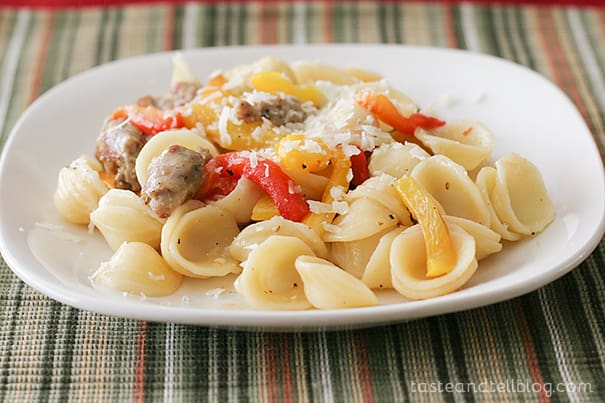 Whenever I get a new cooking magazine in the mail, I'll typically read it through – cover to cover – marking the recipes that sound interesting to me with either a piece of paper or a sticky note. I usually end up with dozens of markers. And sometimes I'll do the same thing when I get a new cookbook – especially the Cookbook of the Month books. One day, I was planning a menu and pulled a few of my cookbooks off the shelf. My copy of Everyday Food: Great Food Fast is one of those books that has many of it's pages marked. And you would think that I would go through those pages with the sticky tabs, adding a recipe or two to my menu. But instead I picked a recipe that wasn't even marked from when I first went through the book! This is just a testament of just how much I love this cookbook and how good all of the recipes look.
I'm so glad I looked past the absence of a sticky on this page. This recipe was so simple, yet so delicious. And I would have really missed out if I would have just skipped out on this, although I have yet to find a bad recipe from this book!
Orecchiette with Sausage and Roasted Peppers
from Everyday Food: Great Food Fast
Serves 4-6
2 medium red bell peppers, four flat sides sliced off core, ribs and seeds discarded
2 medium yellow bell peppers, four flat sides sliced off core, ribs and seeds discarded
1 pound orecchiette or other short pasta
2 teaspoons olive oil
1 pound sweet Italian sausage, removed from casings
1 tablespoon butter, cut into small pieces
1/3 cup grated Parmesan cheese
Heat broiler. Place peppers, skin side up, on a foil-lined baking sheet; broil 4 inches from heat until charred, 18 to 20 minutes. Transfer to a large bowl. Cover with plastic wrap; steam 2 to 3 minutes. Using a paper towel, rub off pepper skins, reserving any juices in bowl. Thinly slice peppers crosswise into 1/4-inch strips; return to bowl. Set aside.
In a large pot of boiling salted water, cook pasta until al dente, according to package instructions. Drain, reserving 1/2 cup pasta water.
Meanwhile, heat oil in a large skillet over medium heat. Cook sausage, breaking it up with a spoon, until browned, 7 to 10 minutes. Add roasted peppers; cook until heated through.
Transfer sausage mixture to bowl; add pasta, butter, reserved pasta water, and Parmesan. Season with salt and pepper. Toss to combine.