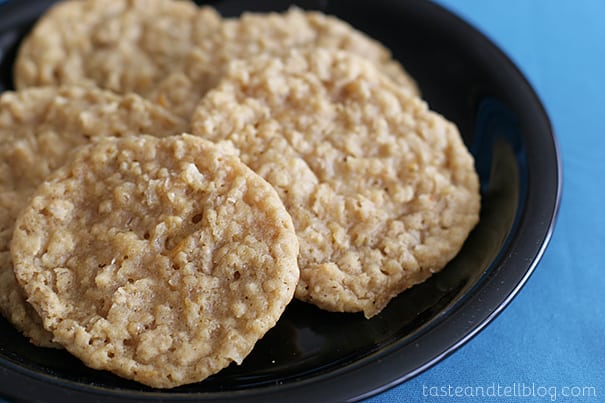 Is it just me, or does time seem to fly by way too quickly these days?
I was trying to decide what to post today, and decided to just go to the oldest picture I had that I hadn't posted yet. It was these cookies, that I made back at the beginning of March. As I was going through the photos, I saw some pictures of my daughter that I had taken the same day. She looked so small – I couldn't believe it had already been almost 3 months since those pictures were taken! She is just growing up way too fast. Doesn't it seem like I just had her? And now she will already be 4 months old next week.
I need time to slow down so I can enjoy this time of life as much as possible!!
These cookies won't stop the clock, but they will help you enjoy watching the days go by much too quickly!
Orange and Oats Chewies
adapted from Best of the Bake-Off
Makes about 60 cookies
2 cups firmly packed brown sugar
1/2 cup shortening
1/2 cup butter, at room temperature
3 tablespoons frozen orange juice concentrate, thawed
1 tablespoon grated orange peel
2 eggs
2 cups all-purpose flour
1 teaspoon baking soda
3/4 teaspoon salt
2 cups rolled oats
1/2 cup coconut
Heat oven to 350F. Grease 2 cookie sheets.
In a large bowl, combine brown sugar, shortening, butter, orange juice concentrate, orange peel and eggs; mix well.
Add flour, baking soda and salt. Mix well. Stir in oats and coconut.
Drop by rounded teaspoonfuls 2 inches apart onto the greased cookie sheets.
Bake for 10-12 minutes, or until light and golden brown. Cool on cookie sheets for 1 minute then transfer to rack to cool completely.