Of course, as a lover of food, eating is a big part of any vacation. In fact, I usually plan out where I want to eat before I plan out what I want to do.
Knowing that we only had about 24 hours in New York, I only came with a list of places that I wanted to eat. 🙂 24 hours, 3 meals. We sure did eat our fair share!!
If you know me, you'll know that I love doughnuts. I would happily travel the US (or even the world!!) looking for the best doughnuts. So of course, I had to seek out a doughnut joint that I have been wanting to try for years.

My husband and I were famished after travelling the night before and not eating dinner. So we headed off in the morning in search of doughnuts. We were able to walk to the Chelsea location and arrived starving. Everything looked great, and we ordered way too many doughnuts.
Doughnut Plant has a variety of doughnuts, including their popular square filled doughnuts, a wide variety of filled cake doughnuts, doughseeds (filled mini doughnuts), as well as unfilled yeast doughnuts and cake doughnuts. I seriously wanted to try every single one of them.
We settled on a variety of filled square doughnuts, a filled cake doughnut, and we had to try their popular creme brulee doughseeds.
I am a creme brulee lover, and I loved the creme brulee doughseed. You definitely get the creme brulee flavors from the cream filling and the torched exterior. I definitely could have eaten more than one of these and I'm glad we ordered 2 so that I didn't have to share!!
As much as I loved the creme brulee, both my husband and I agreed that our favorite was the Coconut Cream Filled square doughnut. I cannot even tell you how much I loved this doughnut.
My husband declared that these are the best doughnuts he has ever had. They have more of a chew – not a super light, melt in your mouth doughnut, and I think that is what he loved the most about them. I loved the creativity of the flavors and while I usually find filled doughnuts too sweet, these were not. Which is why I ate way more than I should have!! This will definitely become a must visit whenever I am in New York City!!
Doughnut Plant
220 W 23rd Street or
379 Grand Street
New York City, NY
www.doughnutplant.com
We knew we wanted some traditional New York pizza for lunch. We had eaten at a small pizza joint near the financial district the last time we were in New York, and were ready to return, only to read that they had recently closed. So we asked the front desk at our hotel for a recommendation for something close and they recommended Patzerias Perfet Pizza, which was just down the street. We ventured over and each chose a piece of margherita and my husband also ordered a slice of cheese. While the margherita was delicious, we both agreed that the cheese pizza was the best slice. It was exactly what I expected from New York style pizza!!
The restaurant is quite small and seating is sparse, (only 3 or 4 chairs), so be prepared to wait for somewhere to sit, or take your pizza with you. They also deliver.
Patzerias Perfect Pizza
231 West 46th Street
New York City, NY
patzeriaspizzanyc.com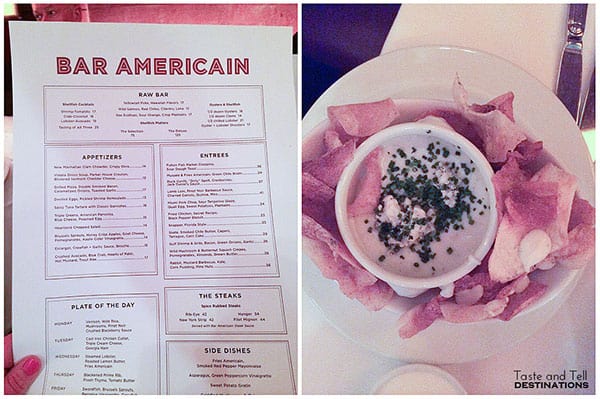 Last, but certainly not least, was dinner. (And please excuse these horrible photos. The lighting in the restaurant was not ideal for photos and I only had my phone.)
Eating at one of Bobby Flay's restaurants has been on my bucket list. So when we decided to spend some time in the city, that was one of the first places I looked into. I actually had my heart set on going to Mesa Grill, but sadly found out that it had closed. So thank goodness for Bar Americain!!
We made reservations, but I think we could have gotten in pretty easily. (One of the great things about travelling in February!!) We ordered the Hot Potato Chips with Blue Cheese Sauce and after my first bite, I knew we were in for a great meal. I loved this.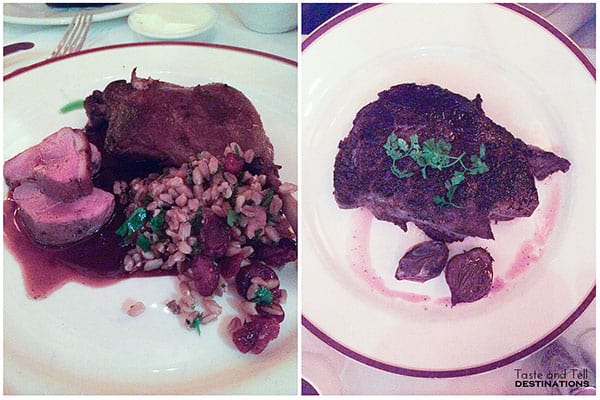 For our meals, I ordered the Duck Confit, which was actually duck 2 ways – confit and grilled breast. This was the best duck dish I have ever eaten. It was extremely tender and full of flavor and I pretty much cleared my plate. My husband ordered a rib eye steak and said that it was in the top for one of the best steaks he has ever had. It had the most amazing crust on the outside and was cooked perfectly.
We were too stuffed to try dessert. The service was great and the ambience and decor was welcoming. I would definitely recommend eating at Bar Americain!
Bar Americain
152 West 52nd Street
New York City, NY
www.baramericain.com
We definitely left with our bellies full, and can't wait to go back to do it all again!