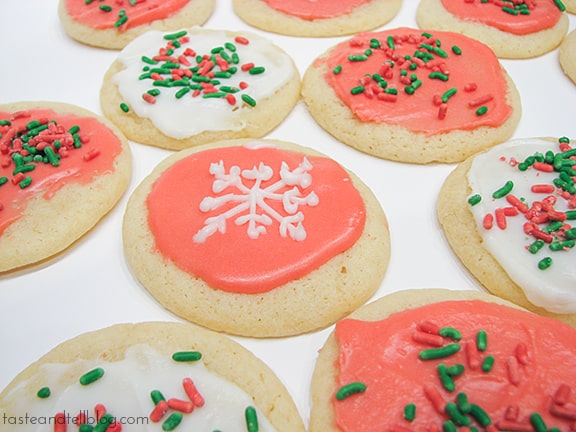 I am a perfectionist. I've had this conversation with my husband many times – I have a hard time with things because I really set my expectations too high. In my head, my life should be like Bree Van De Kamp's – perfectly clean home, wonderful dinners on the table, and a smile, skirt and pearls when my husband arrives home from work. And when I don't live up to that, I'm really hard on myself. My husband doesn't expect this from me, I've just always been that way. If I can't do something well the first time around, I will probably give up on it. I realize that my expectations are really unattainable, but that doesn't usually change anything.
As I was surfing through food blogs the other day, I came across a blog that I somehow have missed all of these months. The blog is Never Bashful with Butter. There are some great looking recipes on this site!! So when I saw these cookies on Never Bashful With Butter, I just had to try them. They were just about the cutest cookies I had ever seen. I know I'm not good at decorating. Maybe it's because I've never really given myself the chance, and never practiced. I just assumed that I could go home, bake up a batch of cookies, and decorate these amazing little snowflakes. Hmmm, it didn't quite end up that way…
I didn't want to completely copy the cookies, so I changed the color to what was supposed to be red instead of blue. The cookies came together easily, and although the frosting was not the color I was thinking in my head, I started decorating. I didn't want to dirty a pastry bag (what can I say – I was being lazy!) so I loaded the white frosting into a ziploc bag fitted with my chosen tip. I tried to decorate my first cookie – wow, this was harder than I expected!! On my third try at the snowflakes, my ziploc bag burst on the side, leaving me with a mess of frosting all over everything. I wanted to go and cry. I felt like such a failure. My cookies were nowhere as cute as the ones on Never Bashful with Butter, and I only made it through 3 of them before my bag broke!! I hung my head in shame, threw some frosting on the remaining cookies, and used some Christmas sprinkles I had in the cupboard.
Depressed, I went and sat in front of the computer, and decided to wallow in self pity, looking through all of the other wonderful creations on Never Bashful with Butter. And then I discovered it. Because I was a new reader to this blog, I didn't know of her history. Come to find out, she has a history in decorating. She was a professional cake decorator. Not to make it sound like she is any less talented (because she is ultra talented!) but I felt a little bit better about my cookie failure. It was my first time trying to pipe snowflakes – so what if they didn't turn out perfectly? I vowed to myself then and there that I wouldn't be so hard on myself. And that I would actually give myself some time and a learning curve. And that eventually, I will learn to pipe the perfect snowflakes!! The cookies tasted good, and they went in a flash the next day at work, so it really wasn't a loss.
So here's to non-perfection!!
To see the very cute, perfect snowflake cookies, go here. This is also the sugar cookie recipe I used. I used this recipe for the frosting.