A big welcome to today's Blogger Spotlight – Kelly from Nosh and Nourish. Kelly is all about adding healthful and nutritious ingredients to your everyday cooking, and has a cookbook coming out next Spring called Superfoods at Every Meal. I'm so excited for her!! I'm so excited to be introducing you all to her today!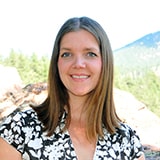 For the first 30 years of her life, Kelly didn't enjoy, er… hated cooking. She often found herself in the kitchen mid-cooking soon realizing she was missing an important ingredient — like making Honey Dijon Chicken and discovering she didn't have any mustard! The shift came when she realized she much preferred looking into the pantry, seeing what was on hand, and creating something from scratch rather than trying to follow someone else's recipe. And in doing so, she discovered she was quite talented at creating delicious, unique, and nourishing recipes, and that she actually enjoyed it! Her goal is to make healthy eating seem doable in the hustle and bustle of everyday life. When not creating new recipes or taking pictures of them, she can be found exploring the mountains, harvesting beet greens from her garden, hiking, or fly-fishing. She and her husband live with their toddler and two beagles in a small mountain town outside of Denver, Colorado.
What inspired you to first start writing your blog?
After my daughter was born, I realized that I needed to show her how to live a happy, healthy life. I wanted her to grow to love her body and KNOW 100% that she is strong, beautiful and loved. I changed the way I ate and cooked and gave her the best start I could. My blog was a way to reflect my newly found passion for whole, nourishing foods/cooking and a way to help others realize it doesn't have to be hard, extravagant or time-consuming. I also discovered a passion for photography, which I think helps my blog and recipes stand out.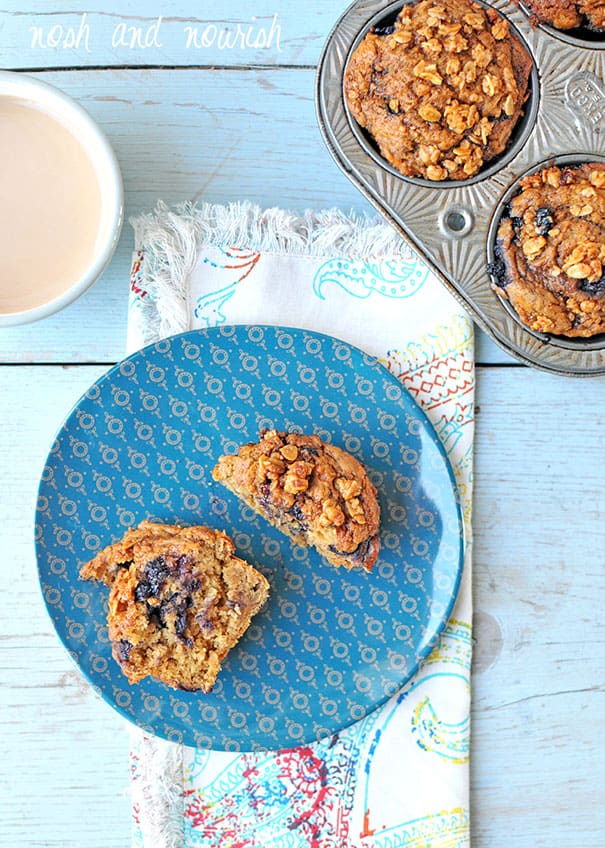 Blueberry Crumble Muffins
What is your favorite kind of food to make?
Evidently breakfast foods, because I have soooo many on my blog! From quiche to pancakes to smoothies to muffins, I've got you covered!! Speaking of muffins, there's Banana Nut ones, Pumpkin ones, Gluten-free Spice ones, Brownie Batter Zucchini ones, Greek Yogurt Strawberry ones, and these Bluberry Crumble ones.

Where do most of your recipes come from?
I create my blog recipes from what I have on hand in the fridge/pantry, trying to incorporate two or more nourishing superfoods into every recipe. It's actually the premise of my upcoming cookbook, Superfoods at Every Meal! I like adding chickpeas in blueberry muffins, quinoa in brownies, kale in chicken soup, sweet potatoes in pecan pie, etc.  I discovered I didn't like following recipes because I'd always be missing one or two (important) ingredients. Instead I'd rather just look in the cupboard and fridge to see what I have on hand, and whip up something incredible on the fly. In doing this, I realized I was pretty darn good at creating recipes from scratch!! My recipes are truly unique, nourishing and delicious!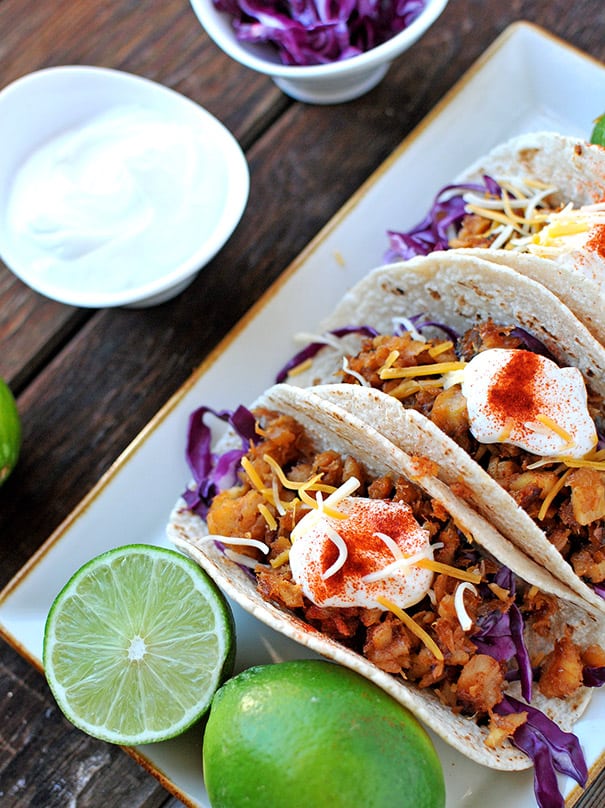 Honey Sesame Fish Tacos
What is your favorite recipe posted on your blog?
My favorite has to be my Honey Sesame Fish Tacos. I absolutely LOVE fish tacos. Like I am totally obsessed, cannot pass them up on a menu at a restaurant, could eat them every single day for the rest of my life…YUM!!!!! And it's one of the few "Mexican" food meals that Dear Hubby actually enjoys. (How anyone doesn't like Mexican food, I will never know!!)  I feel great about serving fish tacos to my family because there's protein, veggies, cheese, and greek yogurt — all in one meal! I make these all the time.
What kind of camera/lens/equipment do you use?
I actually use my husband's camera! He's the "real" photographer in the family. It's a Nikon D300S with a 35mm 1:1.8G lens. And he hates it when he gets it back and there's dried Greek yogurt on it, LOL!
What is your best tip to becoming a successful blogger?
Don't be afraid to let your blog evolve. It should be a reflection of who you are and as you change, your blog might too. I started with a sole focus on low sugar recipes, but soon realized I was more about healthy living and nourishing food in general. And even more recently, I've gone dairy-free for health reasons, so a lot of my recipes are also vegan. Go with the flow, create recipes that you love, and do it well!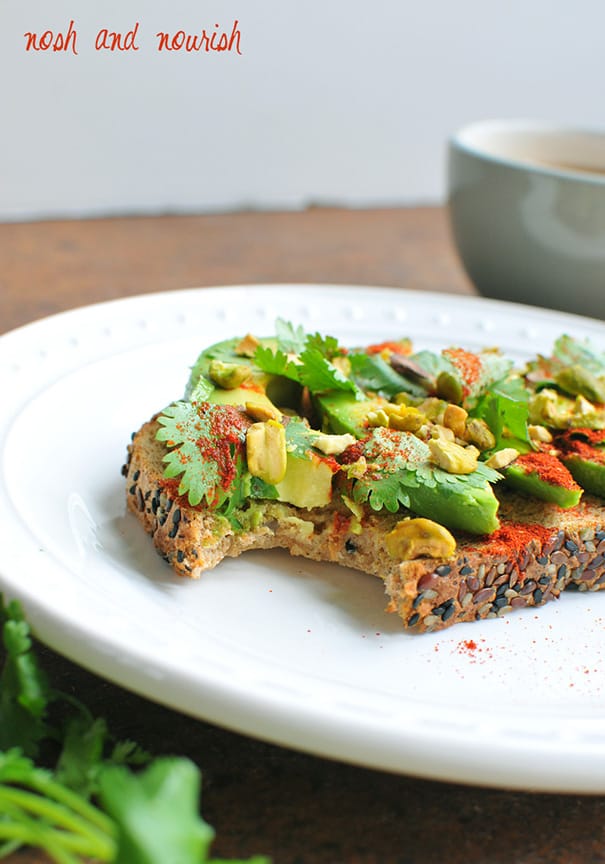 Avocado Lime Toast
Take us through a typical day of eating in your house.
Breakfast: Avocado Lime Toast — (avocado, cilantro, paprika, lime juice, and pistachios).
Post workout / mid-morning snack: Almond Mocha Green Smoothie — (organic blueberries, banana, almond butter, cocoa powder, brewed coffee, vanilla almondmilk, ground flax, hemp, and 4 cups of mixed greens!)
Lunch: Veggie Quinoa Bowl — (sauteed spinach, bok choy, and swiss chard with garlic, chickpeas, quinoa, grape tomatoes, a Field Roast sausage, and Montreal Chicken seasoning).
Afternoon Snack: A small bowl of veggie-laden, broth-based soup.
Dinner: Buffalo Ranch Veggie Burger with sweet potato fries.
Dessert: A handful of 60% cacao dark chocolate chips
What are your favorite blogs to read?
Some of my current favorites are:
With Food + Love
The First Mess
Minimalist Baker
Real Food by Dad
Love and Lemons
Will you show us your kitchen? What is your favorite thing about your kitchen?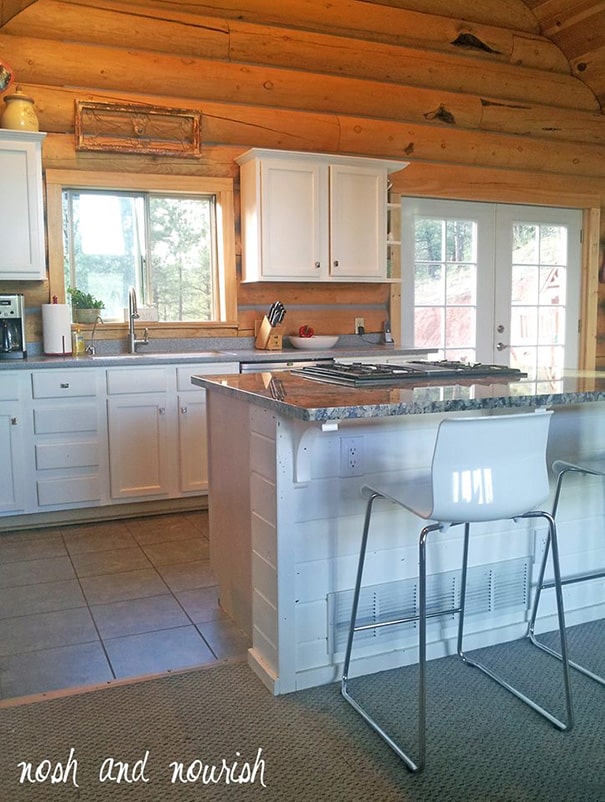 Of course! We decided a couple years ago to simplify and move to the mountains. So I have a cozy, somewhat rustic log cabin. I love all the light that comes in the windows/ French doors and my big island!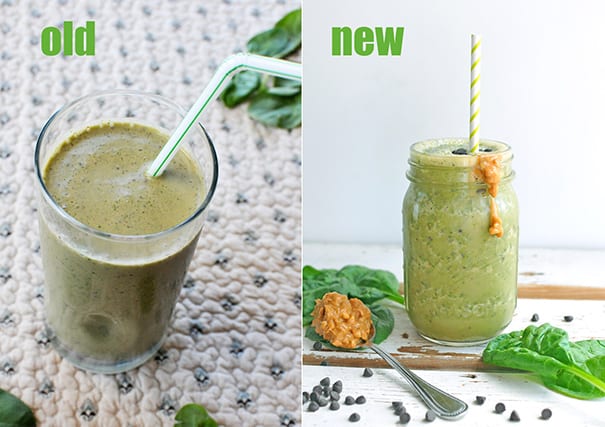 Reeses Spinach Smoothie
How do you think your blog has changed since you first started blogging?
Besides the type of recipes evolving, my photography has also improved significantly! I had a super old post that got picked up by Cosmopolitan magazine this year. The photos were horrendous and tens of thousands of people were going to that recipe on my site. So, I decided to update all of the photography. Here's a side by side comparison, old vs. new!
—————-
It was fun to get to know you, Kelly – thanks for sharing!! If you want to see more from Kelly, here is where you can find her: