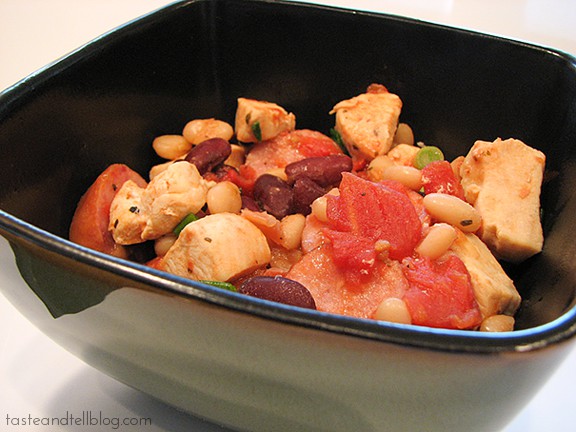 I think something is wrong with me. Instead of wanting something light and Spring-like, I have been drawn towards heavier, comforting food for the last week. The tamale pie, the mac and cheese, and now tonight's bean stew. This is my last recipe for now from Betty Crocker's Quick and Easy Cookbook. When I came across the recipe, the picture got me (I am way more likely to cook a recipe if it has a picture!) Even though it's more of a fall/winter dish, I thought I'd give it a try. I basically followed the recipe exactly as written. I was a little worried, because my sister came over while I was cooking, looked at the recipe and said "that's something I would never make." So, I admit, I was a little worried after that, but both Josh and I really liked it. It will be especially great for leftovers for Josh later this week when he works the swing shift – something a little warmer on a chilly Spring night. This was super fast and easy. It didn't really turn out to be much of a "stew" because there was not very much liquid, but good nonetheless. I served some homemade cornbread muffins on the side.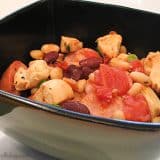 New England Baked Bean Stew
---
Author:
Yield: 4 servings 1x
Scale
Ingredients
1/2 pound boneless, skinless chicken breasts, cut into pieces
1/2 pound fully cooked Polish sausage, cut into 1/2 inch slices
1 can (15 to 16 ounces) great northern beans, rinsed and drained
1 can (15 to 16 ounces) dark red kidney beans, rinsed and drained
1 can (14 1/2 ounces) diced tomatoes with olive oil, garlic and spices, undrained
1 T packed brown sugar
4 medium green onions, sliced
---
Instructions
Spray 12-inch nonstick skillet with cooking spray; heat over medium high heat. Cook chicken in skillet 3 to 5 minutes, stirring occasionally, until brown.
Stir in remaining ingredients except onions. Cook uncovered over medium low heat 8 to 10 minutes, stirring occasionally, until chicken is no longer pink in center.
Stir in onions. Cook 3 to 5 minutes, stirring occasionally, until onions are crisp-tender.