What can be better than chocolate, vanilla and strawberry? This Neapolitan Ice Cream Bar Recipe is sure to be a hit all summer long!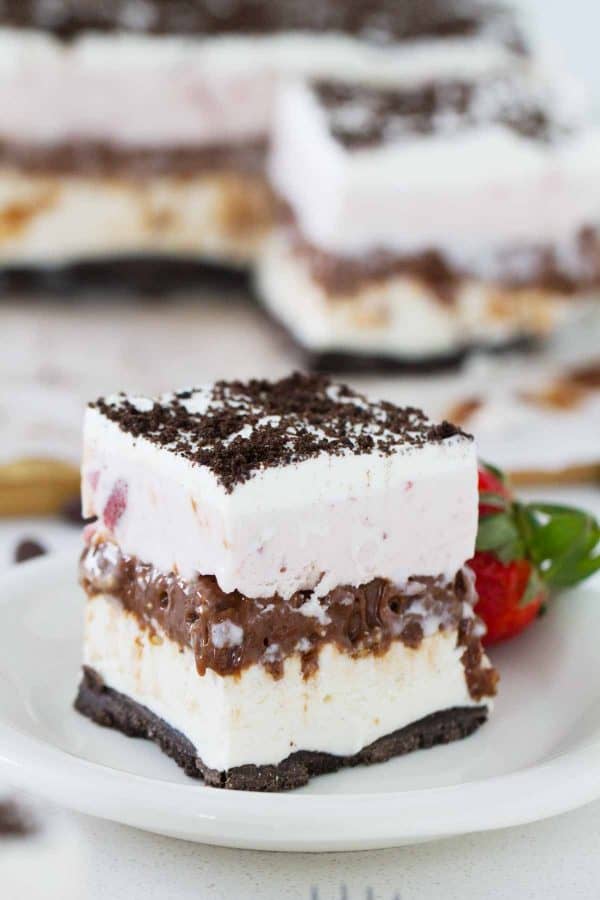 This post is sponsored by Lip Smacker. I'm so glad to be able to work with companies and organizations that I truly believe in. Thank you for supporting them, too.
I love that so many things that were popular when I was a kid are still popular today. Especially since I have a daughter – it's always good to have things that you can bond over.
I remember when I was a kid, I was a collector. I never just wanted one of something. I wanted the whole shebang. Plus a master checklist to mark off when I had each item. (Oh, how I love a good checklist!!) And if you were a child growing up in the 70s or 80s, you'll definitely remember wanting to collect all of the Lip Smacker flavors.
I know I was obsessed, so I'm so glad that they are still as popular as ever, and that my daughter is a Lip Smacker collector now!!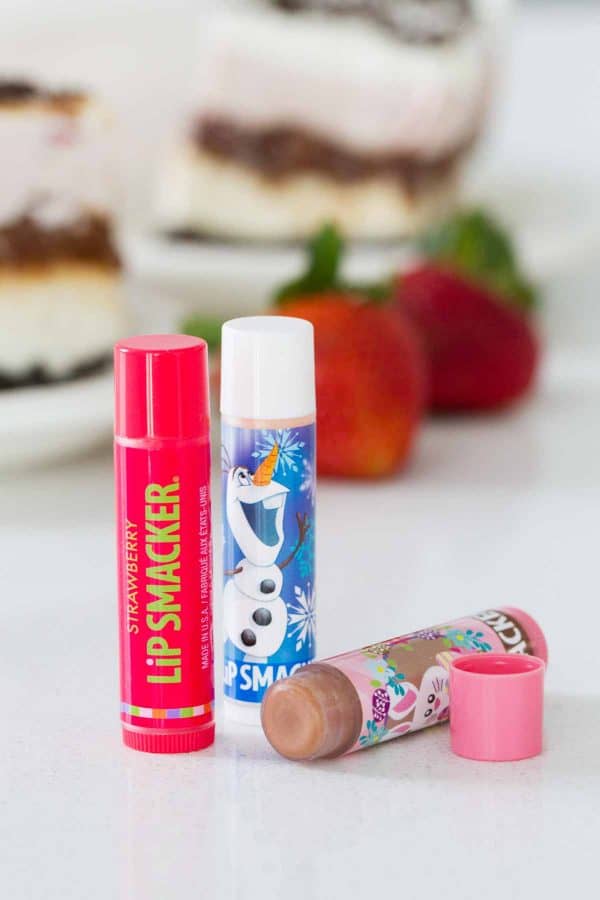 And guess what – now is the time for all of your Lip Smacker dreams to come true. From now until May 19th, you can submit your own flavor to Lip Smacker for a chance to become the first official Lip Smacker Tastemaker!!
Entering is super easy – all you have to do is leave your flavor combination on the Lip Smacker announcement post. Include the name of your flavor, 3 key ingredients in your flavor, and descriptors to describe your flavor (such as sweet, salty, sour, warm, etc). Or you can get creative a post a picture of your inspiration on your own social media, tagging it with #LSTastemaker. (Make sure you include all of the above information, as well!)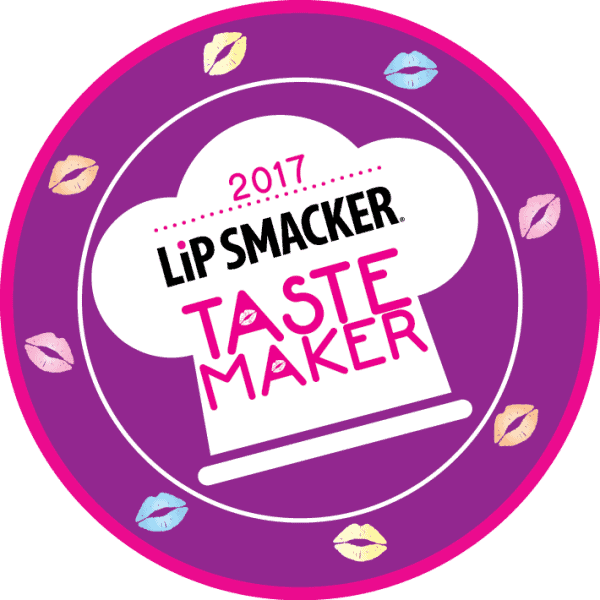 But what do you win? Your flavor will be featured on lipsmacker.com with your name in the credits. (Pretty cool, if you ask me!) You will also become an official Tastemaker, receive your own blinged out biggy in your flavor, and a personal batch of your flavor. How fun would that be?
Hurry over to the Lip Smacker Instagram account or Facebook account to enter – you only have until May 19, 2017!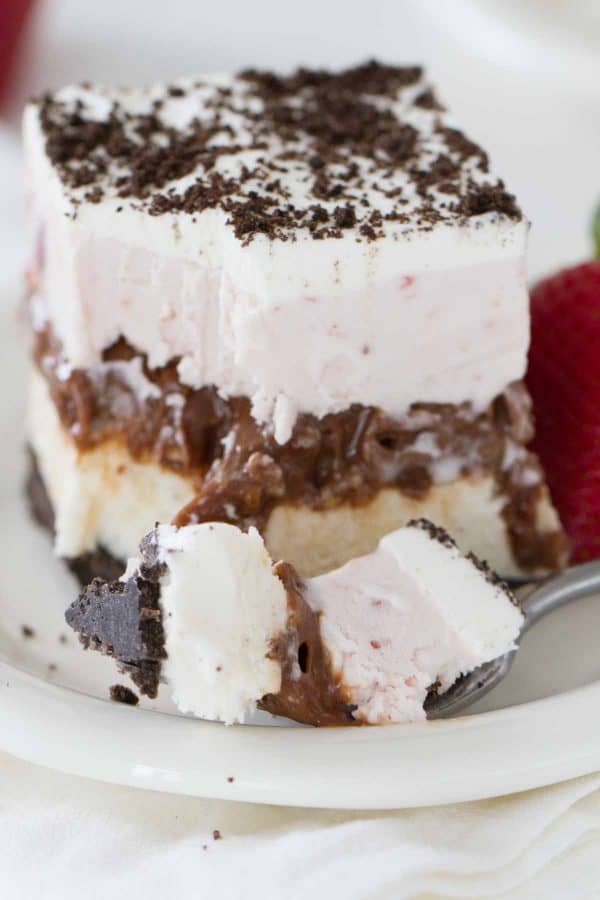 When I was thinking about what flavor I wanted to enter, I thought it would be a great bonding experience for me and my daughter. So we went to her Lip Smacker stash, and started thinking up flavors. It was actually so much fun that her brothers got involved, as well!
After going through lots of ideas, we decided to combine some of our favorite Lip Smacker flavors, and Neapolitan Ice Cream Bars was the winner! We decided to make this Neapolitan Ice Cream Bar Recipe from our inspiration.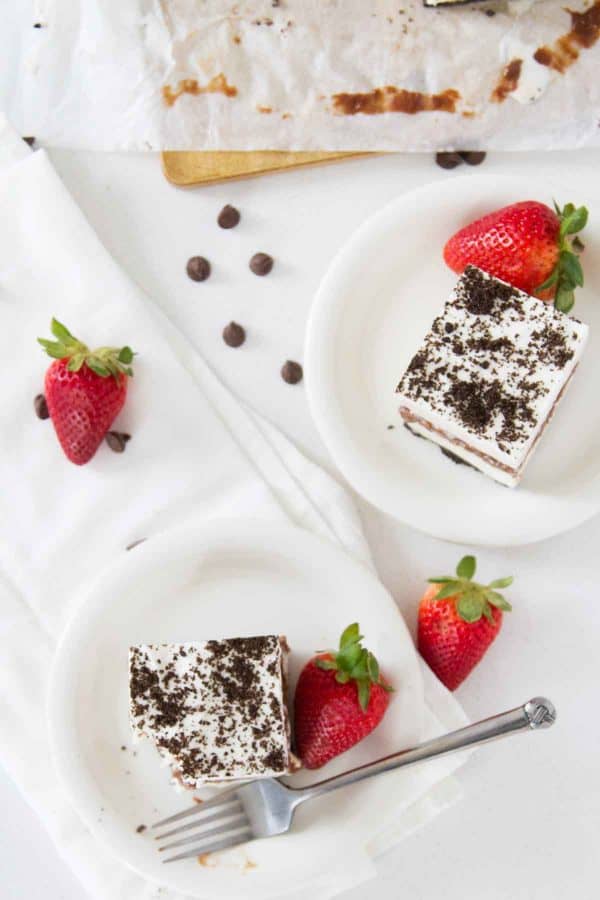 These ice cream bars are super easy to make, but they do require a little bit of time for the bars to freeze between layers, so just make sure you have a few hours and freezer space. You start with an easy, no-bake chocolate cookie crust, followed by vanilla ice cream. In the middle is a homemade fudge layer. You could always used jarred hot fudge, but I think the homemade version is SO much better, and not hard to make, either! You top the fudge with your strawberry ice cream layer, then a layer of whipped cream. Once they are all frozen together, you can cut it into bars, and you have the perfect ice cream treat.
One reason I love this ice cream bar recipe better than just serving scoops of ice cream is how easy it is to serve. Have you ever had to serve ice cream to a crowd? Who wants to be there scooping ice cream the whole time? This way, you have the bars that are cut out, and there is no scooping involved! Easy peasy!
Now you find your inspired flavor and go and enter on the Lip Smacker Instagram page or Facebook page!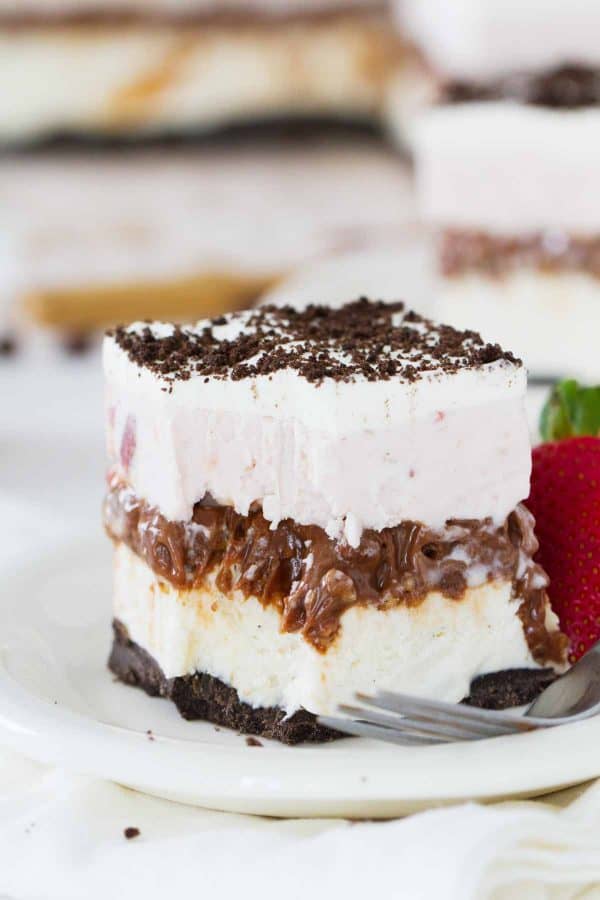 Like what you see here? Make sure you are following Taste and Tell for more recipes and ideas!
Facebook | Pinterest | Instagram | Twitter | Google+ | Weekly Newsletter | Feedly | Bloglovin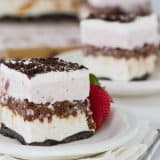 Neapolitan Ice Cream Bar Recipe
---
Author:
Prep Time: 150 mins
Cook Time: 0 mins
Total Time: 2 hours 30 minutes
Yield: 20 servings 1x
Category: Dessert
Description
What can be better than chocolate, vanilla and strawberry? This Neapolitan Ice Cream Bar Recipe is sure to be a hit all summer long!
---
Scale
Ingredients
32 chocolate sandwich cookies, plus more for topping
1/2 cup butter, melted
1 1/2 quarts vanilla ice cream
2 cups powdered sugar
2/3 cup semi-sweet chocolate chips
1 (12 oz) can evaporated milk
1/2 cup butter
1 teaspoon vanilla extract
1 1/2 quarts strawberry ice cream
1 cup heavy whipping cream
2 tablespoons powdered sugar
1/2 teaspoon vanilla extract
---
Instructions
Line a 9×13-inch baking dish with parchment paper.
Place the cookies in a food processor and process until you have fine crumbs.  Combine the crumbs with the melted butter and press into the bottom of the parchment lined baking dish.  Place in the freezer for 15 minutes.
Remove the vanilla ice cream from the freezer and let it sit out while the crust is in the freezer.
When the ice cream is semi-soft, stir it to make it smooth.  Place dollops of the ice cream over the crust, then spread into an even layer.  Place the dish back into the freezer.
In a medium saucepan, combine the powdered sugar, chocolate chips, evaporated milk, and 1/2 cup butter.  Bring to a boil and let boil for 8 minutes, stirring constantly to avoid scorching the bottom of the mixture.  Remove from the heat and stir in the 1 teaspoon of vanilla extract.  Let the mixture come to room temperature. (I will often put this in the refrigerator to speed up the cooling.)
Pour the fudge over the vanilla layer and smooth with a spatula.  Return to the freezer for at least 1 hour.
Remove the strawberry ice cream from the freezer and allow to sit until semi-soft. Stir the ice cream to make it smooth. Place dollops of the ice cream over the fudge, then carefully spread into an even layer.  Place the dish back into the freezer.
In a large bowl, whip the cream until it has soft peaks.  Add the powdered sugar and continue beat until stiff peaks form.  Beat in the 1/2 teaspoon vanilla.  Spread the whipped cream over the top of the strawberry ice cream layer.  Top with more cookie crumbs, if desired. 
Cover and place in the freezer.  Let the bars freeze for several hours, until frozen through.
To serve, remove from the freezer 10 to 15 minutes before you are ready to serve.  Cut with a sharp knife that has been warmed in hot water.
Recipe Notes:
Total time doesn't include final freezing time.
Nutrition information provided as an estimate only. Various brands and products can change the counts.
Nutrition
Calories: 466
Sugar: 39 g
Sodium: 200 mg
Fat: 26 g
Saturated Fat: 15 g
Unsaturated Fat: 4 g
Trans Fat: 0 g
Carbohydrates: 48 g
Fiber: 1 g
Protein: 5 g
Cholesterol: 64 mg
Don't miss a thing! Follow me on Pinterest to see what I'm pinning!