One of my favorite parts of having a food blog is when I have the opportunity to review a cookbook.  There is little that is more exciting to me than opening up a new cookbook and getting to flip through the pages, trying to narrow down what I want to make first.  Sometimes it's easy to narrow down the recipes, but sometimes, you get a cookbook that ends up with sticky notes stuck through many of the pages – the recipes begging to be made.  This was one such cookbook.  Normally, I like to do 4 recipes for a cookbook review.  But I just couldn't narrow this one down!!  I ended up making 5 recipes, but believe me – I will be cooking more from this cookbook!!
This cookbook also had an added bonus that I truly loved.  Throughout the book are quotes – and I was truly smitten by them.  They made me want to move to the south and become a true Southern lady.  Things like "Memories happen when I bite into a recipe that I know was my grandmother's.  I remember her hands…arthritis, age spots, and reddened skin from years of washing dishes by hand, and a simple wedding ring that she never took off her finger."  I seriously loved every single one of the quotes in this book!!
Number of Photos:  some
Ok, so this is a little misleading.  There are some photos in the book, but very few of actual finished dishes.  Mostly photos of families or ingredients.  I'm a total photo lover, so usually I'm disappointed when there aren't lots of photos, but for some reason, it doesn't bother me that much in this book.  Maybe it's because I was distracted and entertained by the quotes!
Difficulty Level of Recipes: easy
Looking through the book, I think most beginners could make most of these recipes.  There doesn't seem to be lots of steps or complicated instructions.  Just down home cooking!


Availability of Ingredients:easy
The majority of the ingredients are everyday ingredients.  I did see a couple of recipes that had an ingredient that might be hard to come by.
And here's what I made!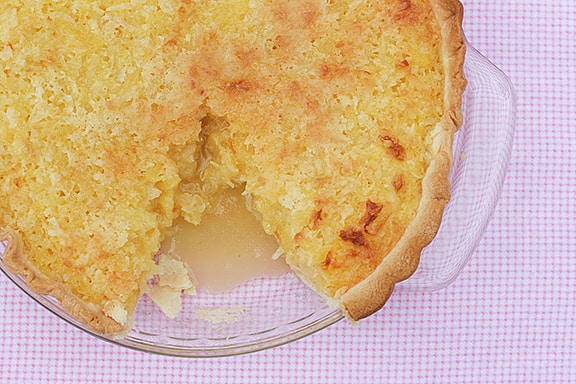 Maw Maw's Mystery Pie
There are so many pie recipes in this cookbook that I want to try, but the story behind this one is what got me!  The author – Devon O'Day – said that her Maw Maw made this pie for her for a birthday once, and she requested the pie every birthday after that.  She asked her Maw Maw what kind of pie it was, and she told her that she didn't know.  She called it a "Misty" pie, or a Mystery pie.   The recipe was found in Maw Maw's bible after she died.  I just couldn't resist making it, knowing it had such a touching history!  This really tasted like a bit of summer.  I did cheat and used a store bought pie crust, simply because I had one in the fridge that I needed to use.  The only complaint I had with this pie is that the pineapple becomes a bit runny, but after some time in the refrigerator, it wasn't really an issue.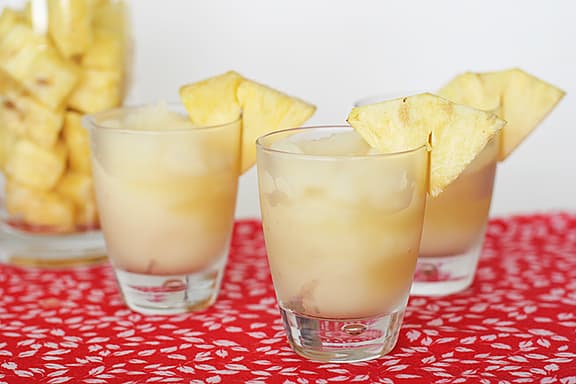 Pineapple Chiller
So, I'm not usually one for fancy drinks.  I'm mostly a water drinker – with a Diet Coke thrown in there every once in awhile – but it's pretty rare that I drink, much less make, different drinks.  For some reason, this cookbook is making me want to change all that.  There are several drinks in this book, and I wanted to make just about every one of them!!  (So be prepared to see more drink recipes here!)  This was delicious and refreshing.  And yes – another one that made it feel like summer.  I can see myself making these in the dead of summer, enjoying one while I sit on the porch and watch my daughter playing in the yard!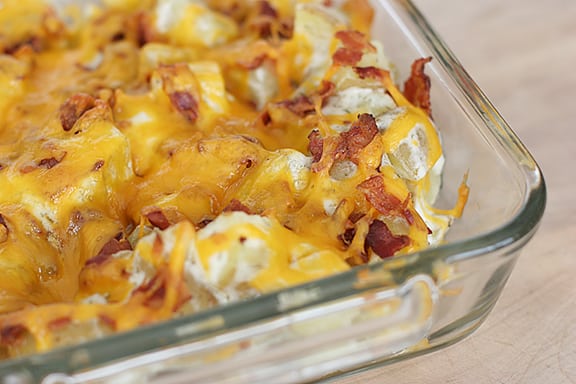 Creamy Dill New Potato Casserole
What's not to love in this one??  Potatoes, sour cream, dill, cheese, bacon.  With a list of ingredient like that, I knew it was going to be a winner.  And it was.  Simple to put together, and a great side dish.  It was even good cold the next day!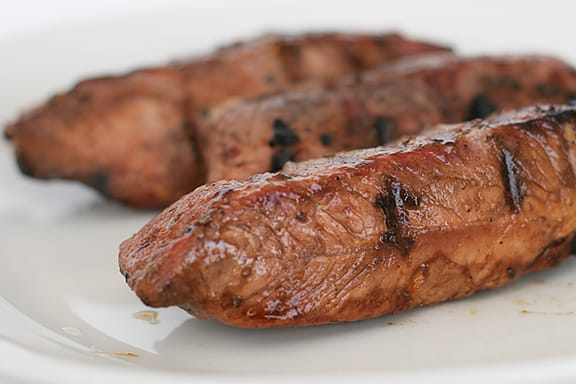 Marinated Country Pork Ribs
The only problem with this recipe was my own problem.  The only country ribs my grocery store had were boneless ones, and I'm a girl who likes the bones in her ribs.  This was a good recipe, but I think it would have been great if I would have had bone-in ribs!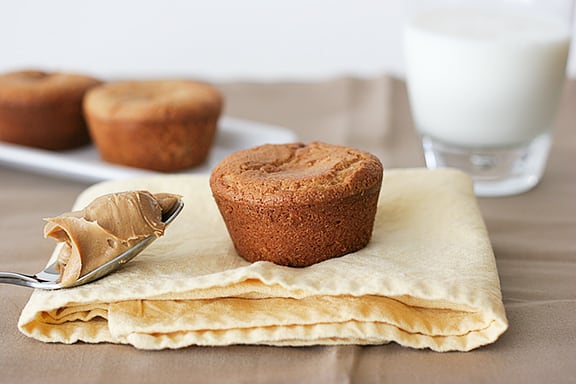 Peanut Butter Muffins
Go figure that a muffin recipe is my favorite of all the recipes I tried!!  These muffins are divine.  They made the house smell like peanut butter cookies as they baked, and they were a delicious breakfast treat.  I loved everything about them:  the texture, the sweetness, the moistness… I wouldn't change a thing on these!  And since we are a muffin loving family, I know these will make another showing very, very soon!!
Overall thoughts…
Overall, this was really a great cookbook.  I didn't have any major issues with any of the recipes I tried, and like I mentioned before, there are plenty more recipes I want to try from this cookbook!  I would definitely say this is one I'd recommend – especially if you love southern cooking!
Peanut Butter Muffins
slightly adapted from My Southern Food
makes 12-18 muffins
1/3 cup butter, softened
1 1/2 cups firmly packed brown sugar, divided
1/2 teaspoon salt
1 teaspoon vanilla extract
1/2 cup peanut butter
2 large eggs, beaten
2 1/2 teaspoons baking powder
2 cups all-purpose flour
3/4 cup milk
Preheat the oven to 350F.  Grease a muffin tin; set aside.
Place the butter in a large bowl.  Gradually add 1 cup of brown sugar, the salt and the vanilla and cream together until fluffy.  Add the peanut butter, continuing to blend.  Set aside.
In another bowl, beat the eggs well.  Add the remaining 1/2 cup brown sugar and mix until completely blended.  Stir into the creamed mixture gradually, mixing until completely blended.
In another bowl, sift together the baking powder and flour.  Gradually add the dry ingredients and the milk alternately to the creamed mixture, mixing well after each addition.  Pour in the prepared muffin tin and bake for 25 to 30 minutes.
Disclosure: I received a free copy for this review. The publisher is also providing the copies that are being given away.  No monetary compensation was offered or accepted. The opinions above are my own. Others experience may vary.