Back when I got pregnant with Abbi, my goal was lose the baby weight by the time she was 6 months old.  I know they always say "it takes 9 months to put it on, and it takes 9 months to take it off," but I was determined.  I didn't make my 6 month goal, but I was back to normal by 9 months, and I was ok with that.  I also had a goal to lose an extra 10 pounds by 1 year, but by the time I got pregnant with Easton, I was pretty much the same weight that I was when I got pregnant with Abbi.  Once again, I made a goal to lose the baby weight by 6 months, and be down another 10 in a year.  Well, Easton turns 9 months old on Friday, and I'm happy to say that not only is the baby weight gone, but I am down 4 pounds.
As a food blogger, it's not always easy to keep your weight in check.  Especially during the holiday season, when treats and parties are abundant.  The biggest thing that I have learned that works for me is nothing crazy, nothing drastic.  It's watching my portions, and knowing when it's worth it to splurge and when it's not worth it.  I did calorie counting for several weeks, which totally opened up my eyes as to what I was putting into my mouth and how quickly everything really can add up.  I have also learned that the quality of food that you eat really makes a difference, as well.
I have also found that supplementation can also play a big part in helping you become healthier.  I've tried so many different things over the years.  But nothing has really stuck with me for the long run – until now.  About 10ish years ago, I did one of those body transformation programs that has you drinking protein shakes 3 times a day and eating chicken and broccoli.  And while it did help me to "transform" my body, by the end of that program, I was so over those protein shakes that I couldn't even gag one down.  They weren't good at the beginning, and they were absolutely unbearable at the end.  I'm a normal kind of girl and couldn't stick to that kind of hard-core eating lifestyle, but to this day, I have a hard time even stomaching the thought of a protein shake.
But several months ago, I had my first taste of Muscle Nog.  And I'm telling you – this stuff tastes good.  Not only does it taste good, but if you are looking for a way to add some protein into your diet, this is the way to go. I've seen other egg proteins on the market, but Muscle Nog is the first to introduce a nutritionally complete, 100% bioavailable egg protein powder.  What does this mean?
Every other egg protein powder currently on the market is spray dried junk. Spray drying is performed at close to 400 degrees F. Eggs denature and begin to cook at 126 degrees F., and at 400 degrees nutritional and bioavailable components are destroyed.

Spray dried powders are not completely soluble, 80% bioavailable, and taste bad. Muscle Nog is NOT made with spray dried egg. We use a proprietary process to slowly pull water from the egg without ever heating the liquid egg above 125 degrees F. What we have left after taking the liquid egg through this gentle process is a nutritionally complete, fully soluble, delicious egg white crystal with the same nutritional content, biological value, and bioavailability as it had when it left the shell.
This is not necessarily a weight loss product, but it is a way to get those quality nutrients into your body.  Egg whites are not just for body builders!!  I encourage you to check out their website for more information.  This really is an amazing product!
For fun, I've created 3 different recipes using this product.  And I may be working with them in the future to develop more recipes, so I'd really love to hear what you think about this kind of product.  It really was super versitle to work with – and delicious, as well!

Pin It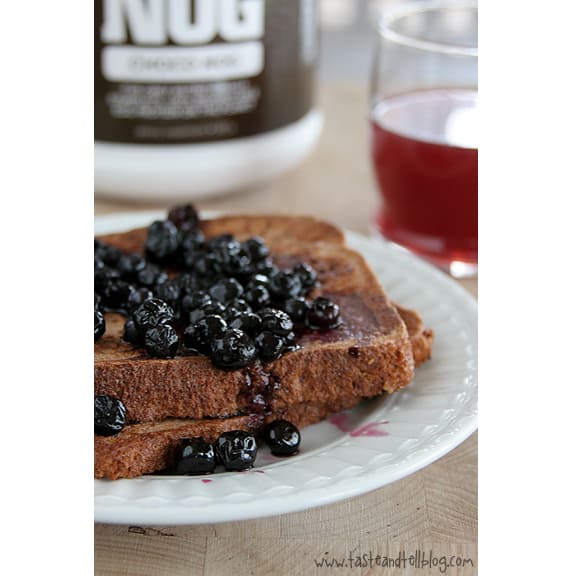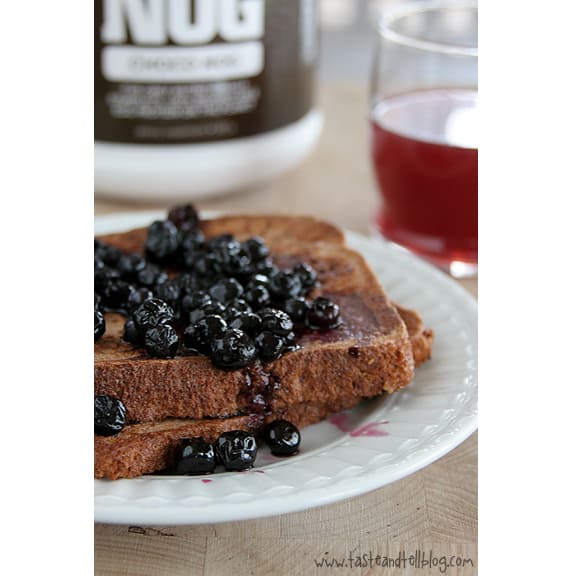 Chocolate Berry Protein French Toast
---
Prep Time: 5 minutes
Cook Time: 7 minutes
Total Time: 15 minutes
Yield: 1 serving 1x
Description
A protein packed version of a breakfast favorite.
---
Scale
Ingredients
1/2 cup frozen berries
1/2 teaspoon sugar or sugar substitute
1 scoop Choco Nog
2 tablespoons water
1/4 cup vanilla almond milk
pinch cinnamon
2 slices whole wheat bread
---
Instructions
In a small bowl, combine the berries and sugar and let sit until the berries have thawed and macerated.
Heat a medium skillet over medium heat. Spray with non-stick cooking spray.
In a shallow bowl, whisk together the Choco Nog, water, almond milk and cinnamon. Dip each side of each slice of bread in the mixture, and then place in the pan. Cook until golden, then flip. Serve with the berries.

Pin It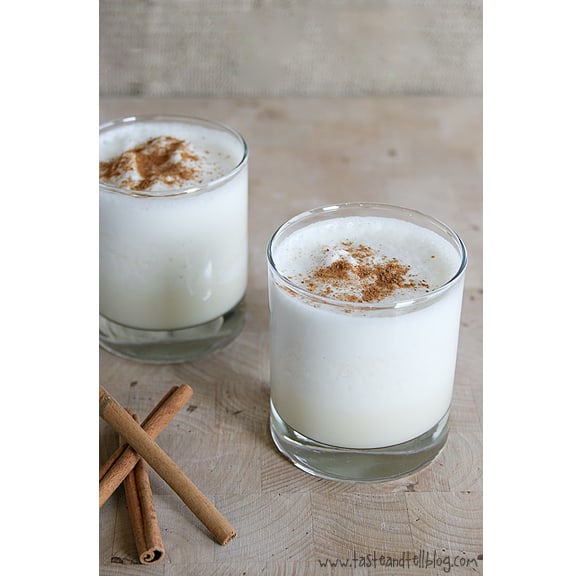 [amd-zlrecipe-recipe:73]

Pin It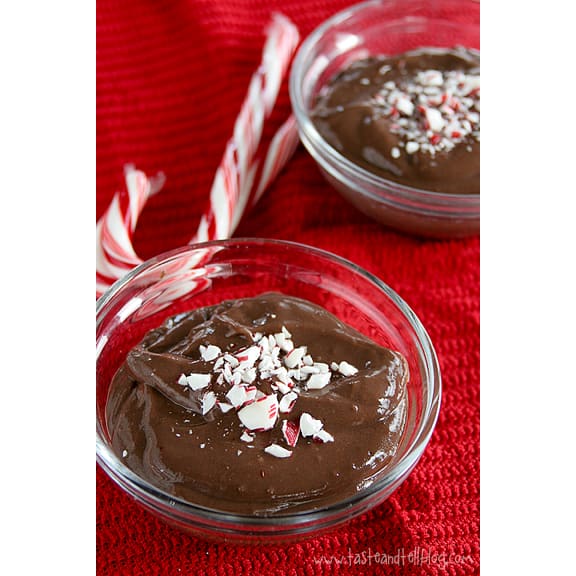 [amd-zlrecipe-recipe:74]

——————————

Want a chance to win some Nog? Muscle Nog is giving one of you the chance to try out their delicious egg protein!  One of you will win one jug of Choco Nog and one jug of Nilla Nog – a $105 value!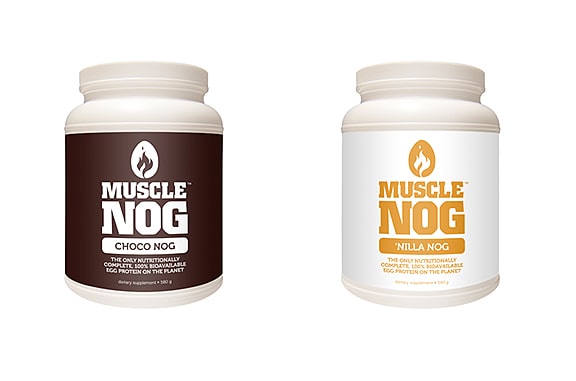 Here's how you can enter:
Mandatory: Comment below and let me know your best weight loss strategy.
Want extra chances to win?  You have 6 bonus ways to enter!
Follow me on Facebook
Follow me on Twitter
Follow Muscle Nog on Facebook
Follow Muscle Nog on Twitter
Tweet the following:  "I entered to win some awesome egg protein powder from @tasteandtell & @musclenog! Enter here:http://su.pr/52cVwq"
Share this giveaway on Facebook
Note: for any of the extra entries, make sure you leave a separate comment for each.
*This giveaway is open to US residents.
*This giveaway will be open from today until Thursday, December 15th at midnight MST. The winner will be emailed on December 16th, 2011.
Are you interested in trying out Muscle Nog?  Head over to their website, and enter the code tasteandtell and receive 30% off of your total order!  Don't wait until the first of the year to start your new fitness goals!!
**Disclosure:  I was provided product to create these recipes, but I was not compensated in any way.  This is a product and a company that I totally believe in, and want to share with all of you!  The giveaway is being provided by Muscle Nog.**