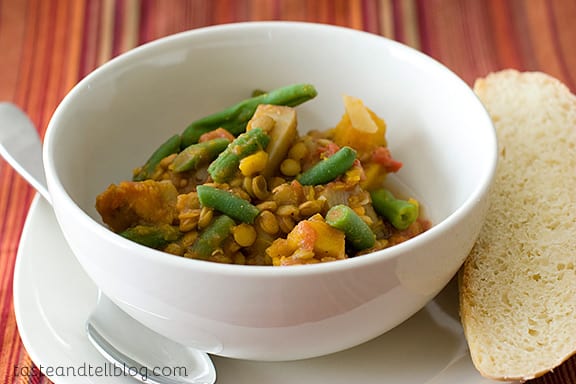 Is there an ingredient that you see others using that you have never used before? I'm sure that if you are a food blogger, or if you read food blogs, you'll come across strange or exotic ingredients quite often. But I know there are plenty of ingredients out there that are everyday ingredients for some people, that I have never had. Maybe it's because I'm not as familiar with them because I didn't grow up eating it. Although I love to try new recipes, I do tend to stick with ones that have familiar ingredients and taste profiles. But every once in awhile, I do like to try out something new.
Now I know probably 90% of you have had lentils before. They are not a strange or exotic ingredient. But up until I made this stew, I had never had lentils before. It's crazy that in the hundreds, (or maybe even thousands), of recipes that I've made or eaten in my lifetime, not one of them that I can think of has had lentils. And now I'm wondering why I didn't branch out and try them sooner!
This stew is super easy, like most slow cooker meals are. And it's healthy and vegetarian! And although I really liked this, I liked it even better as leftovers. The liquid did absorb a lot more as it sat overnight, but if you could always add more water or even some chicken or vegetable stock. But it was hearty and filling, and wonderful eaten with a nice slice of crusty bread!
Moroccan Lentil Stew
adapted from Pillsbury Good For You Meals February 1999
Serves 6+
1 cup dried lentils
1 (1-lb.) butternut squash, peeled, cut into 3/4-inch cubes
8 small new red potatoes, cut into 3/4-inch cubes
1 medium onion, chopped
1 (28-oz) can diced tomatoes, undrained
3 teaspoons curry powder
1/2 teaspoon salt
2 cups water
1 (8-oz) pkg. frozen green beans, thawed
In a 3 1/2-4 quart slow cooker, combine all ingredients except green beans; stir gently to mix. Cover; cook on low for 6-8 hours or on high for 4-5 hours or until lentils and potatoes are tender.
During the last 15 minutes of cooking time, increase setting to high. Stir in green beans; coon an additional 10 to 15 minutes or until beans are tender.