These mini mint cheesecakes have a mint cookie crust and are topped with a lightly flavored mint cheesecake. Top with chocolate ganache, if desired.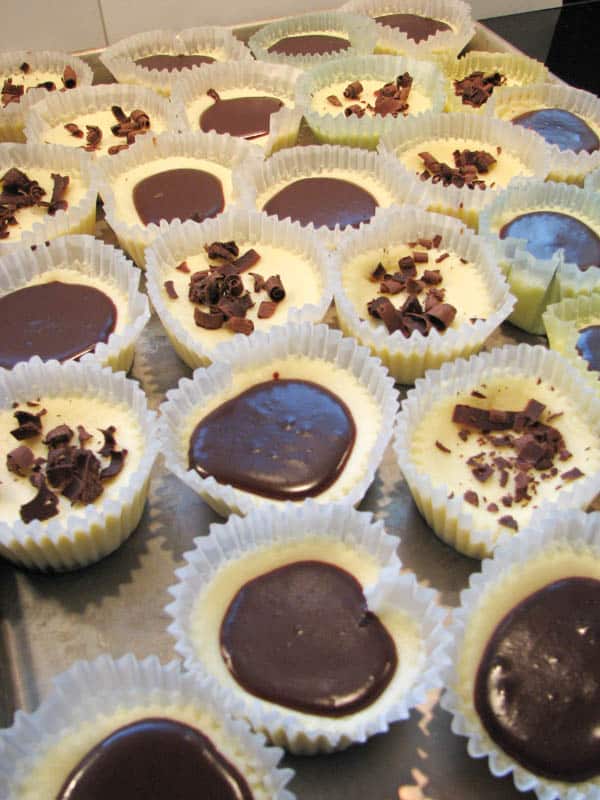 I was recently asked if I would like to start bringing in treats for birthdays in my office. The company does not give any money for birthday celebrations, but an email is sent out before each birthday asking for donations. I think I was asked for a few reasons. First – everyone in my office knows that I love to cook and bake. There are often leftovers when I bake because there are only 2 of us at home, and my co-workers are usually the recipients of these leftovers. Second – donations have become scarce lately, and while $10 won't buy a store-bought cake, I can easily make one for under $10. And third – you can only have so much Costco cake before everyone refuses to eat the same cake again!!!
I gladly agreed – knowing this would be the perfect excuse to make so many of the recipes I have saved. I can't justify making cakes at home all of the time with only my husband and I!! And at least this way, my ingredients are paid for.
My first birthday treat was actually last month, but I am just not getting around to posting it. (And with 5 birthdays in September – including my own!! – I will have a lot more to post!!) My husband goes crazy when Girl Scout cookie season comes around. He doesn't just buy boxes of the cookies, but cases!! Well, the Samoas never last long, but this year, we still had Thin Mints hiding away in the pantry. I decided to use some up in mini cheesecakes before they started to get stale.
I started off by putting a thin mint in the bottom of a cupcake liner in a cupcake pan. Then I made a basic cheesecake, adding in a few drops of mint extract. After the cheesecakes baked, I topped some with a chocolate ganache and others with chocolate curls. My first intention was to not serve them in the cupcake liners, but the cheesecake recipe I used was too soft to take each of the cheesecakes out of the liner. So they weren't as pretty as I had imagined them, but it worked.
**On a side note – why is it that I try to make everything pretty even though I know I am serving them to a room full of men who really don't care what it looks like?? My husband gets on me all of the time when I feel like something isn't "pretty" enough to take into work. But it still matters to me!!
I wish I would have left the mint extract out of the cheesecake – I think it made them too minty. They went over really well, but if I were to make them again (which would have to wait until next year because I used the rest of the cookies) I would leave the mint out. The cookie alone is minty enough. This would be easy to make into a full cheesecake. Just crush the cookies and use them instead of graham crackers for the crust. That's the good thing about cheesecakes, though – the possibilities are endless!!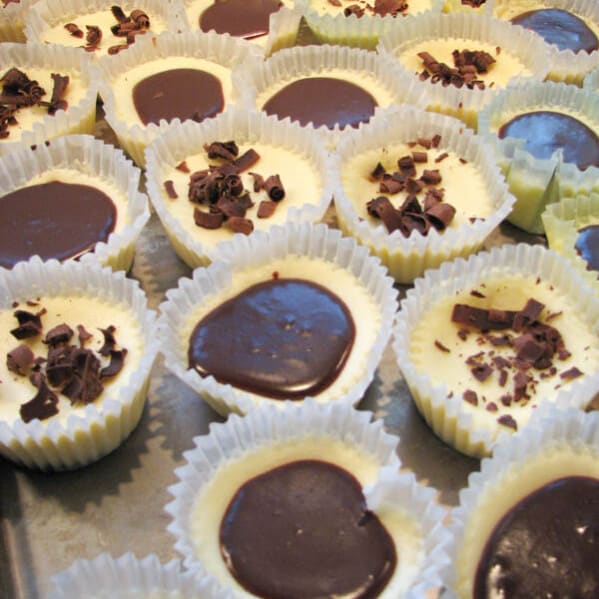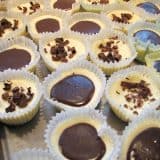 Mini Mint Cheesecakes
---
Author:
Prep Time: 20 mins
Cook Time: 12 mins
Total Time: 1 hour 30 mins
Yield: 36 cheesecakes 1x
Category: Dessert
Method: Bake
Cuisine: American
Description
These mini mint cheesecakes have a mint cookie crust and are topped with a lightly flavored mint cheesecake. Top with chocolate ganache, if desired.
---
Scale
Ingredients
Crust:
36 Thin Mint Girl Scout cookies, or any other thin mint flavored cookie
Cheesecake Filling:
4 (8-oz) boxes of cream cheese
1 1/3 cups sugar
1/2 teaspoon salt
1 teaspoon vanilla extract
1 teaspoon mint extract
4 large eggs, at room temperature
1 1/3 cups sour cream
Chocolate Ganache:
2 ounces semi-sweet chocolate, chopped finely
1/4 cup heavy cream
1 tablespoon sugar
1 tablespoon water
---
Instructions
Make the cheesecakes:
Line 36 muffin cups with paper liners.
Place a cookie in the bottom of each cup.
Working with a stand mixer with a paddle attachment, or with a hand mixer in a large bowl, beat the cream cheese at medium speed until soft and creamy, about 4 minutes.
With the mixer running, add the sugar and salt and continue to beat for another 4 minutes or so, until the cream cheese is light. Beat in the vanilla and mint.
Add the eggs one by one, beating for a full minute after each addition – you want a well- aerated batter. Reduce the mixer speed to low and mix in the sour cream and/or heavy cream.
Pour the mixture in each of the prepared cupcake liners.
Bake in a 350 F oven until they are not jiggly in the middle, about 12 minutes.
Let the cheesecakes cool completely.
Make the ganache:
Place the chocolate into a heatproof bowl.
In a small saucepan (or microwave safe bowl) combine the cream, sugar and water and bring to a full boil.
Pour the mixture over the chocolate and let it sit for 30 seconds.
With a whisk or rubber spatula, stir the mixture in small circles until it is completely combined and smooth.
Top the cooled cheesecakes with the ganache.