Wondering if Mickey's Not So Scary Halloween Party at Disneyland is worth it? Here are my pros and cons from a party first timer!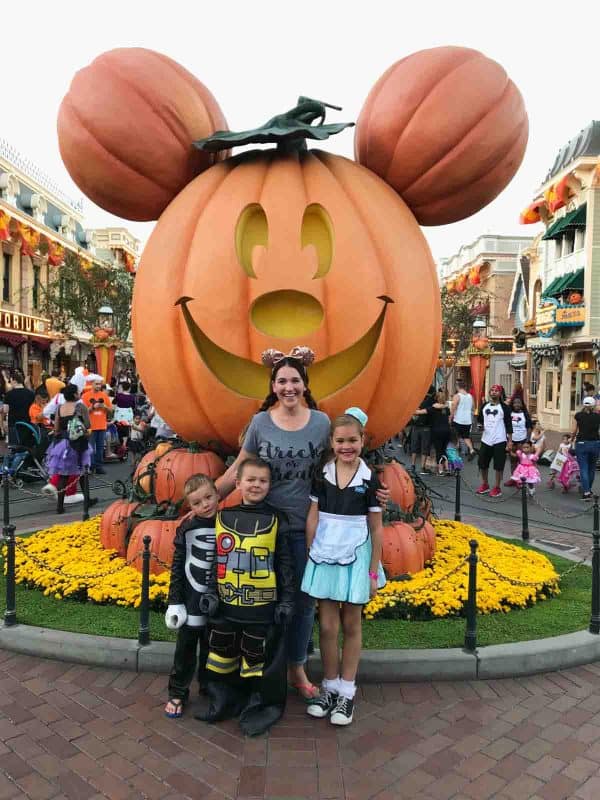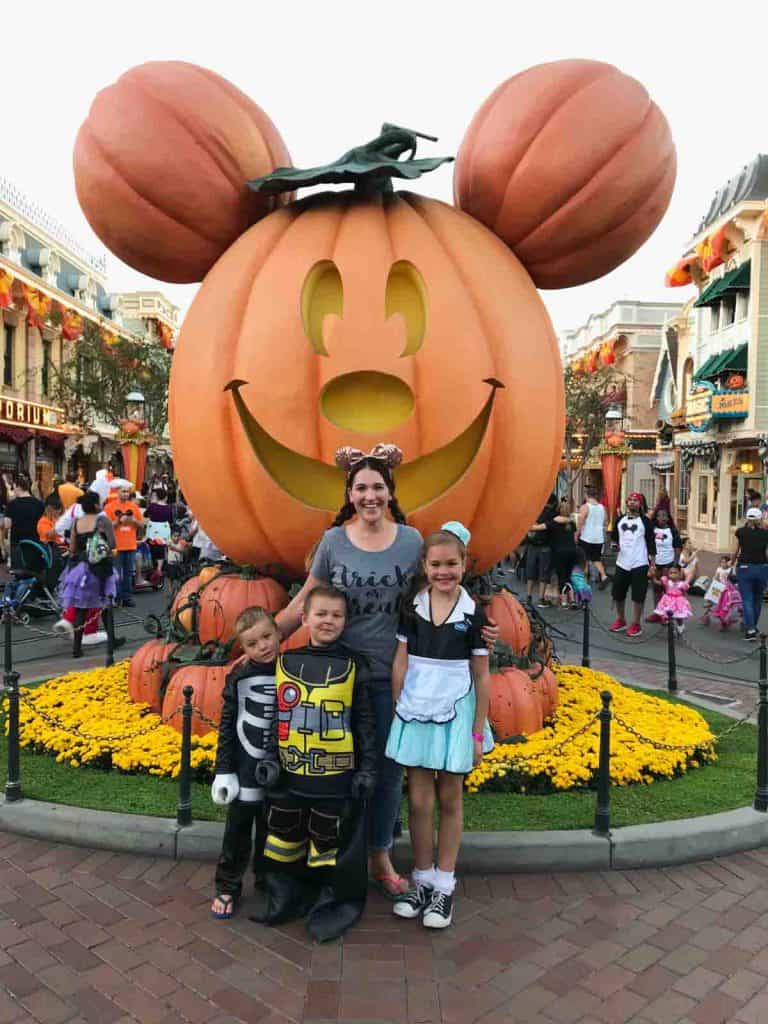 If you follow me on Instagram, you know that I was at Disneyland with my family last week. There were a total of 26 of us in our group – and it was as crazy, chaotic and wonderful as you can imagine!
When we first planned the trip, we started talking about if we should attend Mickey's Not So Scary Halloween Party. We all kind of went back and forth – all wanting to go, but knowing it would be an additional expense. We finally decided that there is no time like the present, and we purchased our tickets.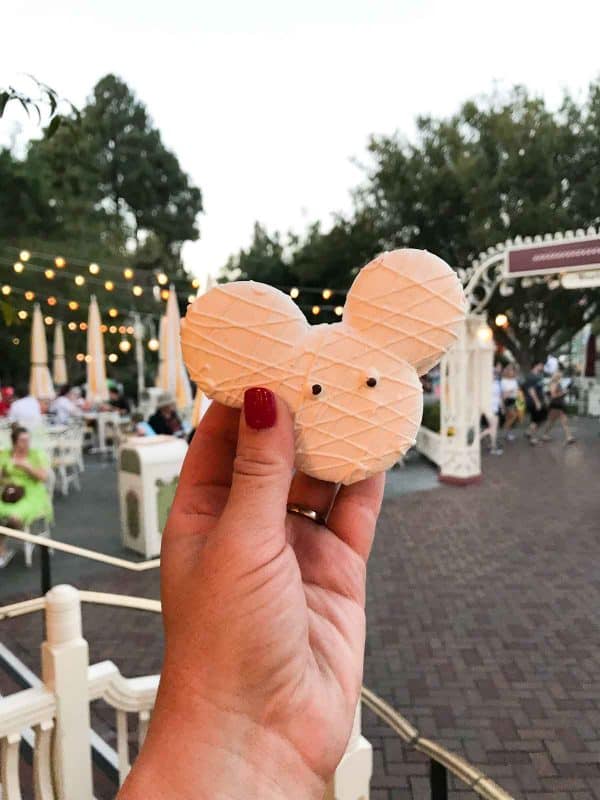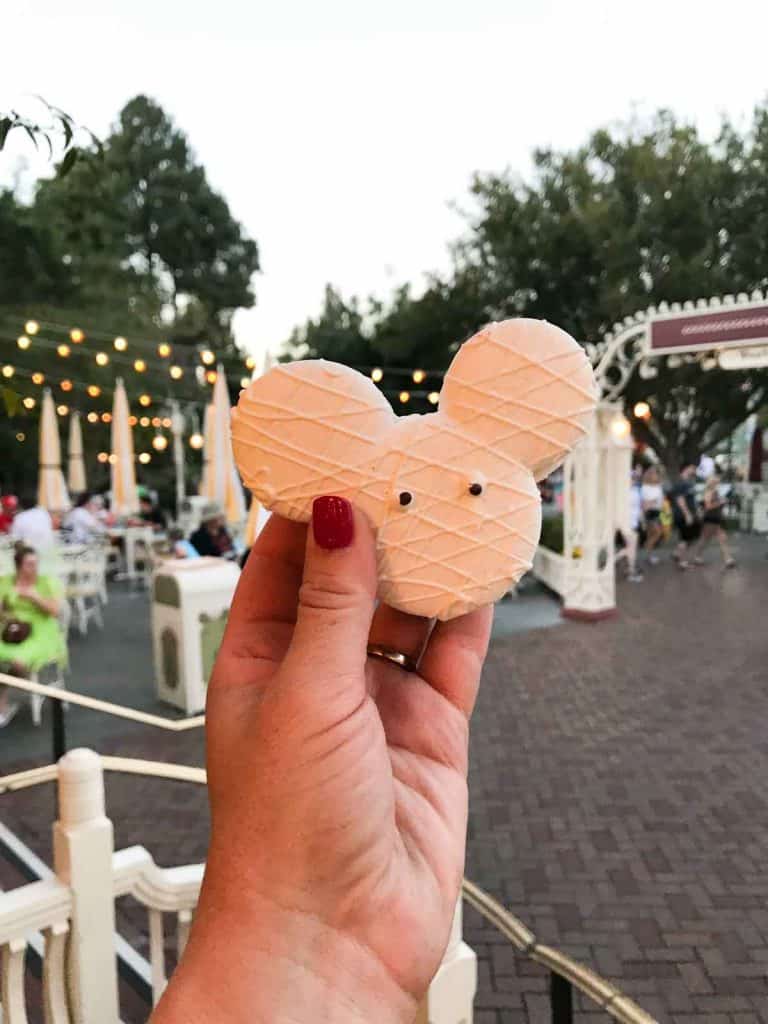 I wasn't going to write about our experience, because tickets are sold out to the few party dates remaining, but I decided that an opinion from a first timer might be useful for others in years to come. So I asked opinions from all of my sisters and my mom, and I'm compiling our list of pros and cons for the party.
This year, tickets ranged from $95 – $120 per person depending on what night you went. At $105 per person, it cost my little family $420 just to get in. (My husband wasn't with us, so it was just the 4 of us.) After already purchasing 3-day park hopper tickets, we had high expectations for the party.
Con #1: pricey!
I have to preface this with saying that the day of the party, there was a heat wave and temperatures well over 100ºF. I heard that it got up to 105ºF. It was hot. And honestly, all day at the park was kind of miserable. We powered through because we were at Disneyland, but the heat kind of zapped all energy. We did take a break mid-day to go back to our hotel and change into costumes. I was worried that my boys' costumes would be too hot, but they actually did pretty well in them.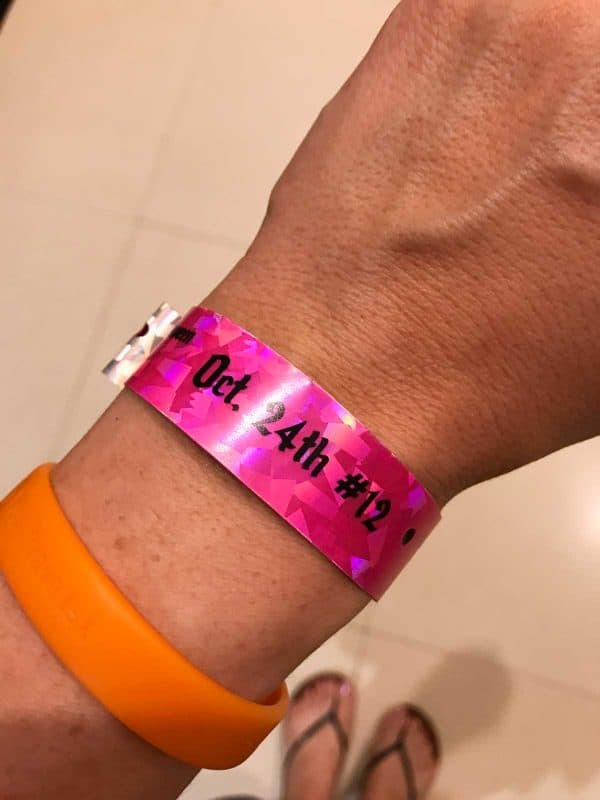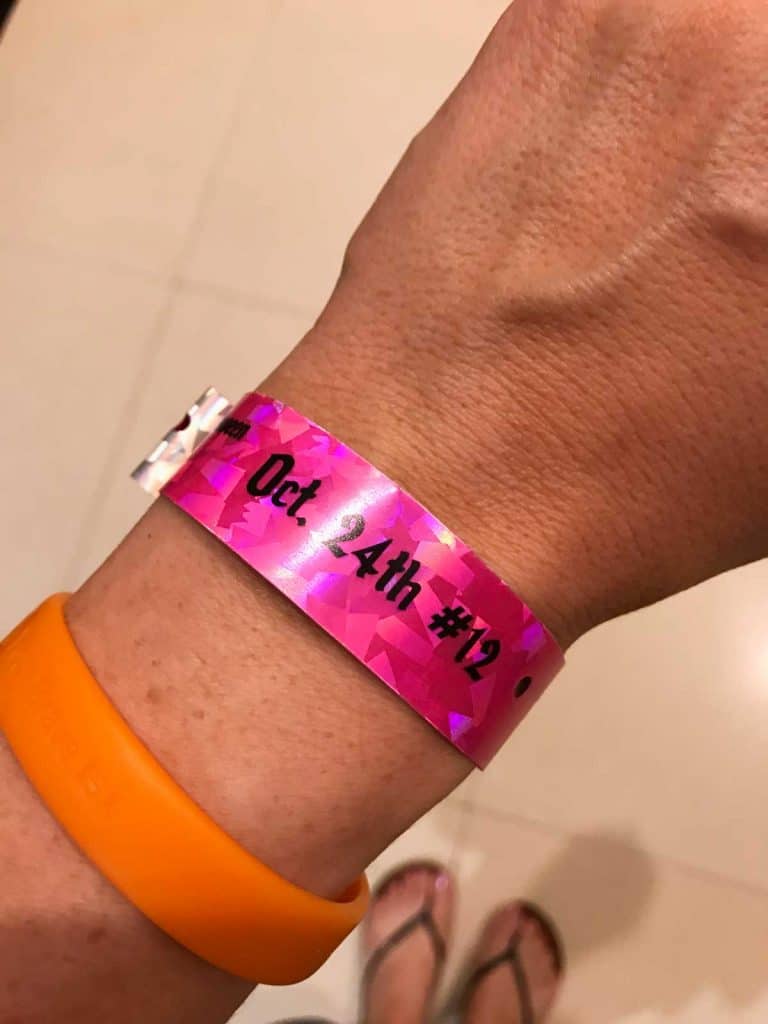 All day I had wondered how they get the people out of the park that hadn't purchased party tickets. I quickly learned when we went back in that you received a wristband with your party ticket. At 6pm, the official start time for the party, they start checking for wristbands and having those without wristbands leave. They said that they were allowed to shop on Main Street for an hour, but you weren't even allowed into the Jolly Holiday Bakery without a wristband. Beyond Main Street, there were cast members checking for wristbands.
At this point, it was very crowded. Party goers all over, plus all of those without wristbands leaving. After stopping at the Jolly Holiday for a treat (yes to all of the macarons!) we headed over to ride some rides. We walked straight on to Pirates of the Caribbean and into the Haunted Mansion. Seriously less than a 5 minute wait. At one point I saw that there was a 20 minute wait for the Haunted Mansion, but I think that's as busy as it stayed the whole night. It was awesome to be able to get onto the rides that quickly. Later in the night, the bigger kids were riding Matterhorn over and over again, as well as Space Mountain. That never happens!
Pro #1: little to no wait on the rides!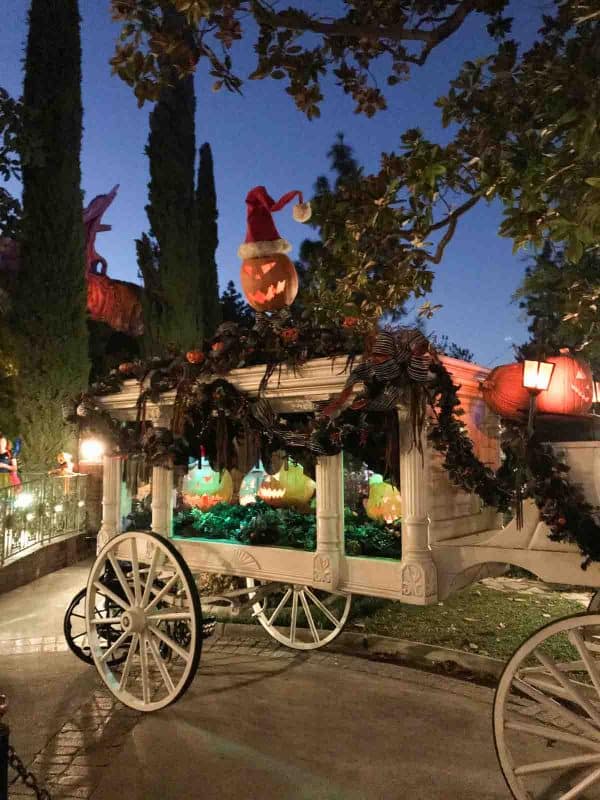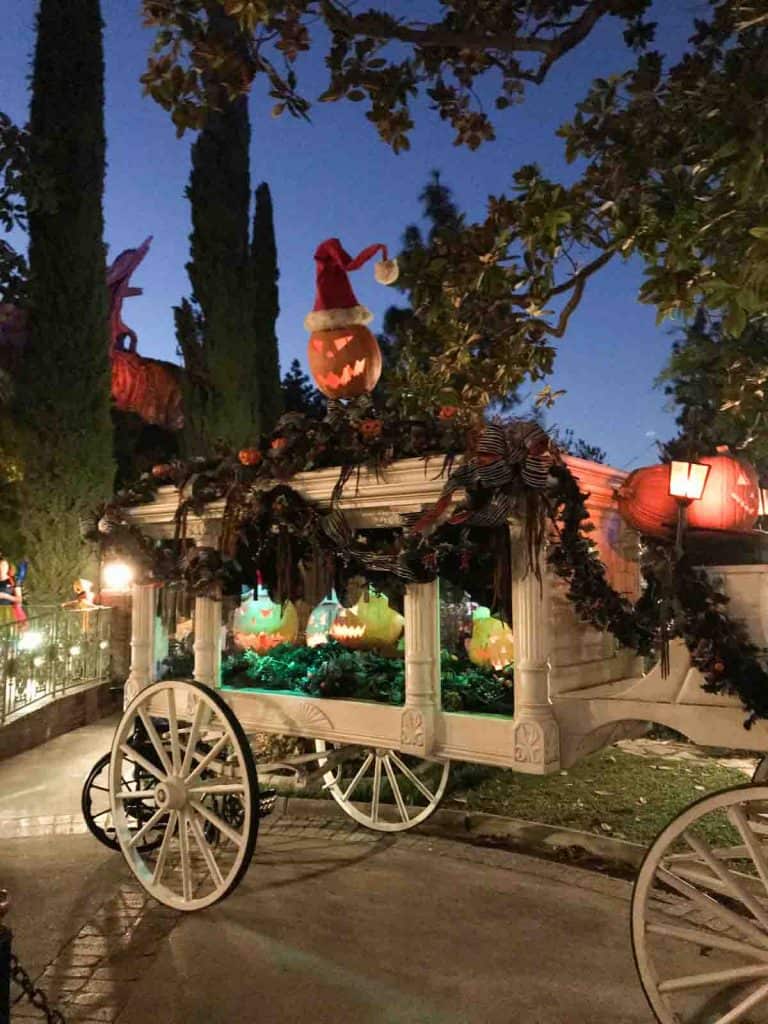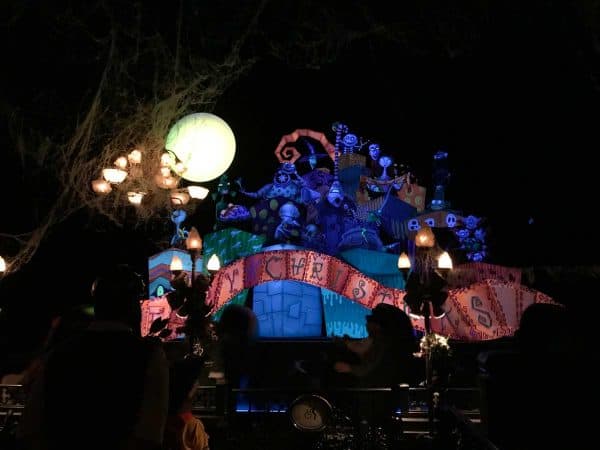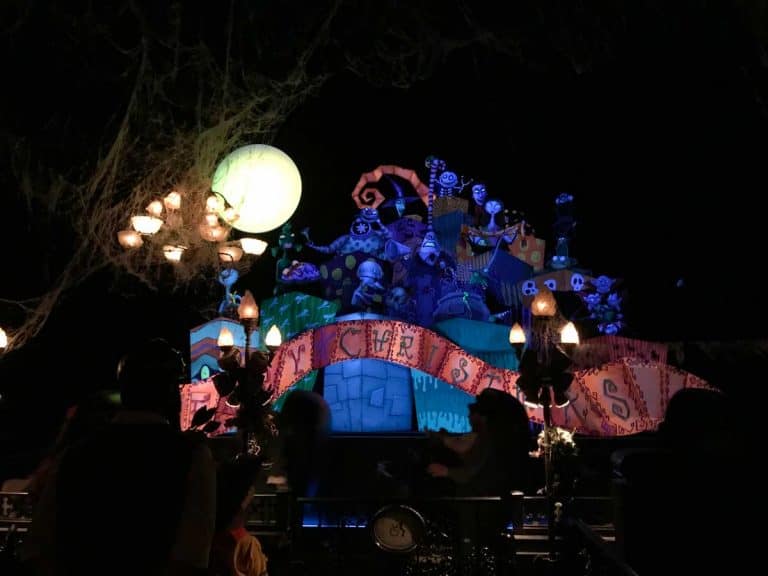 At this point, my boys were begging to go trick or treating but the older kids all wanted to go ride rides, so we split up. My boys and I spent the next little while trick or treating. At first, I worried that we'd spend all night waiting in lines for candy, but after going down the first trick or treat trail, I saw just how quickly and efficiently the lines went. We never really waited in a line for long at all!
Pro #2: flow of the trick or treating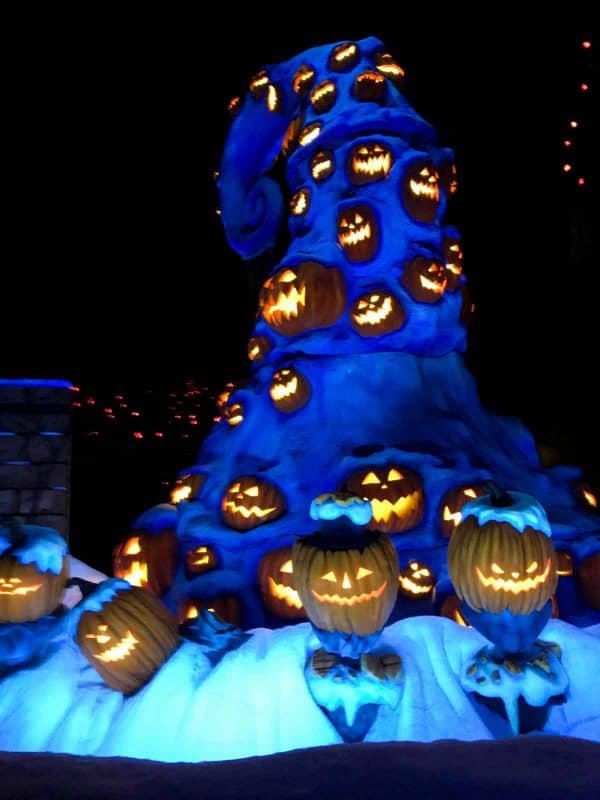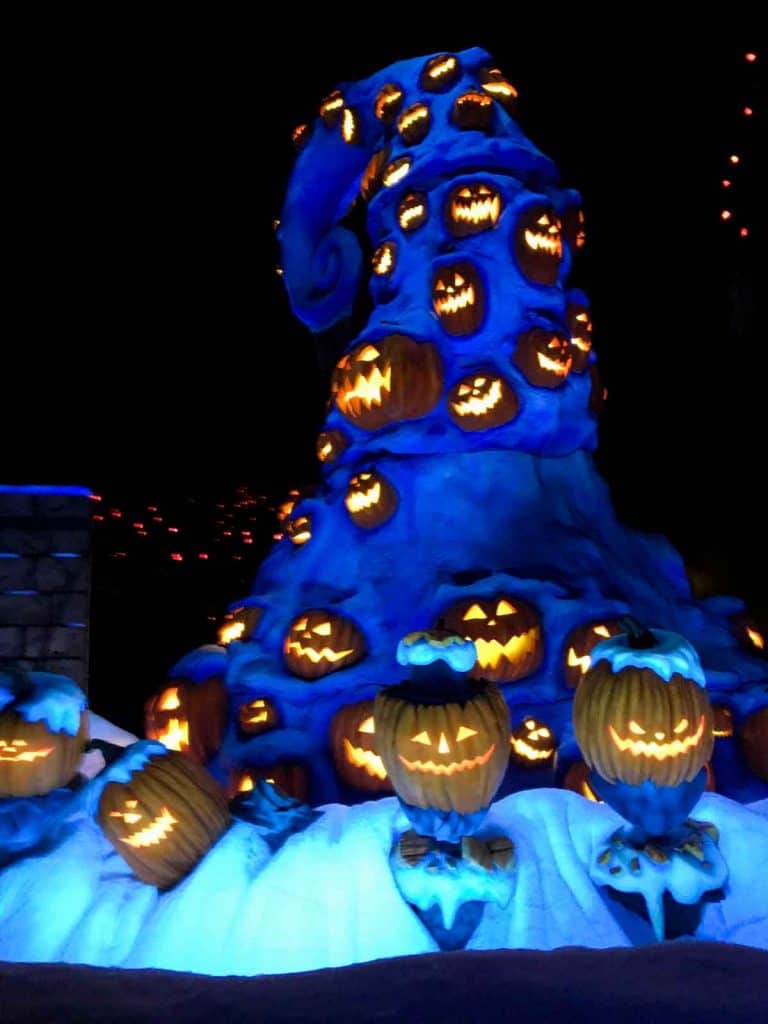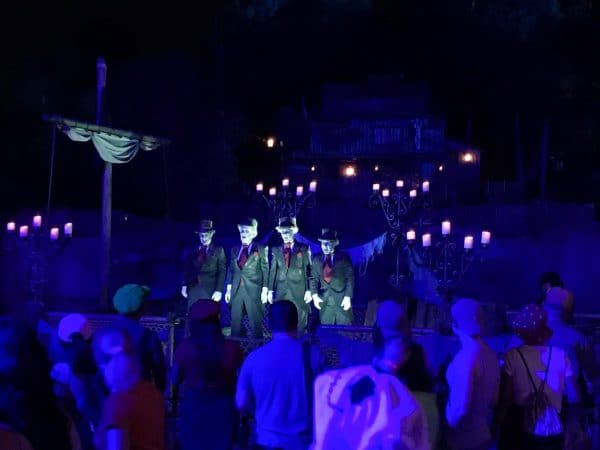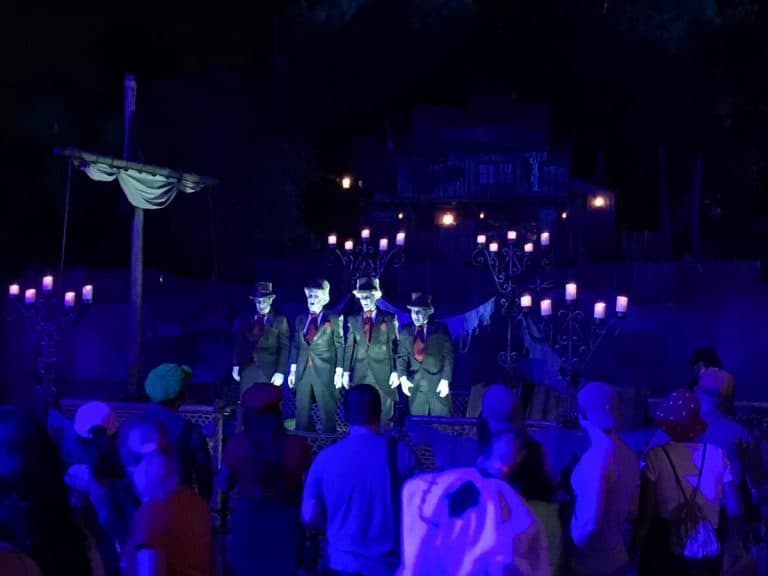 Most of the trick or treat trails that my boys and I went through had a choice of either candy or a bag of crackers or chips or these large cinnamon goldfish crackers. Of course my boys always wanted the candy, and I tried to get the crackers to take home for lunch or after school snacks for the kids. But I guess on another side of the park where the older kids went through a few trails, they were given most crackers, and they weren't all that happy about that.
Con #2: too many crackers and not enough candy for some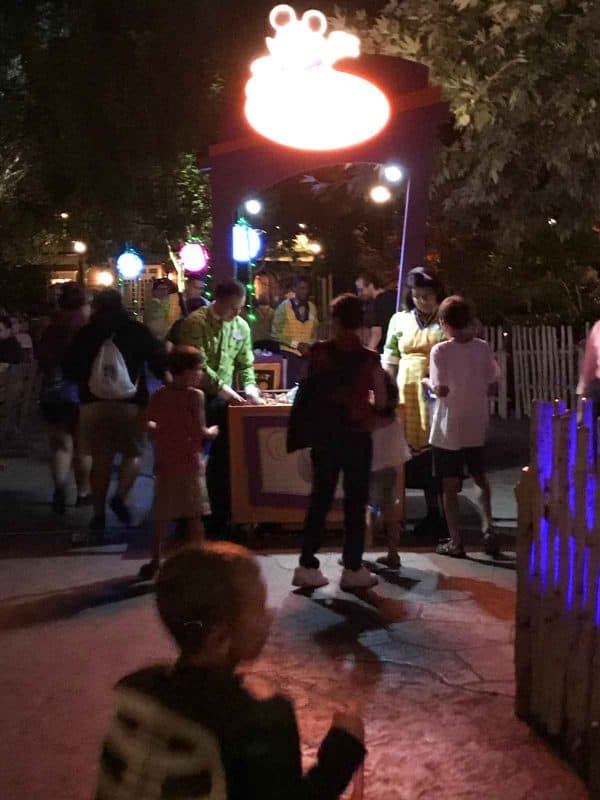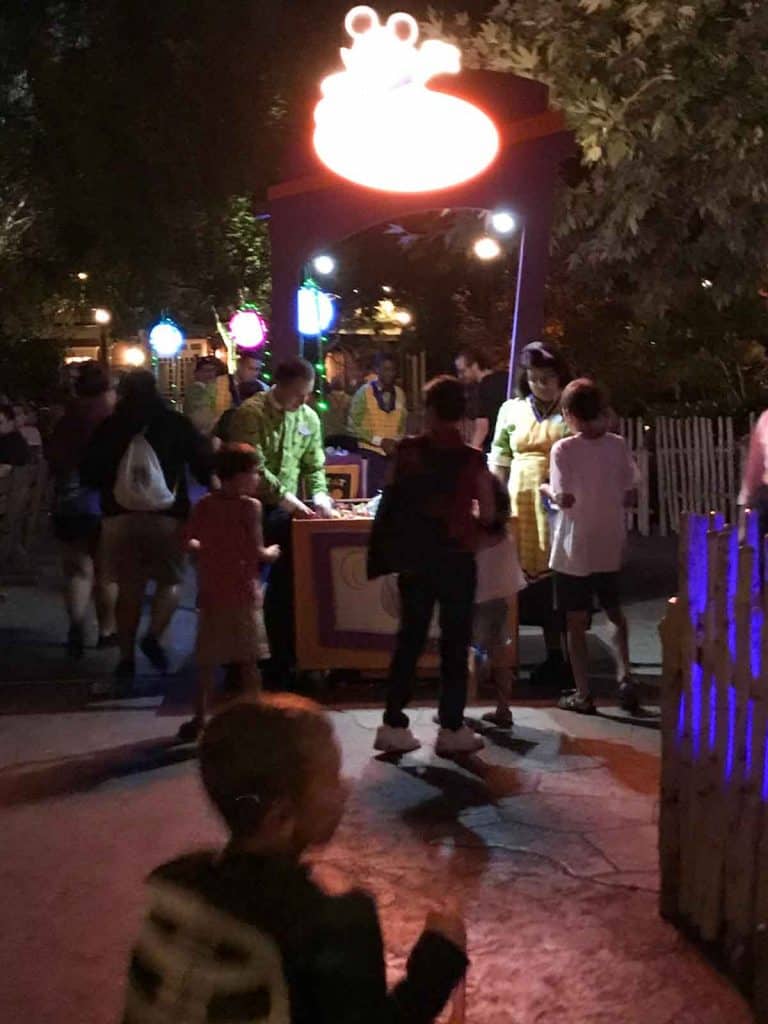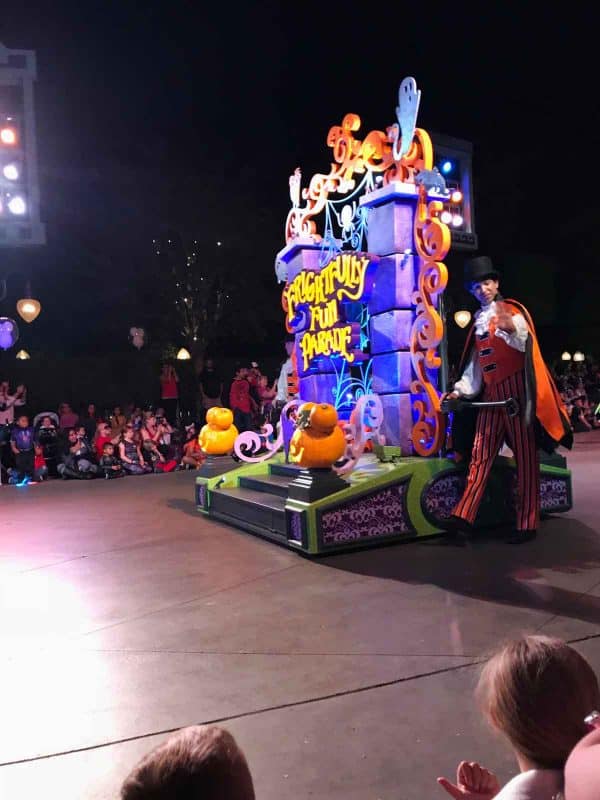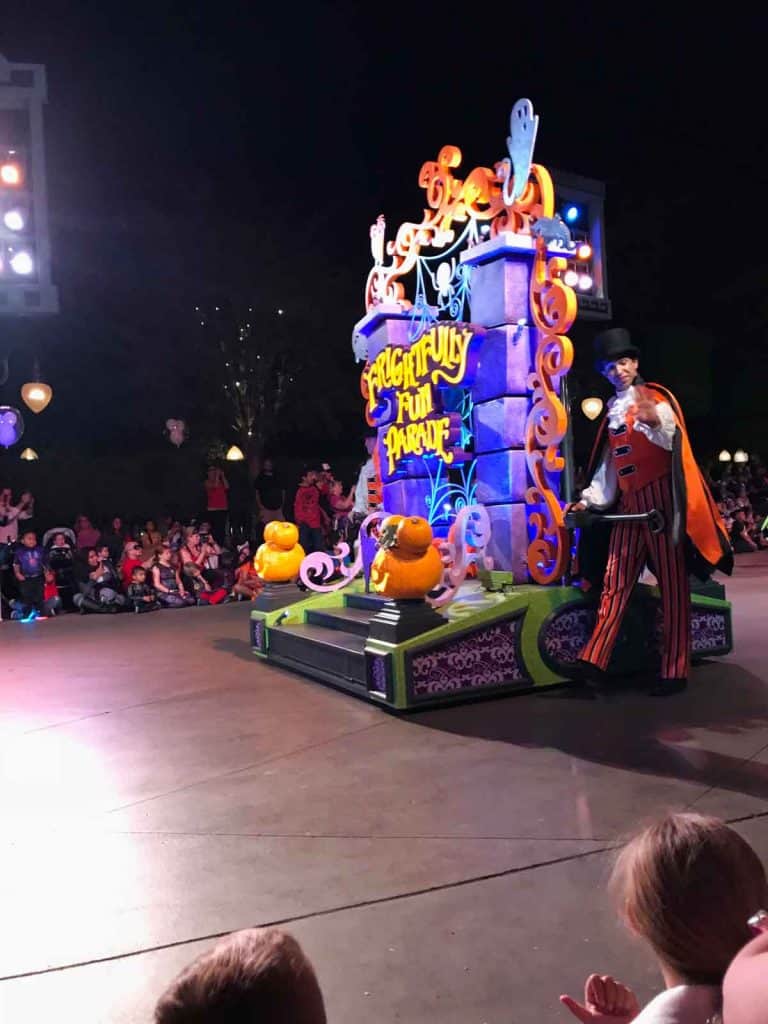 We did manage to see the Cadaver Dans singing on a boat, and that was very cool. I wish I would have studied the map to see where else we could have seen them, because I thought that was a fun addition.
Pro #3: Cadaver Dans
One of the big disappointments for all of us was the lack of character sightings. I think we all expected to see characters dressed up for the holiday roaming the park. They did have the location for some characters on the map, but no one was interested in going and standing in line for 30 minutes when the party is so short, anyway. I do wonder if the lack of characters was because of the heat, but it was disappointing none the less. I did see Sully and Mike at the dance party, and my sister saw Alice and the Mad Hatter at the end of the evening, but no Mickey or Minnie or Donald, or any of the core characters at all.
Con #3: very few character sightings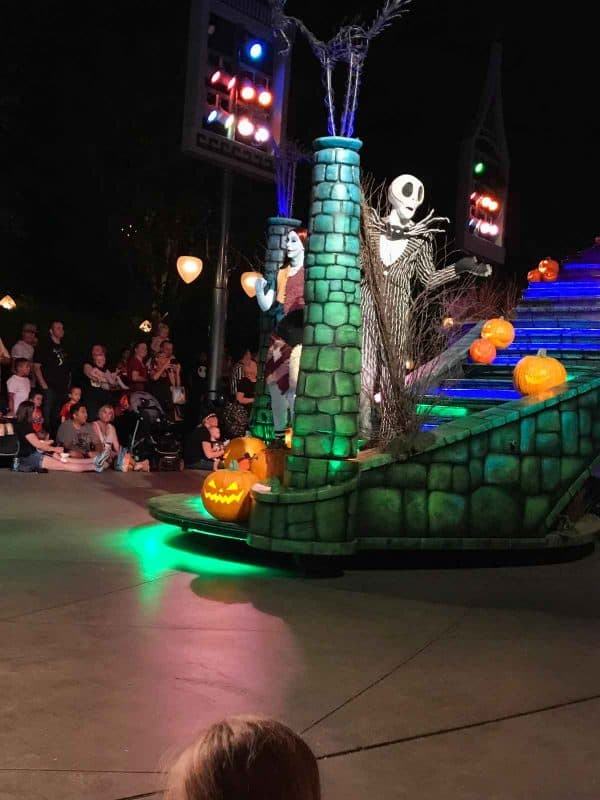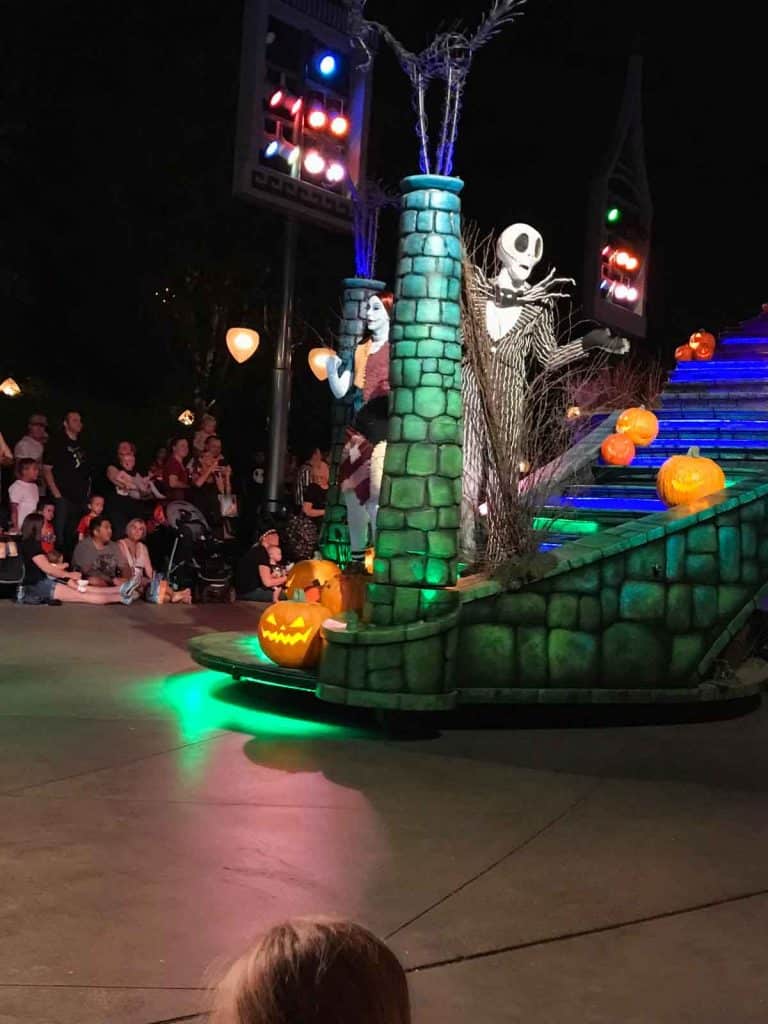 One of the biggest highlights, though, was seeing all of the costumes. I didn't dress up, but after going to the party, that was a regret for me. Just because the costumes were so fun. My mom mentioned that she would have even just loved to sit on Main Street and people watch to see all of the costumes. People are very creative!
Pro #4: The costumes!
I love the Disney parades, and the Halloween parade is definitely a good one. The headless horseman walks the parade route shortly before the parade starts, and that was fun to see. I did love everything about the parade. The characters, the songs, the dances – it was really fun! And they do the parade twice, so you can choose which time works best for you. We watched the first parade, hoping to watch the fireworks right after, but sadly, the fireworks were cancelled because of weather. We were really bummed about that, but of course, that is all out of Disneyland's hands.
Pro #5: The parade is amazing!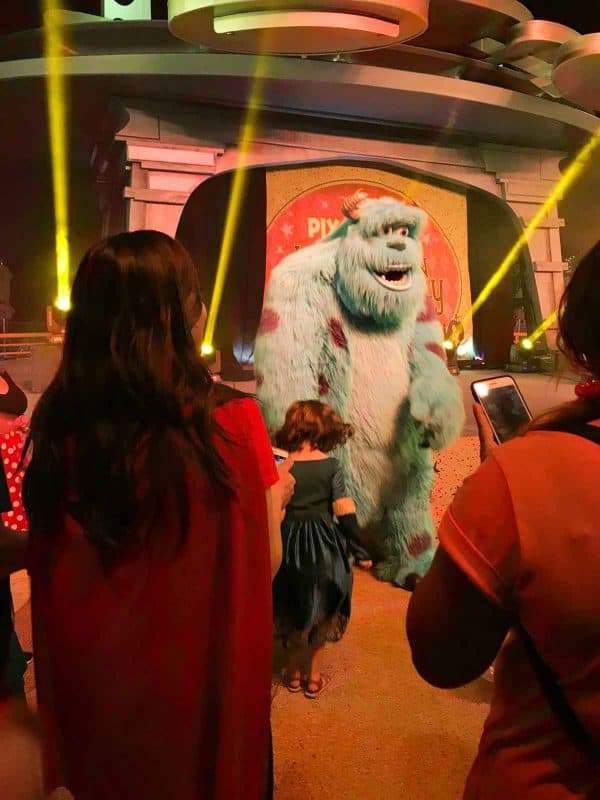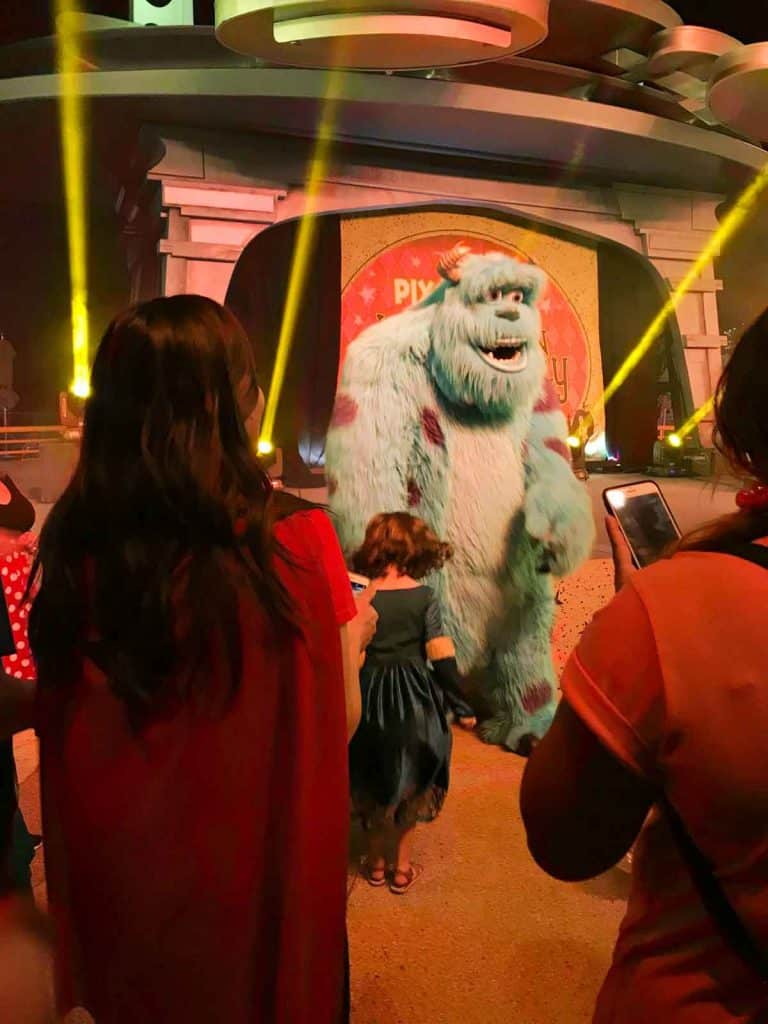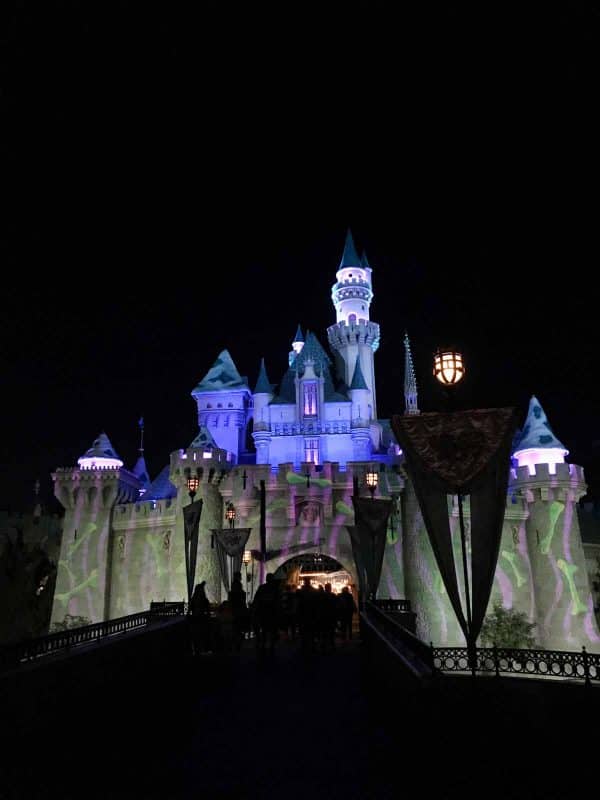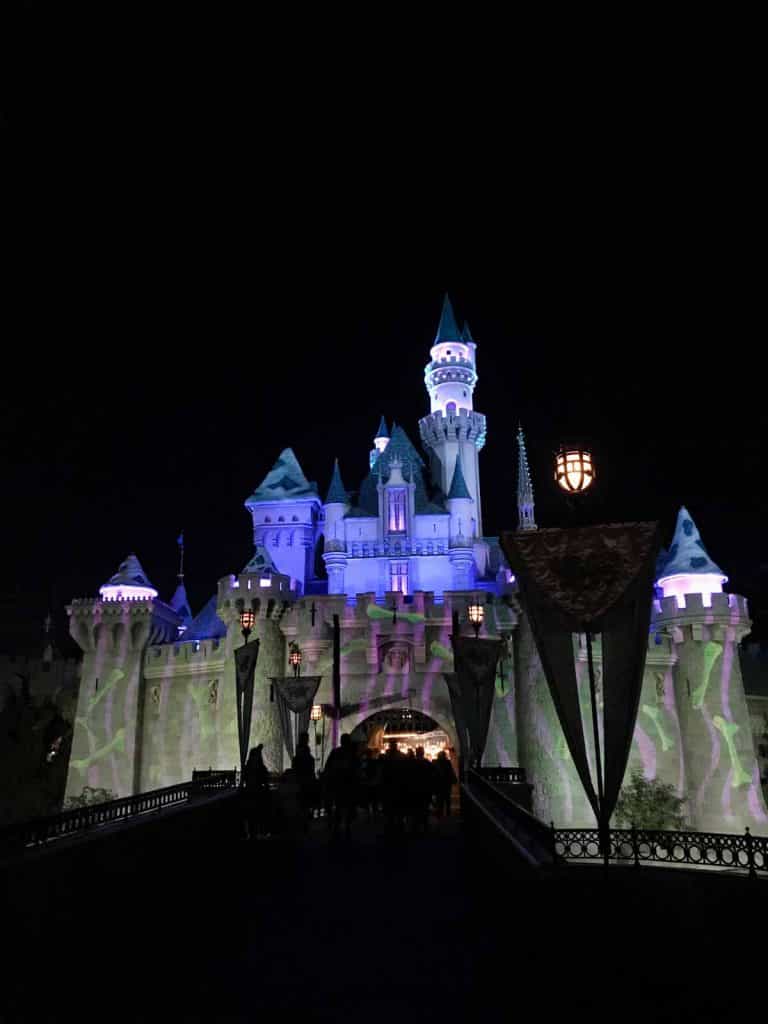 I think all of us agreed, though – that the biggest disappointment was the size of the crowd. My sister said it best – she said that you expect crowds on a regular Disney day, but at an exclusive party, you want it to be less crazy. The crowds were really baffling for me. Ride lines weren't long at all, food lines weren't that bad, and the trick or treat lines were moving nicely. But getting around anywhere was not easy. I was struggling with a stroller – probably worse than any other day we were there. I know Disney doesn't release the number of tickets they sell to the party, but I quickly learned that while they probably do cap the number or tickets they sell, that number is not a small one. Also strange is that I had read a few different accounts online that said they liked the party because the crowds were smaller, but I felt like we experienced the opposite. At least in all of the main areas and at the parade.
Con #4: So many people and crowds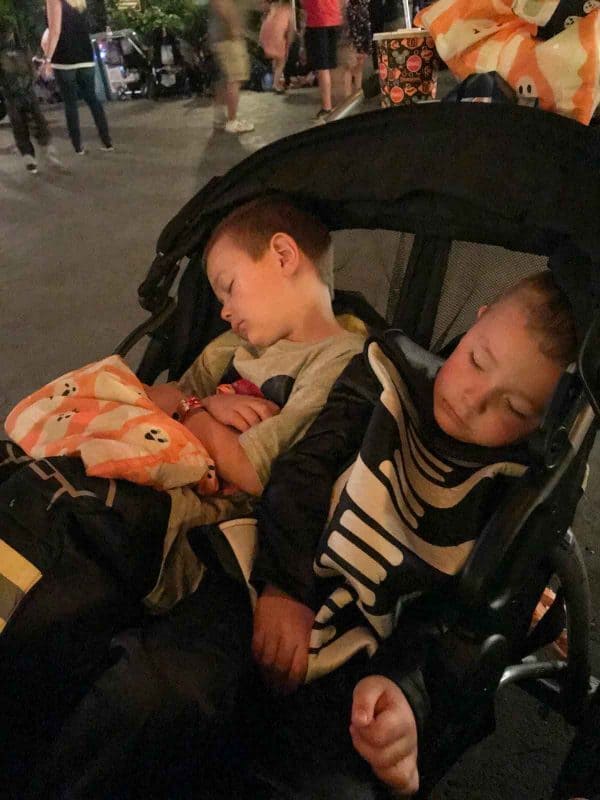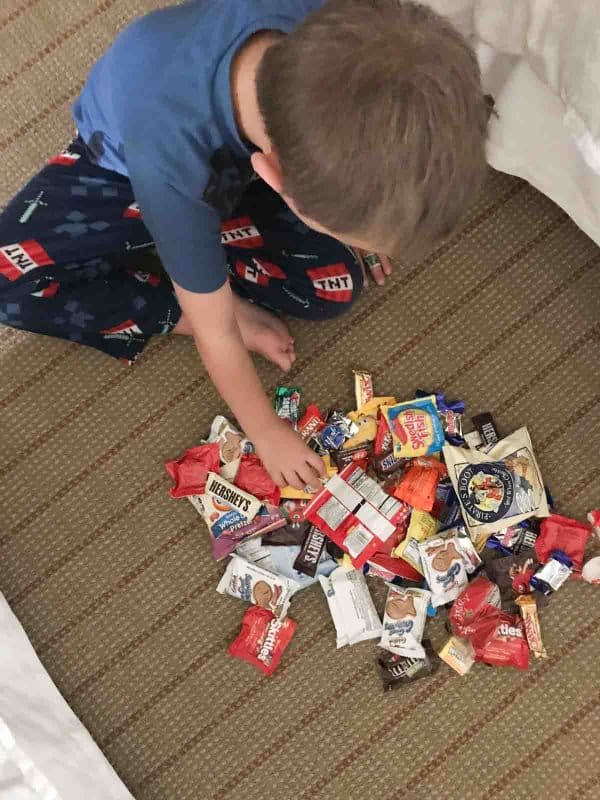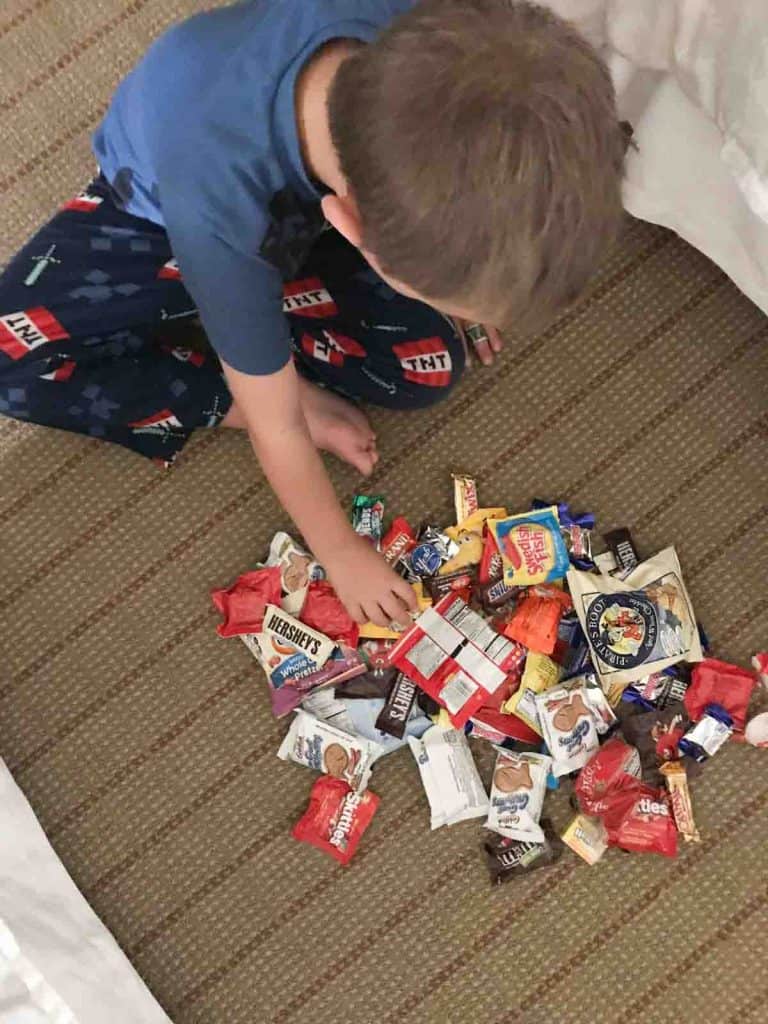 Overall, though, I think we all had a lot of fun. I feel like I have a way better idea of what to expect, and regret that I didn't plan better before going. Would I go again? I will admit that I won't be a die hard Halloween party girl and plan my Disney trips around the party. But if I happen to be there at Halloween time again, I'd consider it. My sisters all said that the cost was too high for them with the crowd factor. We all agreed that if it really did feel more exclusive that it would have been more worth it. I also think that if we would have been there on a day that wasn't 100 degrees, it would be way better. 😂
But we did all have a blast, and we were all exhausted at the end of the night. And I think all of our kids will be talking about it for years to come. No regrets at all! And we still have lots of candy to remind us of our Halloween fun at Disneyland!
Want more Disney fun?
What We Ate at Disneyland
Disney World 2017