A Mexican style slow cooked soup with chicken, corn and tomatoes.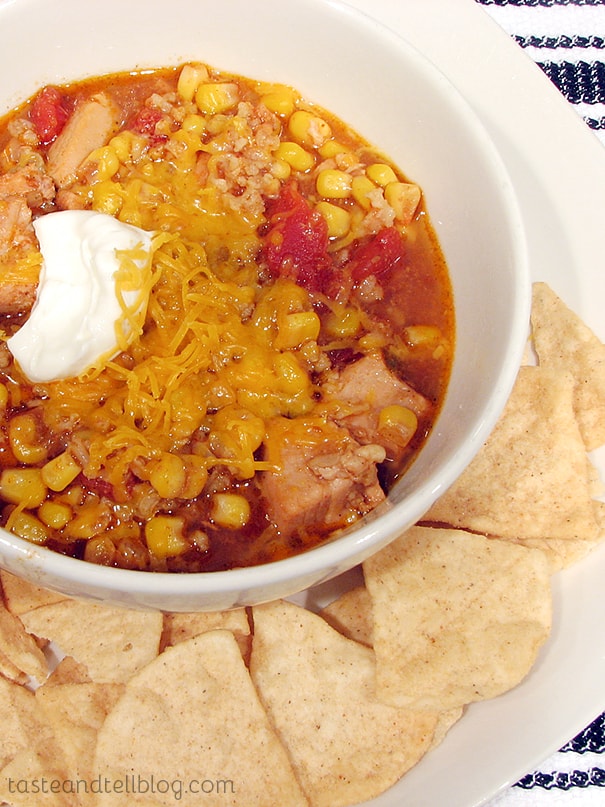 It seems that if slow cookers are trendy – sometimes they are in, and sometimes they are out. In the last year of blogging and reading food blogs, I don't remember seeing a whole lot of slow cooker recipes – until Christmas, that is. It feels like a lot of my blogging friends received slow cookers for Christmas, and now I am seeing recipes all over the place!!
I have always been a fan of the slow cooker. It is a great help for people like me who work all day and don't have a lot of time to plan and make a meal on weeknights. But for me, a good slow cooker recipe is kind of hard to find. Just about everything I've made in the slow cooker ends up being watered down. I still have faith though, especially since I just bought a new cookbook that a fellow blogger has been blogging about, and I'm very excited to try it out!
I am generally a fan of the Pillsbury cookbooks, and have mostly made good meals from the Pillsbury cookbooks that I own – except for this one – Slow Cooker Recipes. I don't know if it's just a bad cookbook, or if I just chose bad recipes the 3 times that I have cooked from it. I shouldn't say they are all bad – the Mexicali Chicken and Corn Soup was decent, but only after we topped it with cheese and sour cream and ate it with tortilla chips. We didn't hate it, but we didn't love it either. I am sharing these all with you, so if by chance you have this cookbook, you can learn from my experiences (or just avoid these recipes all together!!)
I will share the recipe for the Mexicali Chicken and Corn Soup with you, because I do think it has potential. As for the cookbook, there are a few more recipes in it that look good, so maybe I'll give it one more chance. If the next try doesn't work out, though, this cookbook will get the boot!!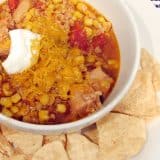 Mexicali Chicken and Corn Soup
---
Prep Time: 10 minutes
Cook Time: 8 hours
Total Time: 8 hours 10 minutes
Yield: 4 servings 1x
Description
A Mexican style slow cooked soup with chicken, corn and tomatoes.
---
Scale
Ingredients
1 lb. boneless skinless chicken thighs, cut into 1-inch pieces
1 (1 lb.) package frozen whole kernel corn
28 oz. chicken broth
1 (14.5 oz) can Mexican-style stewed tomatoes, undrained
3/4 cup uncooked instant brown rice
1 (1.25 oz.) package taco seasoning mix
---
Instructions
In a 3 1/2-4 quart slow cooker, combine chicken, corn, broth and tomatoes; mix well.
Cover; cook on low setting to 8-12 hours.
About 20 minutes before serving, stir rice and taco seasoning mix into soup. Increase heat setting to high; cover and cook and additional 20 minutes or until rice is tender. Stir soup before serving.