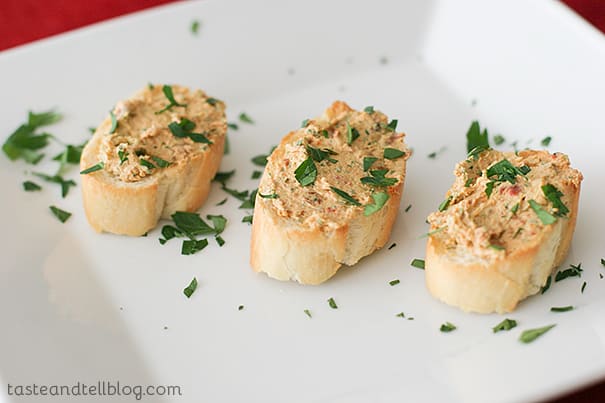 Happy Memorial Day!
If you are looking for a last minute appetizer, I've got one for you!
I've only had goat cheese once before. It's one of those things that I tried once and wanted to use more often, but I got stuck back in my "safe" mode and haven't used it since. So I was thrilled when I found out that this month's cheese from Ile de France would be goat cheese!
I wanted to do something simple with the cheese that would really made the goat cheese the star, so I picked this simple goat cheese spread to make. It's a perfect little appetizer when spread on a toasted baguette. And the bonus is that it only takes minutes to make, which makes it perfect if you are scurrying to find an appetizer to take to a Memorial Day get-together today!
For more information on this cheese, including other recipes and even videos – head over to the Ile de France website.
Sun-Dried Tomato Goat Cheese Spread
adapted from allrecipes
1 cup goat cheese
1/3 cup chopped sun-dried tomatoes in oil, oil drained
3 cloves of garlic, minced
1 handful of parsley, chopped, plus more for garnish
Combine the goat cheese, tomatoes, garlic and parsley in a food processor and process until thoroughly combined. Serve on a toasted baguette and top with remaining parsley for garnish.