It is possible to do a whole master bed on a budget!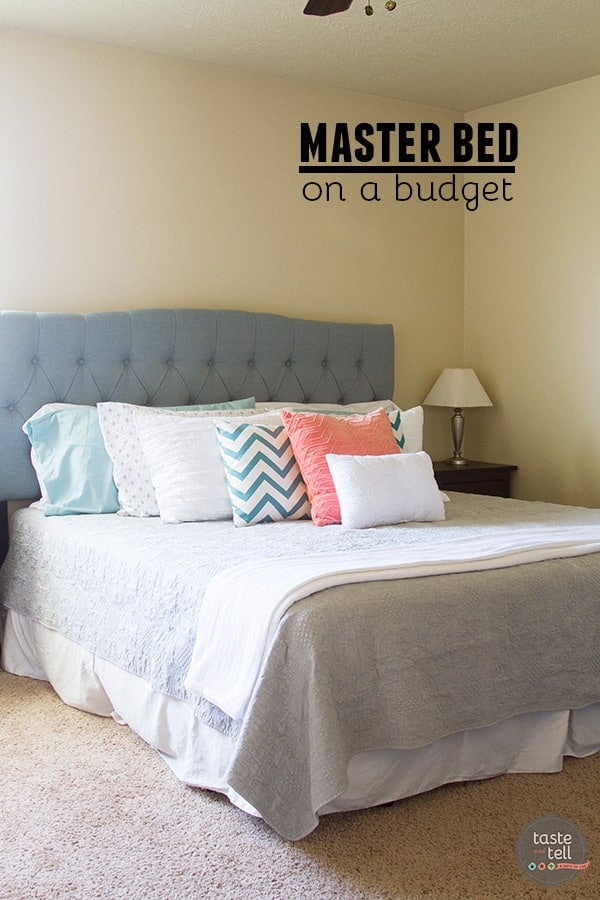 Ok, let me preface this with this: I am not a decorator. I struggle with it. A lot. I can look through catalogs or Pinterest or watch shows on HGTV and see things I like. But when it comes to actually putting a room together, let's just say that it's not my specialty.
But I'm not a 20-year old college student anymore, and I really want my house to feel good. And having it decorated is one way to make it feel like me.
So I'm trying. But I feel like I've been putting off my master bedroom forever – mostly because no one sees it except my husband and I and our kids. So it doesn't really feel that important. But one day I hit my breaking point and decided I needed to do something about it.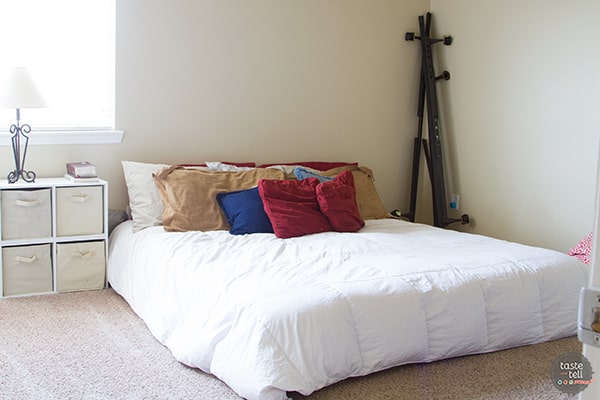 Let's start with the before. Yes, our bed is on the floor. No, I'm not trying to pull off some New York City loft contemporary look. The bed was up on the frame (that is there in the corner) and box springs. I won't go into all of the details right now, but let's just say it may have involved what may or may not have been a mouse nest. And me being totally grossed out and creeped out and having to send the box springs to the dump. #ewwww
And this mattress? I bought it about 12-ish years ago, from a guy selling mattresses out of a storage unit. Looking back now, it was totally sketchy, but I was young and naive and needed a bed. This bed is a very cheap bed that shouldn't have probably lasted 3 years, much less 12 years. And I have been using the same bedding for just as long. It all needed to go – I needed to start from scratch.
Let's start with the mattress. We all know you can easily spend thousands and thousands of dollars on a good mattress. But last year on a cruise, I was talking to a fellow blogger and her husband, and they were telling us about their bed from Tuft and Needle. The thought of that bed stuck in the back of my mind for almost a year until I finally decided to do something about it.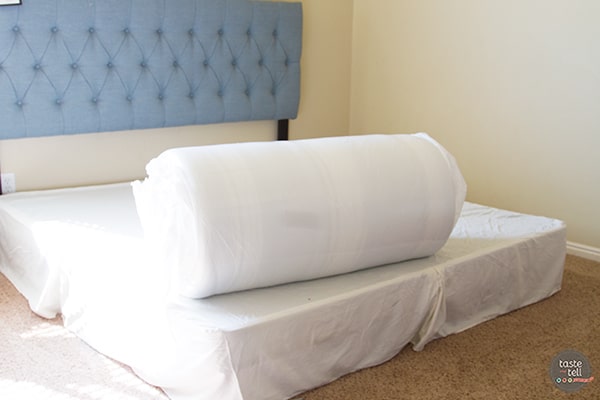 Let's talk about this mattress for just a second. This is not your typical mattress. They ship it to you, in a box. That you would never expect to get a bed in. It comes rolled up and shrink-wrapped. You take off the plastic, and the bed fills with air, and within minutes, you have your mattress.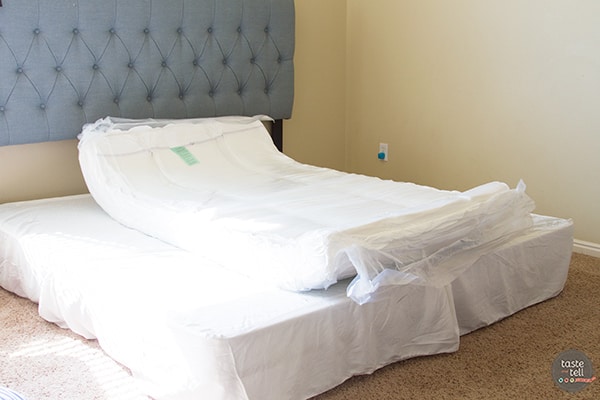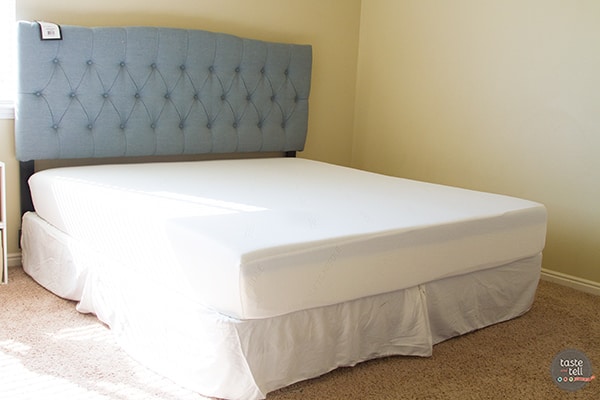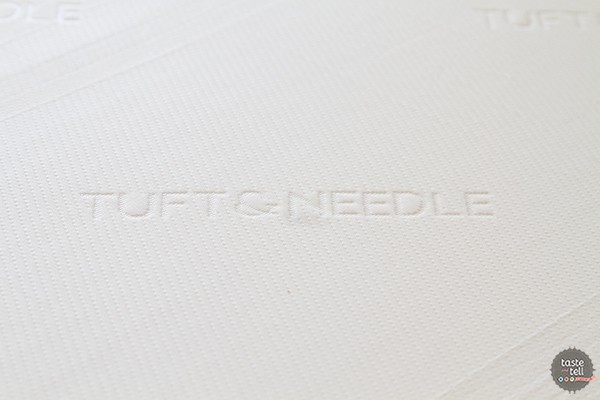 A few things about this bed: it is made completely in the USA. It is very highly rated. And they are very affordable. Forget thousands and thousands of dollars for a mattress. Their king sized mattress is only $750.00. Yep. Your normal mattress is marked up over and over again, making them really expensive. Tuft and Needle cuts out the middle man, and you don't have to pay that premium. There's a whole bunch of really good stuff that goes into making these mattresses that I won't go into, but definitely head over to their website to learn all about them.
But none of this matters if the mattress isn't comfortable. I had been sleeping on an old, cheap mattress, so I know that I wasn't sleeping well. But I didn't realize just how badly I was sleeping. Even after that first night, I woke up and realized I had slept all night long. And even though I know I stay up way too late and get up way too early, I felt refreshed. Weeks earlier, I was telling my husband that I wished I could get up earlier in the morning to work out before the kids got up, but I couldn't because my body took a good hour to warm up and be able to actually move and function before I could work out. But after sleeping on our new mattress? I have been able to get up and moving right away. It has seriously been amazing.
This is a firm mattress. And not one that you sit down on and think you are sitting on a cloud. In fact, to just sit on it, you might wonder how it could be comfortable to sleep on. But we have been sleeping on it for about 2 months now, and I fall more and more in love with it every night.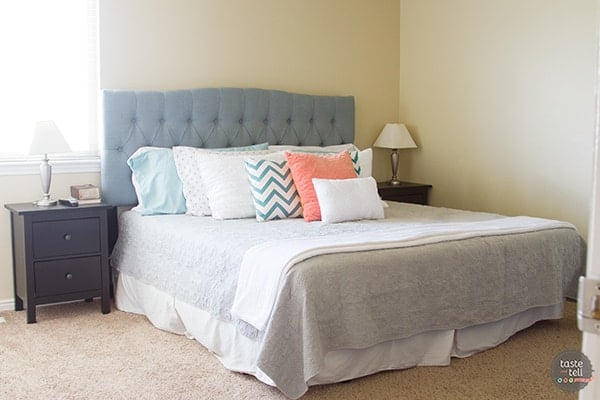 So now that we have the most expensive part (that's not even very expensive!) of the master bed taken care of, I thought I'd share a few tips with you on how I made over the whole bed on the cheap. Because I can think of lots of other things I'd like to spend my money on besides furniture and bedding!!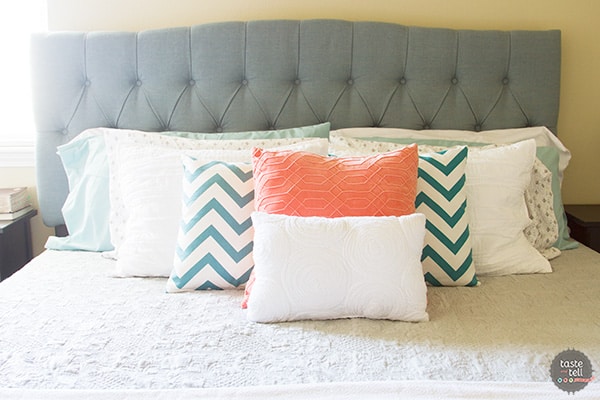 1 – Don't be afraid to shop online. I knew the look I was going for for my headboard, so I started searching online. Not only do I not have the time to go from store to store, but I know headboards can get pretty pricey. I found this headboard and fell in love. Especially with the price. I paid $221 for it (king sized) but I just saw it for under $175. STEAL! The color is definitely more muted in real life vs how it looks online, but I am happy because I was afraid that the color was going to be too bold.
2 – Be willing to compromise. When you are on a budget, some things will be out of reach, no matter how far and wide you look. Like expensive luxury Egyptian cotton sheets. Sheets can get super expensive. And maybe I shouldn't admit this, but I'm totally happy with microfiber sheets. I think they are super soft and super comfy, and I paid less than $40 for a king set. Not bad when you can easily spend hundreds of dollars on sheets. If it's somewhere you are willing to compromise, take that compromise.
3 – Don't be afraid of assembly. We didn't have a box springs, and although the Tuft and Needle doesn't necessarily need a traditional box springs, we wanted something to elevate the bed some. I didn't want to go too high, because this was before our dog passed away and I wanted him to be able to get up and down easily. So I ordered a low profile smart box spring online. It is only 5 inches tall, but gives the support that is needed. But you do have to put it together. That hour of assembly was worth it for the lower price, though.
4 – Have patience. Knowing that I was redoing my bedding, I started browsing the sale shelves at the store every time I was there. I was able to find the gray bedspread and the white blanket on clearance, as well as the white decorative pillow cases and the white throw pillow. I had an idea of what I was looking for, but changed around a bit because of different things I found on sale.
I love the way my master bed turned out, though. I do want to find a way to swap in a bit more color, so I'm still keeping my eyes open and watching for sales. And I'm sure it will be ever changing. But the overall project ended up costing way less than it could have. And now I just need to tackle the rest of the room!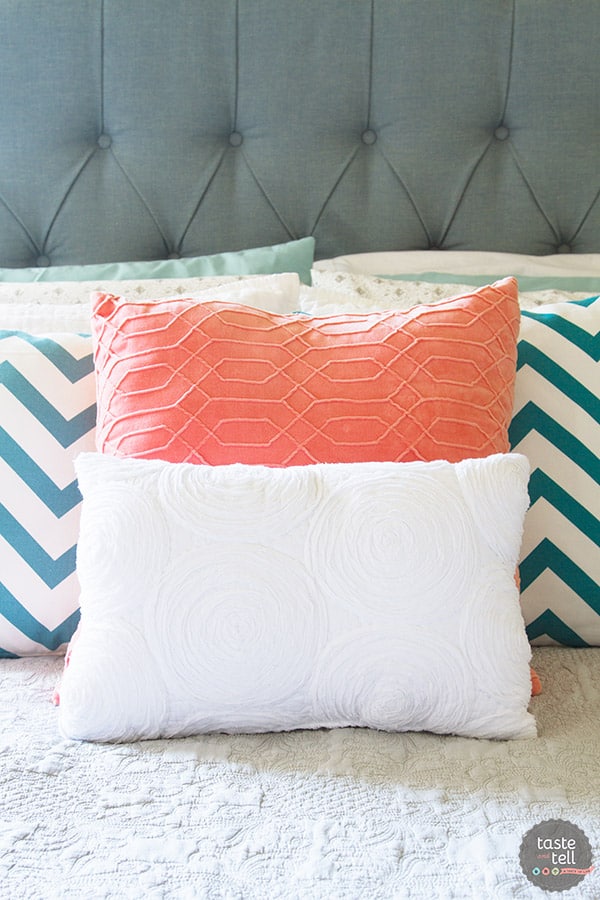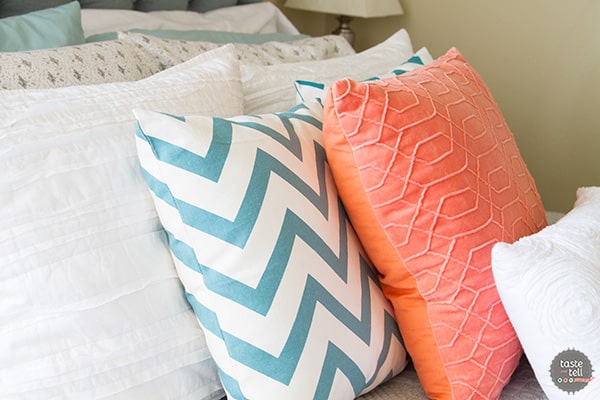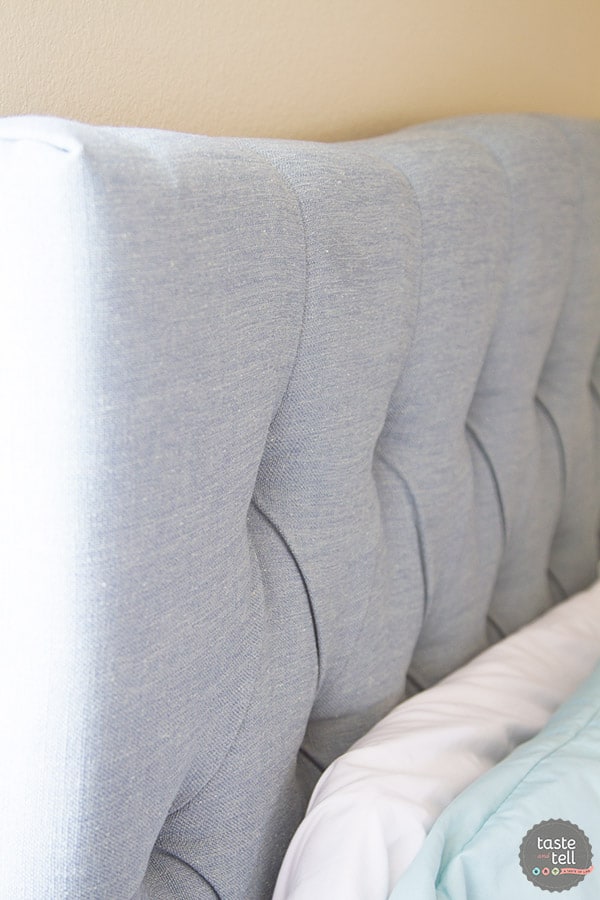 Sources:
Tuft and Needle Mattress (in king): Amazon
Zinus 5 Inch Low Profile Smart Box Spring, King: Amazon
Safavieh Headboard Collection Axel Headboard, King, Sky Blue: Amazon
100-percent Brushed Microfiber Ultra Soft Sheet Set: Overstock
Blue Chevron Pillows: Amazon (I do have to note on this that I ordered 2, and the colors are not exactly the same. Sometimes it bugs me, sometimes I don't notice. But it is worth mentioning.)
Pillow inserts: Ikea
Coral Pillow: Target (bought in store – can't find it online)
White Rosette Throw Pillow: Target
White Pillow Shams: Target
Gray Quilt: Smith's Marketplace on clearance
White Cotton Blanket: Target

We were given a Tuft and Needle mattress in exchange for an honest review, but all opinions are our own, as always! This post does contain affiliate links, so if you purchase from one of those links, Taste and Tell will receive a small commission. Feel free to shop around for the best deals, though!