Linguine with Honeyed Tomato Sauce and Shrimp – an easy tomato sauce is made from scratch and served with shrimp that is cooked with honey and vinegar.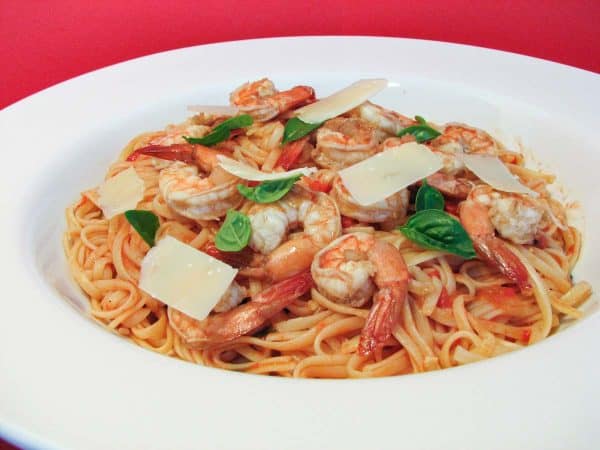 I never get duped by the telemarketers. I was, in fact, a telemarketer for 3 days once, so I know how bad that job sucks, but I also know to never trust them. I did learn that people are really mean, so I am always polite to them – so I politely tell them that I am not interested and to take me off their list. But through a mailer in the mail with pretty pictures of food?? Ummm, I've fallen to that type of advertising a few times!! This was one of them. I was probably 18 years old, living on my own for the first time, and had probably a total of 2 cookbooks to my name. Then I get this nice, fat envelope in the mail with a free magnet and pretty recipe cards. I think it was pretty new back then, and I was able to join for free. They would send me a book every four weeks, and I could either buy it or send it back at no cost. Thank goodness I realized I was a poor college student and canceled my membership after 2 books. Especially since I never even opened one of those books until just months ago. (It looks like they now do a magazine instead of the books. Hmmmm…) Now, I just have to throw the junk mail away before even looking at it – or I would probably be broke!!
I decided to start utilizing my cookbooks, and this recipe comes from that effort. I should have posted it a few weeks back when the tomato harvest was at it's peak, but other recipes always seem more important to be posting. So I am finally getting around to this one!! The sauce on this pasta dish is supposed to be more of an uncooked sauce, but I did let mine simmer for a bit to cook down and become a little thicker. It was just personal preference, though. The only complaint I have about this recipe is that I was hoping for it to have more of a honey taste to it, but really, you could only taste the honey while eating a shrimp. If I were to make it again, I would add more honey to the sauce, because the honey element is what attracted me to this recipe.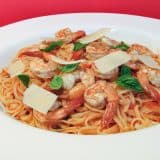 Linguine with Honeyed Tomato Sauce and Shrimp
---
Author:
Prep Time: 10 mins
Cook Time: 15 mins
Total Time: 25 minutes
Yield: 4 servings 1x
Category: Main Dish
Method: Stove Top
Cuisine: Italian
Description
Linguine with Honeyed Tomato Sauce and Shrimp – an easy tomato sauce is made from scratch and served with shrimp that is cooked with honey and vinegar.
---
Scale
Ingredients
1 tablespoon plus 1 teaspoon kosher salt
12 oz. dried linguine
5 large ripe tomatoes, peeled, seeded and minced
3 teaspoons minced garlic
1/2 cup lightly packed fresh basil leaves, cut into thin strips
1/4 cup extra-virgin olive oil
2 teaspoons freshly ground pepper
1 shallot, minced
3 tablespoons balsamic vinegar
3 tablespoons white wine or sherry vinegar
1/4 cup honey
1 lb. shrimp, peeled and deveined
---
Instructions
Fill large pot two-thirds full of water; add 1 tablespoon salt. Bring to a boil over high heat. Cook linguine according to package directions.
Meanwhile, in large bowl, stir together tomatoes, 2 teaspoons of the minced garlic, basil and 2 tablespoons of the olive oil. Add remaining 1 teaspoon salt and 2 teaspoons pepper; set aside.
Heat remaining 2 tablespoons olive oil in medium skillet; add shallot and remaining 1 teaspoon garlic. Saute 2 minutes; stir in vinegars and honey. Add shrimp; cook about 2 minutes,turning once, until just pink. Remove skillet from heat; transfer shrimp to small plate and keep warm. Return skillet to medium heat. Add 3 tablespoon water; swirl. Stir juices into tomato sauce. In another large pot, bring tomato sauce to a boil over medium-high heat; boil 3 minutes to reduce sauce.
Drain pasta thoroughly; do not rinse. Immediately toss sauce with cooked pasta. Divide pasta evenly among 4 plates; top each portion with shrimp.
Recipe Notes:
from Pasta Classics by Cooking Club of America