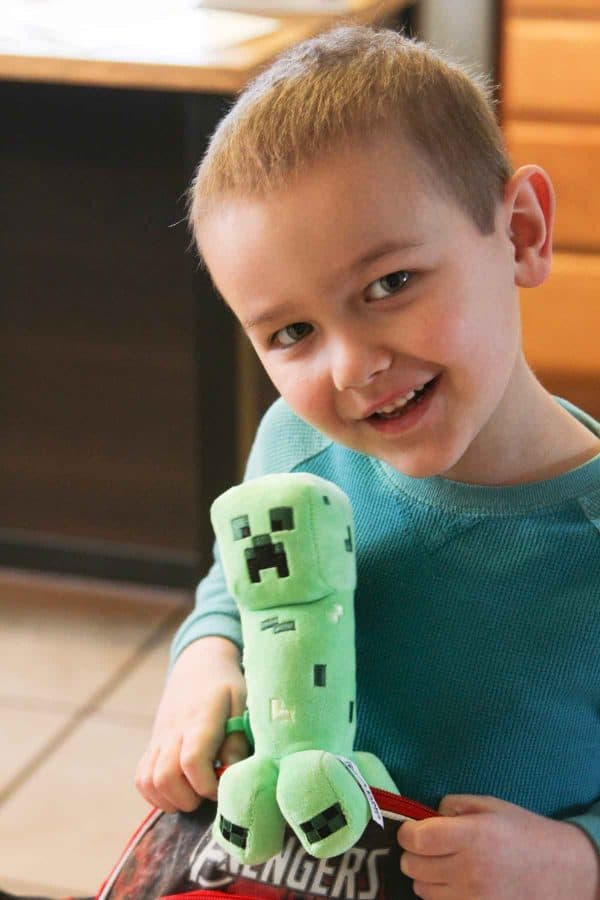 It was January 27th, 2016. I remember waking up in such a good mood that morning. I had been in a bit of a funk, but for some reason, that morning was different. I even remember singing in the shower, thinking about what a good day it was going to be.
I was getting ready, in my bathroom doing my hair. And I got the call. The pediatrician's office. "We were wondering if you could come in to meet with the doctor to go over the test results." My heart immediately sunk. I knew it couldn't be good. We had been trying to figure out the cause of Easton's neck pains for 2 months, and they had always just told me test results over the phone before. But they wanted me to come in this time?
After I hung up, I immediately texted my husband.
They want us to come in for test results.
He answered, saying he was on his way home.
It was my daughter's birthday. And she was having her very first birthday party with friends that night. I still had things to do for the party, so my husband and I drove to the doctor's office separately. I remember so many details from that drive. Which is strange, because I have the worst memory. "Red, yellow, blue. Red, yellow, blue. Look mom – they form a pattern!" sang Easton from the back seat. Oblivious to everything that was going on.
We pulled into the parking lot, and got on the elevator. Abbi was still at school, but we had both of the boys with us. We walked up to the door, and saw the sign that said they were on their lunch break. Another sign that something was really wrong. The doctor was seeing us during their lunch hour.
We sat in the waiting room. Easton and Camden looking and laughing at the fish. My husband later told me that he kept seeing the receptionists sideways glancing at us. Because they probably knew.
They called us back into the room. The doctor came in. She said they got the results back from the x-ray and blood test that they had done the day before. She asked if we wanted to send the boys out, and grabbed a nurse to take them to play. Of course, Easton wouldn't leave. He had become increasingly clingy the last few months, and would barely leave my side for anything anymore. I knew the fight was futile, so I said he could stay.
And then the words that would change my life forever.
Leukemia.
Cancer. My child has cancer.
I can't even describe those first moments. I couldn't breathe. I was convinced I was dreaming. I actually remember saying "this can't be true. This is only a dream. I just need to wake up. This can't be true." But when I looked over at my husband, and saw him with his head in his hands, I knew it was true. And I felt like my world was crashing in around me.
The doctor was holding me. Probably because I would have fallen otherwise. But then one of the pivotal moments for me happened. She put her hands on my shoulders and looked me in the eyes. And told me that it was now my job to be strong. To be strong for Easton. That the road ahead was going to be long, and not easy. But he was going to need me. That was my job.
One year later. It's hard to believe that we are already at this point. It has definitely been a year of trial, faith, patience, and prayer. And so much to give thanks for and to be grateful for. Going into this, we heard a lot about hospital stays and nausea and blood transfusions and sickness from low immune systems.
And while I won't say that it's been easy, we have definitely been blessed. Easton was declared cancer free 28 days into treatment. We haven't had one overnight stay at the hospital since induction. Transfusions have been very minimal, and he hasn't been terribly affected by the chemo.
Yes, treatment is long. Even though we are one year down, we still have another 2 1/2 to go. But I can't tell you how grateful I am every day that he is healthy. Happy. Well adjusted. He is going to school, learning and reading. And even though it sounds crazy to say, I think I am actually a better person because of this trial we have had to go through. I am more patient (although I still have a long way to go), more aware of the need to live in the present moment. And I know I'm even more grateful for my kids, even though I didn't think that was possible. But having something like cancer put in front of you definitely makes you reassess and look at things differently.
And can we talk about Easton? This kid has amazed me. It hasn't been all rainbows and butterflies, but he takes what he has been dealt and doesn't complain. He has had to grow up so fast through this, but he is truly a superhero. He has taught me more than a thing or two about how to take life's trials and deal with them.
Here's to hoping for this year to go as smoothly as the last!
#EastonStrong
(Below shows just how much chemo and treatment can change you over a year. Luckily, the "hard" part is over, and no one would even know anything looking at him now!)