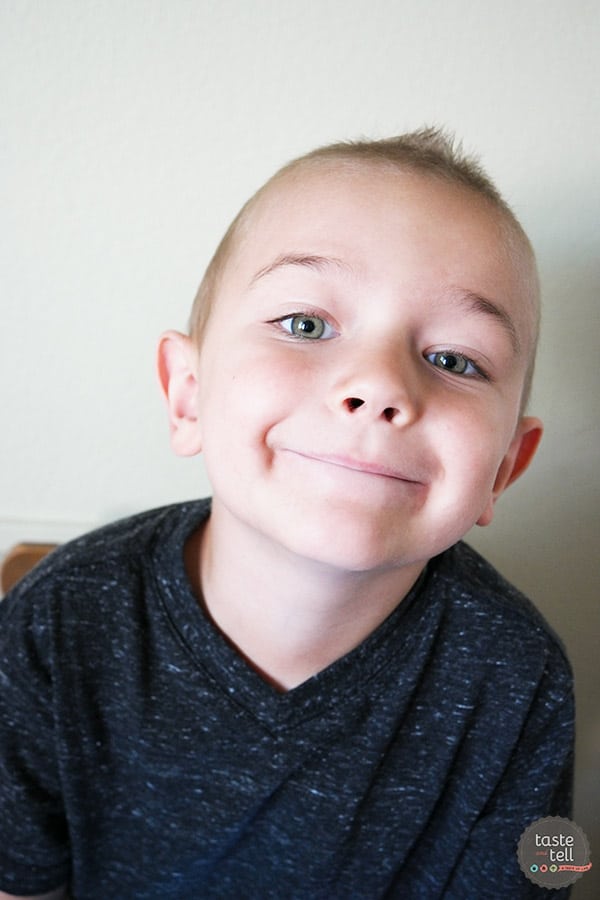 Well, I kind of went silent on all of you. I last updated about Easton back in March, 2 months into treatment. And now, here we are 7 months later, almost down 9 months of treatment. I can't believe it's already been that long.
I have learned many, many things throughout all of this. One of those things is that when faced with a life altering event like cancer, everyone deals with it differently. For some people, it completely takes over their lives. It's all they talk about, and their life is consumed by it. They record every hospital visit, save every hospital id band, and could tell you just how many times they have had a fever or a blood transfusion. Other people completely shut down and don't want to face it at all. I have also learned that there is no wrong or right way to deal with it, and that you have to find what works for you. And for your family. And in my case, what also works for your child.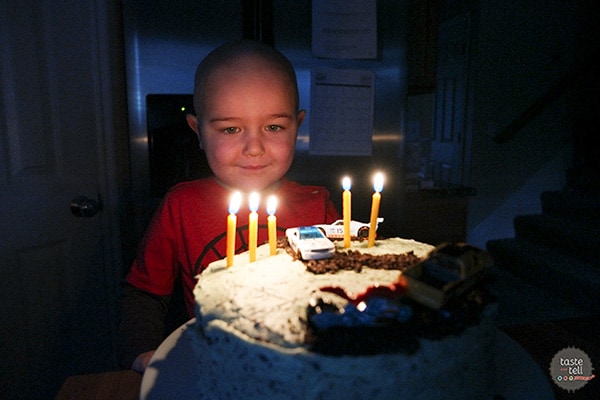 For me, I learned that it's best for me, and my family, if we deal with it, but don't let it consume. I definitely don't pretend like it's not there, but we have been trying to live life as normally as possible. I found early on that if I let it take over my life, it would do just that – take over my life. And that's not a good place for me. I don't avoid the subject – if anyone asks about Easton, or wants more details, I am an open book. But I chose not to let it consume me, and to instead try to focus on positive things around us.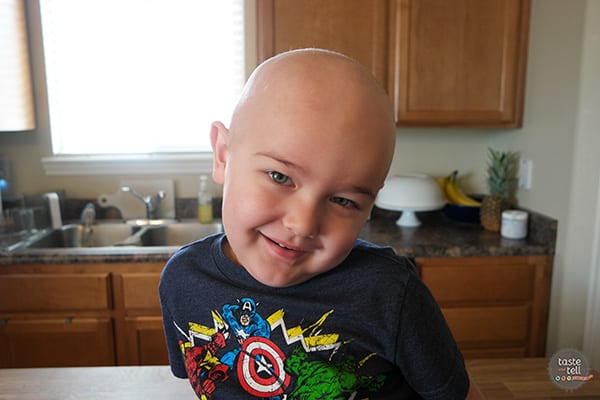 And this has worked for us. The treatment is still there. There are still days when it totally sucks, but really, the vast majority of days are just normal days. But I did want to pop in and update you all on how well he is doing, because I get asked quite often, and I feel badly that I haven't been good with updates.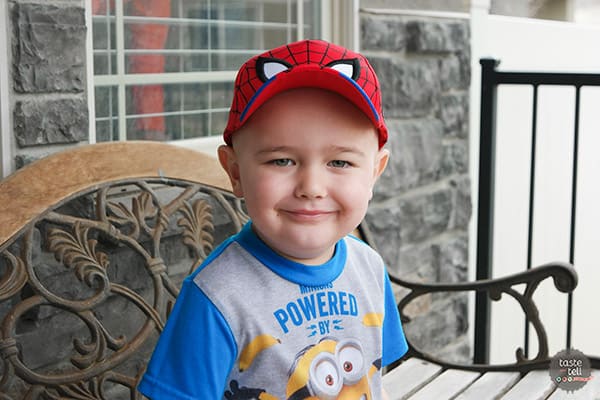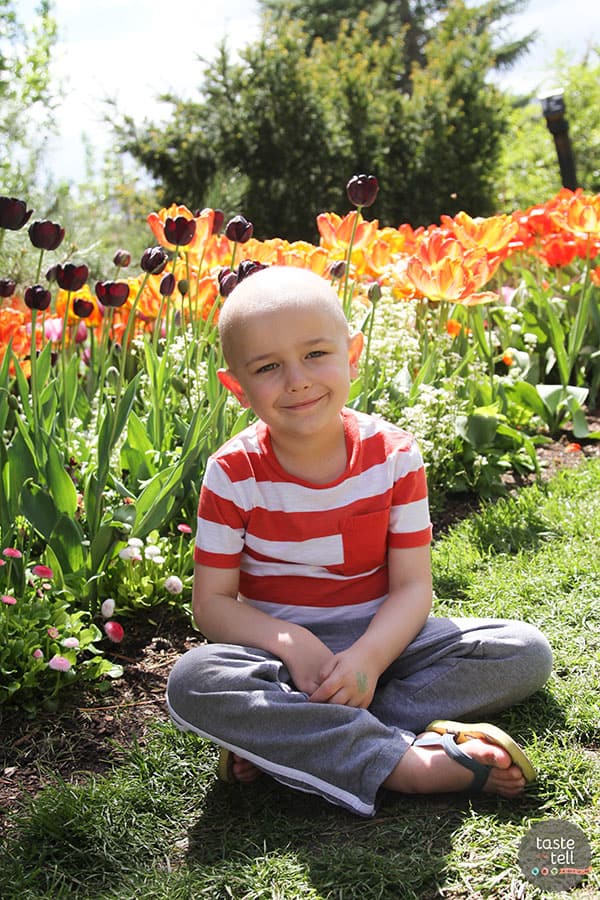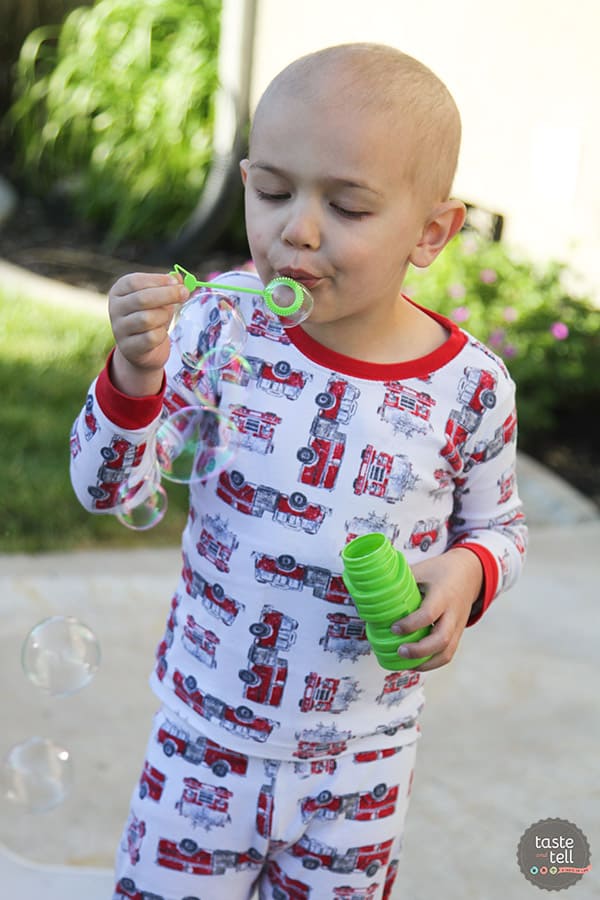 Easton just finished the intense first months of treatment, and is officially in maintenance. This means that treatment from here until the end is pretty much the same, there won't be different chemo protocols every month or two like there was before. And instead of having to go to the hospital for treatment every 7-10 days, he now only goes in once every 28 days. His immune system will level out more now. And while he will still be immune compromised, we shouldn't have to worry about his counts going so low that we have to keep him quarantined at home. (Unless he does catch something – that can always mess things up.) The worst part of it is that he has to take an oral chemo at home every day until he is finished with treatment – which will be April 8, 2019. Plus he will have a 5 day round of steroids every 4 weeks. Usually a small round like that isn't a big deal, but with Easton, the steroids have always affected him more than any of the chemo he has had to take. So that's going to take some getting used to.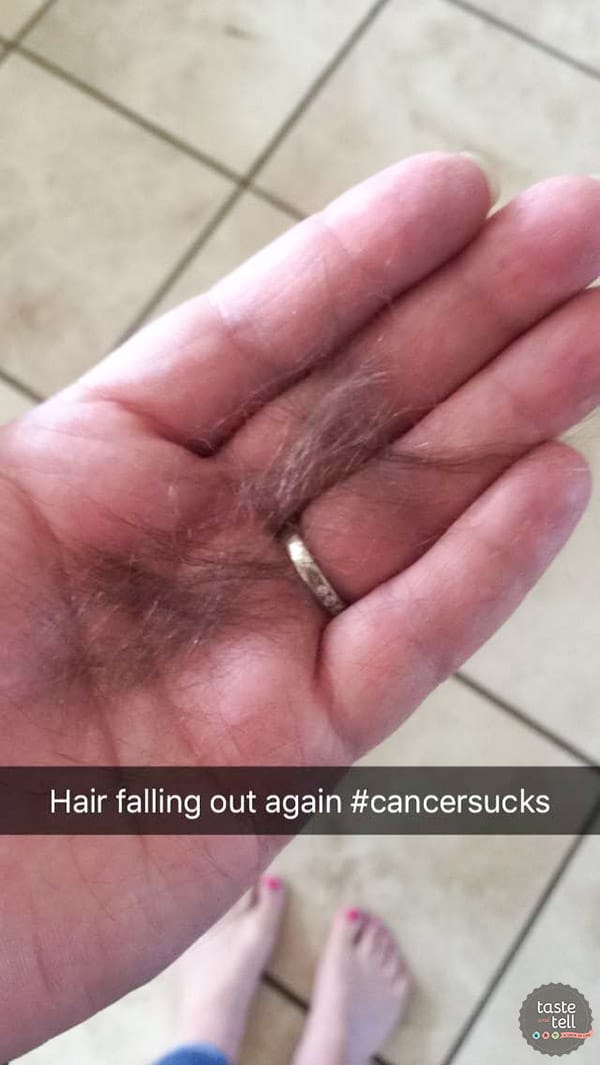 We have been so blessed, though. He has really done so well through all of it. I think that is one of the reasons we have been able to continue life as normally as possible. The summer was a bit rough because his immune system was so compromised for most of it. I think his brother and sister suffered more through that, though, as we all ended up being house bound. We managed to sneak out to do a few fun things during the small windows of time when his numbers were up. But we are all looking forward to making up for it next summer. His hair fell out, then started growing back in, only to fall out again. Happily, though, it is growing back in again and won't fall out anymore!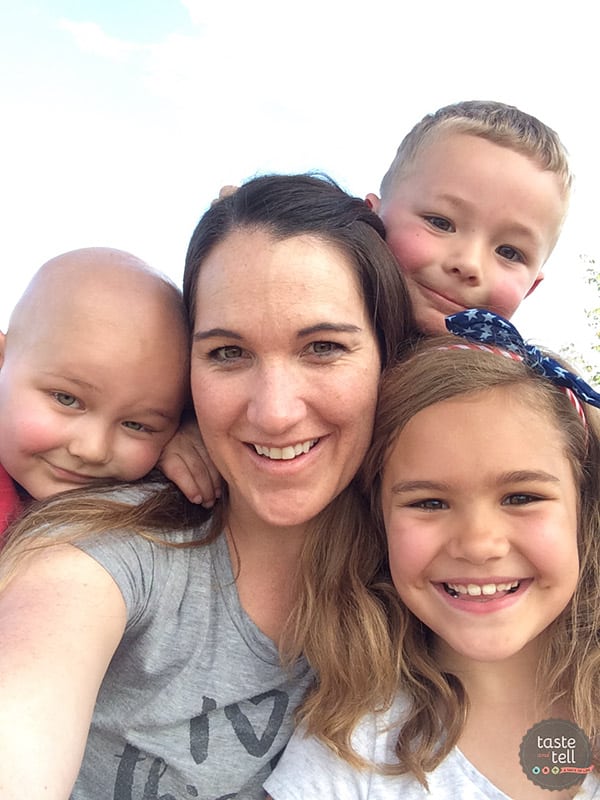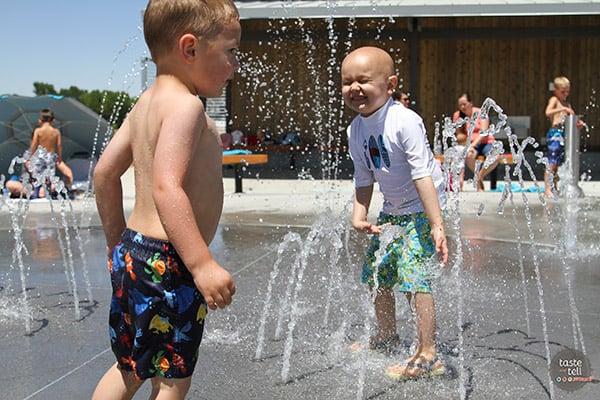 The timing worked out that Easton was finishing the last phase of treatment before maintenance right as school was starting, so we were so lucky that he was even able to start kindergarten on time. So far, it has been great. The school – his teacher, the principal, the nurse, the front office ladies – all amazing. I don't think I could ask for a better group of people for him. They have all been so willing and accepting. And I couldn't be happier having him there – especially when I had no idea what would happen or where he would be, health wise, when we went into this 9 months ago.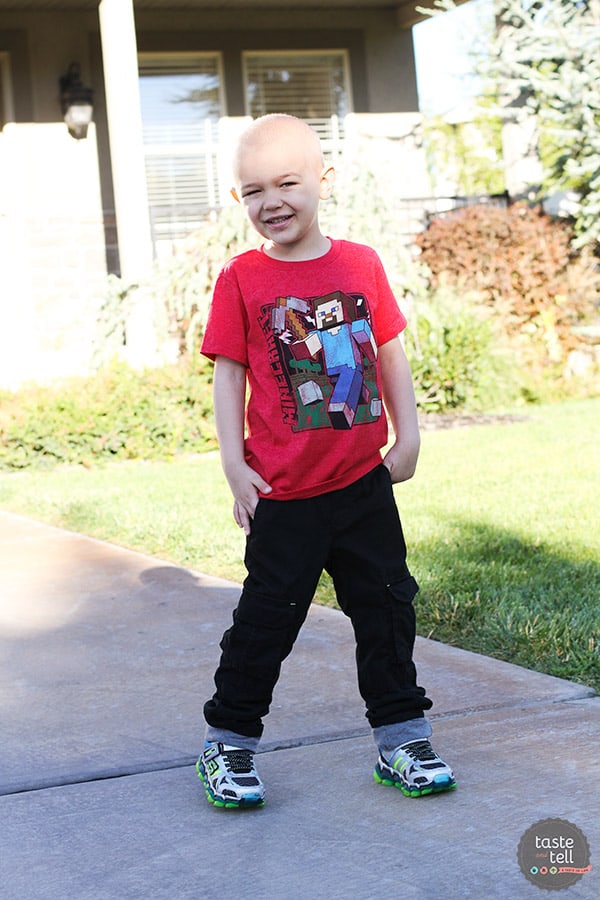 first day of kindergarten!
I am so happy, though, that I can report that things are going so well for Easton, for all of us. Cancer is a scary thing. And I have seen so much heartbreak around me because of this terrible disease. But I'm also glad for the success stories. For the knowledge that he can – he will – beat this and live a normal life. And I'm grateful for all of the support, and prayers, and well wishes that we have received. Here's to the rest of treatment going just as smoothly!