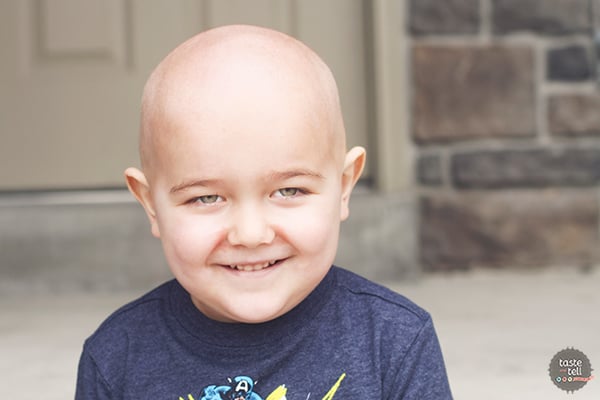 Well, we've made it through 2 months already!! In one way, I feel like we Easton's diagnosis was a lifetime ago, but then when I realize that we've already made it through 2 months, I feel like we'll find a way to make the rest of the time fly by.
I thought I'd hop on really quickly to give a fast update today. Luckily, there isn't a lot to update.
After the first 28 days of treatment (induction), they do another bone marrow test to test how much leukemia they still find in the marrow. The goal at the end of that 28 days is to come back clear. If it's below a certain percentage (I can't remember the exact number, but it's only a few percentage numbers), then you are considered in remission. Treatment still continues aggressively for several months, and then less aggressively for a few years, because the cancer can hide and if you stop treatment before it is completely gone, it will return.
Well, Easton's results came back clear! So he is in remission, which is a huge relief. He is still considered average risk, so treatment will continue how it was mapped out at the beginning for us. But knowing that the treatment is working is such a relief and has made all of this a lot easier to handle. We have about another 6 months of weekly (sometimes every other week) treatments, followed by about 3 years of monthly treatments. So the road is still long, but we are so happy that the prognosis is so good.
He started the second round of treatment and has been doing well with it. We are lucky that his counts haven't dropped, and the chemo doesn't seem to affect him too much. He's getting back a lot of the strength that he lost in his legs after a month of steroids during the first round, and overall, he's doing great. He did have a fever last weekend that landed us in the emergency room twice. They take fevers seriously, and if you have one, you have to go into the hospital for antibiotics. So we spent several hours there on Friday night and Sunday night. Luckily, we were able to go home both times. But he's doing so much better this week, and we are crossing our fingers that we don't have a repeat.
We did end up shaving his head a few weeks back, mostly because we were tired of finding hair everywhere. There would be a layer in the bathtub every night after his bath, and his bed was covered in it. I was vacuuming like a crazy person. Plus he had some bald spots and it was pretty patchy, so we both decided it needed to go. I was afraid he was going to be super self-conscious, but he has handled it pretty well. He has a new Spiderman hat that he loves, which I know has made it all a lot easier.
I want to thank you all again for all of the prayers and happy thoughts and well wishes. We have felt all of them, and am so grateful for all of the people that are behind us!