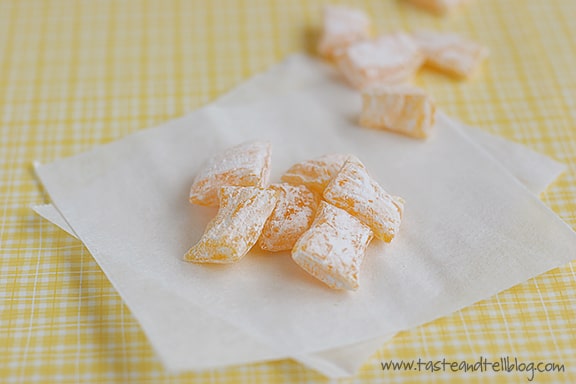 I am a citrus girl – all the way.  Some people can't get enough chocolate, but I can't get enough citrus.  If I have the choice of a slice of lemon meringue pie or a slice of chocolate cake, 95% of the time I will grab the lemon meringue pie and run.  It's not that I don't like chocolate, but I just really like lemon.
On the cover of this month's Cookbook of the Month – Field Guide to Candy – there are several candies pictured.  On the bottom corner, there are some lemon drops.  When I first saw this cookbook, I knew that I wanted to make them, without even looking at the recipe!!
This is one of those candy recipes that looks a little bit scary when you first read through it.  It requires the use of a candy thermometer, you are working with hot candy, and you have to work fast.  But surprisingly, this was much easier to make that I was expecting!!  I wanted to shape the candies into their little lemon shape, but I don't really know how you do that because by the time I had cut all the candies, they had already hardened so much that I couldn't even try to shape them.  But in the end, I didn't really mind because I kind of like their rustic look.  And as long as they taste good, it doesn't matter what shape they are, right?  These little candies are the perfect amount of sour and sweet.  They are everything I was looking for!
Recipe Rating:  9 out of 10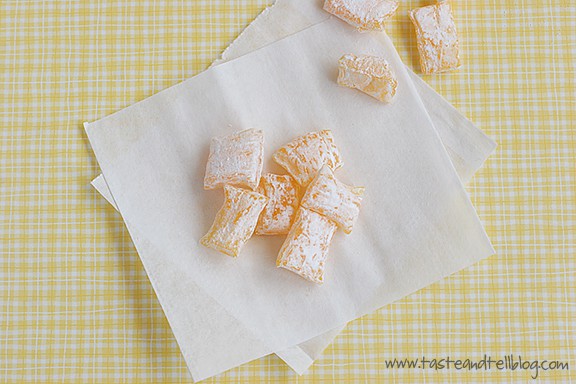 Lemon Drops
from Field Guide to Candy
makes about 50 pieces
1 cup sugar
1/2 teaspoon cream of tartar
2 teaspoons citric acid (powdered or crystals)
1/2 teaspoon lemon extract
few drops yellow food coloring
confectioners' sugar for rolling
Coat a large pan or marble slab with cooking spray. Spray a pair of kitchen shears with the spray as well.
In a saucepan, combine the sugar with 1/2 cup of water. Bring to a boil over medium-high heat. Continue cooking until it reaches 300F, hard crack stage. Immediately remove from the heat.
Pour the mixture onto the prepared pan or marble slab. Sprinkle the citric acid, extract and food coloring on top. Using a bench scraper or a metal spatula, turn the mass on itself until the citric acid and food coloring has been distributed evenly.
Let the candy rest until it is cool enough to handle, but do not let it harden completely. (This will happen pretty quickly.)
Roll the candy into long ropes and cut into small pieces. Roll the pieces in confectioners' sugar to coat before letting them completely cool on a baking sheet.