Leeky Linguine with Shrimp – an easy pasta recipe filled with leeks and shrimp. This can easily be done in 30 minutes!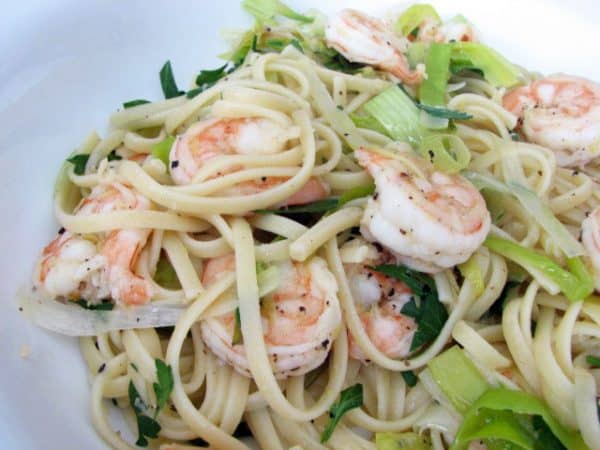 I had so much fun going through your suggestions for recipes with leeks. And I can guarantee that leeks are going to start making a showing at my dinner table more often!!
And although all of the suggestions sounded delicious, this one, suggested by Carla at Four Foodies, really stood out to me for several reasons. First, because just like my cookbooks, I'm trying to use my food magazines more. And I just happened to have a copy of the magazine with this recipe right in front of me! Second, I had all of the ingredients on hand, which is always a plus. And third, this recipe took me just a little bit out of my comfort zone.
Yes, it's just shrimp and pasta, but we are a sauce loving family – especially my husband. The pasta dishes in our house are usually all about the sauce. And this is not a "saucy" pasta.
But do you know what? Sauce or not, I would eat this dish on a regular basis. My husband still added extra sauce to his (without even trying it without anything added – some people are afraid to step outside their comfort zones!!) But I really liked it. And it didn't feel as heavy as many pasta dishes do.
So if you find yourself with some excess leeks that you don't know how to use, try this out – or one of the other great suggestions that people posted!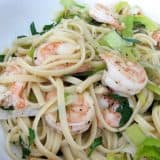 Leeky Linguine with Shrimp
---
Author:
Yield: 4 servings 1x
Category: Main Dish
Method: Stove Top
Cuisine: Italian
Description
Leeky Linguine with Shrimp – an easy pasta recipe filled with leeks and shrimp. This can easily be done in 30 minutes!
---
Scale
Ingredients
1 lb. large shrimp, shelled and deveined
1/4 cup extra-virgin olive oil
1 tablespoon grated lemon peel
2 cloves garlic, grated or finely chopped
1/2 teaspoon crushed red pepper
Pinch of kosher salt
Black pepper to taste
1 lb. fresh linguine*
4 leeks — trimmed, halved lengthwise, thinly sliced crosswise and washed
1/2 cup dry white wine or vermouth
1/3 cup finely chopped flat-leaf parsley
---
Instructions
In a bowl, toss the shrimp with 2 tablespoons of extra virgin olive oil, lemon peel, garlic and crushed red pepper; season with salt and black pepper.
Bring a large pot of water to a boil, add the pasta and cook until al dente, about 5 minutes.
While the pasta is cooking, in a large skillet, heat the remaining 2 tablespoons of extra virgin olive oil over medium-high heat. Add the leeks and cook until wilted, about 5 minutes. Push the leeks to the side of the pan, add the shrimp to the skillet and cook until pink and firm. Pour in the wine and stir, scraping up any browned bits from the bottom of the pan.
Add the pasta to the skillet; season with additional pepper if desired. Add the parsley and toss.
Recipe Notes:
*Fresh linguine is impossible to find here, so I used dried and it worked just fine!!