Kitchen Eighty Eight – a Utah food truck specializing in modern American fare.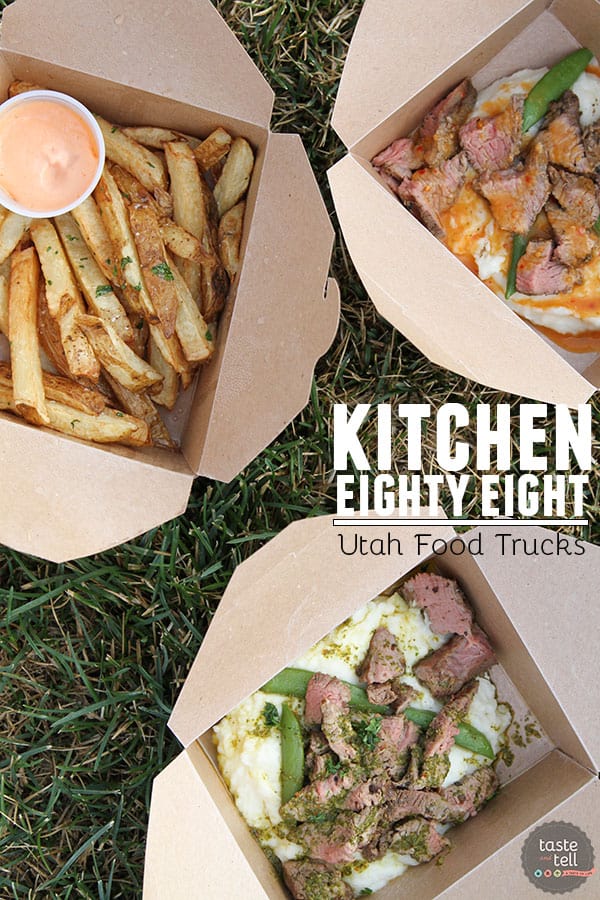 I had a friend ask me a few weeks ago – after hearing about my goal to write about every food truck in Utah – what I would do if I tried a truck that wasn't good. I know it's going to happen eventually, and I'm still not sure how I will handle that. But I'm guessing I must just be on a winning streak, because today's food truck belongs on that winning side.
I actually went into this one completely blindly, not really knowing anything about them or what they served. There are a lot of food trucks that go to my husband's office building, so he'll often tell me which ones I need to try next. But I came across Kitchen Eighty-Eight on Instagram, and I knew I wanted to try them asap.
Well, a couple of weeks ago, my normal food truck round up was cancelled, so I decided to try a new one the following night. It wasn't too far from my house, and when I saw that Kitchen Eighty-Eight would be there, I figured that it must be fate. 🙂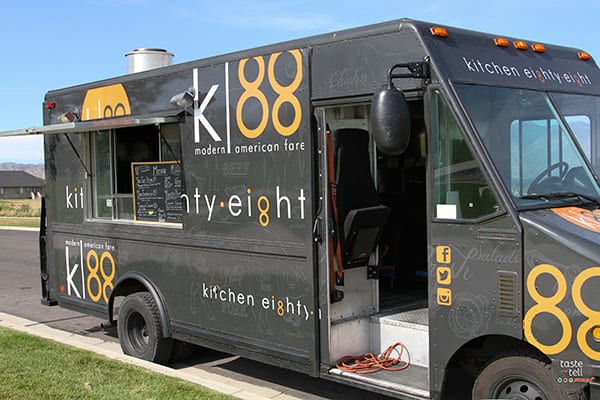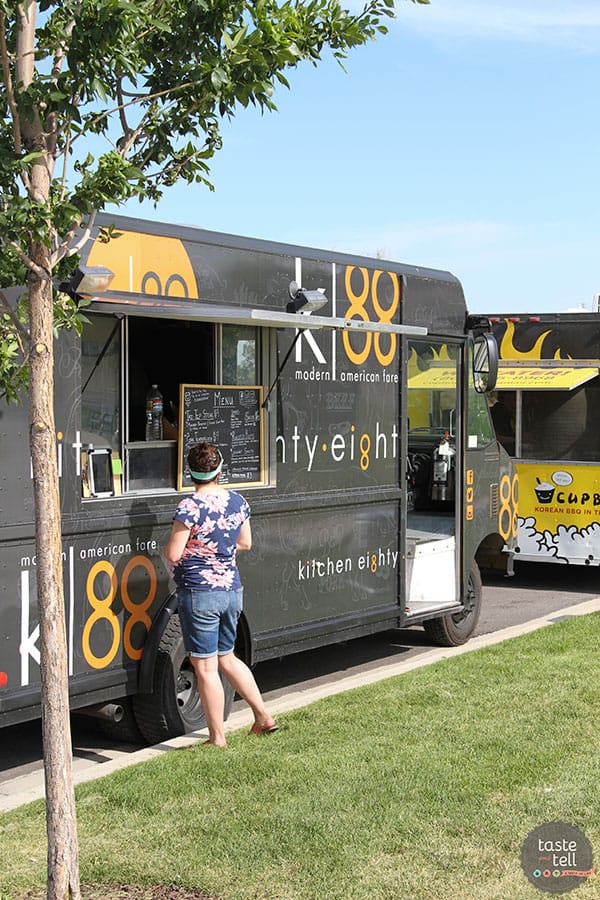 I got there right at the beginning (yay for no lines!) and since I had never eaten there, I asked the girl what she recommended. She said the most popular menu item was the tri-tip steak with the Chimichurri sauce. So of course, that is what I had to go with!! My husband went with the tri-tip with the Peri-Peri sauce. I had seen a picture of their sweet potato fries and wanted them so badly, but unfortunately, they didn't have them that night. So I ordered some of their regular french fries, as well.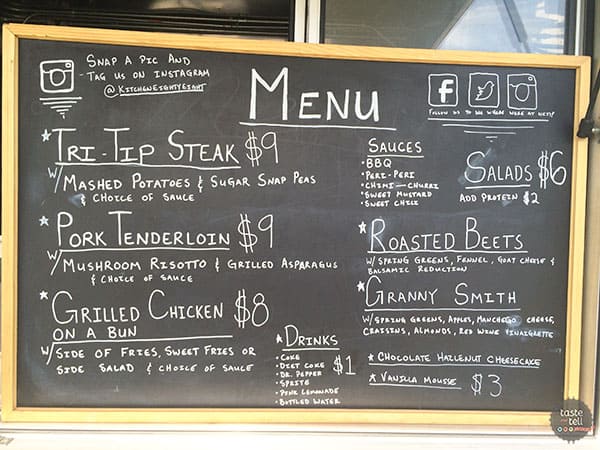 I'm not quite sure how they cook their meat (I didn't get a look inside the truck as there was a girl standing outside of the truck taking orders), but I wish I did. That steak was so tender and juicy and full of flavor. The mashed potatoes were great, as well, and definitely tasted real. The sauce was full of flavor and was nice and bright. And while I thought the sugar snap peas were an interesting addition at first, I really ended up loving the freshness and the texture they brought to the meal.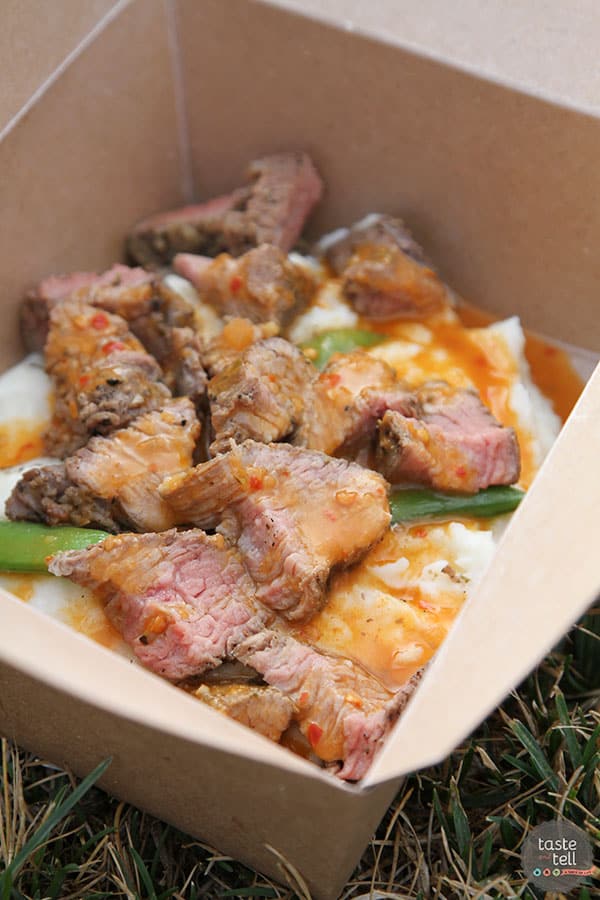 As much as I loved mine, I actually liked my husband's sauce even better. The Peri-Peri sauce definitely has a little kick to it, but the flavor was amazing. Don't be surprised if you see something coming out of my kitchen with a sauce inspired by this meal in the future. 😉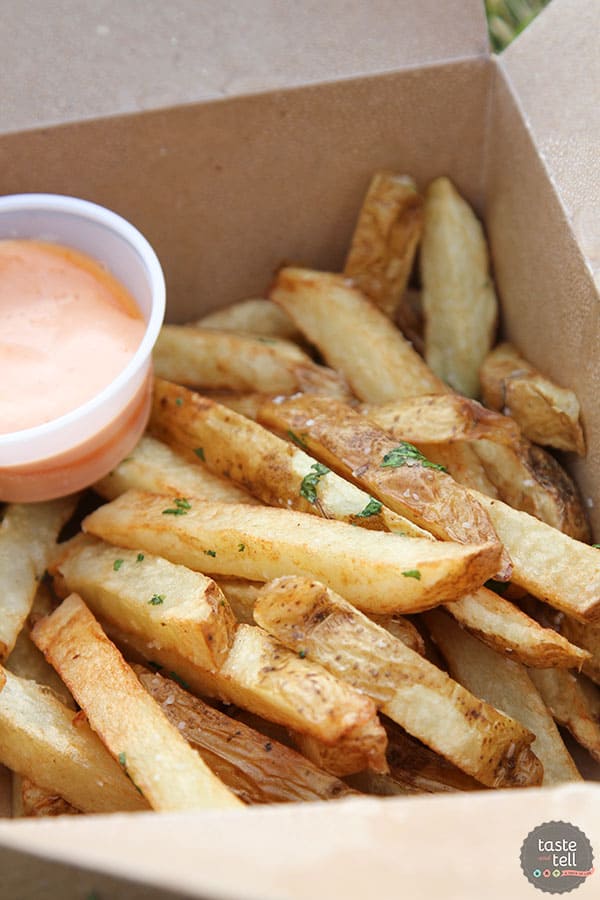 I should have thought the fry situation through better than I did. I took our food to go, as it was a pretty small round up and there wasn't really a good kid-friendly truck there that night. So the food sat as I went to get my kids food and then make the drive home, so by the time I actually ate the fries, they weren't very crispy anymore. But that was totally my bad, and I'm sure they would be great eaten fresh. I love that they were served with fry sauce. And I can't wait to try their sweet potato fries one day!!
My only regret is that I didn't order dessert. 🙂
I don't know anything about the owner of this truck, but I am definitely guessing there is some professional food training behind it, as this is not your typical food truck fare. But that is what I totally love about food trucks – there is so much diversity, and you can get some pretty killer food without having to go and sit in a restaurant. (Because that doesn't happen much with my crazy kids these days.)
This is definitely a truck I would seek out, though – especially if you are in the mood for something a little different!
You can follow Kitchen Eighty-Eight on Instagram, Twitter and Facebook to see where they will be next!
Follow my travel board and never miss any eats or adventures while I'm out and about!
Follow Taste and Tell's board Taste and Tell – Travel on Pinterest.