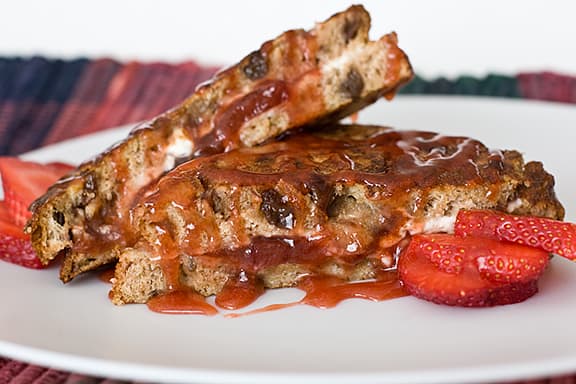 Well, the post I intended to post today is not coming. I stayed up really late the night before I was headed down to my sister's house to watch her kids – making sure I had pictures and recipes up to post throughout this week. And I just realized that the picture for the recipe I was going to post today did not save. Gotta love it when that happens. But hey – you get another breakfast recipe today – that makes 3 in a row!
This may not look all that pretty, but it sure was delicious! This is like eating dessert instead of a meal! You can most definitely serve this filled French toast with maple syrup, but I had some strawberry syrup in the fridge, and it went perfectly with this decadent breakfast. This is a great way to start off a special (or just any!) day!!
Jam 'n' Cream French Toast
from Taste of Home Annual Recipes 2006
serves 1
total time: 15 minutes
2 tablespoons cream cheese, softened
2 thick slices cinnamon-raisin bread
2 tablespoons strawberry jam
1 egg
1 tablespoon milk
1 tablespoon butter
syrup, for serving
Spread cream cheese on one slice of bread. Spread jam on the other slice; place jam side down over the cream cheese. In a shallow bowl, beat egg with milk. Dip both sides of bread into the egg.
In a skillet, melt butter; cook bread for 3-4 minutes on each side or until golden brown. Serve with syrup, if desired.