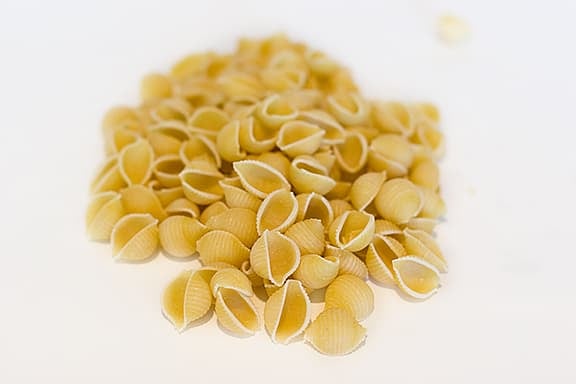 I sometimes don't understand names for recipes. Like this recipe – Inside Out Ravioli. Ok, I kind of get the concept – the same "kind" of ingredients as a ravoili – sort of. But I don't see anything "inside out" about it. To me, that would mean that the meat sauce was on the outside, and the pasta part would be in the middle. But this is more "layered" than "inside out". But then I considered renaming it for this blog post, and I couldn't really come up with a title! Layered Pasta, Baked Pasta… Nothing really fit. So I stuck with the name.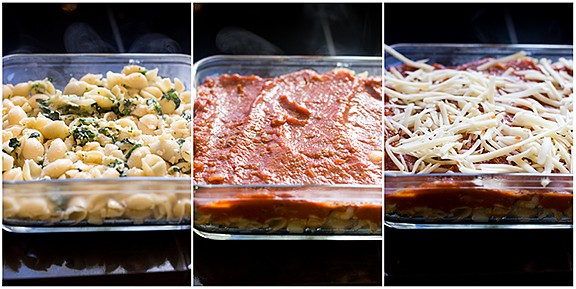 Regardless of it's name, it was delicious. But then again, it's another one of those recipes that you know is going to be good before you even make it. In my mind, you can't go wrong with a baked, cheesy pasta. And it was a great way to clean out some ingredients that I needed to get rid of – an almost empty bag of small shell pasta, some marinara sauce in the refrigerator. I love recipes like that! And if you have kids, this is a great one to "trick" them into eating their veggies. In fact, if I make this again, I would double the spinach, because there wasn't enough of it, in my opinion!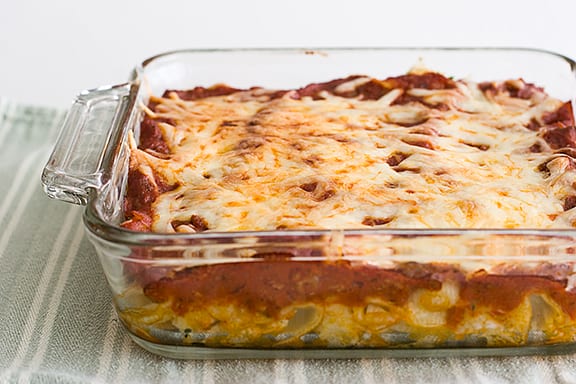 Inside Out Ravioli
adapted from allrecipes.com
Serves 8
total time: about 1 hour
1 pound pasta
1 (10 ounce) package frozen, chopped spinach
1/2 cup bread crumbs
2 eggs, beaten
1/4 cup olive oil
1 1/2 cups shredded mozzarella cheese
1 pound ground beef
1/2 cup chopped onion
1 clove garlic, minced
2 (8 oz) cans tomato sauce
1 (16 oz) jar spaghetti sauce
Preheat oven to 350F.
In a medium pot, cook pasta in boiling salted water until al dente. Drain well.
Cook spinach according to package directions.
Meanwhile, brown ground beef, chopped onion and minced garlic in a large skillet over medium heat. Stir in tomato sauce and spaghetti sauce. Simmer for 10 minutes.
Combine cooked spinach, cooked pasta, bread crumbs, 1 cup of the shredded cheese, beaten eggs and olive oil.
Spread spinach mixture evenly into the bottom of a 9×13 inch baking dish. Top with meat mixture. Top with the remaining cheese.
Bake in the preheated oven for 30 minutes.