As much as I love the holiday season, I always look forward to January 1st. The crazy go-go is over, and it feels like things can go back to normal. And I look forward to a new year almost like I look forward to Mondays. I know most people dread Monday, but I love the feeling of starting over, starting new. 2011 was a good year, but a very hard year in a lot of ways. I'm so looking forward to 2012 and what it is going to bring. I can already feel that it is going to be a great year!
With a new year comes change. I do have a few changes that will be happening here at Taste and Tell. The last few months I have been feeling stretched. I feel like I've been trying to do 20 things at once. And doing none of them as well as I'd like to do. So 2012 is the year of simplifying for me. And with that simplifying, I've decided to give something up. I have been doing my Cookbook of the Month series for almost as long as I've been blogging, but I have decided that December was the last cookbook I would be featuring with this series. It makes me sad to give up something I've been doing for so long, but it also has come with a sigh of relief. But you know me, and my love of cookbooks, so my days of cookbook reviews are not over. I will still be doing plenty of cookbook reviews, but I won't have a specified cookbook each month with a certain day for posting. My Fridays will not go without a post, though. The Blogger Spotlight series will be moving from Wednesdays to Fridays. I'm glad that the Blogger Spotlights will have a full day dedicated to them, because they are becoming one of my favorite things that I do each week!
I also have a few ideas for different series that I will be doing throughout the year. The first, which will start soon, will be all about basic pantry staples and meals that you can create from your pantry. I want to get back to basics in many ways. I think that is what a lot of people want and need these days.
If you have anything that you would like to see more of in 2012, please comment below and let me know. I am constantly learning and growing here, and I love to hear what you all want!
The new year is also a time for housecleaning, so I'd like to take today to do that. 🙂 Below you will find a review of December's Cookbook of the Month –
In the Small Kitchen. And I'm also including a recap of the Cookbook of the Month series from 2011. It really was a year filled with great cookbooks!!
—————————————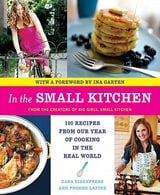 I love cookbooks that are more than just great recipes and great photography. I love to hear the stories behind the recipes, to see where the recipe came from, and what it really means. And this cookbook is full of just that. I think that is why I love food blogs so much – the stories make the food more personal. This book is just that – filled with glimpes into the lives of Cara Eisenpress and Phoebe Lapine. It's more than just recipes. This is definitely one of those cookbooks that you can sit down and read through like a novel. I also love that there are recipes in this book for anyone. There are recipes for entertaining, recipes that feed one. Recipes for date night, and even recipes that are great for gifting. You will find a little bit of everything in this cookbook! And really, I loved everything about this cookbook. All of the recipes came out wonderfully, and there are many more that I have bookmarked to make!
Prep Times and Total Recipe Times Listed: no

Number of Photos: many
Not only are there many photos of finished dishes, but there are also personal photos included which is kind of fun.
Difficulty Level of Recipes: easy
These recipes are perfect for beginning home cooks and seasoned cooks alike!
Availability of Ingredients: medium
Every recipe that I read through had ingredients that you should be able to find at any grocery store.
Here's what I made: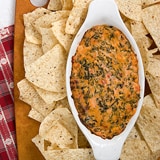 Dump and Stir Mexican Dip – 8.75 out of 10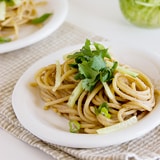 Noodles with BGSK Peanut Sauce – 9.5 out of 10
Lotus Blondies – 9 out of 10
Chicken, Black Bean & Zucchini Enchiladas with Creamy Green Chile Sauce – 9.5 out of 10
Overall Rating: 9.1875 out of 10
—————————————
At the end of 2010, I had this crazy idea to do cookbooks written by bloggers for the Cookbook of the Month series for 2011. I'm so glad I went with it when I thought of it, because not only did it bring me to some great blogs and great cookbooks, but I'm convinced that bloggers really know their stuff when it comes to cooking and developing recipes. Some of these cookbooks are ones that have become my favorites. I really have loved every single one of them. And I loved that so many of the bloggers themselves participated in the Blogger Spotlight series as well, so that we could all get to know them better. I couldn't leave the year behind without taking a look back at those cookbooks and their blogging authors, so here is a look back at the 2011 Cookbook of the Month series!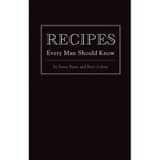 January: Recipes Every Man Should Know by Susan Russo (Blog: Food Blogga)
Blogger Spotlight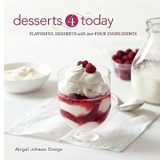 February: Desserts 4 Today by Abby Dodge (blog: Abby Dodge)
Blogger Spotlight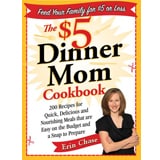 March: The $5 Dinner Mom Cookbook by Erin Chase (Blog:  $5 Dinners)
Blogger Spotlight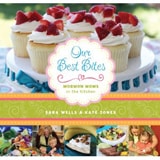 April: Our Best Bites by Sara Wells and Kate Jones (Blog:  Our Best Bites)
Blogger Spotlight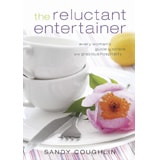 May: The Reluctant Entertainer by Sandy Coughlin (Blog:  Reluctant Entertainer)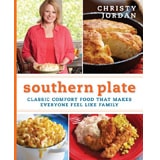 June: Southern Plate by Christy Jordan (Blog:  Southern Plate)
Blogger Spotlight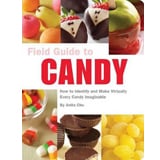 July: Field Guide to Candy by Anita Chu (Blog:  Dessert First)
Blogger Spotlight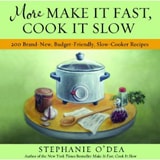 August: More Make it Fast, Cook it Slow by Stephanie O'Dea (Blog:  Stephanie O'Dea)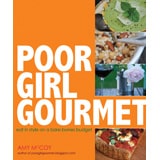 September: Poor Girl Gourmet by Amy McCoy (Blog:  Poor Girl Gourmet)
Blogger Spotlight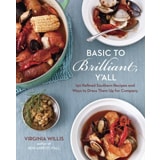 October: Basic to Brilliant, Y'all by Virginia Willis (Blog:  Virginia Willis)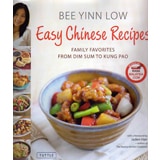 November: Easy Chinese Recipes by Bee Yinn Low (Blog:  Rasa Malaysia)
Blogger Spotlight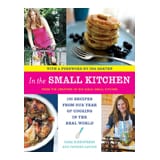 December: In the Small Kitchen by Cara Eisenpress & Phoebe Lapine (Blog: Big Girls Small Kitchen)
—————————————
Sorry for the forever long post, and now we can move forward to the delicious recipes I have planned for this year.  I am looking forward to all of the goodness 2012 is going to bring!