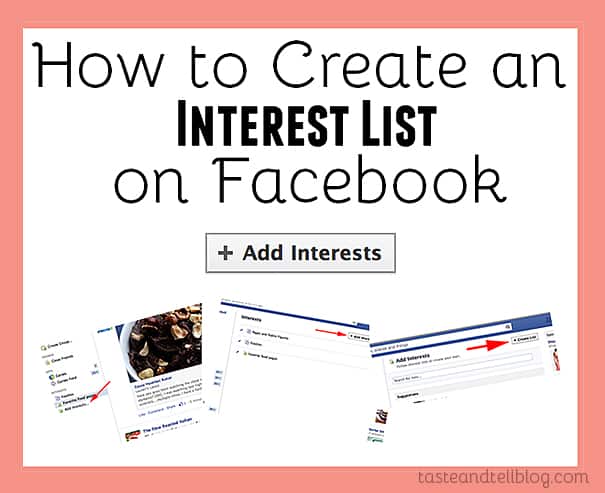 Did you know that just because you "like" a page on Facebook, that doesn't mean you are actually going to see updates from them??
I kind of get it. I mean, I like over 400 pages. That, along with hundreds of friends – I can totally see how it would be basically impossible to follow your feed if everything was showing. But at the same time, it's totally frustrating that I have no control over what is shown in my feed. I know some people say that if you go click "get notifications" on the specific pages, you are supposed to get those updates in your feed, but I've found that that still isn't always the case.
But a few months ago, I was introduced to the wonderful world of Interest Lists.
I'm sure I'm the last one to the party, but these lists have totally saved my sanity. And believe it or not, they have helped me to streamline my time on Facebook, which means not as much time wasted.
So what exactly is an interest list? Interest lists are a way to organize your content on Facebook. And when you are viewing one of these lists, you are seeing all of the updates from those pages on the list! Hallelujah!
You can do this however works best for you, but I have several different lists for different categories. Foodies, DIY, businesses/product pages that I love. You can even make an interest list for just the friends that you want to follow closely. You can also share your interest lists with your friends or you can make them public for anyone to follow!
It's actually quite simple to set up a list, and I'm here today to show you how!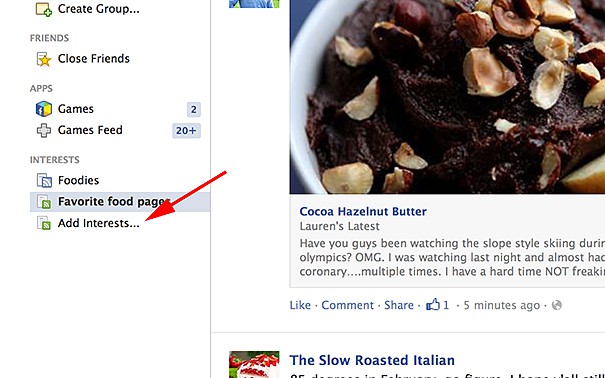 First – on your home feed, look on the left hand column. Down towards the bottom, you will see where it lists "INTERESTS". At the bottom, click "Add Interests."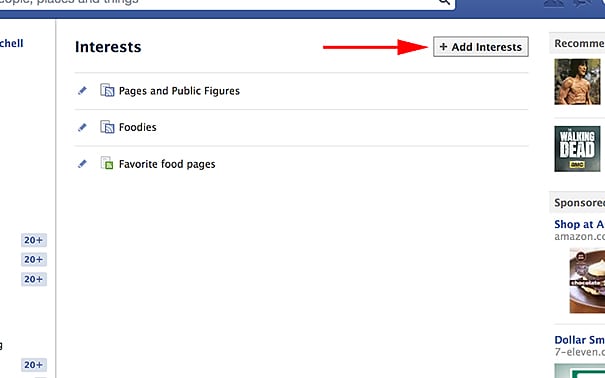 At the top of the next page, there is a button on the top that says "Add Interests". Click that button.



To create a new list, click "Create List". And as a side note, you can also search here for other public lists that you can follow. It's a great way to discover lots of fun things!!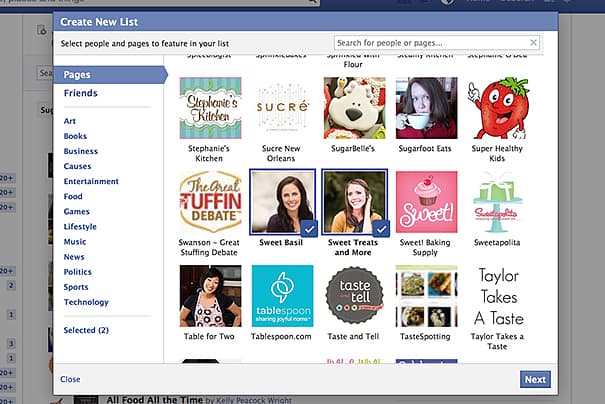 For this list, I'm creating a new list from the pages that I currently like. So I'll make sure that I have "Pages" highlighted on the left, and then I can go through all of the pages that I like and click on all of the pages that I want on my list. (and can you tell I follow lots of food pages?? 🙂 ) When you are done, click "next" at the bottom.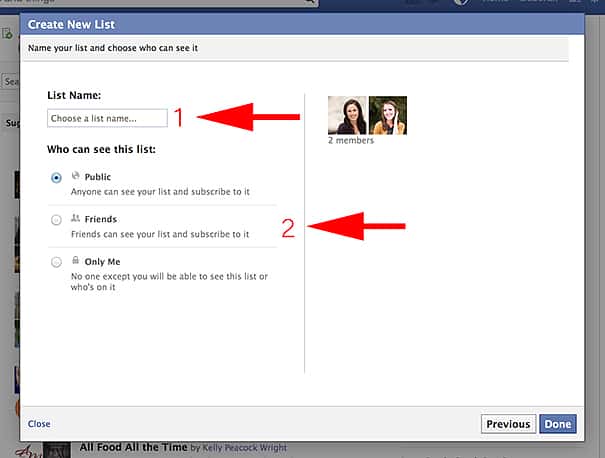 Now you can name your list. Then you will set the permissions on your list. If you don't care who sees your list, or if you want to share the list with lots of people, click "Public". If you just want to share with people who are friends with you, click "friends". If you want to keep it to yourself, and if you are the only one that will be using it, click "only me". Click "DONE", and that's it!! Now your list will show up in the left hand column of your feed page. I don't have a screen shot of this, but if you hover over the title, a little pencil will come up, and you can click on that and choose "Add to Favorites" to have your list show up at the top of the left hand column instead of at the bottom.
Remember, though – once you've made the list, you have to actually go in and click on each list to get all of the updates.
So now that you have your lists, what if you want to share them with your friends? It's easy, too!! There are 2 ways to do this.



The first way – when you are viewing your list, on the upper right hand corner, you will see "Share" – click that.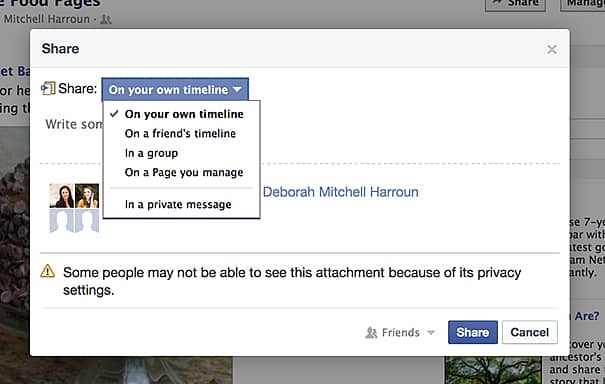 It will give you several different options on how to share the list. Choose which way you'd like to share, write a message if you'd like to, and click "share".


The second way is easier, in my opinion. When you are viewing the list, copy the URL, and send that to the people you want to share the list with. When they enter that URL into their browser, there will be a button in the top right corner where they can subscribe to the list. Click "follow" and that will add the list to your Interest Lists!
This has all seriously been a lifesaver for me, and I hope that if you haven't heard of Interest Lists, this might help you to understand and implement them for yourself!