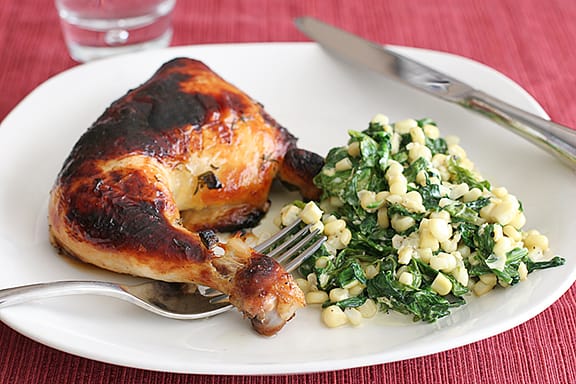 We've all heard that you are not supposed to judge a book by it's cover, right? Well, I admit – I totally go against that quite often. I've picked up quite a few books before, just because the cover drew me in. Recipes are no different – 90% of the time, I judge a recipe first by how it looks. Granted, I know that sometimes the most unattractive food tastes the best, but a good picture, or an attractive plate of food always draws me in.
Ok, I know my chicken above totally looks burnt, but I have to admit that I chose this recipe completely based on the picture in the magazine. I don't usually buy chicken leg & thigh sections like this at the grocery store, but I found myself with some in my freezer, and I was drawing a complete blank at what to do with them. Until I was flipping through the pages of the June issue of the Food Network Magazine. There on one page was a beautiful plate of food with the exact cut of chicken that I had in my freezer! Yay!!
The biggest hint I'll give you on this recipe is to keep an eye on it while it's in the oven. Mine was done well before the 45 minute mark – as you can tell. But it still tasted great! Like I think with most quick marinades, the flavor didn't come through strongly at all, but the chicken was moist and we both cleared our plates. And the creamed spinach and corn was a great summer side dish. Super easy, full of veggies – and a little cream never hurt anyone, right???
Honey-Lime Roast Chicken
from Food Network Magazine June 2010
serves 4
total time: 1 hour, plus 30 minutes to 1 hour for marinating
1 small bunch fresh thyme
juice of 2 limes
4 cloves garlic, smashed
2 jalepeno peppers, halved, seeded and thinly sliced
1/2 cup extra-virgin olive oil
2 tablespoons honey
kosher salt
3 half chickens (about 1 1/2 pounds each)
3 tablespoons unsalted butter, cut into pieces
Strip the thyme leaves from the stems. In a large bowl or a large ziploc bag, combine the thyme, lime juice, garlic, jalepenos, olive oil, honey, and 1 teaspoon salt. Add the chicken and coat in the marinade. Cover, if using a bowl, or seal bag and marinate for 30 minutes to 1 hour.
Put the oven rack in the top third of the oven and preheat the oven to 425F. Line a baking sheet with foil and put the chicken on top, skin side up. Pour the marinade on top of the chicken and dot with the butter.
Cook in the oven, basting the chicken with it's juices halfway through, until the skin is amber and a thermometer registers 160F, about 45 minutes. Transfer to a platter and top with the pan juices.
Garlicky Creamed Corn & Spinach
from 30 Minute Meals
serves 4 to 6
total time: 30 minutes
2 tablespoons butter
4 cobs of corn, with the kernels scraped off
2 cloves of garlic, finely chopped
salt and pepper
1/2 cup heavy cream
freshly grated nutmeg, to taste
2 bunches of spinach, about 1/2 pound trimmed weight, chopped
Heat the butter in a large saucepan over medium heat. Add the corn and any juices and cook for about 5 minutes. Add the garlic and season with salt and pepper. Cook for 2 to 3 minutes, then add the nutmeg and the cream. Cook gently, stirring frequently, until the cream thickens slightly, about 15 minutes. Add the spinach and cook until wilted. Taste and season with more salt and pepper if needed.