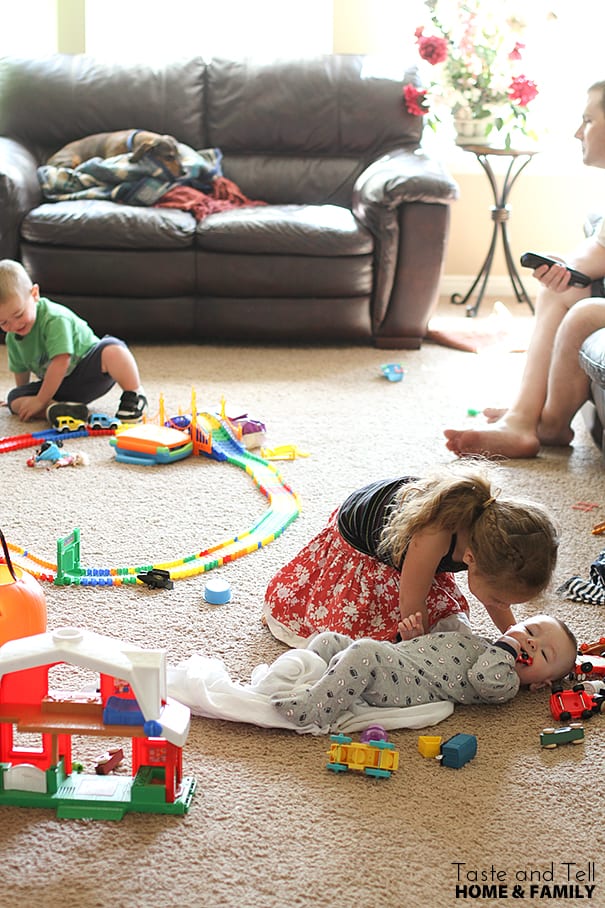 I have been blogging for a long time.
Not just about food. But about family. My family.
I started a personal blog back in 2006. I keep it as a journal because I have a terrible memory, and if things aren't written down, they are gone forever. I love the outlet that it gives me – that I can talk incessantly about my kids and post 30 pictures of the family dying Easter eggs. (Yes, I really did.)
When I started Taste and Tell back in 2007, I did it just to talk about food. And really, for the most part, I've kept to that. But there have been times that I've wanted to get real with you all, and share parts of my life outside of the kitchen. (I have shared a few times, but really, it's been mostly about the food.)
So that is where this Home and Family section comes into play.
I'm going to be honest – I have no idea where this is going to go. But that is exactly what I love about it. I'm not crafty. I don't have a perfectly decorated home.
But I am real. (As witnessed by the above photo…)
You probably aren't going to find crafty tutorials. Or me gushing on about how my life is perfect. And it's not going to be all about just posting photos of my (completely adorable) children. I'm going to take this section day by day, but I want to share parts of my life with all of you. Things I've learned about parenting. Random musings. Things I'm loving. This will be my wide open space where I can really do whatever I want to do. No rules.
Thanks for joining me here, and I'm excited that you are along for the ride!