Make sure you keep your pantry stocked up for all of your holiday baking! Includes a printable list of supplies to stock up on before the holiday rush hits.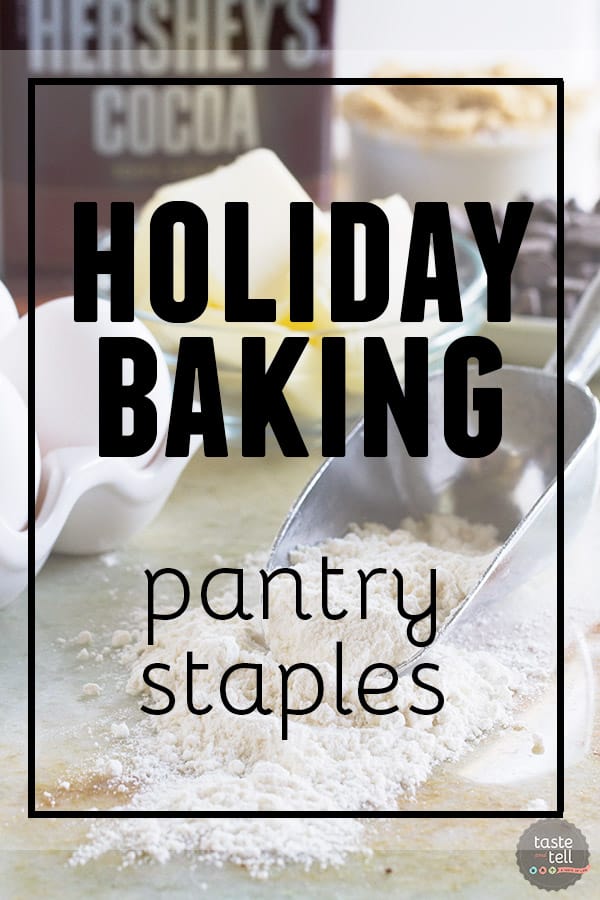 This post is in partnership with HERSHEY. All opinions are my own.
I know we have all been there before. It's the week before Thanksgiving, and you want to bake up something special. So you head to the grocery store, list in hand.
Only when you get there, and turn down the baking aisle, it looks like a tornado has hit. The one bag of flour that is left has a big hole down the side and is spilling its contents all over the shelf. There is not one bag of light brown sugar, only dark brown. The spot where the pumpkin puree is normally has been empty since mid October. And there is not one single bag of HERSHEY'S Kitchens Milk Chocolate Baking Chips left. That holiday recipe that you were dying to make is doomed.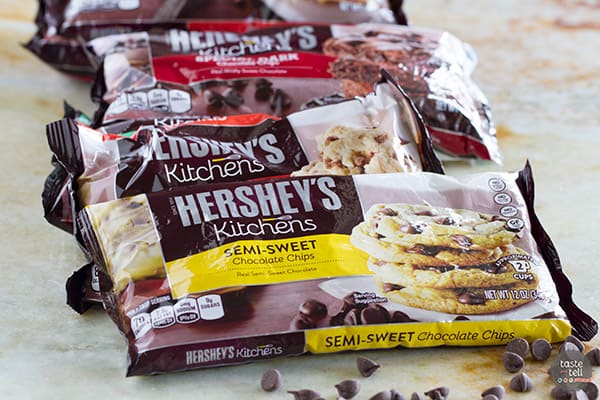 Never fear – I am here to help you through the holiday baking season! I have been there too many times, and have been left scrambling to find a new recipe at the last minute. But the thing that will save you every time is a well-stocked pantry.
I try to keep my pantry stocked at all times (just in case the baking bug hits and I don't want to run to the store!) But it goes beyond that when the holiday season comes around. Not only are you going to want to bake on the fly at times, just for the love of baking, but last minute parties and dinners are destined to come up. And of course you have to deal with the grocery store not being able to keep up with the demand.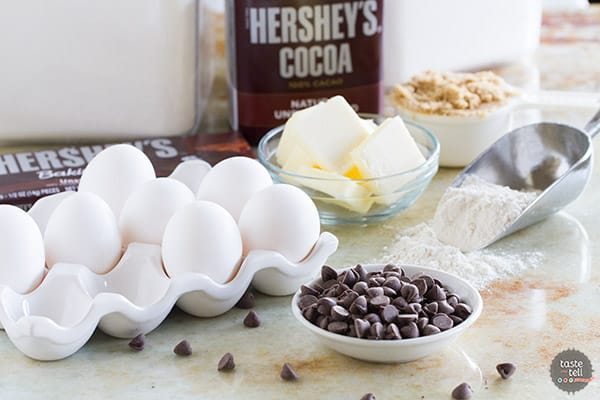 So I have come up with my ultimate Holiday Baking Pantry Staples. I know that if I have all of these items in my pantry, I will always be able to bake up a holiday treat when needed. Every time I go to the grocery store, I grab extras of these items. It saves me so many headaches and frustrations (and trips to the grocery store) when I have everything stocked up.
Most of these items can be kept in your pantry for several months, so I don't worry about having too much. For the perishable items, I just make sure to have them on my grocery list every week. (Did you know you can freeze butter? I have a freezer full of it, because holiday baking cannot happen without butter!)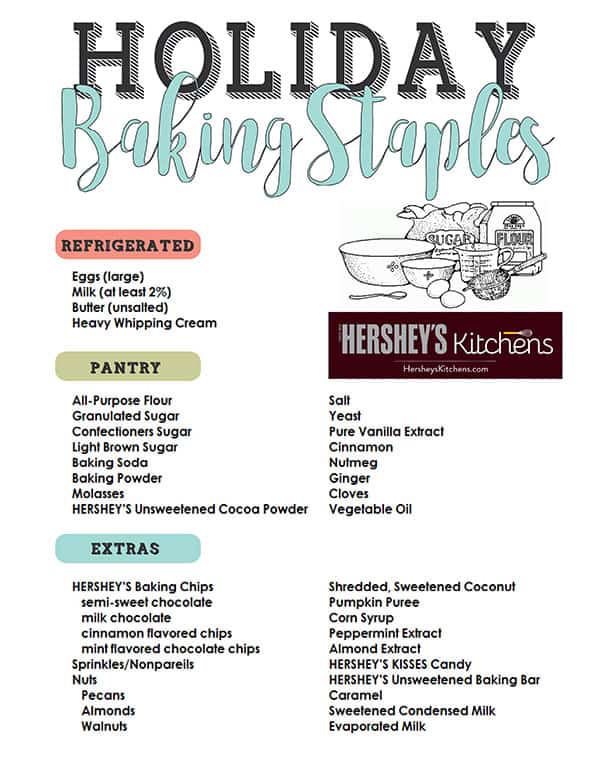 CLICK HERE to get the full resolution checklist to print! It has all of my favorites that I never go without. This printable is perfect to hang in your pantry or on the back of a cupboard for easy reference. Or print out a copy and keep it with your grocery list.
Now who is excited for holiday baking?
This post has been sponsored by HERSHEY, but all opinions are my own. Thank you for supporting me and the companies I partner with.