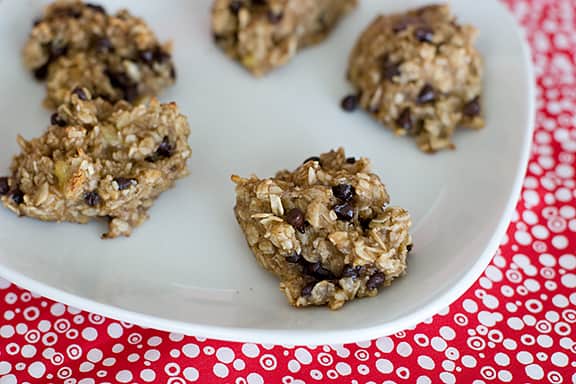 I have to say right up front – I DID NOT LIKE THESE COOKIES.
I understand that a lot of people don't always read through a blog post, and really, that's ok. But I'm known to blog about a recipe that I don't like from time to time, and I have to laugh when I post about a recipe that didn't work, and someone will make it and email me about how horrible it was. So just know, this is one of those recipes that didn't work out for me!
So why post about a recipe that I didn't like? Well, first of all, I would hate for someone to find this same recipe and make it and find that they have wasted their time and ingredients. Also, the main reason I'm posting this, is because I would love for any of you to share your "healthy" cookie recipes with me. My husband is a cookie addict. So I'm making cookies quite often. But we all know that eating cookies every day is probably not the best thing for any of us. So when I saw this recipe, I thought – wonderful! A cookie I can make and not feel too terrible about. But I did not like them at all. The texture was weird, and even though I added a little more sugar and some mini chocolate chips, the sweetness was just all off. But I would love to have a at least semi-healthy cookie recipe on hand for when we just need to fill that cookie craving! So share with me!
Healthy Banana Cookies
adapted from allrecipes.com
Makes about 3 dozen cookies
3 ripe bananas
2 cups rolled oats
1/4 cup sugar
1/3 cup vegetable oil
1 teaspoon vanilla extract
1/2 cup mini chocolate chips
Preheat oven to 350F.
In a large bowl, mash the bananas. Stir in the oats, sugar, vegetable oil, vanilla and chocolate chips. Drop by teaspoonfuls onto an ungreased cookie sheet.
Bake for 20 minutes or until lightly brown.