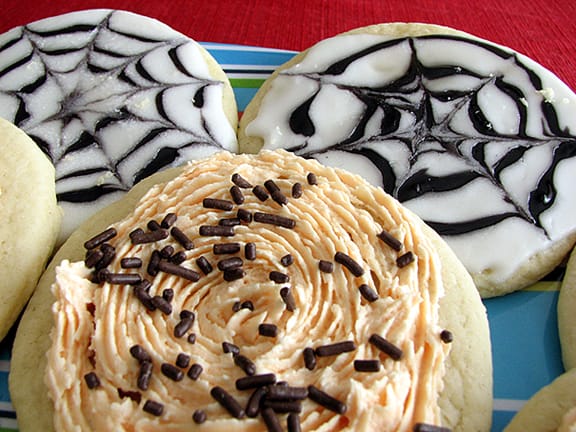 I hope that everyone has a wonderful, safe Halloween!!
Sugar Cookies
My mom's recipe
1/2 cup butter
1 cup sugar
2 eggs, well beaten
1/2 teaspoon salt
2 teaspoons baking powder
1 teaspoon vanilla
1 tablespoon milk
2 – 2 1/2 cups flour
Cream butter and sugar. Add in the eggs and mix well. Add the salt, baking powder, vanilla and milk. Add in flour, 1/2 cup at a time, until the dough is soft, but not sticky.
Roll out and cut into shapes. Bake for 8 minutes at 375F.
*The wonderful thing about this dough is that it doesn't have to be refrigerated first. I did, but only about 20 minutes, and it rolled out perfectly.
**My secret for making the perfect sugar cookie is to under-cook them by at least 1 minute. With these, I baked them 3 minutes, rotated the pans, then cooked 3 minutes longer. Then I let them sit on the hot baking sheet for about 2 minutes out of the oven.
Butter Cream Icing
from Lion House Desserts
3/4 cup butter
3/4 cup shortening
4 2/3 cups powdered sugar
1 1/2 teaspoons lemon juice
1 1/2 teaspoons vanilla
1/3 cup water
In a large mixing bowl, combine butter, shortening and sugar and beat until very creamy. Add lemon juice and vanilla. Mix until well blended. Add water and mix until very light.
Decorating Icing – for Spider Web Cookies
2 3/4 cups powdered sugar
2 teaspoons vegetable shortening
3 tablespoons water
1 tablespoon corn syrup
1/4 teaspoon vanilla
Beat all ingredients well. To make spider web cookies, spread icing on cookies while they are still hot. Draw a circles (like a bullseye) on each cookie with black decorating gel, and using a toothpick, draw a line from the center out to the edge of the cookie. Repeat, making the spider web design.