**Win a copy of
Get Cooking
! See details at the bottom of this post.**
If you are a regular reader of my blog, you will know that I have a love affair with cookbooks. And a slight addiction to buying them. So needless to say, when I get the opportunity to review a cookbook, I'm as happy as can be! I was contacted by Harper Studio to review Mollie Katzen's newest cookbook – Get Cooking.
The minute this book arrived in the mail, I knew I was going to love it. It is full of basic, easy, non-pretentious recipes. 150 of them, in fact. And not only does it have 150 recipes to get you in the kitchen, but it also has a ton of information for the beginner cook – from what kinds of equipment you need in the kitchen to how to cut up vegetables.
So usually, when I'm cooking from a cookbook – like with my Cookbook of the Month – it will take me the whole month to make the recipes from it. I usually do one a week, sometimes throwing in 2 a week, just to get ahead. But with this cookbook, I made 5 recipes in 7 days – that's how much I wanted to try these recipes! I think I liked this book so much because it is simple, uncomplicated food that everyone will love. I love to challenge myself and try new things, but really, for day to day, simple and uncomplicated is how I like it.
There are a few things I would change here and there on the recipes I tried, but overall, I think this is a wonderful cookbook. It would be great for beginner and advanced cooks alike – there's plenty for everyone!!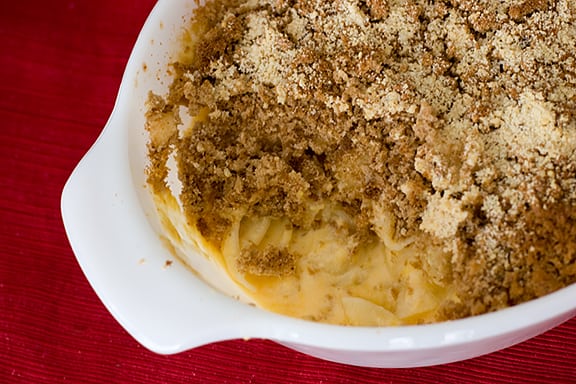 Genuine Homemade Mac & Cheese
I'm a believer that everyone needs a good mac and cheese recipe in their arsenal. This one is super simple and easy. And I made it from pantry staples, which is always a big plus in my book! The only thing I would change on this one is to half the amount of breadcrumbs because they were a bit too overpowering.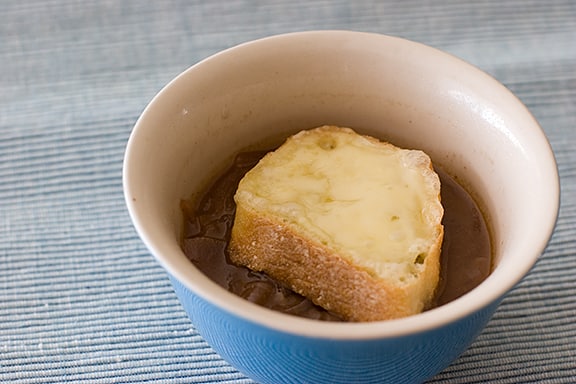 Caramelized Balsamic-Red Onion Soup with Cheese Topped Croutons
I'm a sucker for a good bowl of onion soup, and adding in the balsamic on this was pure genius. A super simple soup to make with rich, complex flavors.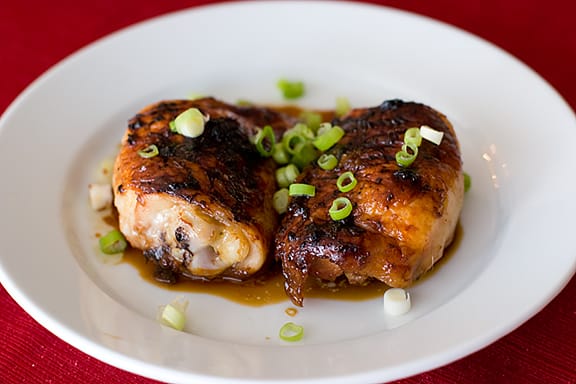 Teriyaki Chicken Thighs
Probably my favorite recipe from the ones I've tried so far. Super easy and full of flavor. I did have to keep an eye on them, though, as mine were done about 15 minutes sooner than the recipe stated. But so delicious!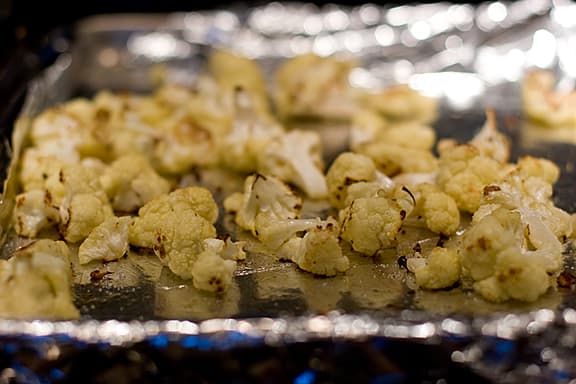 Deeply Roasted Cauliflower
I'm a believer that any vegetable is made better by sticking it in the oven and roasting it. This cauliflower is no exception! It's the definition of simplicity. And oh – so – good. I seriously could eat a whole head of cauliflower in one sitting this way!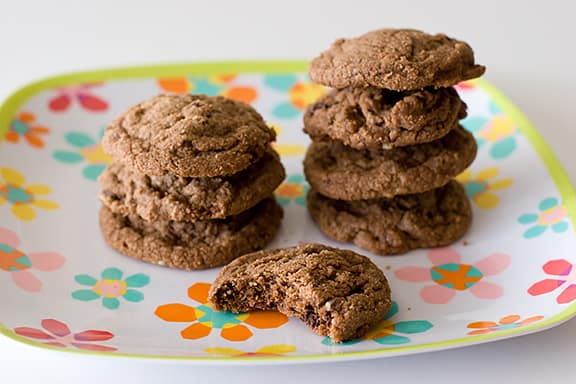 Chocolate – Chocolate Chip Mint Cookies
And since everyone loves dessert and can't turn away from a cookie, I had to give these a try! I didn't have enough chocolate chips, (what?? How did I run out of chocolate chips??), but I had some Andes mint chips that I substituted for half of the chocolate chips. So I got a double mint punch, and they were wonderful! If you are a chocolate lover and a mint lover, you will love these!
Chocolate-Chocolate Chip Mint Cookies
from Get Cooking
Makes 3 1/2 to 4 dozen cookies
1 1/2 cups (3 sticks) butter, plus a little extra for the cookie sheets
1 cup granulated sugar
1 cup (packed) light brown sugar
1 large egg
2 teaspoons pure vanilla extract
2 teaspoons peppermint extract
3 cups unbleached all-purpose flour
1/2 cup unsweetened cocoa powder
2 teaspoons baking powder
scant 1/2 teaspoon salt
2 cups semisweet chocolate chips (one 12-ounce package)
About an hour ahead of time, unwrap the butter and place it in a large bowl. Use a table knife to cut it into 1-inch pieces, and let it stand at room temperature to soften.
Adjust the oven rack to the center position and preheat the oven to 350F. Put a little soft butter on a paper towel, a piece of waxed paper, or a butter wrapper, and lightly grease two cookie sheets.
Pour the granulated sugar, and crumble the brown sugar, into the bowl holding the softened butter. Use a handheld electric mixer at high speed (or if you don't have one, use a whisk, with enthusiasm) to beat the butter and sugar together until light and fluffy. Add the egg and beat well. (Use a rubber spatula to scrape the sides of the bowl a few times during this process.) Add the vanilla and peppermint extracts, and continue to beat for another minute or two, until everything is well combined.
Combine the flour, cocoa powder, baking powder, and salt in a medium-sized bowl, and whisk slowly to blend. Add this to the butter mixture, along with the chocolate chips, stirring with the spatula until the dough is thoroughly combined.
Drop the dough by rounded teaspoons onto the prepared cookie sheets, spacing them 2 to 3 inches apart and flattening each mound slightly with the back of a spoon. (You will need to bake these in batches, so just spoon out as many as will comfortably fir on your cookie sheets.) Bake for 10 to 12 minutes, or until the tops of the cookies are dry and the bottoms are lightly browned.
Let the cookies sit on the cookie sheets for about 5 minutes after you take them out of the oven, and then gently transfer them to a cooling rack using a thin-bladed metal spatula. Repeat with the remaining dough.
**WIN A COPY OF GET COOKING BY MOLLIE KATZEN!
**
Harper Studio has generously given me an extra copy to give away to you! There are two ways to enter:
1 – Leave a comment on this post
2 – Tell someone about this giveaway, whether it be on a blog, facebook or twitter. Then come back here and leave a new comment letting me know.
This giveaway will go until Monday, October 26th at 11:59pm Mountain. The winner will be announced Tuesday, October 27th.