It has been a long time since I have done a blogger spotlight, but I decided that it's time to bring them back!! I'm super excited to share today's spotlight with you all – Taylor from Food Faith Fitness. I met Taylor briefly at a food conference a couple of months ago, and wish that I could have spent some more time with her. Her blog is full of beautiful and healthy recipes. I also love that she sprinkles in some fitness information, because as a food blogger, I definitely need those fitness posts! I'm happy to introduce you all to Taylor today!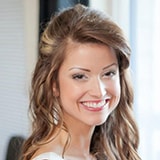 Taylor is the blogger, recipe developer, photographer and general mess maker behind the blog "Food Faith Fitness." Her blog aims to show that eating healthfully does not have to break the bank or equal bland and boring! Taylor believes in living a balanced, whole life so her blog focuses on fitness/nutrition tips and working on keeping Christ at the center of daily life. When she isn't blogging or messing up her kitchen, you can find Taylor at the gym, her Bible study or just snuggling up on the couch with husband and doggy, watching The Food Network (Chopped in particular!) Taylor also has not-so-secret obsessions with all things peanut butter, cookie dough (even better if they are together!) pink and leopard print.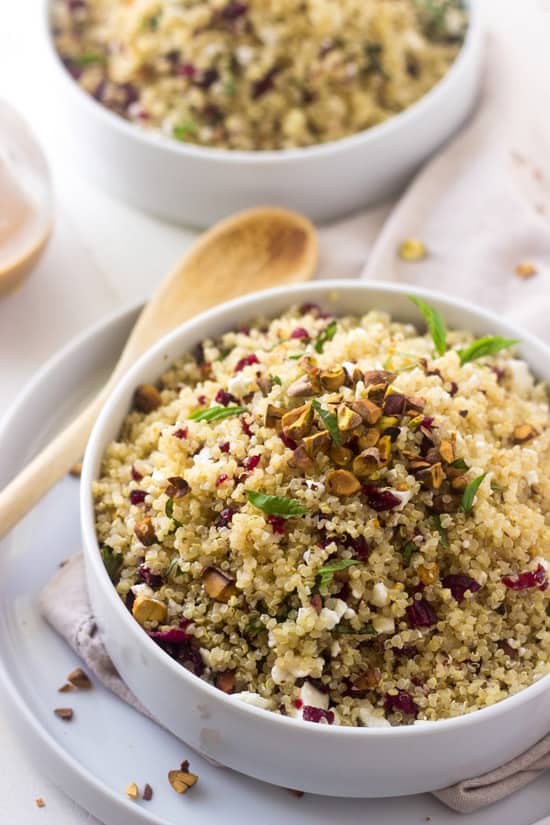 Quinoa Salad with Pistachios, Cherries and Honey Balsamic Kefir Dressing
What inspired you to first start writing your blog?
My husband. Although it may not seem like it on Food Faith Fitness, I am actually a very introverted person. I dislike being in large groups of people, so I spent a lot of time just watching the Food Network after I came home from my 9-5 job. My husband thought that I needed a hobby, and he knows that I LOVE to cook, so he suggested that I start a food blog. I thought it could be fun, so I took him up on the suggestion. I just had no idea it would turn into 1. A job and 2. Such a HUGE passion of mine!

What would you eat as your last supper?
Oh, hands down I would eat a massive slice (read: a whole) New York Cheesecake with strawberry sauce. If you are familiar with Food Faith Fitness, you know that anything cheesecake is my absolute WEAKNESS. In fact, I kind of wish I had some right now.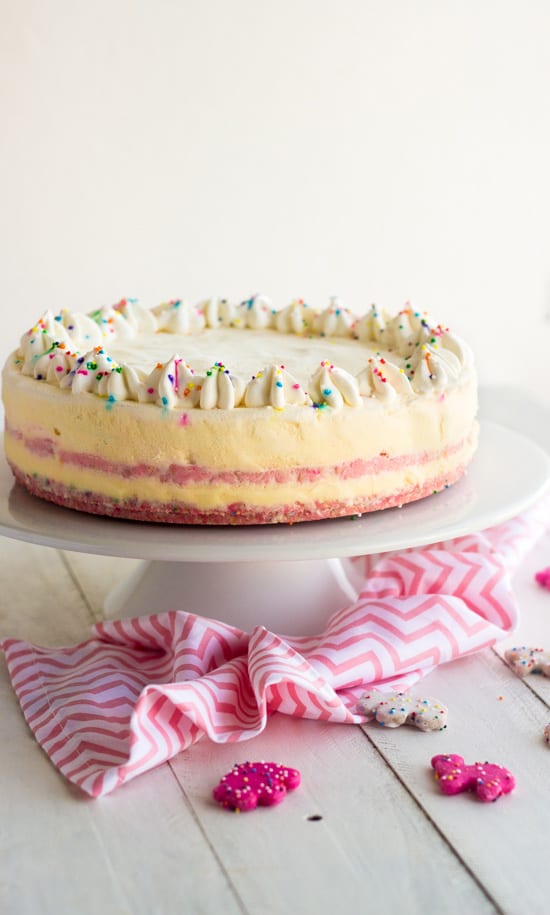 Ice Cream Cake with Circus Animal Crust
What is your favorite recipe posted on your blog?
My favorite recipe is my Circus Animal Ice Cream Cake. It's probably one of my least-heathy recipes, but it was a TOTAL disaster when I first made it, and I hated the pictures. However, I told the whole story and posted the pictures that I hated, and I got such a great reader response!
What kind of camera/lens/equipment do you use?
I have a pretty basic set up. I set a Canon Rebel T3i DSLR with a Canon 50mm f 1.8 lens. I LOVE that lens. It is inexpensive and takes great photos. The camera is also great for totally technology challenged people like myself because it is VERY user friendly. The rest of my set up is pretty silly. I use white foam boards, held up by anything that I can find lying around (sometimes a Cheerio box works great!) as light bouncer. I also found a really cheap diffuser on Ebay that I use when the sun is really harsh…which is pretty much always in Florida. For editing, I am totally obsessed with Lightroom 5. I would marry that program if I could. Don't tell the hubs.
Any suggestions or hints to have great food photos?
TAKE YOUR TIME. Don't plan to do a shoot when you have 15 mins to do it all. I take anywhere from 10-30 mins to play with different styling, and then at least 15 minutes to take the shots. Move around the object and get lots of different angles so you have lots of options to pick from when you go to edit. Also, garnish, garnish, garnish! However, don't use any garnishes that are not in the recipe…it's confusing.
If you could travel anywhere in the world – just for the food – where would you go?
If I could travel ANYWHERE just for the food, it would be Thailand. My husband and I are totally in love with Thai flavours, and the beaches don't hurt either. 🙂
Hummus Recipe with Jalapeño and Lime
What kind of food did you eat growing up?
For the most part, I grew up eating pretty healthy, but simple food. My Mom liked to cook, but didn't LOVE it. We always had some sort of brown rice or potato with dinner, and then usually some sort of steamed vegetable and chicken. However, we always had treats on the weekend. Saturday mornings were always "donuts and going to garage sales" with my dad days, and then we always got Coke Slurpees in the evenings. I think this is where I got my idea of "moderation" and that it's good to be healthy most of the time but, every so often, this girl needs a big ol' slice of cheesecake! 🙂
Do you plan a weekly menu? If so, what inspires your menu?
I do have a weekly meal plan, but it's basically just ideas of recipes for the blog, so I never really know if dinner is going to work out. Aside from re-making recipes for the purpose of re-testing them, I don't think I have made the same dinner twice in the 1 ½ years that I have been married. However, when a recipe fails and dinner isn't looking so good, I make oatmeal. I have a total obsession with blueberry oatmeal with cream cheese mixed in. I die.
What is your favorite part about blogging?
My favorite part about blogging is getting to be creative. I always hated things like math in high school, and I enjoyed art class. I also went to school for makeup artistry. I am just more of a creative person by nature, so seeing what kind of crazy things can actually go together in a recipe is SO fun for me. I also love reading reader e-mails. Ya'll are so sweet and they always make my day! Oh, and working from home in my pajamas doesn't hurt either.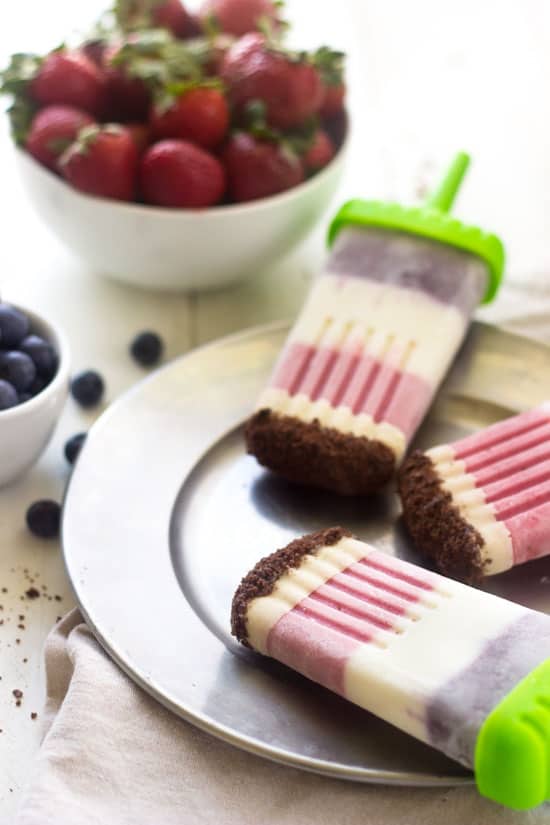 Healthy Freezer Pops with Brownie Brittle
What is your best tip to becoming a successful blogger?
My best tip to becoming a successful blogger is only do it if you love it, don't just do it because you think it's an easy way to make money…because it's not. Blogging is actually REALLY hard and REALLY time consuming. It's not just making food, taking pictures and writing funny stories. I work every single day on Food Faith Fitness (and most days are 10-15 hour days.) Blogs don't close at 5pm and on weekends like an office job. You need to be constantly on social media, getting yourself out in the community, and being accessible to your readers. It's fun, but there are definitely very tiring days. If you are only doing it for a paycheck, you will burn out VERY QUICKLY.
——————
Thank you so much, Taylor! It was fun getting to know you better. And I'm totally going crazy over that animal cracker ice cream cake!
If you want to see more from Taylor, here is where you can find her: