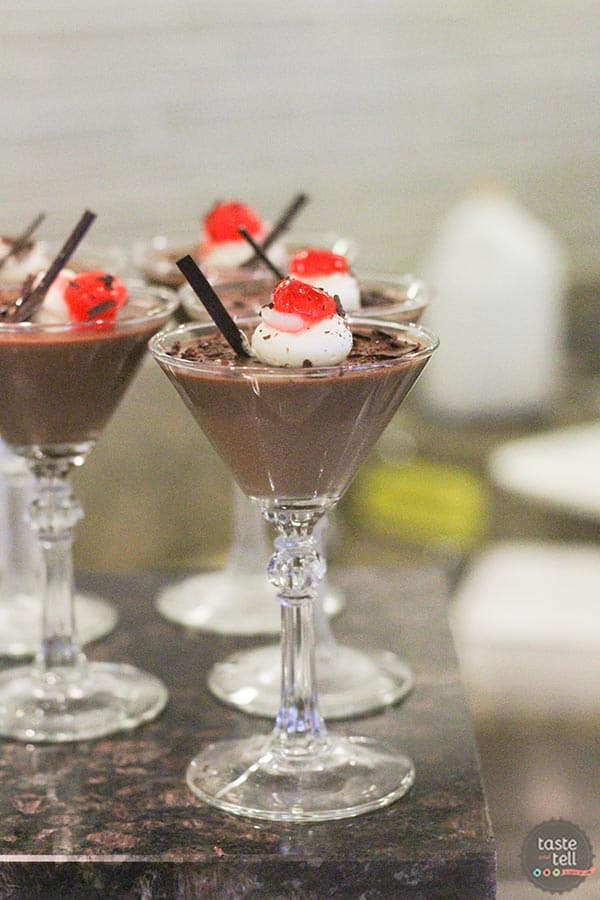 I am back again today, talking about our recent trip on the Regal Princess. And today's subject is a very important one.
The food. Oh, the food.
I don't even know where to start.
It seems like you usually get one of two responses when you talk about the food on a cruise. One – people talk about how much food they eat and how much food there is, or two – how the food wasn't quite as good as they had expected it would be or hoped for.
It had been awhile since I had been on a cruise, and admittedly, my tastes and standards have changed quite a bit since my last cruise. So I went into this vacation kind of hoping for the best, but not expecting amazing dining experiences. After all, I know that they are putting out food for thousands of people constantly. How exactly do you keep up the quality when you are making that much food?

Well, I will happily report that the food that we ate on the Regal Princess was the best cruise food that I have had. Some of the food is food that I will be thinking about for a long time to come. (The scallops – every time I had them they were amazing!!!)
I'm going to give a brief overview of the dining choices aboard the Regal Princess today. It is true that you never have to go hungry on a cruise, because there is always food to eat. 24 hours a day. And lots of it. There are definitely choices!!
Main Dining Rooms: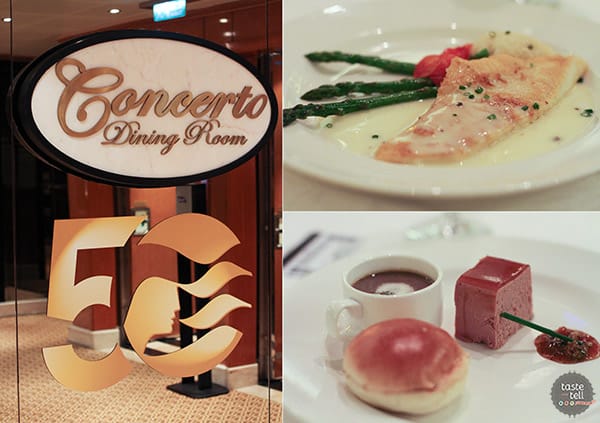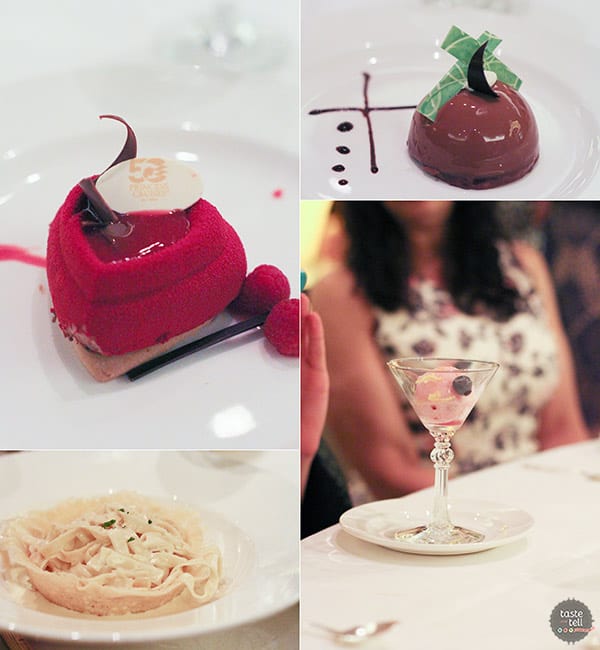 Cruising in the past has always consisted of set dinner times where you sit at the same table every night, with the same people and the same waiter. This dining is offered on the Regal Princess in the Allegro Dining Room for those who like to stick with tradition.
They also offer an Anytime Dining option, for if you want more flexibility with your dining experience. There two dining rooms to choose from with anytime dining – Symphony and Concerto. You can make reservations so that you don't have to wait for a table, or you can walk in. We were on the anytime dining plan which I actually really enjoyed. We dined as a group a couple of times, and then my husband and I were able to have a quiet, intimate dinner one night. From what I understand, the menus are the same whether you choose traditional dining or anytime dining. We only ate in the Concerto dining room, but had 2 of my favorite dishes of the cruise. (A scallop dish that I sadly didn't get a photo of, and that red heart shaped dessert above.)
Other Dining:
If you don't want to dine in one of the big dining rooms, do not despair!! There are many other dinner choices and ways to experience even more spectacular dining.
Sabatini's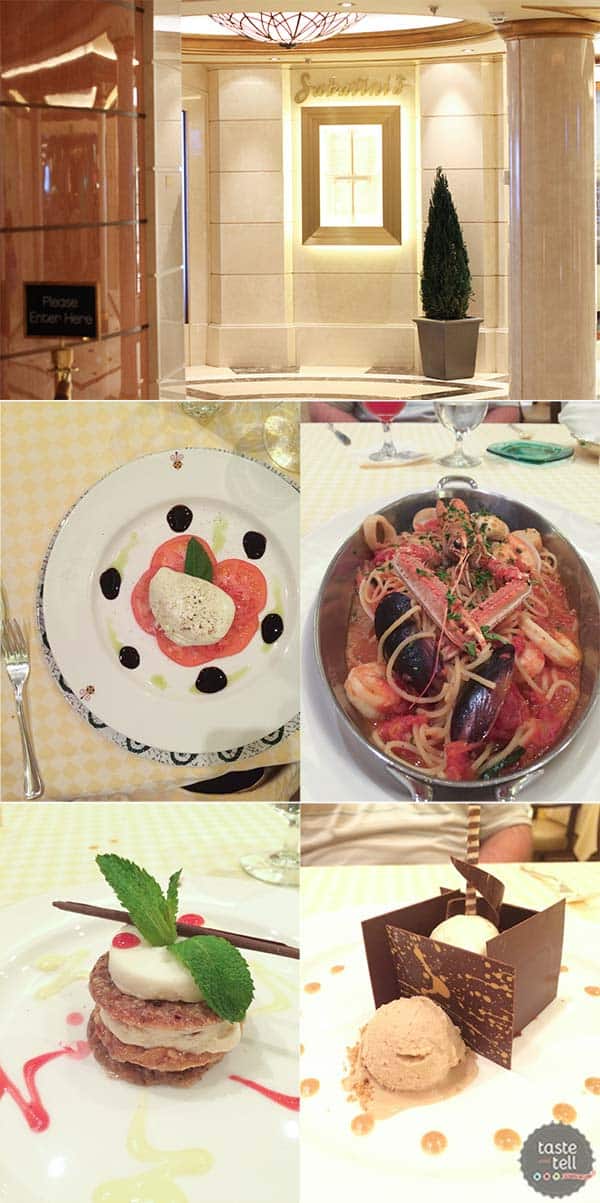 Sabatini's is a Tuscan-inspired restaurant filled with Italian favorites. Order a pasta or seafood specialty, and don't forget an Italian-inspired dessert. There is a cover charge for dining at Sabatini's, but I think it's well worth it!!
Crown Grill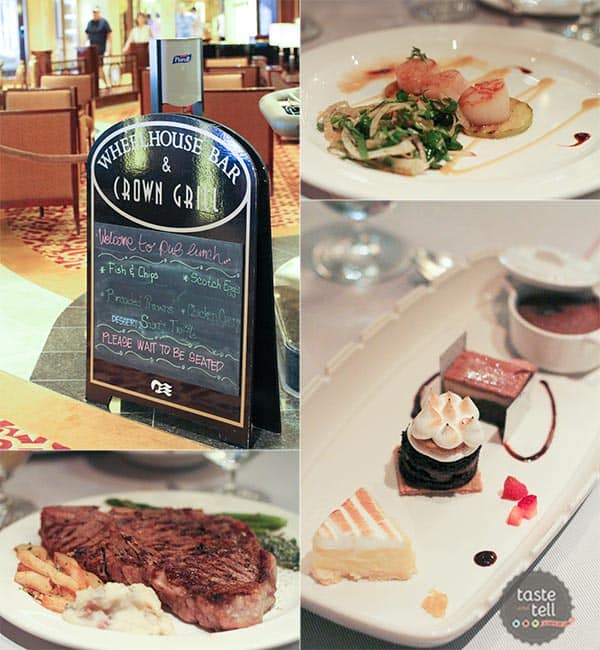 If you are craving steak or seafood, make sure you visit the Crown Grill. This is another specialty restaurant with a cover charge, but I would definitely recommend spending the extra money. I always ate too much at dinner, but this meal really put me over the top. I started with another fantastic scallop dish, had an amazing (and HUGE!) porterhouse steak. There was also a salad somewhere in there, as well as some fantastic side dishes. For dessert, I got a sampler which was fantastic, and beautiful to boot. This was a fantastic meal.
The Crown Grill also offers a Pub Lunch (no cover charge) that I wish I would have tried!
Alfredo's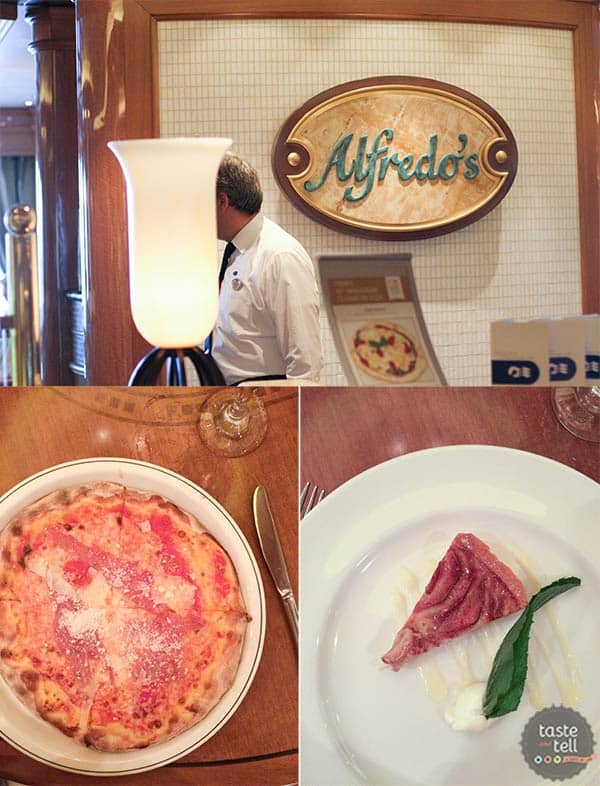 Pizza lovers won't want to miss Alfredo's – fresh, hand-tossed Neapolitan-style pizza. Princess has a reputation of serving the best pizza at sea. You get a great selection of pizzas, as well as pasta, calzone, soup and salads.
International Cafe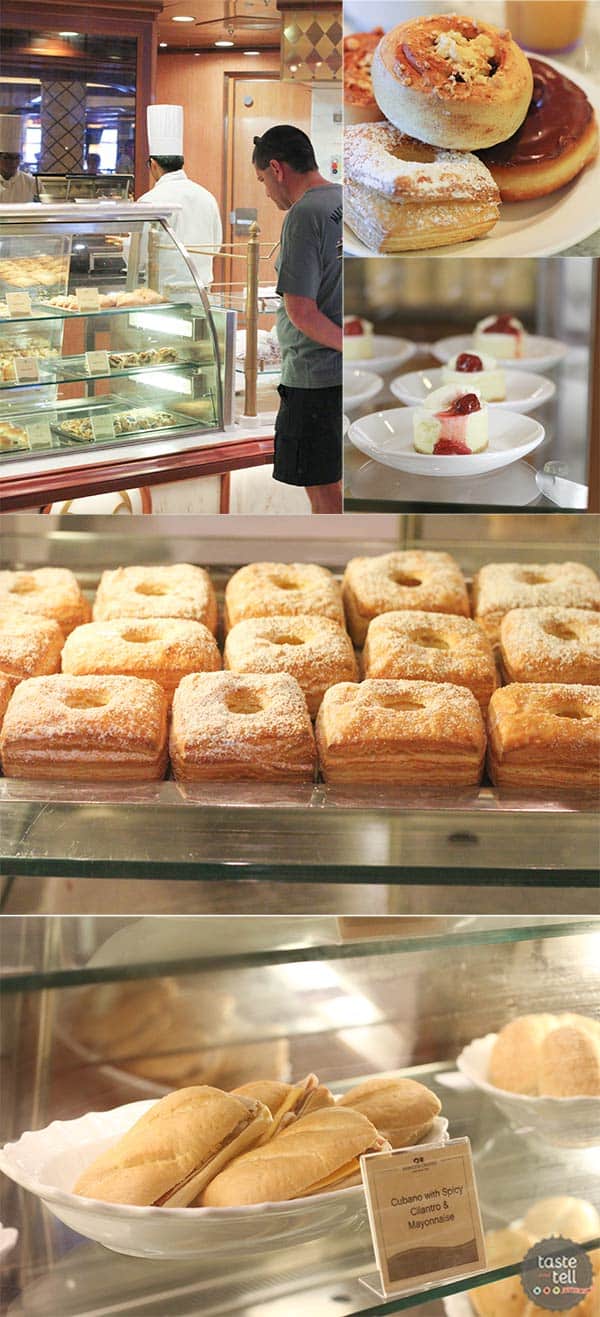 The International Cafe was probably my favorite spot to pick up something to eat. They offer all kinds of pastries and treats, as well as salads and sandwiches. You can take a sandwich as is, or you can have them press it – panini style. My husband fell in love with the tuna fish sandwiches, and of course, I loved the doughnuts!! We didn't discover that the International Cafe served doughnuts in the morning until over halfway through our cruise, but every morning after that, the cafe was our first stop in the morning. 🙂 If you are a coffee drinker, they also have a lot of different coffee drinks you can order (for an additional charge).
Horizon Court Buffet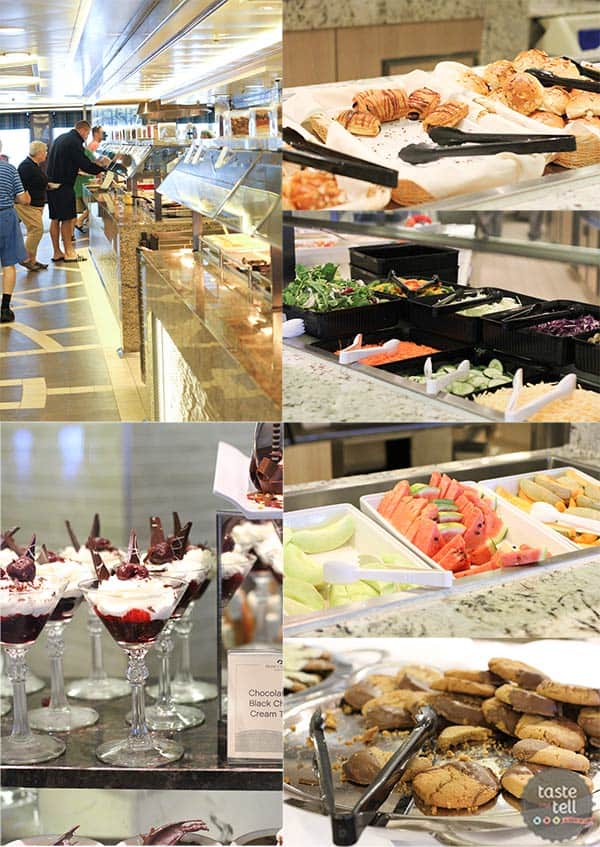 A cruise wouldn't be a cruise without a buffet!! The Horizon Court Buffet, which consists of the Horizon Bistro, Horizon Court, plus a the Horizon Pastry Shop, will never leave you hungry. Serving breakfast, lunch and dinner, you'll always find something being served up at the buffet. We are big breakfast people, so we went to the buffet every morning. I started every morning with lots of fresh fruit and I think I ate my weight in over-easy eggs. (They were cooked so perfectly, and I really crave a good dose of protein in the morning!) We only went to the buffet for lunch once, on the last day on the ship, mostly because I just needed a huge salad. This restaurant is huge, and you'll fill up your plate without a problem. It can get a little busy and chaotic at peak times, but we were always able to find a table.
Poolside Dining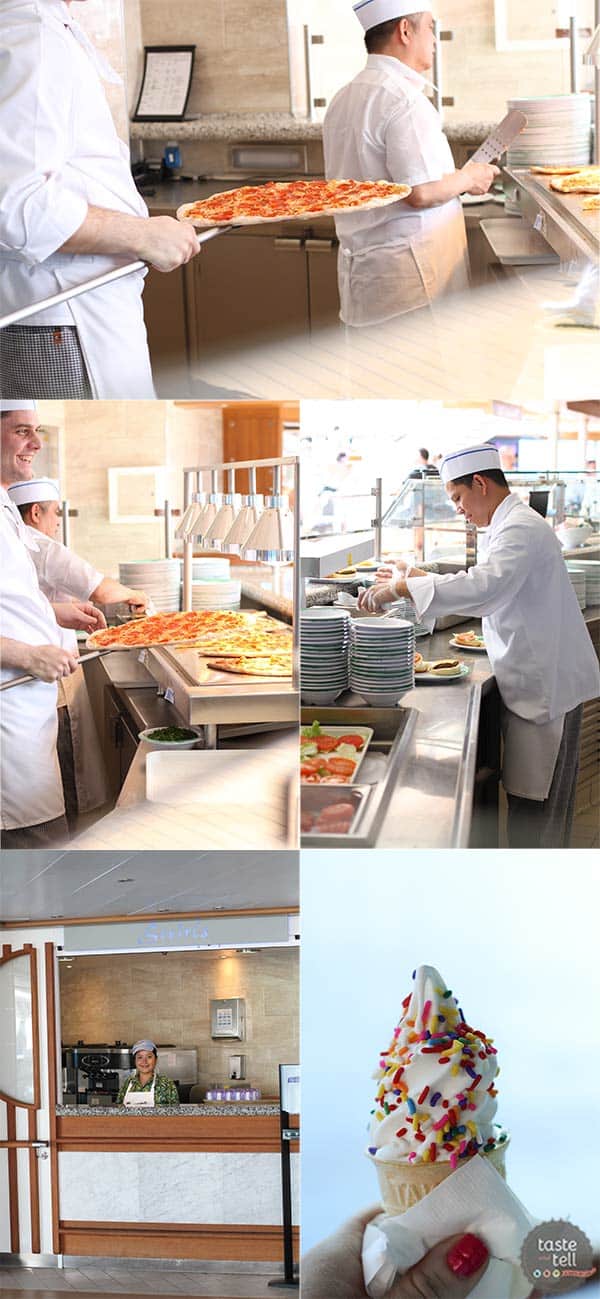 If you get hungry while relaxing on deck, there are plenty of options to fill your belly. Prego Pizzeria serves huge slices of thin-crust pizza that we loved. You can get your fill of hot dogs, hamburgers, chicken sandwiches and fries at the Trident Grill. And don't forget unlimited soft serve at Swirls!!
Gelato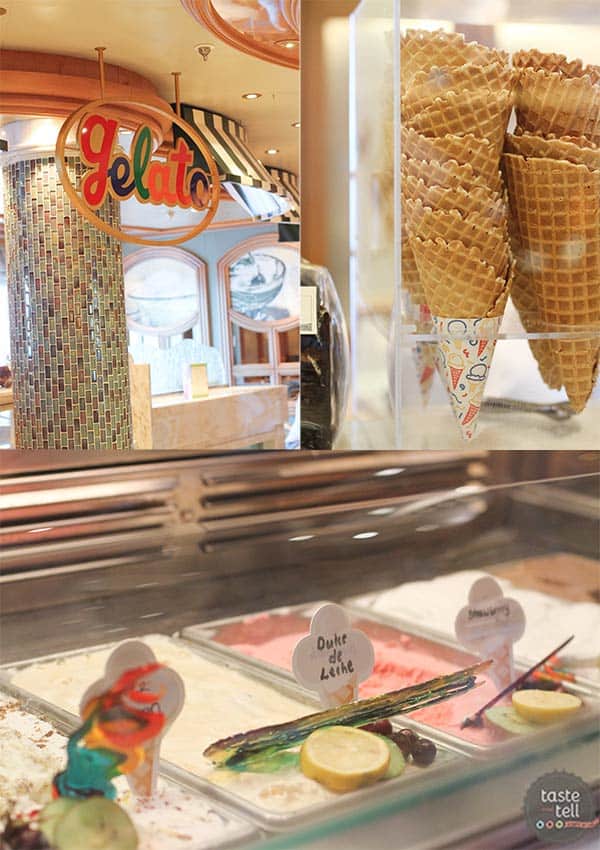 Want another sweet treat? Visit Gelato for some amazing frozen desserts. My husband and I only went once, but could have easily gone every day!
And more!!
This is why you spend 24/7 eating on a cruise – there is just so much to choose from!! There were so many places to eat that we didn't even try them all. If you are a drinker, there are different bars around every corner, most of which also serve food. The Horizon Court has specialty dining – the Crab Shack (crawfish, shrimp, crab, mussels and more) as well as Fondues (a full fondue experience), both for an additional charge. There is also a Royal Tea Experience, Spanish tapas at Vines, a seafood bar at the Ocean Terrace and made to order burritos at the Outrigger Bar. Top this all off with 24 hour room service (which we took advantage of on more than one instance) and you will not leave this cruise hungry!!
I will also be sharing about one of my favorite dining experiences – on land or sea – the Chef's Table Lumiere – in another post, but it's definitely an experience not to be missed.
All in all, I can tell you that the food was a highlight of this vacation for me. I think it's worth it to step beyond the buffet and the traditional dining and to plan on spending a few extra dollars at the specialty restaurants. But that being said, I still think that there is great food to be found everywhere!
This post has been sponsored by Princess Cruises. I'm so glad to be able to work with companies and organizations that I truly believe in. Thank you for supporting them, too.