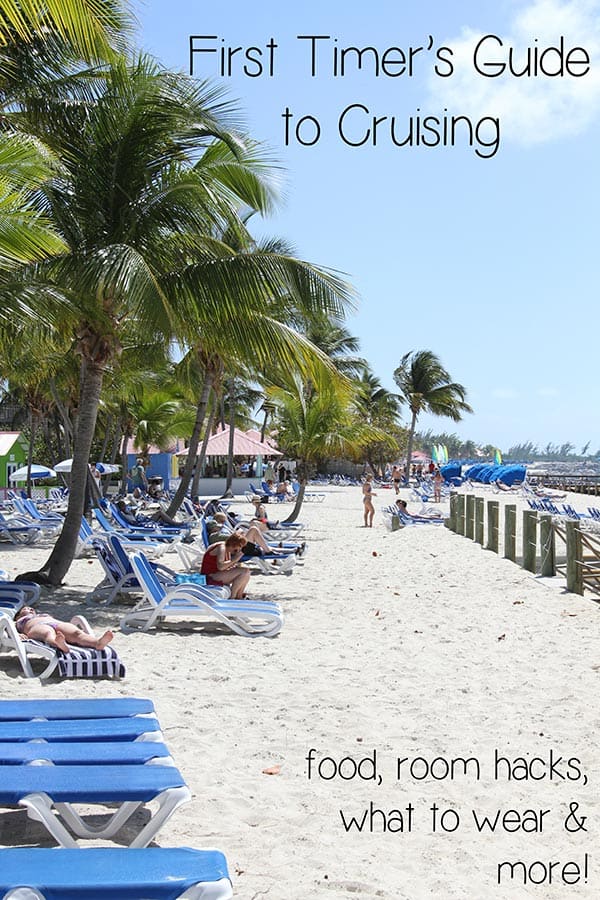 The cruise that I went on with Princess Cruise Line about 6 weeks ago wasn't my first cruise. But it had been about 10 years since my last cruise. It's kind of like riding a bike, though – I think I went into it having a good idea of what to expect.
Since I wasn't a first timer, I had forgotten about some of the questions that came up when I went on that first cruise. And I learned a few tricks this time around that I didn't know before. So I thought it would be fun to round up a few ideas and share them with you all today. Because I know after the cruising posts that I've posted already, you all want to go cruising now! 😉

Just as a disclaimer – all cruise lines and ships are different. I've been on a few different cruise lines, but like I said above, it's been a long time since I've been on those other cruise lines. So most of my experiences here are from cruising with Princess Cruise Lines. But I think most of the tips carry over to most ships. And I know there are probably 11 million different tips – these are just a few that I think will help a first timer to be more comfortable and less intimidated!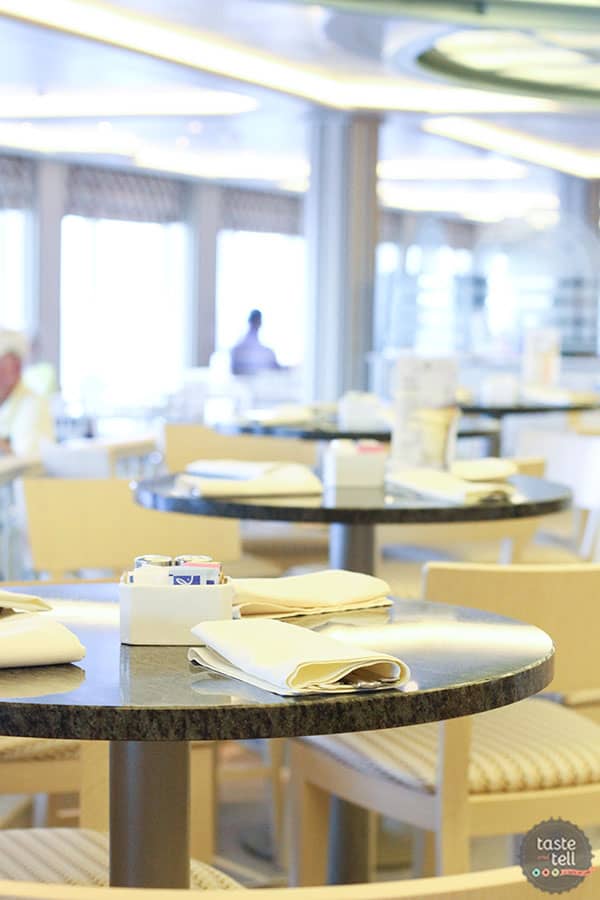 THE FOOD
Ok, let's start with the one that actually made me decide to do this guide in the first place. 🙂 In the week leading up to our departure, a couple of the girls in our group made comments about the food – confused about what was covered and what was an extra cost. Most cruises are all inclusive. Kind of. Which is probably where the confusion comes in.
You can definitely eat without any additional costs the entire cruise. In fact, the majority of the dining options are included with your cruise. All main dining rooms will be included, as well as the buffet that will serve breakfast, lunch and dinner. There will be some smaller venues as well, where you can pick up food without extra costs. On the Regal Princess, this included the poolside venues (pizza, burgers, hot dogs, etc) as well as a cafe that served sandwiches and desserts.
If you want, there are also dining options that will be an additional charge. Most cruises will have a couple of specialty restaurants where there is a cover fee. There will often be specialty items that cost an additional fee, as well – like the coffee or gelato on the Regal Princess.
One great thing about cruises, though, is that room service is also included in the all inclusive price. We definitely took advantage of the room service!! On the Regal Princess, you could order room service 24 hours a day, but there were some items that weren't available 24 hours. There is an additional service charge that is added on for room service, and there may be some specialty items that will be an additional charge.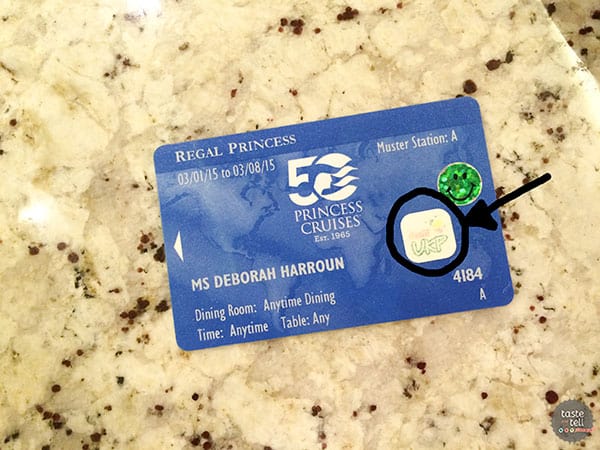 Now let's talk drinks. I knew going into the vacation that I wanted to purchase the soda card. Basically, you pay a daily fee and get drinks. You will get a sticker to stick on your room card, and you just show that card to show that your drinks are covered. Since I'm not a drinker, I just got the soda package, which included unlimited soda, juice, and mocktails. I think it was $7 a day, and once you include the mocktails, it was definitely a budget friendly purchase. There are also plans if you drink that include alcohol. So if you are planning on drinking more than just water, definitely check into the drink plans.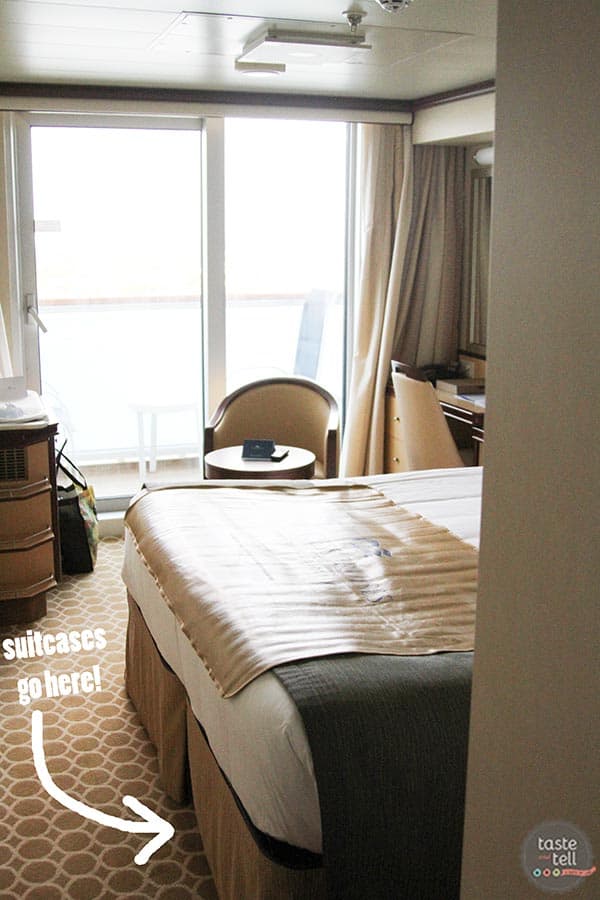 THE ROOM
If you've never been on a cruise, and you are talking to someone that has been, chances are you'll hear about how small the rooms are. The good news is that the cabins are not as small on the newer ships as they used to be. But yes, they are small. Even though they are small, though, I never once felt too cramped in our room on the Regal Princess.
There are a few things that will help you maximize the space and stay organized. The first, which I did not know before, is that the beds are high enough off the ground to fit your suitcases under the bed. This alone was pretty life changing for me. So rule #1 – unpack all of your clothes. The closet is actually quite large, and will be stocked with hangers. If you need more, just ask for more. We were easily able to hang up all of our clothes, and use the other space for all of our clothing that didn't hang. Throw the suitcases under the bed, and not only do you have more space, but getting ready isn't a pain.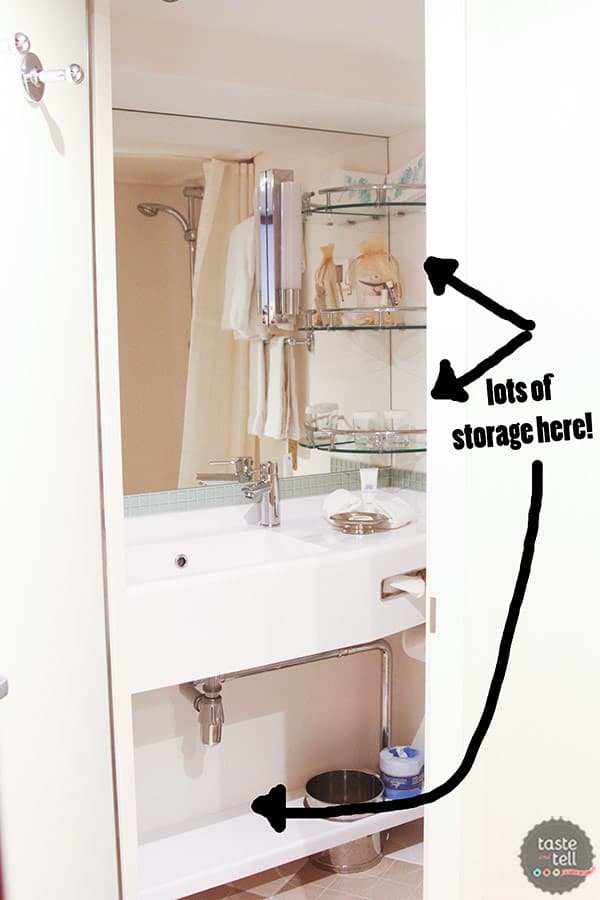 Second, the bathroom. Do some research online before you go on your cruise and see if you can find some pictures of the bathrooms. I had read a hack before I went that said to get one of those plastic shoe containers to put on the back of the bathroom door to store your toiletries in, since there isn't a lot of counter space. So I actually bought one, and used the space in my suitcase to get it there, only to discover that I couldn't even hang it up because there were towel hooks on the bathroom door. But the good news is that I didn't even need it. The bathroom, while small, had more than enough storage room for all of our toiletries. There was a vertical rack in the corner, plus a shelf near the ground. We even had room to spare! So research beforehand – you may have all the space you need without having to bring extra items for organization.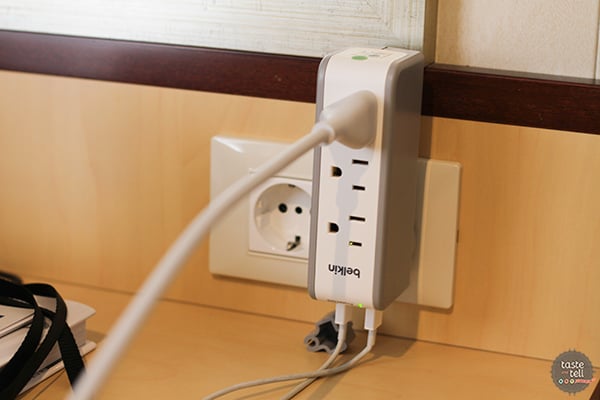 One thing I was glad that I invested in is a travel charger and surge protector. I think when traveling in general, plugs are hard to come by. In our room, there was only one plug, plus one in the bathroom that I couldn't even figure out how to use. We would have been fighting over that one plug the entire trip if I wouldn't have brought this along with us. I bought this one for a couple of different reasons. First, I like that it has 2 USB ports for recharging phones or the iPad. Also, the 2.1 AMP insures that there is actually enough power to charge 2 phones at the same time. Don't buy something really cheap, only to find out that it won't even charge 2 phones at the same time.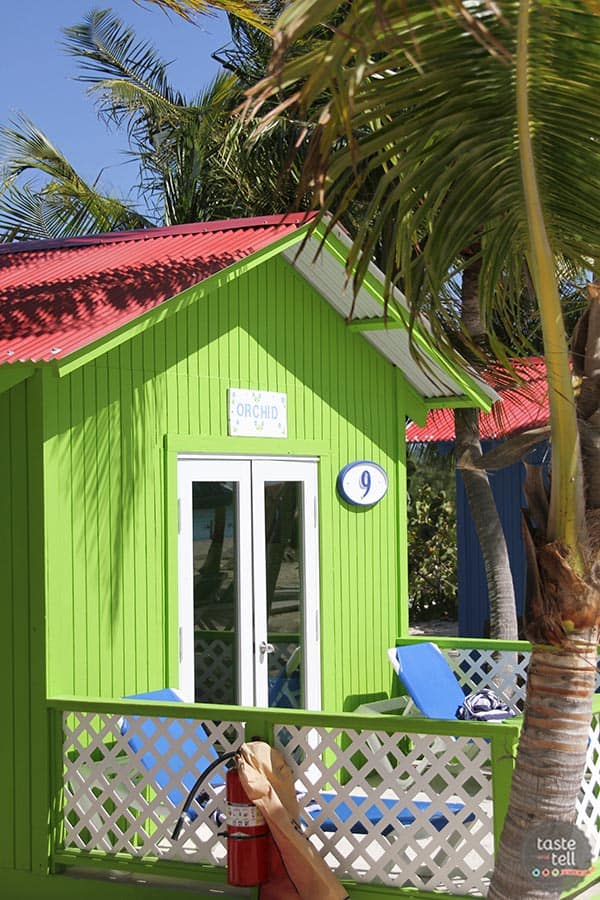 THE EXCURSIONS
With every port of call, you will have the chance to get off the ship and experience the country or area that you are visiting. This part can definitely be overwhelming. The first two cruises I went on, I was with a very large group of friends. The first cruise was all about scuba diving, so we already had arrangements made ahead of time. The second cruise, from what I can remember, we mostly just walked around and explored what was near. My third cruise was with my family. I remember stopping in one port, and not having a plan of what we were going to do. We got off the ship, and since the other members of my family are just as indecisive as I am, we ended up standing around, not knowing what to do, for quite some time. It's funny, because I remember how frustrated I was that no one would take charge and just tell us all what to do!






This last cruise was the first time I had booked excursions through the ship. Let me tell you – if you are looking for ease, this is the way to go. There are actually a few good reasons to book your excursions through the ship. First – you know that they are authorized, and that you won't be giving your money to someone who will just take it and run. You know that prices are set and that you won't get taken advantage of. Also, if something goes wrong and you are late getting back to the ship, the ship will most likely still be there waiting for you, or they will make the necessary arrangements to get you back on the ship. If you are off on your own and get lost or stuck, you may be left to figure things out on your own. This could be scary in another country.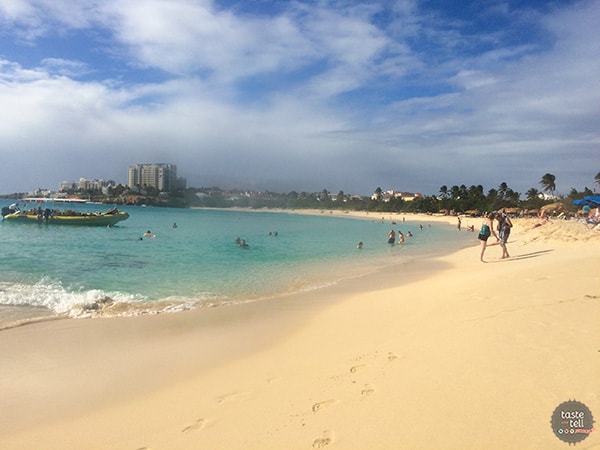 That being said, there is also something to be said about getting off the beaten path and just exploring the country. I was very happy with the excursions that we took, but part of me is sad that we didn't get to actually experience the country – the food, the people, the culture. I guess that's just all the more reason to go back!! Plus, the costs from booking excursions through the ship can start to add up, and you may be able to find cheaper excursions off the boat, but I think for the peace of mind, booking through the ship is smarter than once you are in the port of call. If you do book through the ship, book early. Excursions will sell out, so book as soon as possible.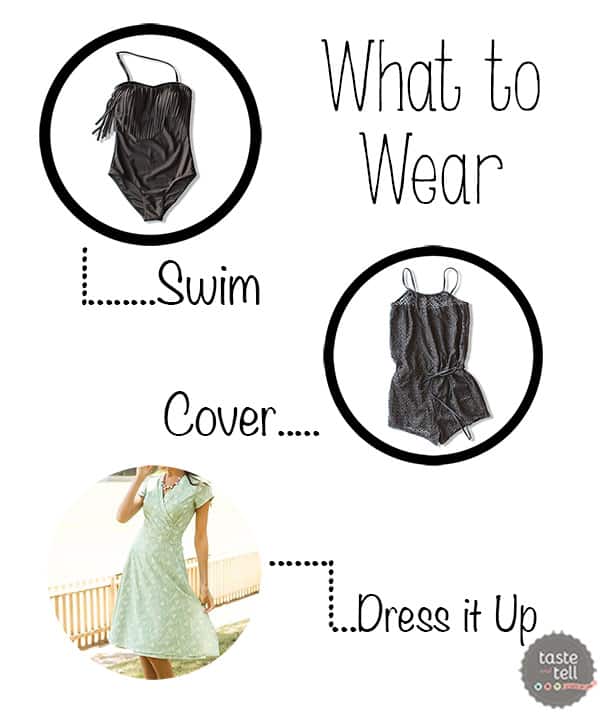 WHAT TO WEAR
Oh, what to wear. Let me first say that I am not known as the most fashionable person. I love clothes, and I wish I were more fashionable, but 90% of my days are spent in jeans and t-shirts or pj pants. So deciding what to bring stresses me out. And packing for a week? Eeks.
Here's the deal, though – you spend the majority of the time in a swimsuit. Especially on an Eastern Caribbean cruise. So a cute, comfortable swimsuit is #1 important. I fell in love with this suit from Rad Swim – it was incredibly comfortable, it held me in, and was very flattering. A coverup is also important. I seriously wore a swimsuit and coverup every day, mostly only changing for dinner. Loved this coverup – also from Rad Swim.
You'll want to check the dining schedule on your cruise. Most cruises will have one or more formal nights. So if you are eating in one of the dining rooms, "formal" dress is required. I use the word loosely, because it doesn't mean you have to get out your old prom dress. Men can wear suits or tuxs, but they can also get away with a shirt and tie. Women can get dressed to the nines, but as long as you are in a dress, a full out evening gown isn't required. I didn't want to buy a dress that I would never wear again. This dress from Shabby Apple was one of my favorites – it was dressy enough for dinner, but I can wear it out at home or to church and not feel overly dressed up. Plus it traveled very well and didn't require any ironing – which is a bonus!!
You will also need clothes for dinners on the non-formal nights. You can get away with more on these nights. Just think smart casual. Most cruise lines will not allow shorts, swimsuits, caps or jeans with tears in them in the dining rooms. If you prefer to keep it super casual, though, you can always eat at one of the casual dining areas and avoid the dining rooms altogether. My biggest word of advice would be to do the research ahead of time to know what you need to wear for dinner. You wouldn't want to get turned away for not adhering to the dress code.
It's also important to know that most cruise ships have self serve laundry as well. The laundry detergent isn't the cheapest, so if you think that you will be using the laundry, it might be worth packing a few single serve laundry detergent packets in your luggage.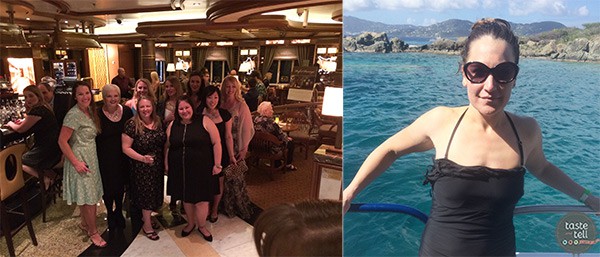 And lastly, a few random tips:
You have to have your bags packed before bed on the last night of your cruise. They will take your luggage for debarkation that night, so make sure you have a small piece of luggage for the few things you will need in the morning. Make sure you keep all paperwork that you will need with you – not in your luggage, especially if you have an excursion at your debarkation destination.
Most cruises will have satellite internet packages that you can purchase. Just know that they are not cheap and the internet is not the best. But if you are an iPhone user, you can iMessage or FaceTime over the internet, so that was a saver for us when wanting to check in at home.
Don't forget the sunscreen. Because it's no fun to spend your whole vacation sunburned. (not that we know this from experience – ahem – my husband…)
But most of all, relax and have fun. I think that cruising is the most relaxing way to travel. Enjoy it all!!
This post has been sponsored by Princess Cruises. I'm so glad to be able to work with companies and organizations that I truly believe in. Thank you for supporting them, too.