No trip to Chicago Illinois is complete without checking out the donut scene! Firecakes Donuts was my first foray into Chicago donuts – my favorites and thoughts are included.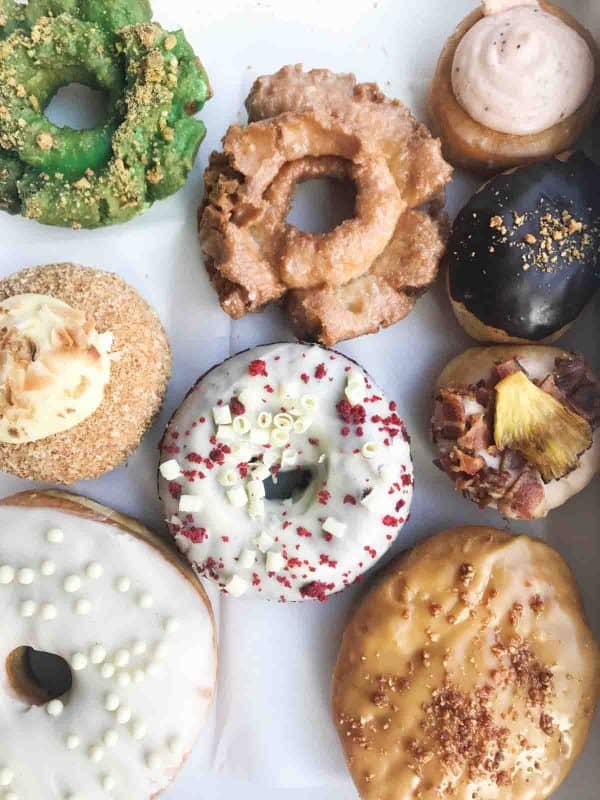 If you are a regular here, you know that I have a thing for donuts. Even if you look at my travel posts from the last couple months, you'll notice a bit of that donut obsession. I will seek out donuts in a town over pretty much anything else. I am making it my mission to taste all of the best donuts in the US.
So when I travel, I find the donuts. Sometimes, they are great. But a lot of the time, they are just ok. I will totally say that I hold my donuts to very high standards. I am picky. I don't always love the donuts that have 5 stars on Yelp. If you're going to eat a donut, you want to make those calories worth it, right? So that's when I started hesitating whether or not I should post about the just ok spots, or just post about the spots that I 100% recommend. But I have been sitting on this post since last July when I was in Chicago, not knowing if I should post it or not. So I took it to Instagram (follow me there!) and asked if you all want just the good or the good and the bad. Well, over 90% of you said the good and the bad. So I will deliver! Just know that when it comes to donuts, I am a bit of a food snob, so take it all with a grain of salt. 🙂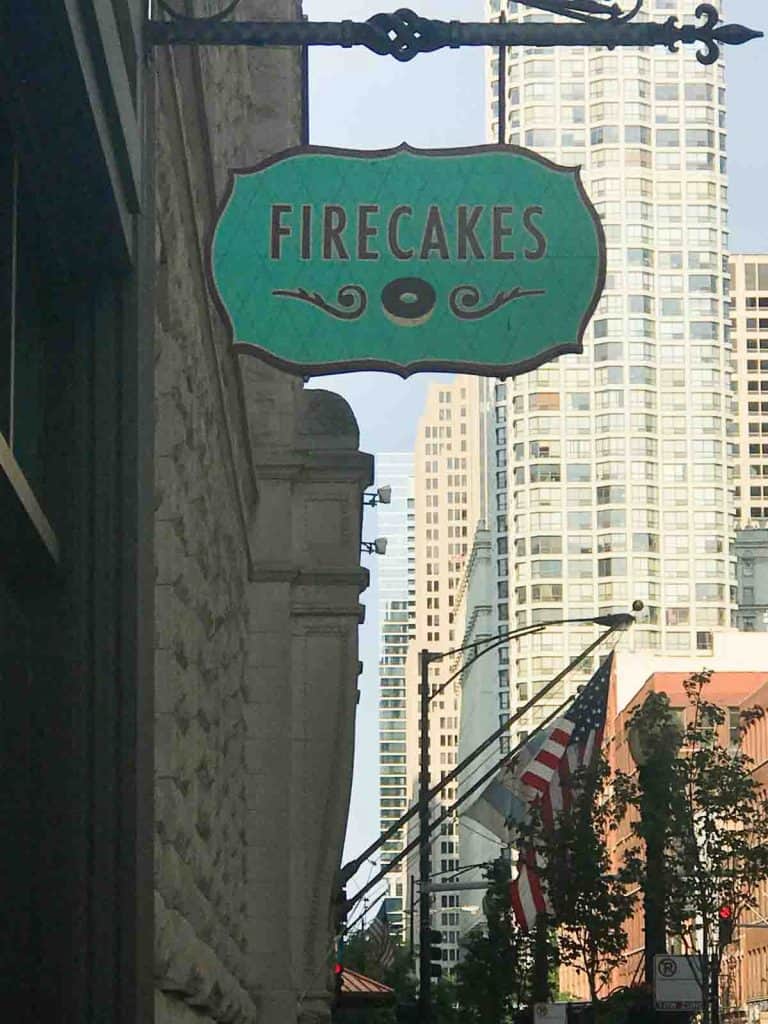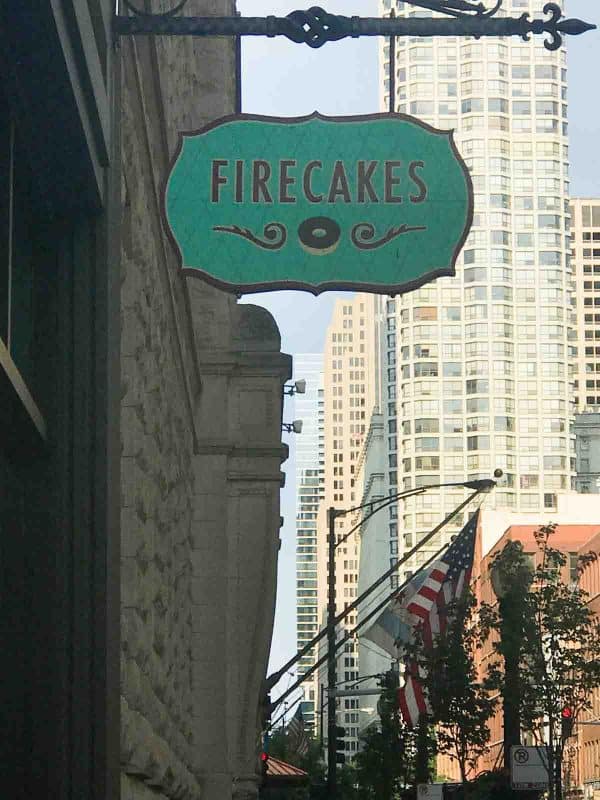 So Chicago. I would have never imagined that Chicago was a mecca of donut shops. I was there for a couple of days on a brand trip, but my days were packed full with work. But luckily, my flight came in a few hours before all the fun started, and of course I couldn't spend that time lounging around my hotel room. I started researching donuts, and found that there were a few different shops within walking distance from my hotel. So I decided to go with Firecakes Donuts, because it seemed easy to find and the Yelp reviews were good.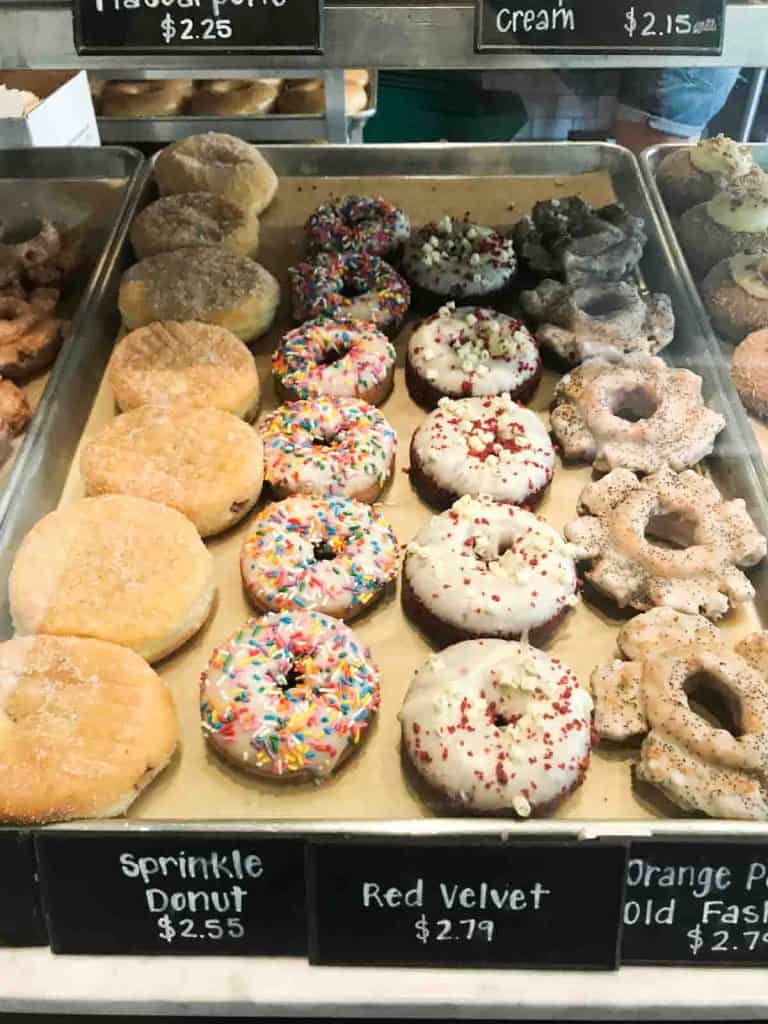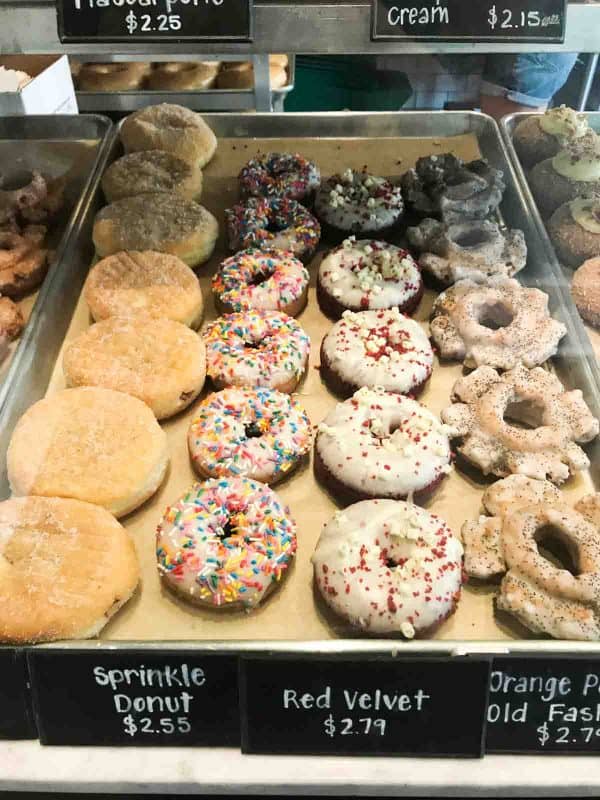 The shop itself is very small, but it was easy to find. I always worry about going to a donut shop in the afternoon, because many of them are only open mornings or until they sell out. But Firecakes is open late, which was another one of my reasons for choosing Firecakes. Since they are open so late, I figured I should still be able to get a good selection of donuts. It wasn't busy at all when I got there. In fact, there was someone leaving when I got there, but besides that, I was the only one in the shop. It's pretty much standing room only, with some tables outside (as far as I can remember) so this is definitely somewhere that you'd want to take your donuts to go.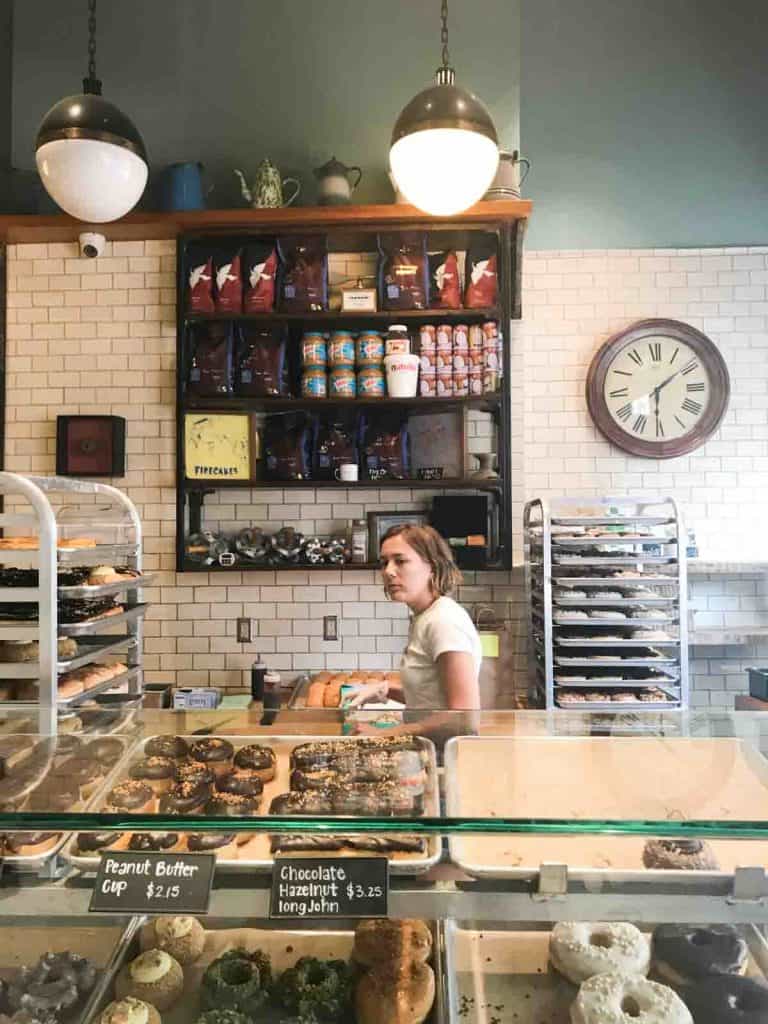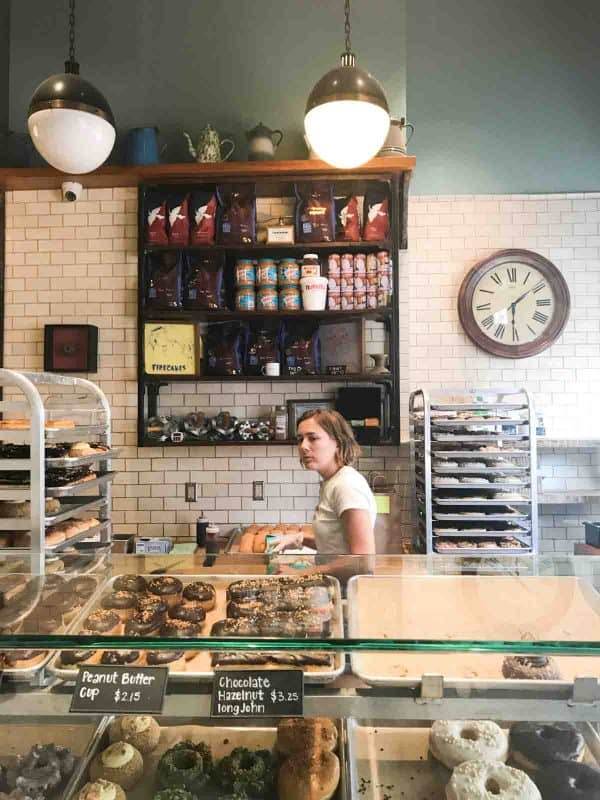 I picked out my donuts – some on the recommendation of the girl working, and others because I thought they looked good, and headed back to my hotel. I had to laugh when I passed people eyeing my box of donuts, and more than once, someone commented on how they were jealous, or how they wanted one, or that I was in for a big treat.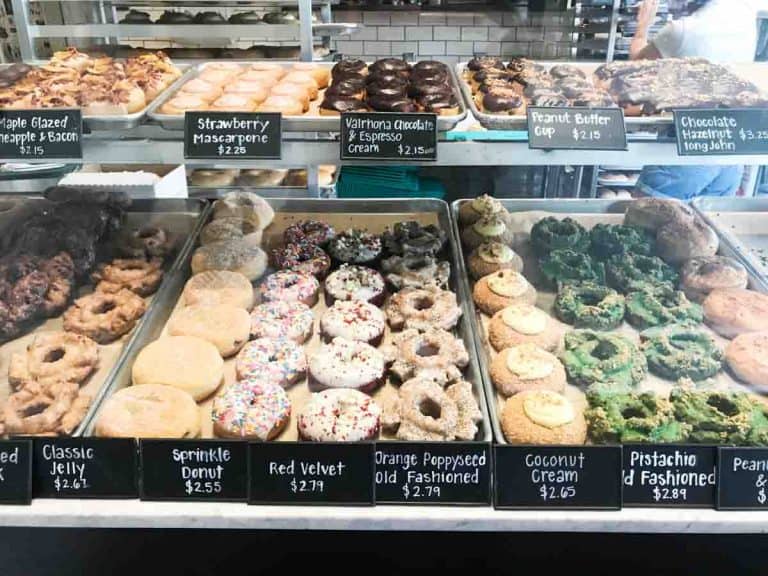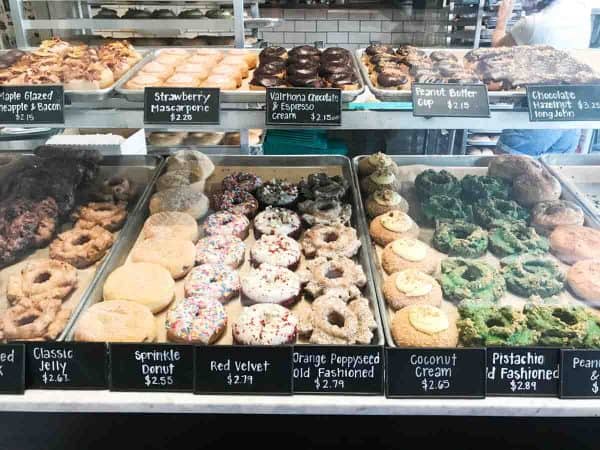 I was so excited, rushing back so that I could try my donuts. I quickly snapped some photos and then settled in.
Now, I won't say that I didn't like them. And really, they were more than just ok. But with all of the rave reviews I had heard/read, I was really expecting something really good. Something life changing. Some were better than others, but there wasn't one that I would put on my list of the best donuts anywhere. I even shared them with some other bloggers that night and no one else was blown away, either. But like I said – they weren't bad at all. They just aren't making me want to jump back on a plane to Chicago just for a donut.
Would I get them again? Probably not. Mostly because there are so many other places in Chicago that I'd love to try. They are on the pricier, side, as well. I think most donuts were between $2 and $3 a piece, even the mini donuts. But that didn't obviously stop me from trying a bunch of them!
Firecakes Donuts
68 West Hubbard Street
Chicago, IL 60654
More Chicago locations listed on their website: firecakesdonuts.com
Here are the donuts that I tried. And really, I'm going off of memory from 8 months ago, so hopefully I get all of the details correct!
Firecakes Donuts that I tried: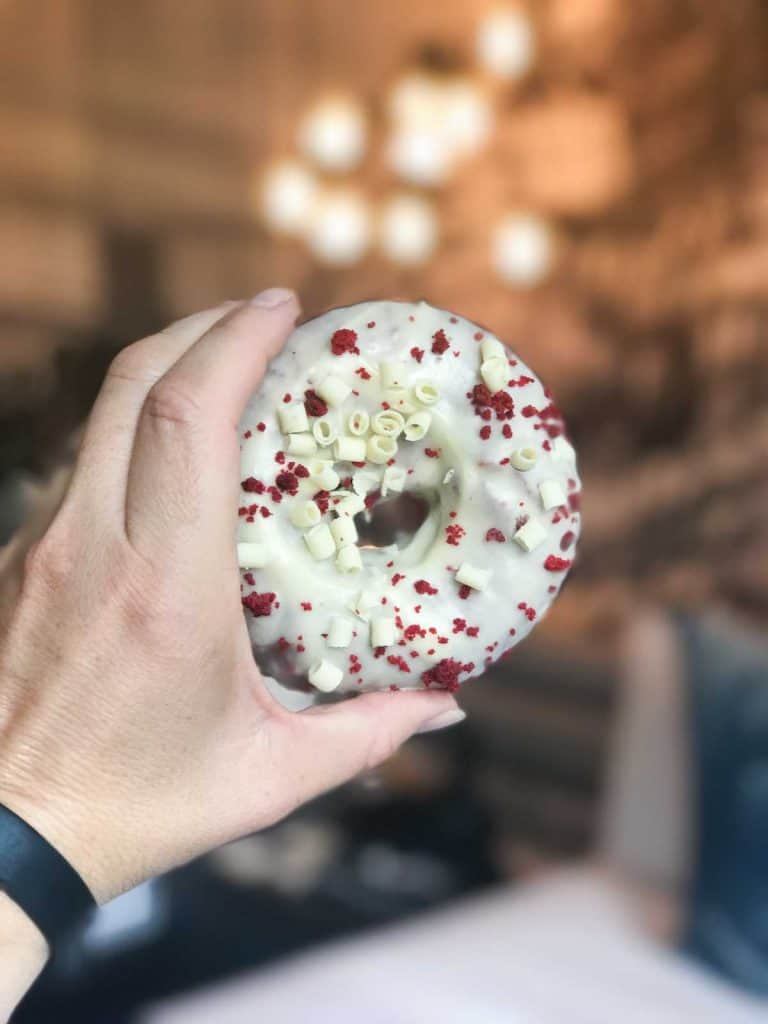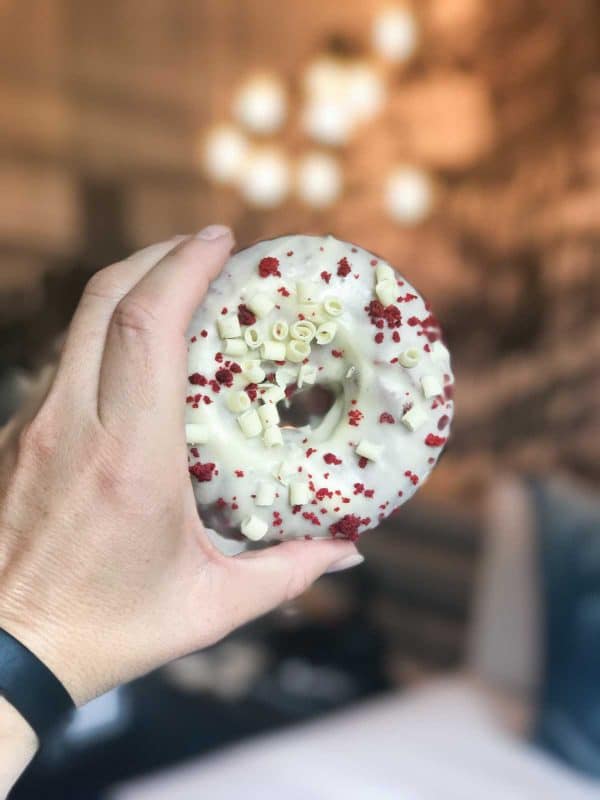 Red Velvet
I had to get the red velvet, right? Even though I'm a red velvet lover, I will be the first to admit that it's hard to find red velvet treats that are done just right. This red velvet donut was good, but not great. I'm right in the middle of the road on this one.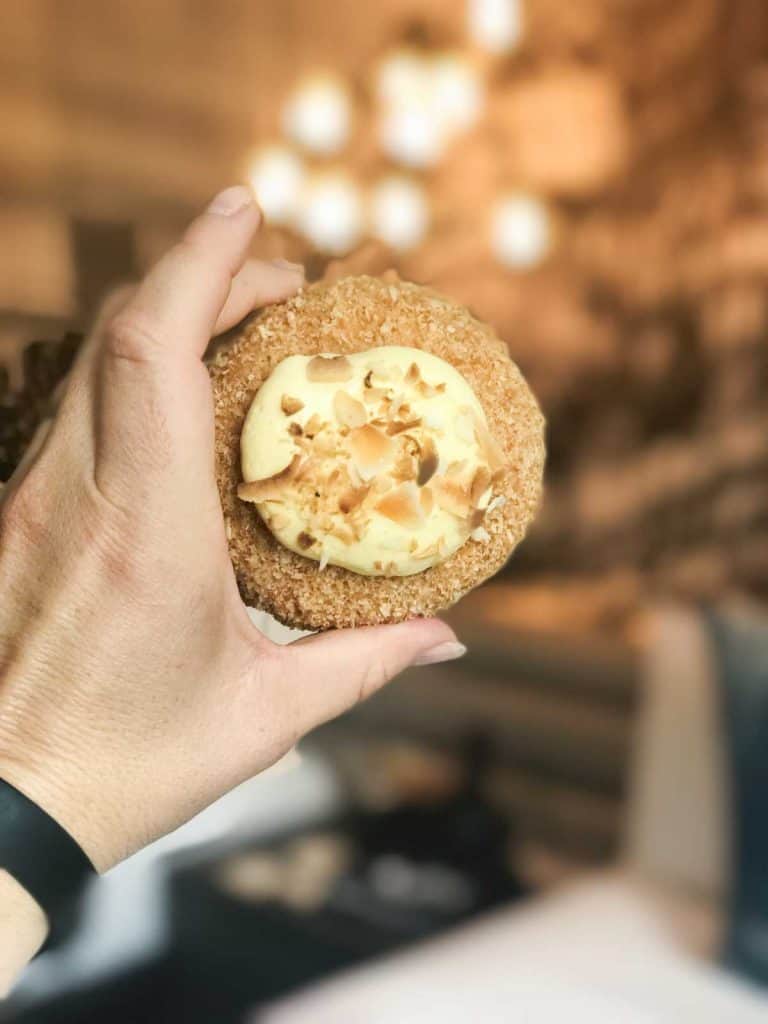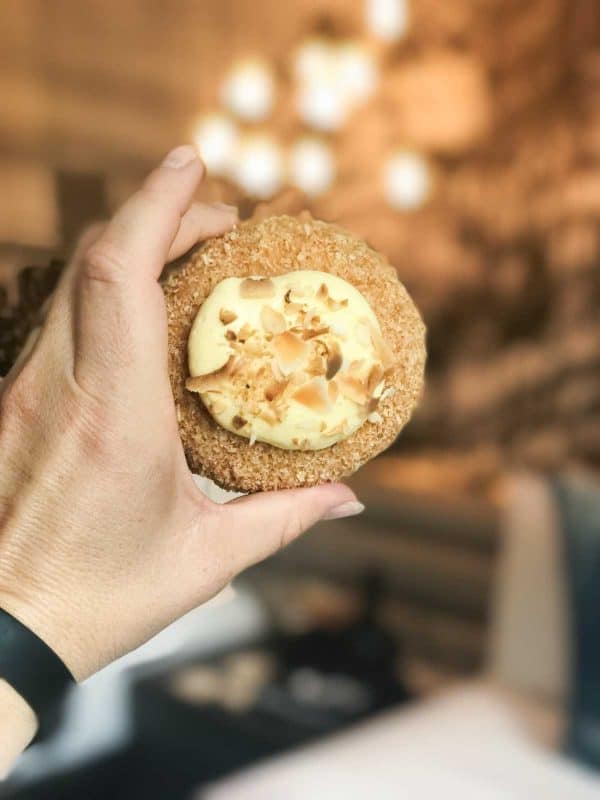 Coconut Cream
This was a mini donut, and I actually really liked the size. Not necessarily the price that went with the size, but it was a cute, smaller than average donut. I love coconut, and this was one of my favorites of the group. It had a coconut custard-like dollop in the middle, with some toasted coconut on top as well. The coconut flavor was great.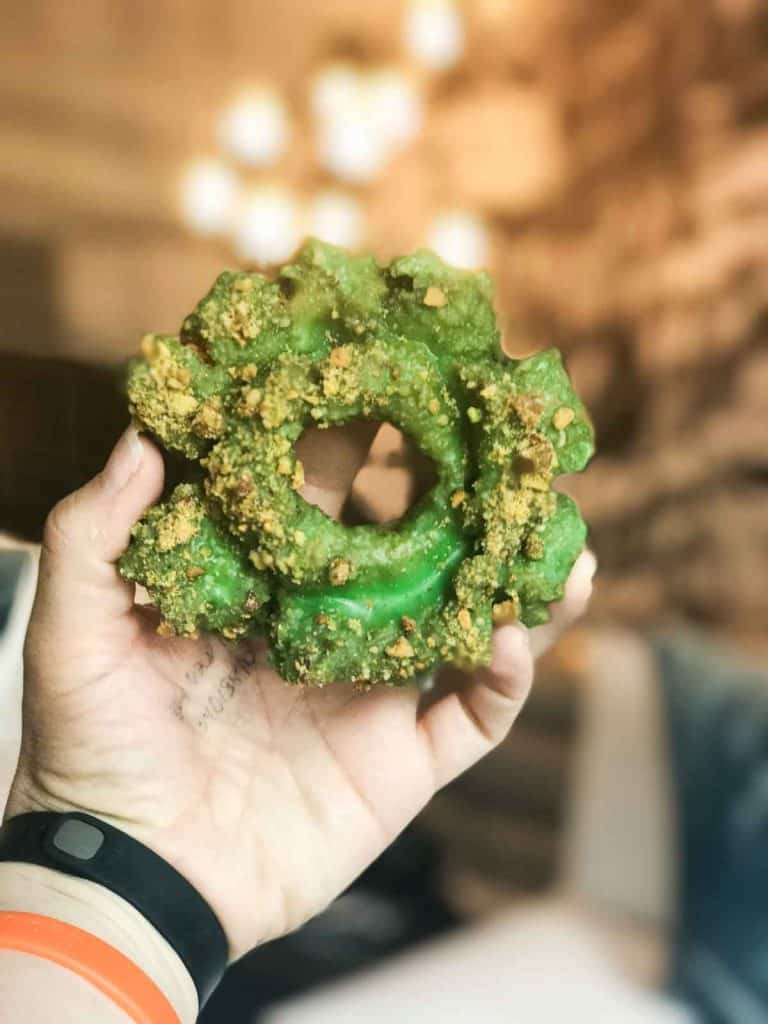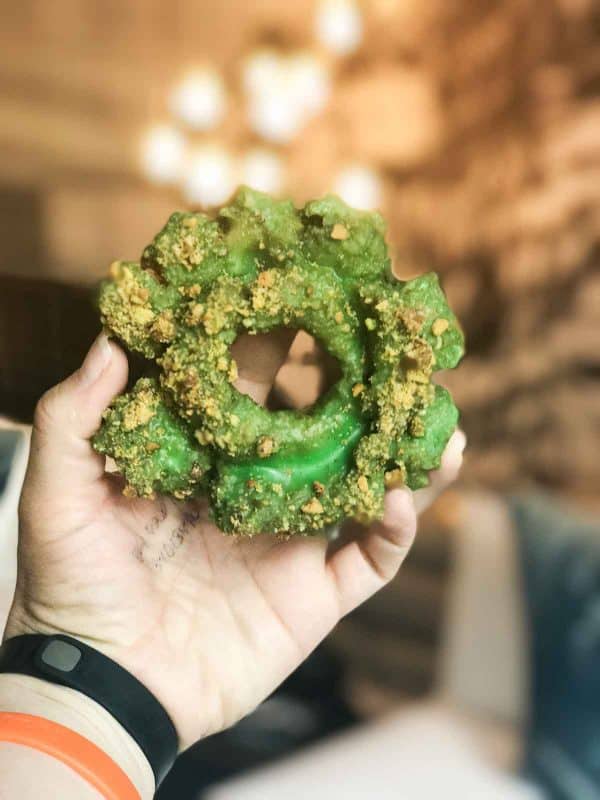 Pistachio Old Fashioned
I'm starting to realize that Old Fashioned donuts are probably my favorite. And I liked this one. It didn't totally taste like pistachio, but there was something different about it that I liked.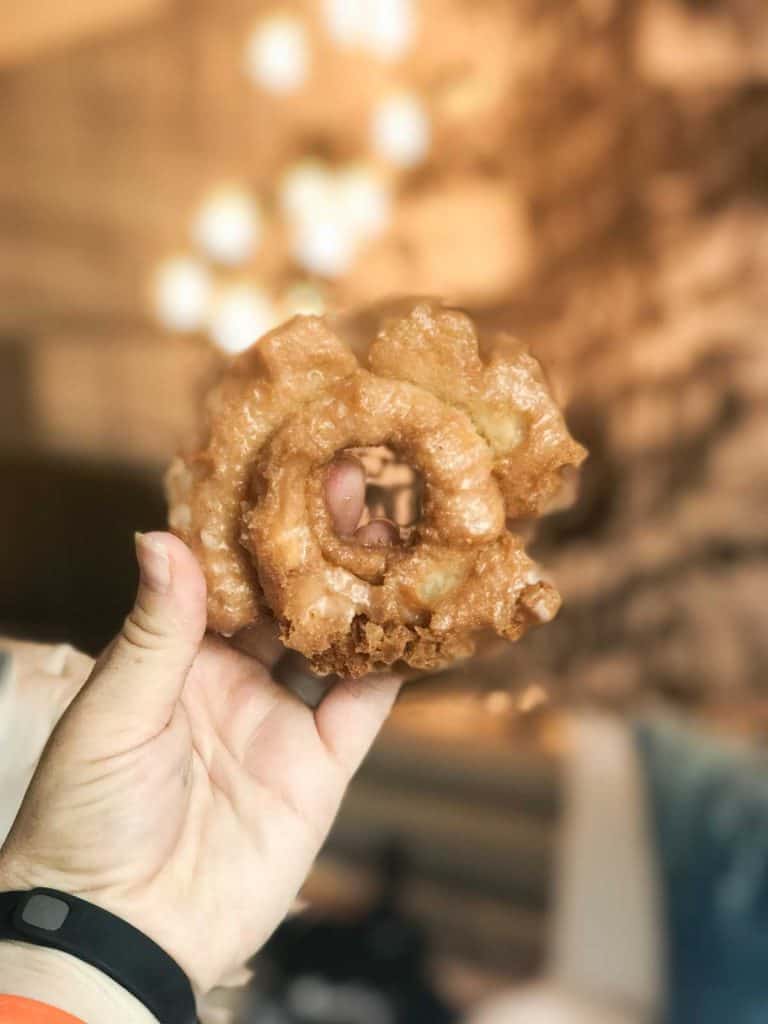 Old Fashioned
The original Old Fashioned was fine, but I preferred the pistachio version.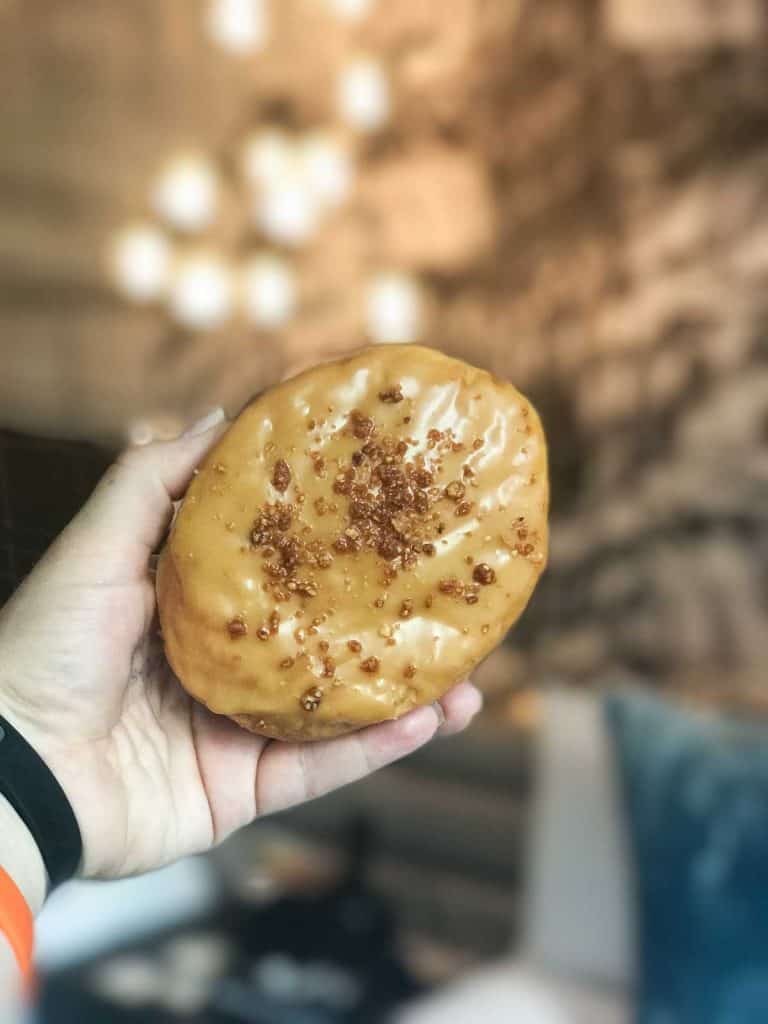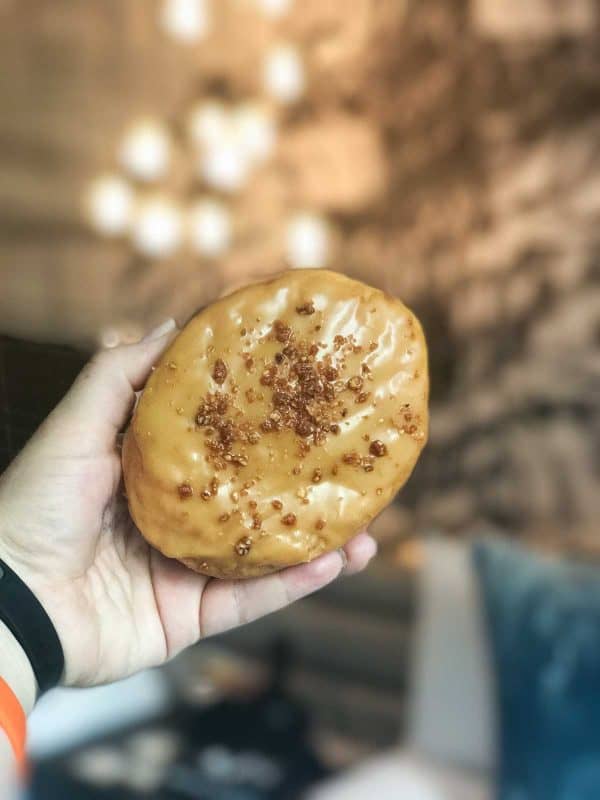 Butterscotch Praline
So I'm embarrassed to admit that I didn't even remember this one. I had to even look up what kind it was. It seems to be a popular one on Yelp and other reviews, but I guess it was pretty forgettable to me since I can't even recall it!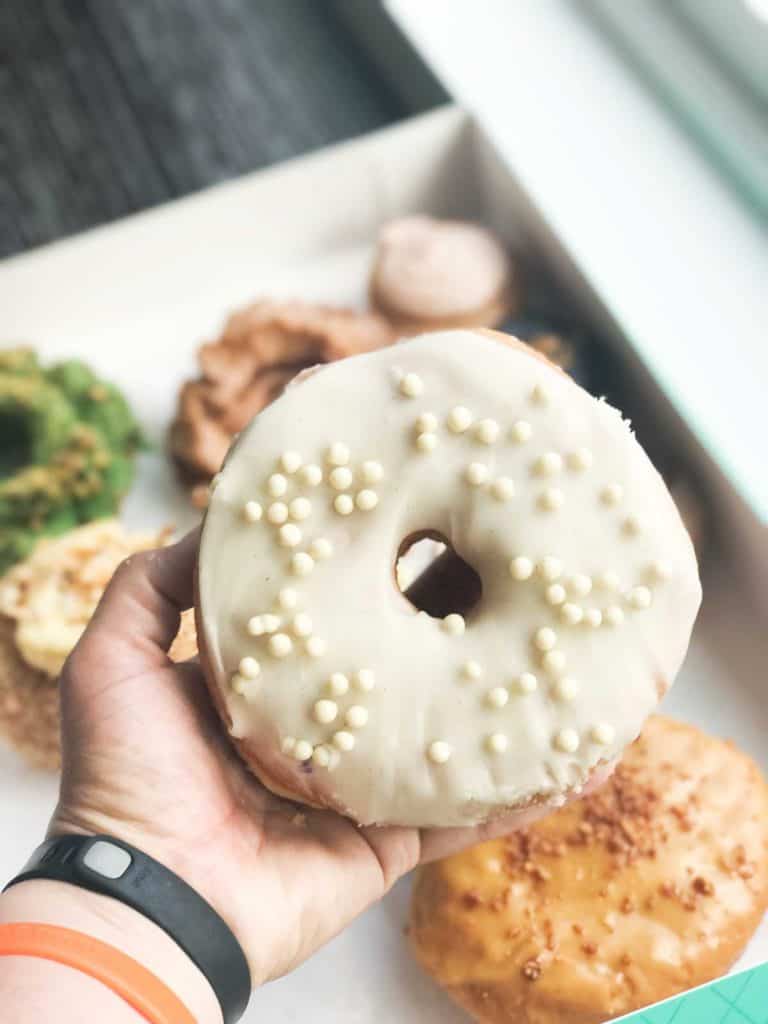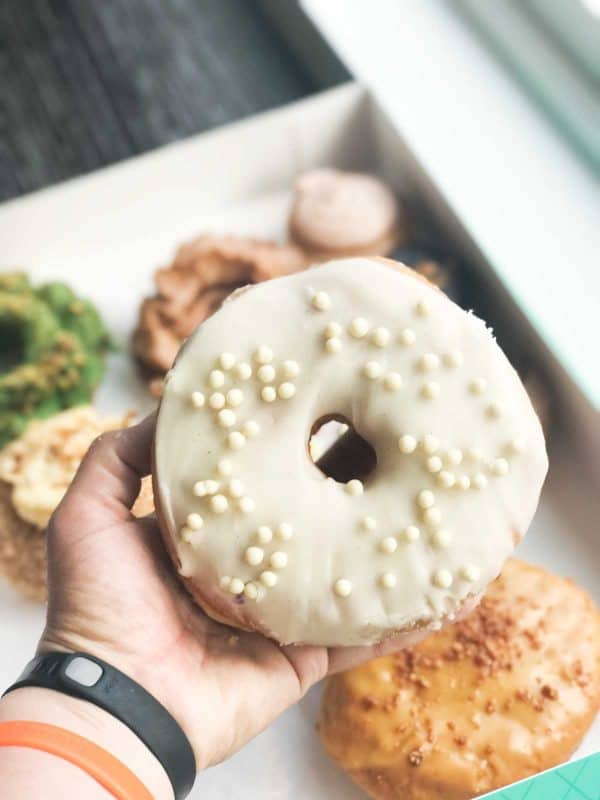 Tahitian Vanilla Iced
I wouldn't normally choose a raised vanilla glazed donut as a favorite, but of all of the donuts at Firecakes that I tried, this one was my favorite. I would even say this one was more than good. If I ever ended up back at Firecakes, this is the one I would buy again.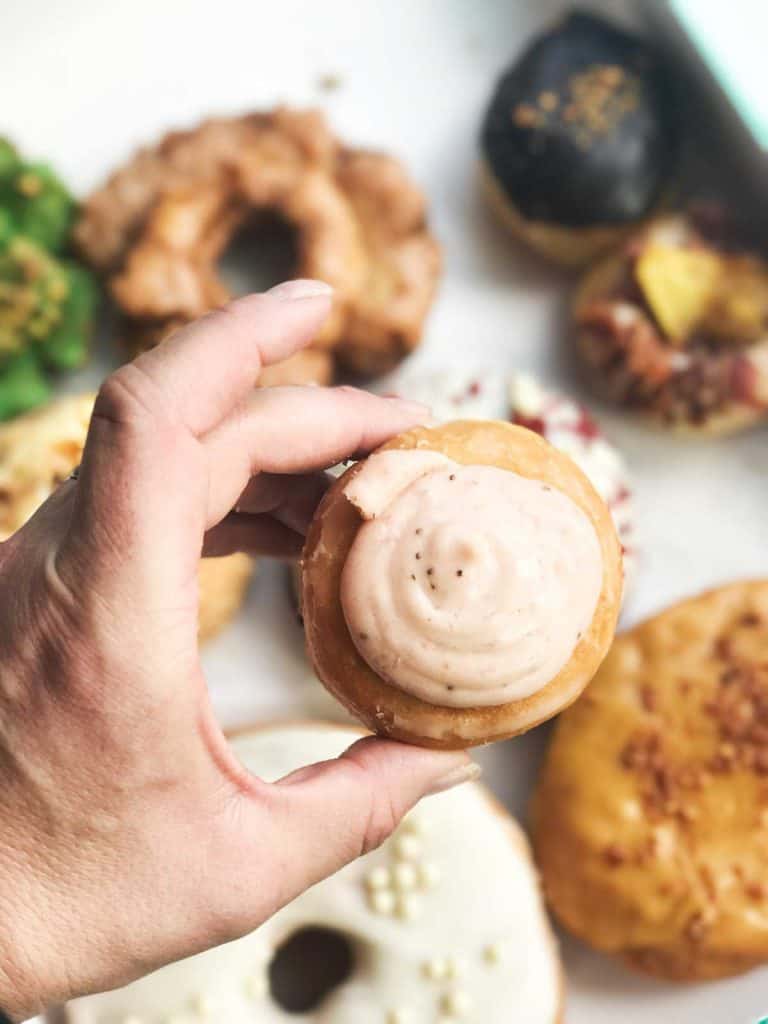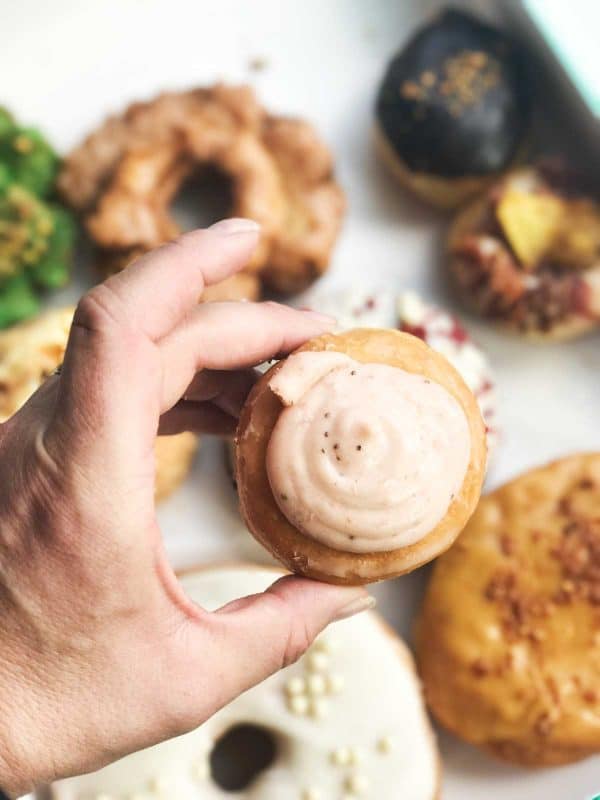 Strawberry Mascarpone
This is another one that I couldn't remember. I think it was filled, but I honestly can't even remember if I liked it or not. (Maybe I should do these guides less than 8 months later, right?!?)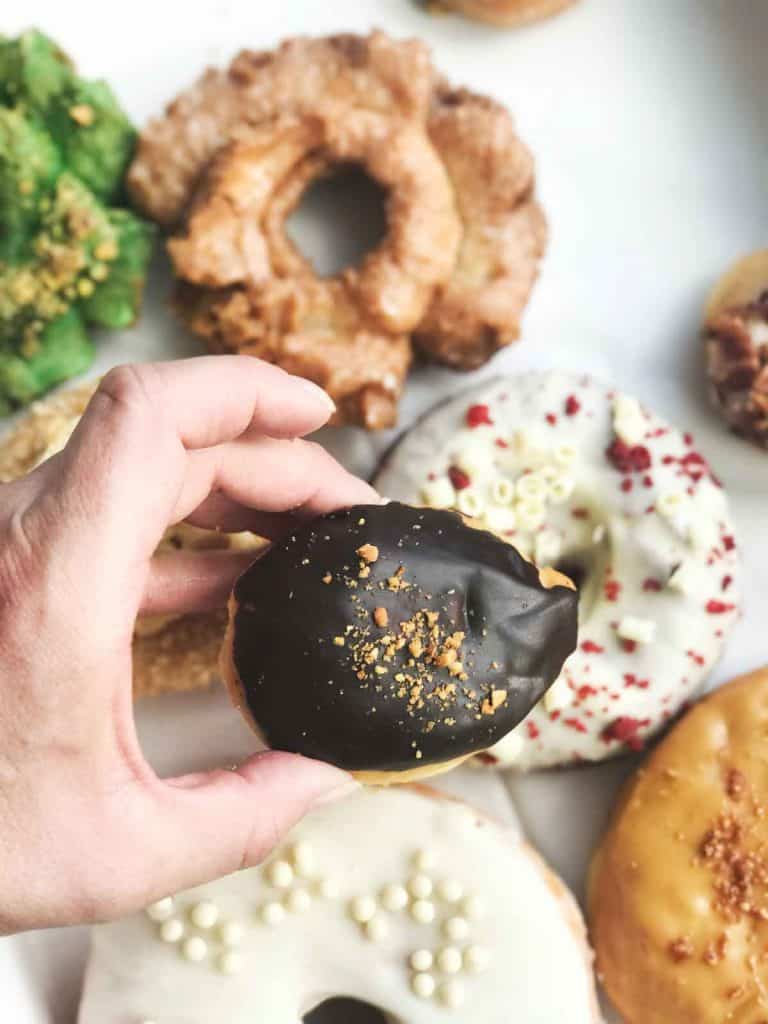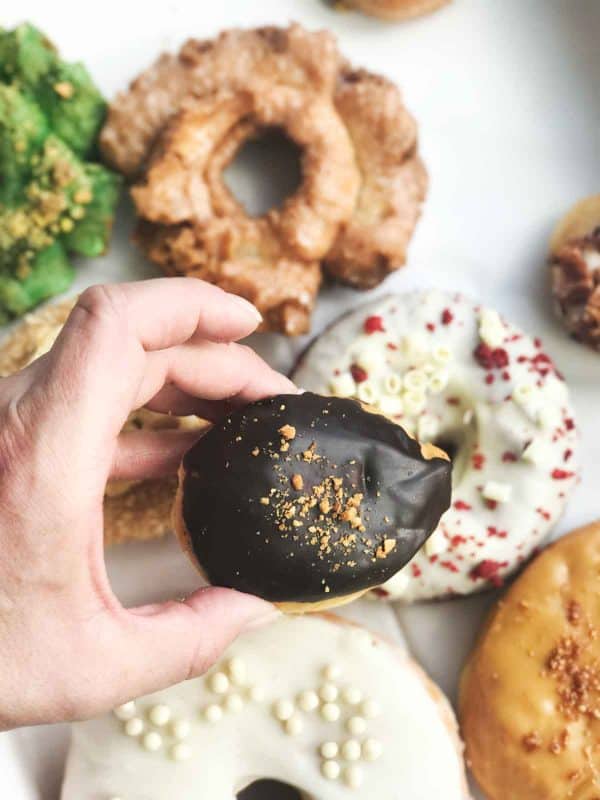 Peanut Butter Cup
Another mini donut – I do remember that this one was filled. It was rich, and not too sweet. Not a favorite, but I didn't hate it.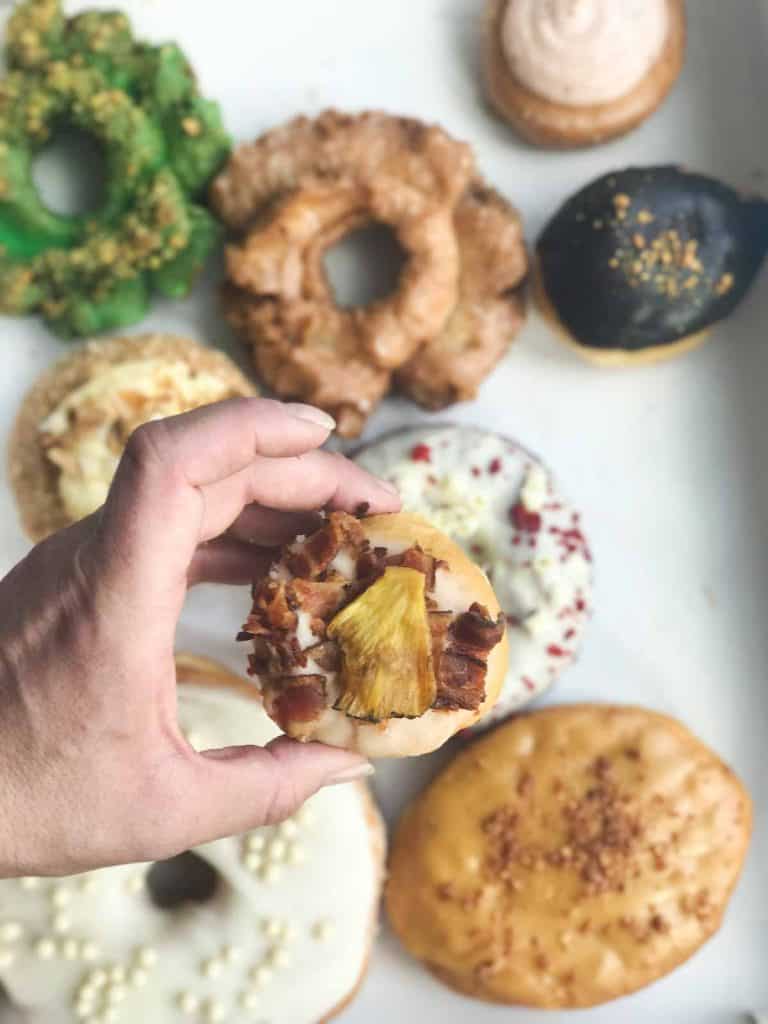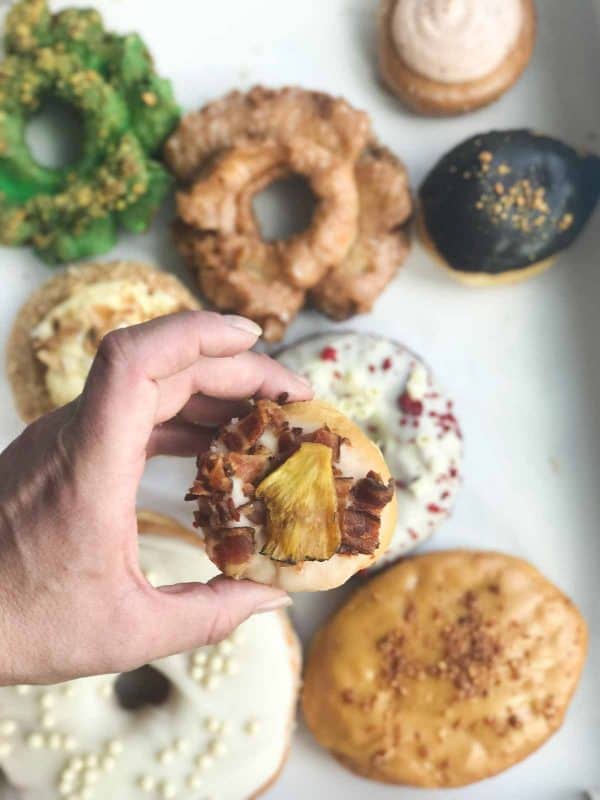 Maple Glazed Pineapple and Bacon
I was super excited about this one, because I love maple bacon donuts. My biggest complaint about this is that the pineapple is one big piece, so it's hard to get some of it in every bite. It was an ok donut, too, but not a standout.
Looking for some of my favorite donuts?
Doughnut Plant, New York City
Sidecar Doughnuts, Costa Mesa California
Gourdough's Doughnuts, Austin TX
Art City Doughnuts, Utah food truck