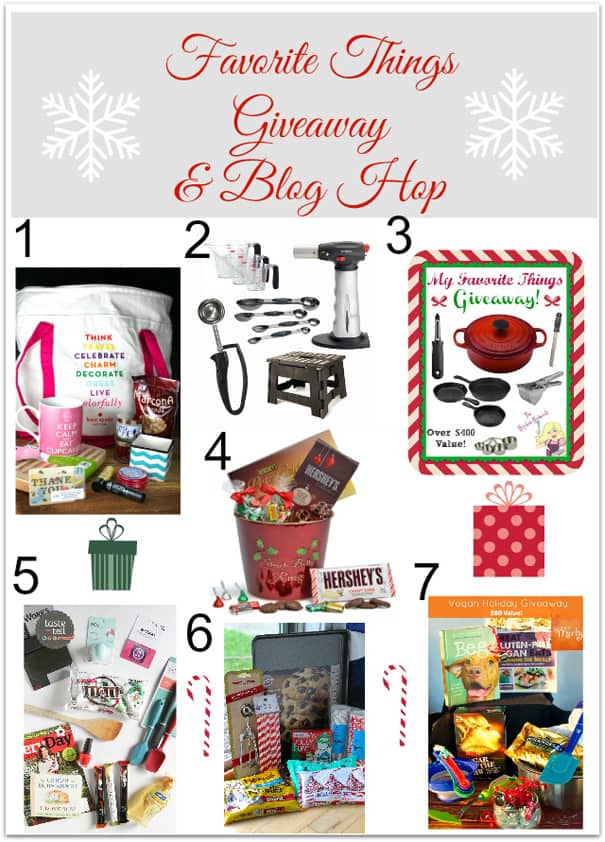 Happy December!! I can't believe that December is already here, but I have to say – I'm kind of excited. Not only do I love the Christmas season and all that comes with it, but this year, I have something a little different planned for all of you.
Every year, by the time Christmas comes, I'm always complaining that I didn't get to share enough with all of you. That I still had more recipe ideas to try. Well, this year, you are getting 24 days of Christmas from me. Yep – make sure you check in here every day until the 24th, starting today, for posts all about Christmas. For everything from cookies and desserts (lots of those!) to holiday appetizers, and even a few ideas for your Christmas dinner. Hopefully by the time Christmas comes, you'll have lots of new ideas from me.
And what better way to kick it all off than with a giveaway?
Today's giveaway is something a little bit different, but a lot of fun. And if you win, it would be a great little Christmas gift to yourself! Today, I have teamed up with some great bloggers, all bringing you a basket full of their favorite things. Fun, huh!!

Here's how it works – you can check out what I'm giving away below and enter to win with the widget. Then click through to each of the other blogs to see what they are giving away and to enter to win their favorite things. It's as easy as that!
1 Miss in the Kitchen * 2 Very Culinary * 3 The Hopeless Housewife * 4 Roxana's Home Baking * 5 Taste and Tell *6 Lauren's Latest * 7 Namely Marly
So, you say – what are my favorite things?? At first, I actually had a little bit of a hard time thinking of what, exactly, my favorite things are. But then my sister told me to just go and walk through Target and see what I end up with, and that was a great idea and so much fun!!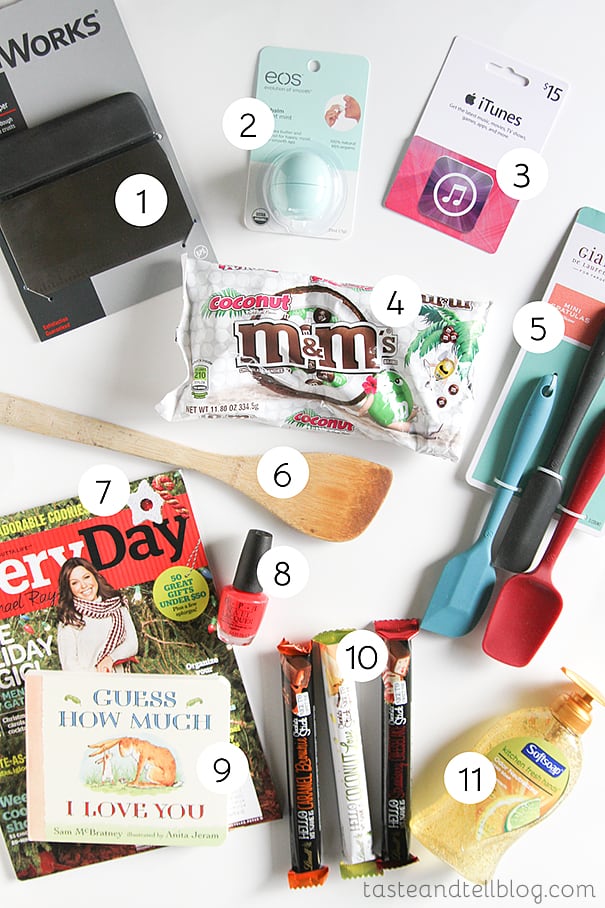 So here is what one lucky winner will get from me!
1 – bench scraper: This might seem like an odd choice, but I use this all of the time. While I do use it for baking and pie making, I mostly use it as a food mover (a la Rachael Ray). Love it!!
2 – eos lip balm: I am addicted to this. As much as I love a good lip gloss, 90% of the time, I will grab this instead. The sweet mint is definitely my favorite, so that is what I'm giving away!
3 – $15 iTunes gift card: Everyone loves an iTunes gift card, right??
4 – coconut m&ms: Yes, I'm addicted. I can't even buy these because I will eat. them. all. And yes, my husband already found the bag that is pictured, so yes, you will be receiving a new bag. 🙂
5 – 3 mini spatulas: If you know me, you know that I am spatula obsessed. When I empty my dishwasher, there are usually no less than 5 of them in there, usually more. And the mini ones are my favorite, so I loved this package of 3.
6 – pampered chef bamboo spatula: Ok, this one isn't from Target. But this one of my very favorite kitchen tools. I have 2 of these, and at least one of them gets used every single day. I have had them for years and they still look great. Even if you leave this in a pot of spaghetti sauce, it doesn't stain. (and the spatula pictured is one of mine – the one I ordered wasn't in yet. 🙂 )
7 – the December issue of every day with rachael ray: You all know I'm Rachael Ray obsessed, so of course she makes my favorite things!
8 – opi nail polish in cajun shrimp: I don't paint my fingernails very often (I wash my hands way too often so it doesn't last), but my toes are always painted. And I'm loving this color!!
9 – guess how much i love you children's book: This is one of my favorite books for my kids. And it's become a favorite for my daughter, as well. And if you don't have kids, it's great for grandchildren or as a gift!!
10 – lindt chocolate bars: if you haven't tried these yet, don't, because once you do, you will want them all. I have to close my eyes as I walk past the candy aisle at Target!!
11 – softsoap kitchen fresh hands: I love all of the fancy soaps and the seasonal smells, but this soap is always what I have in my kitchen. Since I love onions and garlic, this stuff does wonders and will neutralize the smell so you don't walk around smelling like onions all the time!! I have seriously been using this stuff for years!
And that's it!! I'm sure I could easily come up with 11 more. You can enter to win in the widget below.
And make sure you check out the favorite things from some great bloggers, and enter to win their packages on their blogs!!
1 Miss in the Kitchen * 2 Very Culinary * 3 The Hopeless Housewife * 4 Roxana's Home Baking * 5 Taste and Tell *6 Lauren's Latest * 7 Namely Marly