I'm dishing on my favorite fall candles this year and why I think you'll love them, too!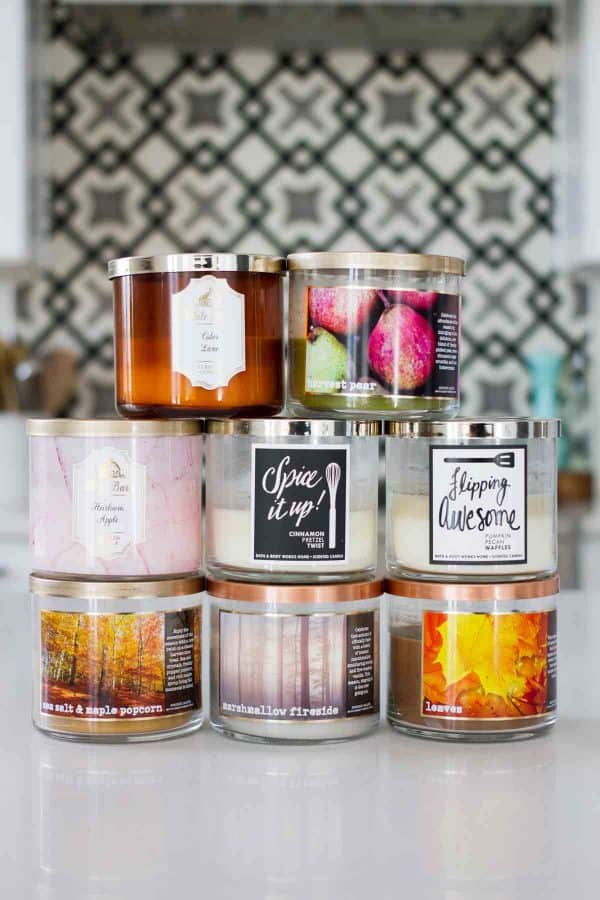 If you know me, you know that besides food, my other love is home fragrances – mostly candles and wax melts. I will completely admit to being a bit of a hoarder, and that I can get a little out of control sometimes, but I figure there are much worse things I could be addicted to!
I have actually been meaning to write this post for weeks now. Not because fall is almost over – we still have a few good weeks for burning the fall candles – but because as we all know, the stores are already onto the winter and Christmas scents. So while I've still decided to share this, a few of these candles aren't even on the Bath and Body Works website anymore, but you may be able to find them in your store, or if you're lucky, they might be on the shelves during the semi-annual sale.
I have burned through quite a few fall candles this year, so I decided to share my favorite 8 candles from Bath and Body Works this fall. All of these get my two thumbs up approval, and I would repurchase all of them. Some of them are fall staples already!
If you are a scent lover like me, or if you just want to know what I think of different candles and waxes, you can follow me on Instagram at @melonsandmangoes. I started this Instagram a little bit back so that I could remember what I liked and what I didn't like, but I'm having fun sharing all of my opinions!
But in no particular order, here are my top 8 candles from Bath and Body Works for fall!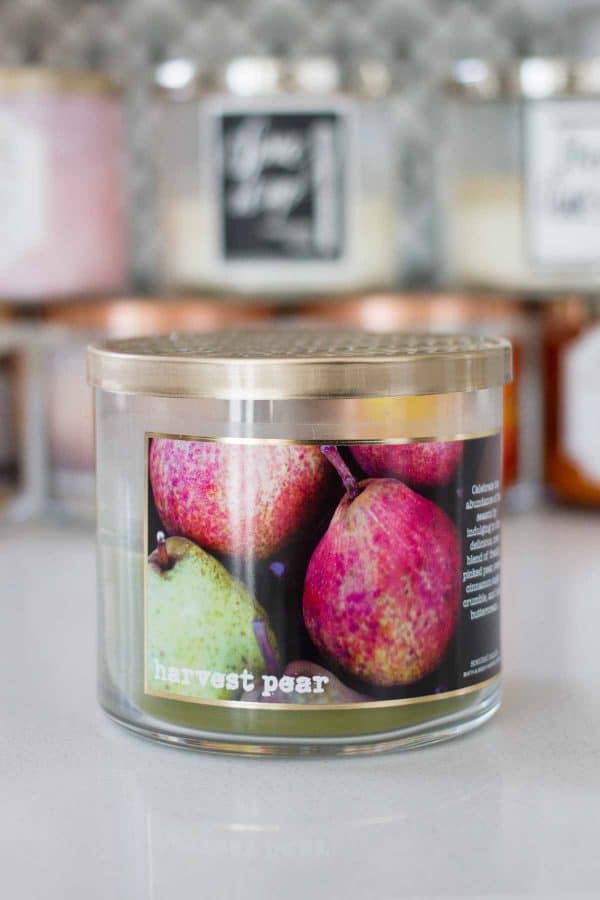 Harvest Pear
This is a great bakery pear scent. I love that it actually smells like pear, not like apple pretending to be pear. There is a great cinnamon-sugar crumble note to it that makes me think of a pear crumble. This one is not super strong, but definitely strong enough to smell it. This is one of my favorite new candles that came out this year.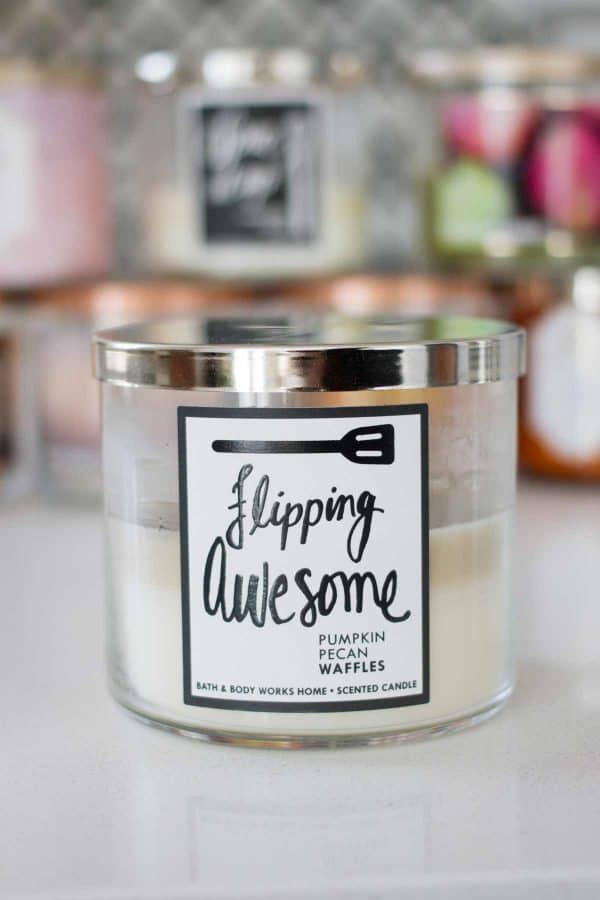 Pumpkin Pecan Waffles
If you want something sweet – this one is the one for you. It's not super pumpkin-y, but it does smell like breakfast. It has a nutty note in the background, and this scent is one that actually sticks around for a bit after you put it out. This one is definitely on the strong side, and it's pretty sweet, but I thought it was perfect in my open concept house.
Cinnamon Pretzel Twist
If I could only sing praises about one candle, this would be it. This is a new scent this year, and the only one that I bought multiples of. I'm only putting this on my list of fall favorites because it came out with the fall candle line up, but I think you could definitely get away with burning this one all year. To me, it smells just like just what it says – like a cinnamon pretzel. There is a bread smell, along with the cinnamon. And it actually smells like cinnamon-sugar, not like the spicy cinnamon you often get with home fragrances. From reading reviews, there seems to be some batch variation on the strength of this candle, but mine was very strong and the scent carried through my whole house.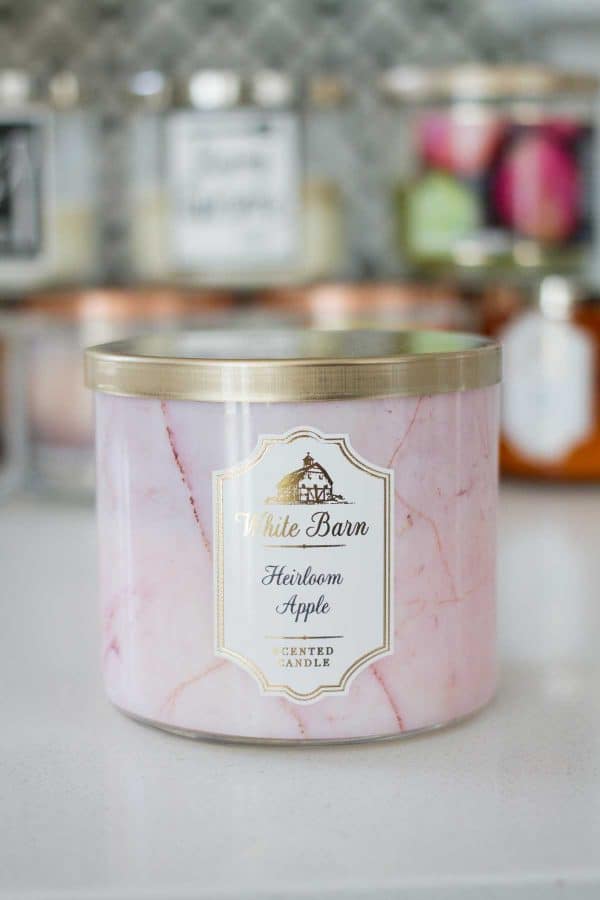 Heirloom Apple
I love fall candles, but a lot of the times, fall usually means heavier, spicier scents. And while I like those, I get overwhelmed with them. This candle is not one of those, and one I will burn when I want something fresher. This is a great straight-up apple scent. No spices, no bakery notes – just apple. I find it very refreshing and perfect!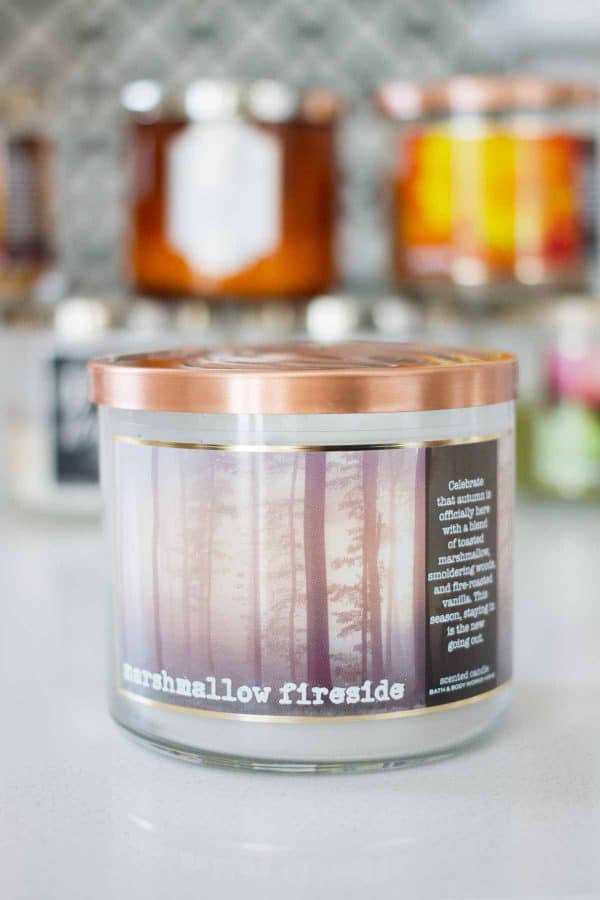 Marshmallow Fireside
Marshmallow Fireside was one of the first Bath and Body Works candles (along with Leaves) that I bought way back when, and it's been a staple ever since then. Now, I don't know exactly what about a candle that smells like marshmallows roasting on a fire makes this a fall candle, but I'm going with it. You would think summer (since that's when you roast marshmallows) but this is way too heavy to burn during the summer. Which, I guess is what makes it a fall candle. Regardless, I love, love, love this one. The mixture of marshmallow and fire is perfect. In the past, this one has been really strong in a smaller space, but it works perfectly in my open concept house. This one is a must have every year!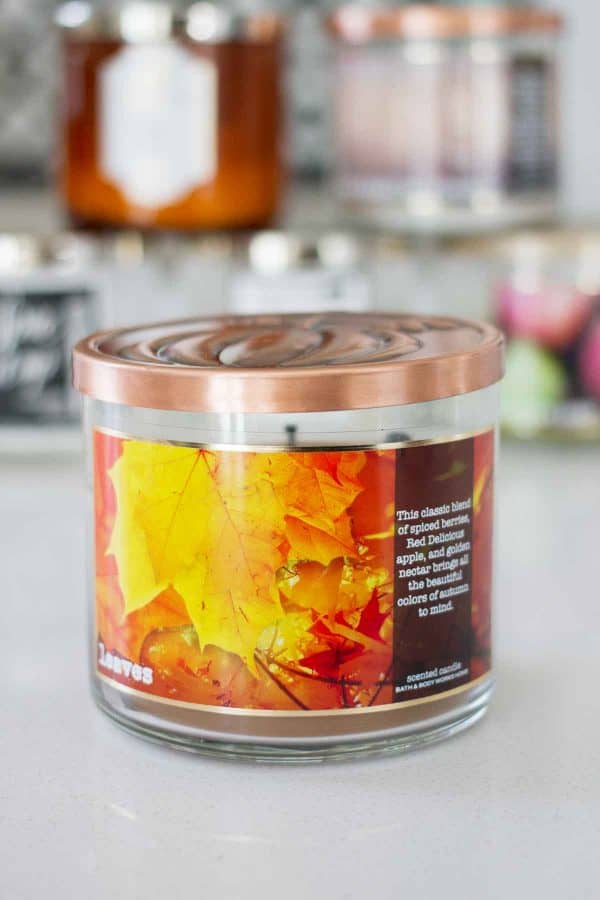 Leaves
Another fall staple! This might be one of Bath and Body Works most beloved fall candles. I think it actually came out in three different jar designs this year. This is the candle I pull out every year on the first day that actually feels like fall. When the temps drop, Leaves is the candle you want to burn! This one is definitely a spicy candle, so I can't burn it for long periods of time because it gets overwhelming, but it is a must have. This one is not a foodie scent, but it totally smells like fall. Like fall in an apple orchard.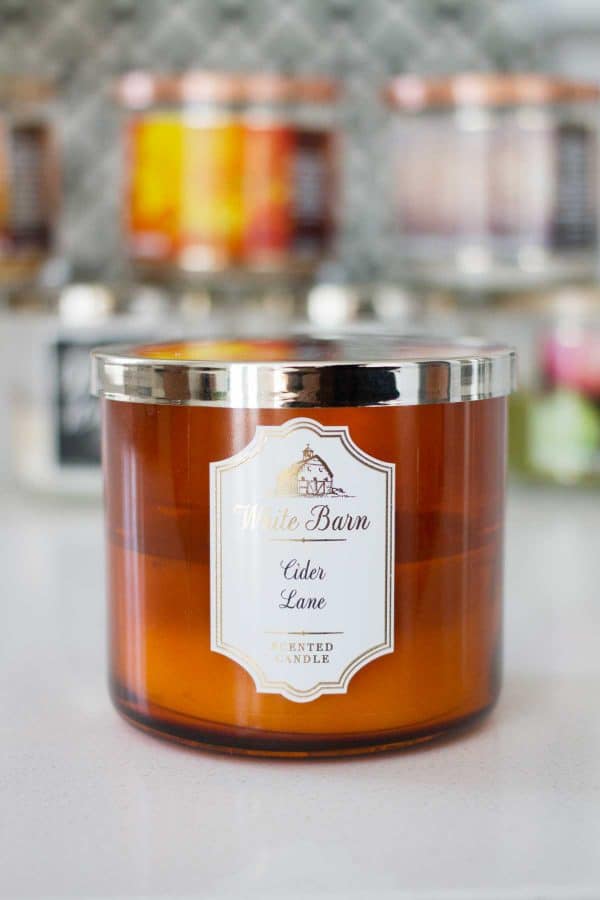 Cider Lane
This one – I love this one so much. You get a fresh apple scent with a delicious, buttery caramel. It's not a sticky sweet caramel like you often get, but one of my favorite caramel scents that Bath and Body Works has done. I love that the apple is fresh, as well, instead of a cider smell with cinnamon or spices.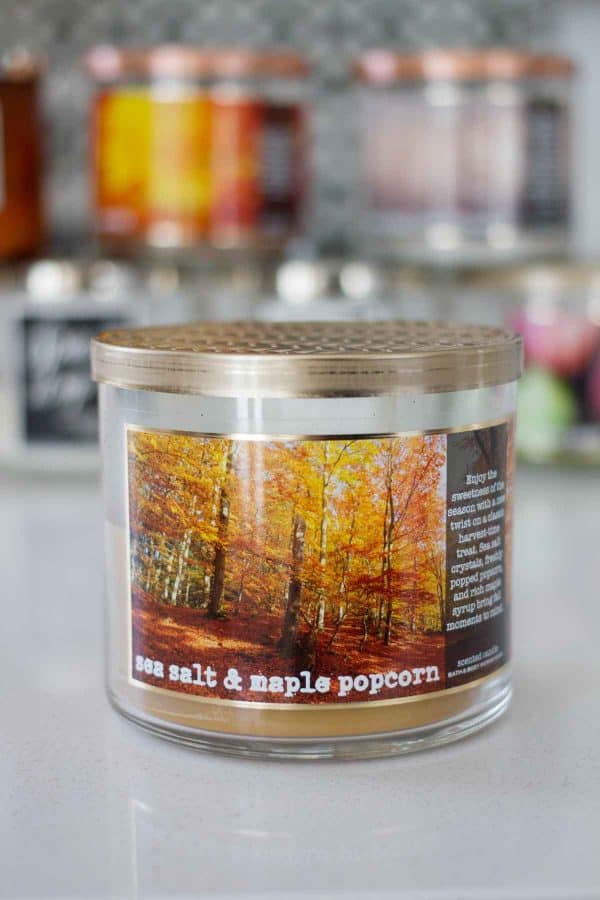 Sea Salt and Maple Popcorn
Last, but not least, is another new candle this year. If you are a fan of Summer Boardwalk from the summer line, you will probably love this one. It smells similar, but definitely different. Take Summer Boardwalk and remove the apple, and up the popcorn. I actually think this smells just like my favorite Baked Caramel Popcorn recipe. This one isn't quite a strong as Summer Boardwalk, either, but it's still on the strong side. And since this one isn't a full on fall scent, either, I'll be burning it all winter long.
There you have it! My favorite fall candles! I'm already ready to move onto the Christmas candles (I don't decorate this early, but I'm ready for the Christmas scents!) So make sure and follow me on Instagram @melonsandmangoes if you want to see what I think you should buy and what you should pass on!
(PS – this post is not sponsored at all – just sharing my love!)