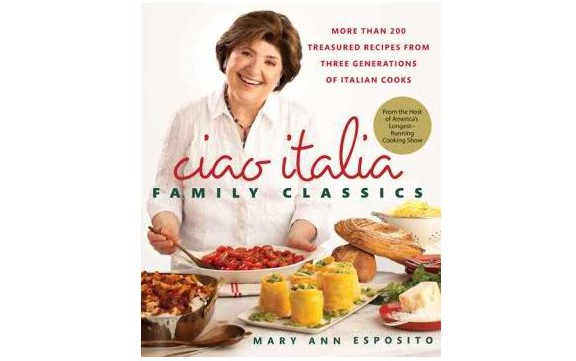 For my Blogger Spotlight series, one of the questions is: "If you could travel anywhere in the world – just for the food – where would you go?" I'm pretty sure that the overwhelming response to this question is Italy. And I really think that this would be my answer as well. The pizza, the pasta, the desserts… I'm pretty sure I'd love it all!! Pasta is a go-to meal around my house, and I'm happy eating Italian-inspired meals at least once a week.
I was recently sent a copy of Mary Ann Esposito's newest cookbook – Ciao Italia Family Classics: More than 200 Treasured Recipes from 3 Generations of Italian Cooks – and I jumped right on the chance to cook my way through this book. With over 200 recipes and over 400 pages, I knew I'd have a lot of recipes to choose from!! And of course, I had a hard time narrowing down what I wanted to make. 🙂
I have reviewed quite a few cookbooks on this blog, and this has honestly been one of my favorite to date. Every single recipe was a stand out winner. I was left thinking about each of them long after they were gone, and I cannot wait to make more from this book. Here is what I made:
For someone who thought that she hated beets, I am quickly becoming a huge beet fan. And this salad was a-maz-ing. And just look at how gorgeous it is!! This would make a perfect lunch, or even a light dinner. This salad made me very happy.
This soup was the most surprising of the recipes. I went to make the soup, then saw that there is no broth in the soup – only water. Just about every soup I make is flavored with chicken broth, and honestly, when I saw that the liquid from this soup was just water, I highly doubted that it would have any flavor – especially since it's not a soup that cooks all day long. And wow, was I wrong! This was so full of flavor. It probably tied for my favorite recipe from this book. It was healthy and could easily be made vegetarian by omitting the sausage.

Farfalle with Pistachio Nuts – recipe follows
This was the other recipe that tied for first place. I really loved this pasta dish, but I think I loved the fact that it was done so quickly and that it had so few ingredients even better. This is the kind of recipe you need on hand for those nights when you don't really feel like cooking, because it comes together so fast. And I absolutely adored the pistachios and loved the crunch and texture that they brought to the dish. They definitely lost their crunch in the leftovers, so it's best eaten the same day you make it, but I still happily ate the leftovers!!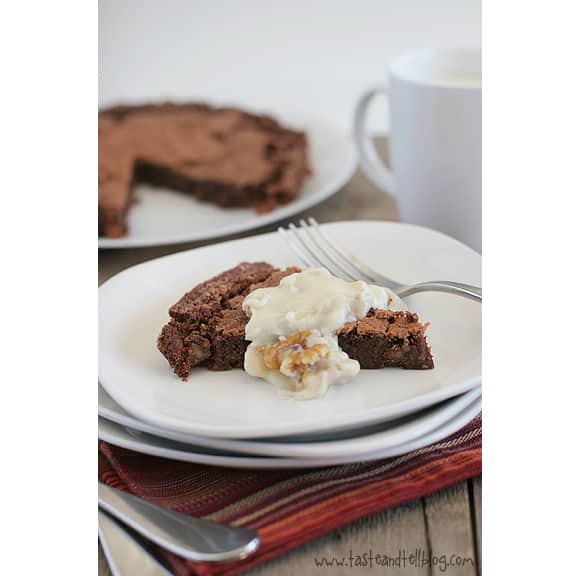 Fudgy Chocolate Cake with Walnut Cream Sauce
This cake is a chocoholics dream come true. A flourless chocolate cake, made with ground walnuts, is topped with a decadent cream sauce. This cake is nice and rich, so all you need is a small slice – but I kept going back for more!!
—————————————-
I like most of the cookbooks that I review, but I truly loved this one. There are gorgeous photographs, a wide variety of recipes, and lots of helpful tips and information throughout the book. But more importantly – when you try 4 recipes and love each of them, that says a lot about a cookbook!! I see more Italian food in my future!!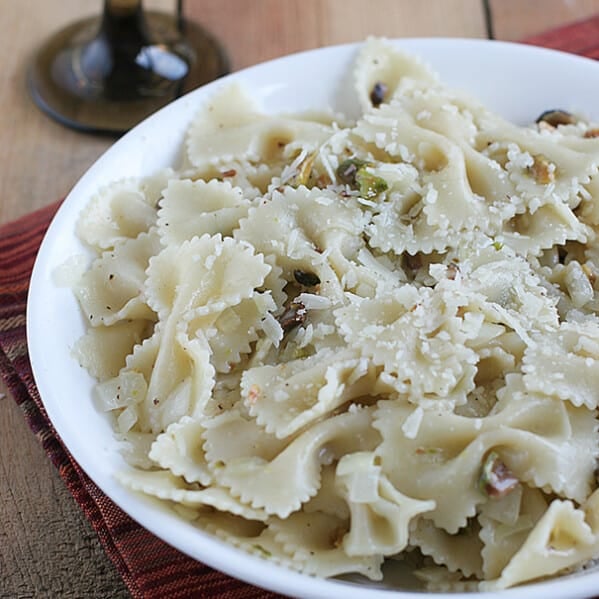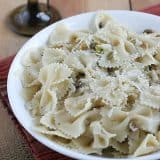 Farfalle with Pistachio Nuts
---
Prep Time: 10 minutes
Cook Time: 15 minutes
Total Time: 25 minutes
Yield: 4 servings 1x
Description
Dinner comes together in minutes with this simple pasta dish with onions, pistachio nuts and pecorino cheese.
---
Scale
Ingredients
4 tablespoons extra-virgin olive oil
1 medium onion, chopped
1/2 cup shelled natural pistachio nuts, coarsely chopped
1 teaspoon red pepper flakes, or to taste
fine sea salt
1 pound farfalle pasta
freshly ground black pepper
2/3 cup grated Pecorino cheese
---
Instructions
In a large saute pan, heat the olive oil. Cook the onion until translucent, but not browned. Stir in the nuts and cook for 1 minute, then remove from heat. Add in the red pepper flakes and more olive oil if it seems dry. Cover to keep warm.
Bring a large pot of salted water to a boil. Add the pasta and cook until al dente. Reserve a cup of the pasta water and drain. Add the pasta into the saute pan. Reheat slowly, and stir in 1/4 to 1/2 cup of the pasta water. Season with pepper to taste. Stir in the cheese, then serve immediately.
—————————–
slightly adapted from Ciao Italia Family Classics: More than 200 Treasured Recipes from 3 Generations of Italian Cooks
**Disclosure – I received a free copy of this cookbook, but was not compensated for this review. All thoughts and opinions are my own.**