What is the #1 thing you look at in a recipe when you are looking for what you are going to make for dinner? Is it the ingredients? The cooking method? Where the recipe comes from? All of these are important to me, but the first thing I usually look at is how long it takes to make. But really, the majority of recipes don't say how long they take – you kind of just have to read through the directions and figure it out yourself. But for a weeknight, I always try to keep my meals quick. But on the weekends, I usually have more time, and want to spend that time on something special.
So when I was asked to review Emeril Lagasse's newest cookbook – 20-40-60 Fresh Food Fast, I was super excited. I love how this cookbook is organized. A section of recipes that can be done in 20 minutes, a section for 40 minute recipes, and a section for 60 minute recipes. There are also a few 60 minutes + recipes thrown in at the end. But do you know what I love the most about this cookbook? The majority of the recipes are in the 20 minute section. Which is perfect for me because we eat quick recipes about 5 times a week.
Each section of the book contains soups, salads, sides, pastas, desserts… just about every category is included. And for the most part, it looks like each recipe contains ingredients that are easy to find. And the book is loaded with beautiful pictures, which is always a big plus for me. So no matter how much time you have to make dinner, this book will be there to save the day!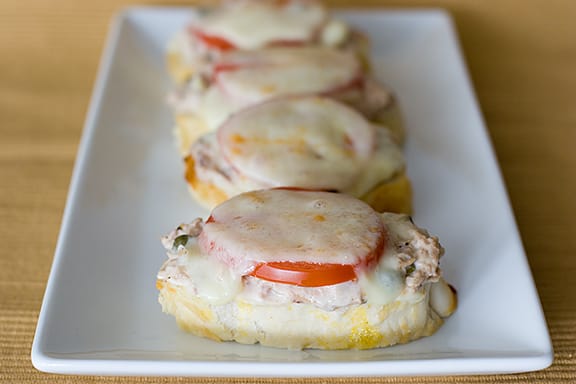 Kicked-Up Tuna Melts
This one was so simple that I actually made it for lunch one day. A definite improvement on your basic tuna fish sandwich. A great way to enjoy a delicious, warm lunch without a lot of fuss!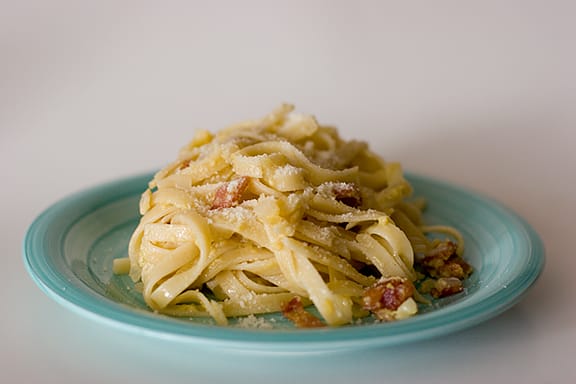 Linguine Alla Carbonara
Carbonara. That's all you have to say and I'm all over it!! I didn't even have this one originally bookmarked to make, but when I found myself without plans for dinner one night, I ended up making this. And I am so glad I wasn't prepared to make something else! Even my husband lived this, and he usually has to have gobs of sauce on his pasta.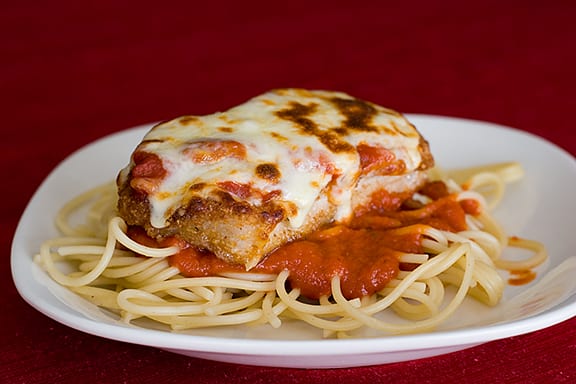 Boneless Pork Chops Parmigiana
What a great change up from regular old chicken parmigiana! I had just bought a bunch of boneless pork chops on sale, so this one really called out to me. Quick, easy, and amazingly delicious!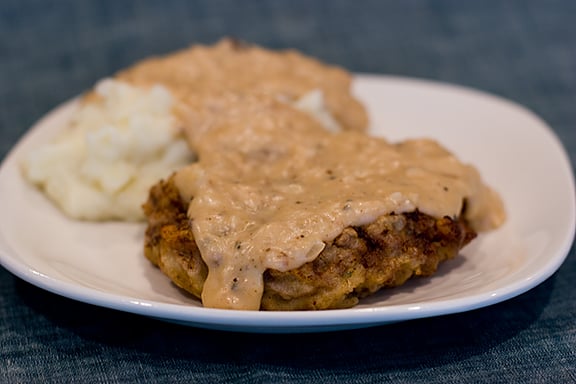 Country-Fried Steak with White Gravy & Buttermilk Mashed Potatoes
I had been craving country-fried steak for weeks, so when I saw this recipe, I knew it was one that I was going to try. My only complaint with this recipe was that it contained so much of Emeril's Essence, that the finished dish was much too seasoned. But if you cut back and used probably half of what was listed, it would be wonderful. And I forgot to add the bacon back into the gravy – what was I thinking!! But I would make this one again with a few modifications.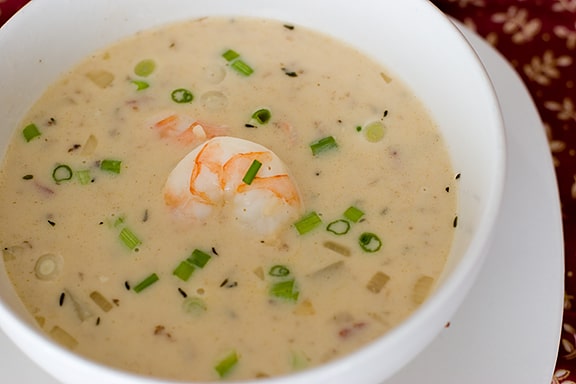 Shrimp and Corn Chowder
Boy, did I make this soup at the perfect time. I mentioned last week that my daughter was sick, and unfortunately, it made it's way through my whole house, getting my husband and I sick as well. Luckily it was just a pretty bad cold and nothing serious. But I made this soup right at the beginning of the sickness, and it was the perfect answer to a sore throat. It has smoked sausage in it, which gives it some amazing flavor. So much, in fact, that I would probably leave out the shrimp part next time, because it wasn't really needed. So good for either the cold weather or for the sickies!!
I had a hard time deciding which recipe to leave you with out of these, but the pork chops won out!
Boneless Pork Chops Parmigiana
from Emeril 20-40-60 Fresh Food Fast
Serves 4 to 6
Prep Time: 10 Minutes
Cook Time: 10 Minutes
Total: 20 Minutes
2 pounds boneless thin-cut pork chops (about 8 small chops)
1 teaspoon salt
1/2 teaspoon freshly ground black pepper
1/4 cup all-purpose flour
1 egg
2 tablespoons milk
1 cup fine dry unseasoned bread crumbs
1/2 cup finely grated Parmigiano-Reggiano cheese
4 teaspoons Emeril's Original Essence or Creole Seasoning
1/2 cup olive oil
1 cup jarred marinara sauce, plus more (heated) for serving with pasta, if desired
2 cups grated mozzarella cheese
Cooked pasta, for serving (optional)
Preheat the broiler, and line a large baking sheet with aluminum foil.
Season the pork chops on both sides with the salt and pepper. Set three shallow pans side by side. Place the flour in one, the egg and milk in another, and the breadcrumbs and cheese in the third pan. Season the flour with 1 1/2 teaspoons of the Essence, the egg-milk mixture with 1 1/2 teaspoons of the Essence, and the breadcrumbs with 1 teaspoon of the Essence. Stir the flour to incorporate the Essence; bet the eggs, milk, and Essence to blend; and toss the breadcrumbs with the cheese and Essence to combine.
Dredge the pork chops in the flour and shake to remove any excess. Working with one at at time, dip the pork chops in the egg wash to coat, then transfer them to the breadcrumb mixture and coat evenly, shaking to remove any excess.
Set a 12-inch saute pan over medium-high heat and add the olive oil. When the oil is hot, place half of the breaded pork chops in the pan and cook until golden brown, 1 1/2 to 2 minutes per side. Transfer the browned pork chops to the prepared baking sheet. Repeat with the remaining pork chops.
Spread 2 tablespoons of the marinara sauce over each of the pork chops, and top each with 1/4 cup of the grated mozzarella. Place the baking sheet under the broiler and cook for 2 to 2 1/2 minutes, until the cheese is bubbly and lightly browned in spots and the chops are just cooked through. Remove from the oven and, if desired, serve over cooked pasta with additional marinara sauce.
Reader Interactions