I really, really love the blogging community. And I love that because there is this community, I have been able to find new blogs to read and enjoy. Today's spotlight – Stephie from Eat Your Heart Out – is one of those blogs that I was introduced to through the food blogging community. And now I am introducing her to you all! I'm so glad to have her here today!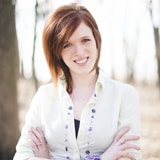 I'm a 20-something girl living in the Chicago suburbs, living my "adult" life as best I know how. That includes a lot of cooking in my small apartment kitchen. My mother grew up learning to cook and bake from her grandmother. She, in turn, passed her knowledge on to me. And I, in turn, am passing what I have learned on to my readers through my website. I will never claim to know everything about food or cooking; I simply have a passion for food, discovering great recipes, creating new memories, and passing those recipes on for others to enjoy and create memories of their own.
What inspired you to first start writing your blog?
I was a recent college graduate, working and living by myself in a new city, and spending most of my free time in my kitchen playing around with new recipes. I loved reading food blogs, and one day got up with gumption to start one of my own. Two years later, I'm still here and (still surprising to me) have readers that aren't related to me!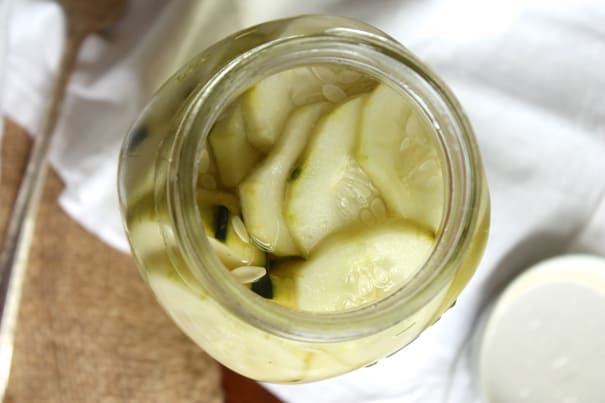 Pickled Cucumbers
Where do most of your recipes come from?
A lot of the recipes on my site came from my great-grandmother, passed on to me from my mother. They are old family favorites with a lot of history and love behind them, and I love sharing them! (Example, my great-grandmother's
pickled cucumber recipe
.) Aside from that, most of my recipes are my own, with a few adaptations from cookbooks or magazines thrown in on occasion.
What is your favorite kind of food to make?
Baking is my first love. There is something about the perfect chemistry of flour and butter and love that puts my heart at ease. But my favorite thing to make? Pie. Pie makes my soul sing.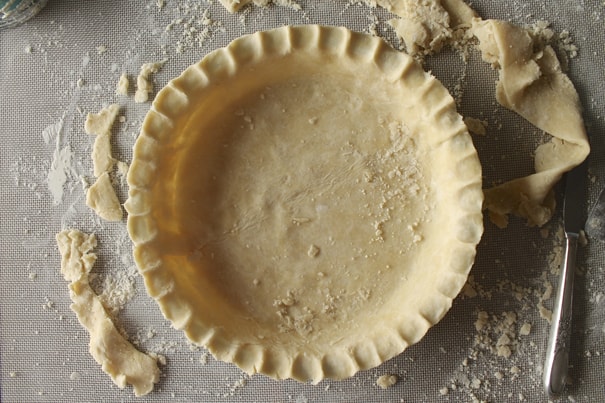 Pie Crust Tutorial
What is your best tip for getting dinner on the table?
Prep work! I am a tutor and work bizarre hours late in the afternoon and evening. I often don't get home until well after 8 pm, so I try to do as much as I can for dinner ahead of time. This means that my boyfriend can finish up the meal easily, or I can get dinner on the table in a relatively short amount of time once I get home. I also love "changeover" meals: for example, I like to make sloppy joes one night, and turn the leftovers into easy meaty spaghetti sauce the next. It doesn't get easier than that!
What is your most used cookbook?
Aside from the binder that holds all of my family recipes, probably my Joy the Baker Cookbook. Damn, that girl can bake.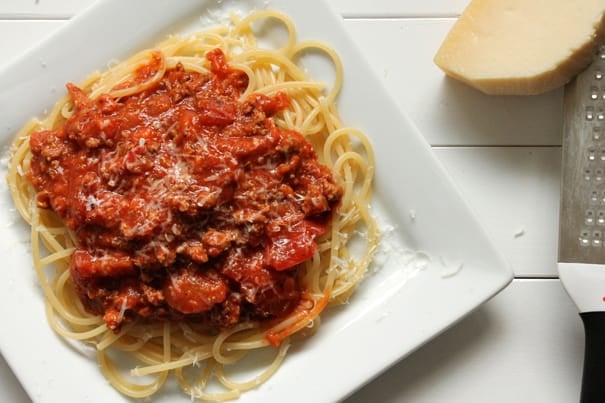 Easy Meaty Spaghetti Sauce
What kind of food did you eat growing up? Do you cook the same kinds of things today?
My momma was taught to cook by her grandmother and majored in home ec in college, so she made dinner every night. Not that many of my friends' moms cooked, so this was a little unusual. I joke that I used to love going to my best friend's house for dinner because it meant pizza or boxed mac and cheese; Amy loved coming to our house because it meant a meal made from scratch! I cook many of the same things today and post a lot of the recipes I grew up on on the blog – in fact, the sloppy joes-to-spaghetti sauce trick is one of my mom's inventions.
When you really want to cheat, what do you eat?
Maybe you can guess from my previous answer…but boxed mac and cheese. I mean, I totally adore the homemade stuff and would never turn it down in favor of the boxed kind, but sometimes you just want something quick and easy and chockablock full of cheese. Basically, anything with cheese makes my world go 'round.
If you could cook alongside any other blogger for a day, who would you choose?
Honestly, I would want a two-for-one and cook with Christina from Dessert for Two and Julia from The Roasted Root at the same time. I consider them two of my dearest friends; I have never met Julia in person (I pray every day that changes soon), and while I have met Christina, I have never had the opportunity to cook with her! So those two. Hands-down.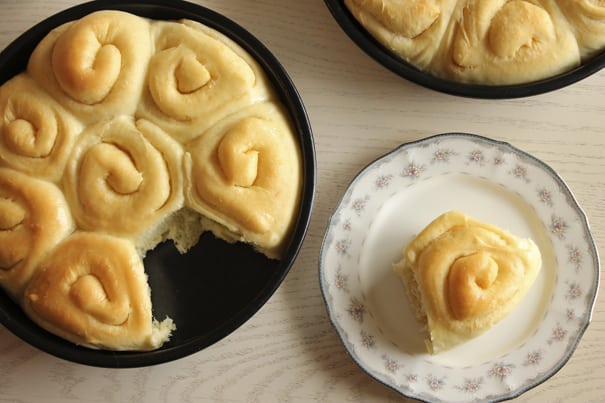 Buttery Sourdough Rolls
Take us through a typical day of eating in your house.
Breakfast usually consists of a smoothie if I'm being good. If I'm being bad, it's probably some leftover baked goods from a blog-baking adventure the day before (preferably pie – pie is totally a breakfast food!). Lunch is kind of a free-for-all around here. If we are lucky, there are some leftovers hanging around from the previous night's dinner; otherwise, I will pull together a sandwich between hitting the gym and getting ready for work. Dinner, like I said before, is usually a little late around here, but is the one meal that I really try to pull together properly. Anything from the blog is fair game, although we are big fans of anything meaty and filling…although that doesn't always keep us from sneaking late night snacks! Boyfriend and I are both total night owls, so it is not unusual to find us rustling around the kitchen at midnight or 1 am. I think that people assume that, as a food blogger, I'm more organized with my meals that most people. Frankly, I think having to make random things all of the time for the blog actually makes me less organized than most! Sometimes I get to the end of a long day of baking and realize that all I really ate was cookies, and I have zero energy left to put towards making a real dinner. Those are the nights that Boyfriend cooks or we order a pizza. True life.
What is your favorite part about blogging?
The people! I have made so many beautiful, amazing friends through blogging; sometimes it just makes my heart burst. My father was in the hospital recently, and my blog buddies were the ones who checked in on me the most, wanting to know how "Papa Swope" was doing and how "Momma Swope" and I were holding up. It meant so much to me to know that people who had never even met my parents (or in some cases, even me!) were so genuinely concerned with how we were doing. I just can't get enough of these people; they make my life ever so much brighter.
———————
Thank you so much for joining us here today, Stephie! It was so fun to get to know you better. If you want to see more from Stephie, here is where you can find her: