Pineapple Zucchini Sheet Cake with Cream Cheese Frosting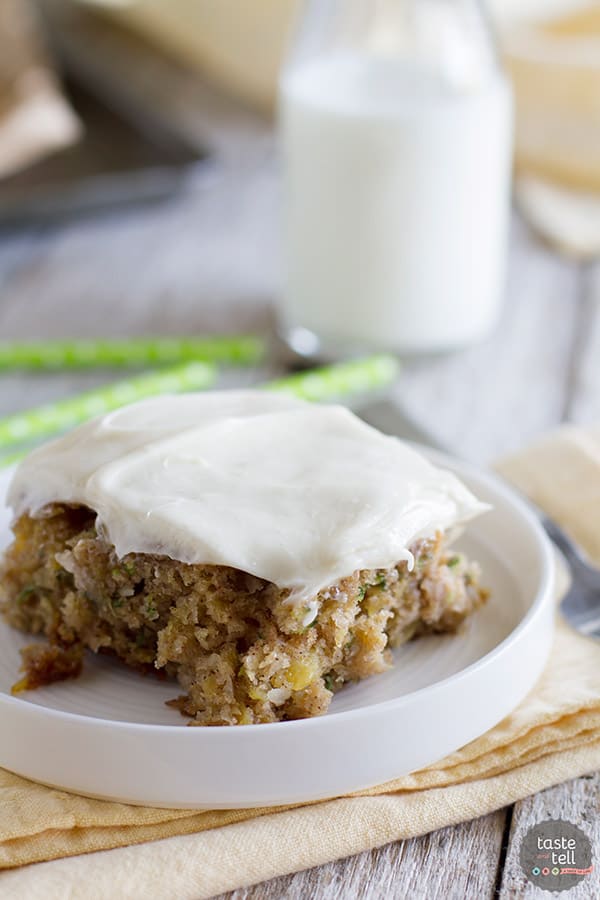 1½ cups all-purpose flour
1¼ cup granulated sugar
½ cup sweetened flaked coconut
2 teaspoons baking soda
2 teaspoons ground cinnamon
1 teaspoon salt
freshly grated nutmeg to taste, optional
1 pinch ginger, optional
3 tablespoons vegetable oil
2 large eggs
1 teaspoon vanilla
2 cups grated unpeeled zucchini (remove seeds if the zucchini is large)
1 (20-ounce) can crushed pineapple in juice, drained (reserve juice in case you need it for the cake batter or frosting)
8 ounces cream cheese
2 tablespoons butter, softened
2 cups powdered sugar
2 teaspoons vanilla extract
splash of milk or pineapple juice, if necessary
Preheat the oven to 350°F. Spray a 9x13-inch baking pan with nonstick cooking spray.
In a large bowl, combine the flour, sugar, coconut, baking soda, cinnamon, salt, nutmeg and ginger.
In a small bowl, beat together the oil, eggs and vanilla. Add the mixture to the flour mixture, as well as the zucchini and pineapple. Stir until it all comes together. It might seem too dry to start, but continue to stir. If the batter is still dry, add a little bit of the pineapple juice to loosen it up.
Pour the batter into the prepared pan. Bake until a tester inserted in the center comes out clean, 30-35 minutes. Cool completely.
To make the frosting, beat the cream cheese and the butter together until light and fluffy. Add in the powdered sugar, beat to combine, then beat in the vanilla. Spread the frosting over the cooled cake. Store the cake covered in the refrigerator.
Recipe by
Taste and Tell
at https://www.tasteandtellblog.com/pineapple-zucchini-sheet-cake-with-cream-cheese-frosting/