Shortcut Cuban Sandwiches with Green Chile au Jus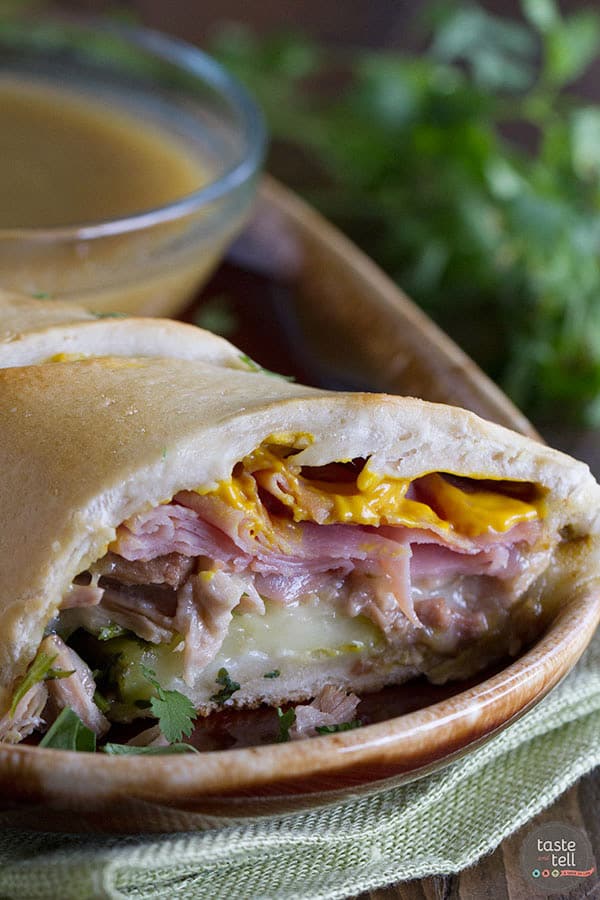 1 package (15 oz) fully cooked pork roast au jus
1 can (11 oz) refrigerated French bread
1 tablespoon prepared yellow mustard
½ teaspoon ground cumin
2 teaspoons minced garlic
¼ lb. thinly sliced honey ham
4 slices pepper jack cheese
2 tablespoons minced cilantro
sandwich style dill pickles
1 cup beef broth
1 can (4.5 oz) diced green chiles
1 egg white
Preheat the oven to 350ºF. Spray a baking sheet with nonstick spray or line with parchment or a silpat.
Heat the pork roast according to package directions. Drain the juice from the pork into a blender. Shred or chop the pork and set aside.
Remove the dough from the package and use a rolling pin to roll the dough into a large rectangle, about 14x9-inches. Cut the dough in half crosswise making two 9x7-inch rectangles. Spread ½ tablespoon of mustard over each piece of dough, leaving a ¼" border. Sprinkle the cumin evenly over the mustard, followed by the garlic. Place half of the ham down the center of each of the rectangles and top with the cheese. Divide the pork evenly and place over the cheese. Sprinkle the top with the cilantro, and then a layer of pickles.
Bring the long sides of the dough up over the filling and pinch to seal. Pinch the ends to seal. Place the sandwiches seam side down on the baking sheet. Cut 3 slits across the tops of each of the sandwiches.
Combine the egg white with a splash of water and whisk to combine. Brush a layer of the egg on each sandwich. (You won't need all of the mixture - just use enough that each sandwich has a thin layer.)
Bake for 25-30 minutes, or until golden brown. Let cool for 5 minutes.
Meanwhile, add the beef broth and the green chiles to the blender with the pork au jus. Blend until smooth. Transfer to a microwave save measuring cup and heat for 2-3 minutes, or until hot.
Cut each of the sandwiches into 2 and divide the au jus into 4 ramekins or cups. Serve the sandwiches with the au jus for dipping.
Recipe by
Taste and Tell
at https://www.tasteandtellblog.com/cuban-style-sandwiches-with-green-chile-au-jus/