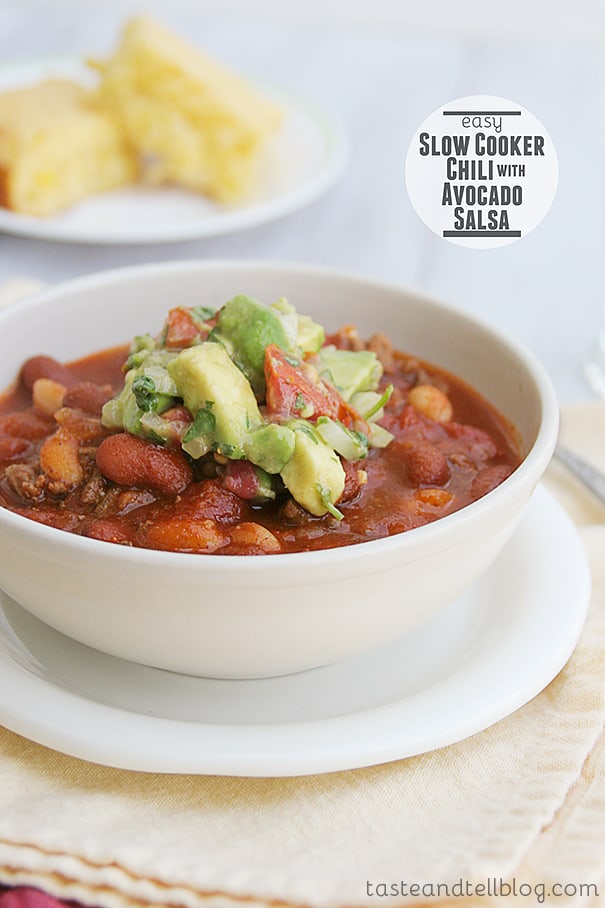 Years ago, we took on a Halloween tradition. The night is crazy – in between parties and dressing up and trick-or-treating, but one thing is certain – you still need dinner. (Even though the kids would probably just consume candy for dinner and be more than happy!) So we started doing a slow cooker chili for Halloween dinner. Not only is it easy – you can prep earlier in the day, making it so dinner time isn't crazy, but it's ready whenever the kids are ready to eat. If you have older kids, they may go out later than the younger kids, so whether you are eating before heading out or warming up with a bowl of chili after you come back in from the festivities, the chili is there waiting.
And do you want to know my favorite part about it? Halloween can be quite unpredictable here in Utah. You may have a mild night – perfect for trick-or-treating – but most likely, the weather is going to play tricks on you. In my time here, we've had everything from clear skies to rainstorms to snow. Yep, the snow has certainly come in to try to ruin the Halloween fun more than once. (Those are always the years that make me laugh – when kids show up in full winter gear. Aka – coats, gloves and hats. It's a good thing you know that they have great costumes underneath all of that!)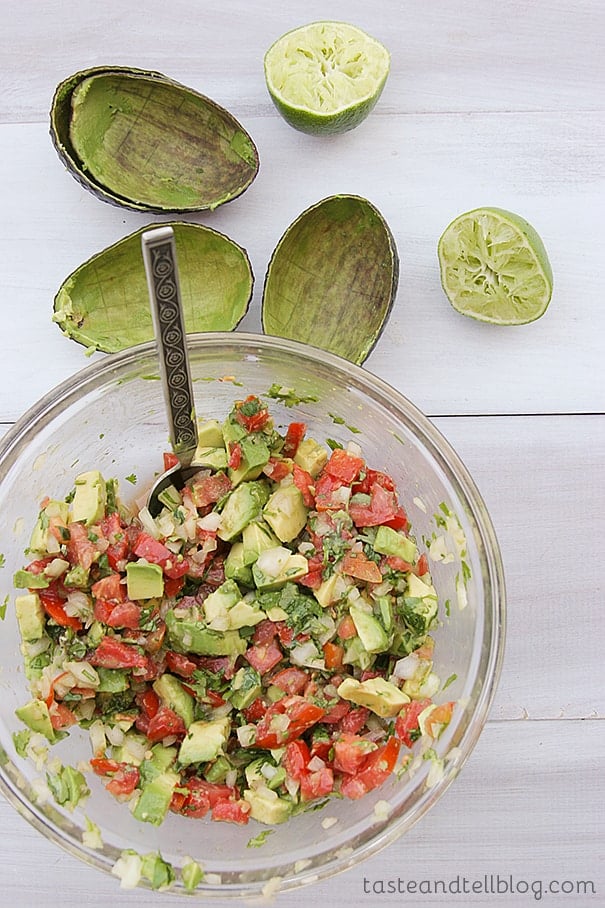 This chili is a perfect Halloween night chili. It's mild enough for the kids. And if you only have big kids left – or if you are feeding a group of adults – you can always add in more spice. (I think a jalepeno would have gone perfectly in this!) And the salsa. Oh, the salsa. I think that is what sets this bowl of chili apart from all the others. Made with delicious Avocados from Mexico, this salsa is fresh and brings a whole new dimension to a bowl of chili. And if you are brave enough to spice up the chili, the salsa brings a great cooling effect with the avocados.
This is a delicious way to bring some ease to your Halloween night!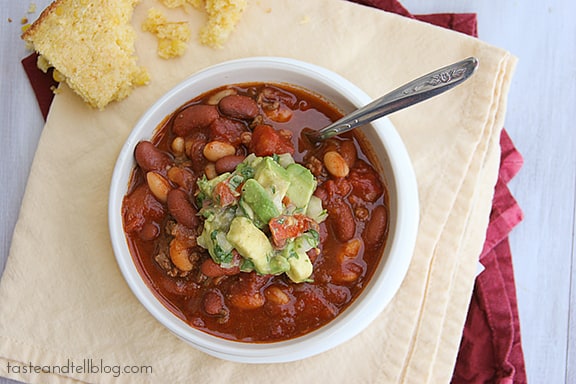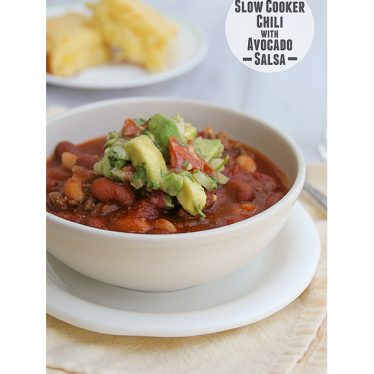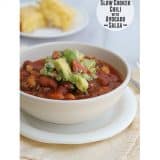 Easy Slow Cooker Chili with Avocado Salsa
---
Prep Time: 15 minutes
Cook Time: 4 hours
Total Time: 4 hours 15 minutes
Yield: 4-6 servings 1x
Description
Make it ahead! This chili is made easy in the slow cooker, then topped with a refreshing fresh salsa.
---
Scale
Ingredients
Chili
1 lb ground beef
3/4 cup diced onion
3/4 cup diced green bell pepper
2 cloves garlic, minced
1 (15 oz) can tomato sauce
1 (14.5 oz) can diced tomatoes
2 (15.5 oz) cans kidney beans, drained
1 (15.5 oz) can great northern beans, undrained
2 tablespoons chili powder
2 teaspoons cumin
1 teaspoon salt
Avocado Salsa
2 Avocados from Mexico, peeled and diced
1/2 cup diced onion
2–3 small to medium tomatoes, diced
1 jalepeno, ribs and seeds removed, finely diced
Juice from 1 lime
1/2 to 3/4 cup cilantro, chopped
---
Instructions
For the chili:
In a medium skillet, cook the ground beef until mostly browned. Add in the onion and bell pepper and cook an additional 3-4 minutes. Add in the garlic and cook for 1 more minute.
Add the beef mixture to a slow cooker. Stir in the tomato sauce, diced tomatoes, beans, chili powder, cumin and salt. Cook on low for at least 4 hours (but it can be cooked all day long).
For the salsa:
Combine all ingredients and serve over the chili. All ingredients can be combined ahead of time except the avocado. Wait until serving to add the avocado.

*I am in a working partnership with Avocados from Mexico and Muy Bueno and was compensated for recipe development. But as always, all opinions are my own.*