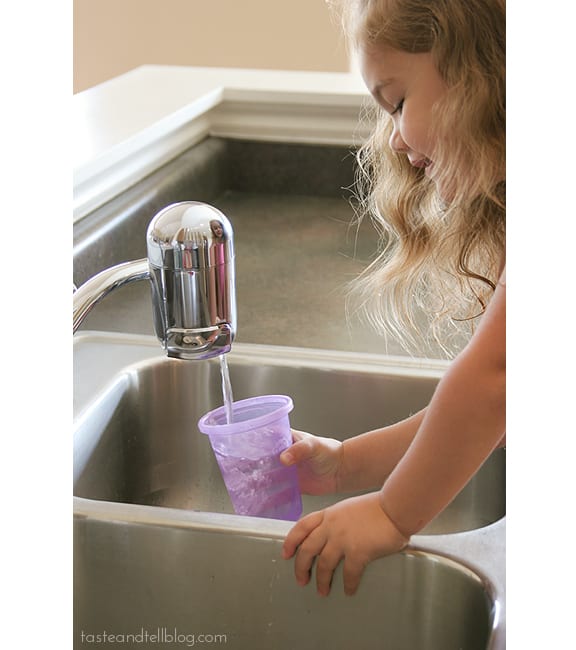 As most of you know, we recently moved. One thing that is always hard to get used to is the taste of water in a new city. But it wasn't even that easy this time around.
One of my biggest struggles this pregnancy has been drinking enough water. I usually love water. It's almost all that I drink. But for some reason, it has been so hard for me to get in my minimum amount of water. Add to that changing cities and not liking the taste of the water – pretty much a recipe for failure.
I can't even tell you how excited I was try out the PUR Advanced Faucet Water Filtration System. It said it would reduce chlorine – both the taste and the odor – and that, right there, was a selling point for me. Not only does the PUR faucet filter remove 97% of the chlorine in tap water, it also removes 99.9% of microbial cysts, 99% of pharmaceuticals and lead.
As soon as I had it in my hands, I wanted to try it out. I handed it over to my husband and it literally took him less than 5 minutes to install. It's super easy to use – so easy, in fact, that my 3 year old has no problem at all getting herself a drink of water!!
I'm lucky that my kids are both water drinkers and don't really prefer juice or anything else. (Except chocolate milk. Easton would probably drink a half a gallon a day if we let him!!) But they really love water. I feel like half of my day is spent refilling cups. Which is one reason I am so glad this is so easy to use and that Abbi can help herself anytime she needs to.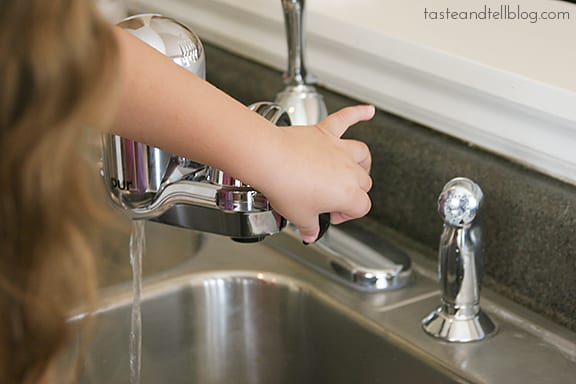 And there are more features I love:
there is an electronic Change-Filter Indicator
filters are easy to pull out and replace
the filter will last through 100 gallons of water – up to 3 months!!
I haven't been using the faucet filtration system for very long, but I do know there was a very noticeable difference in the taste of the water from the first cup. I am curious to see how it holds up over time, but right now, I'm sold!!
How do you make sure that you are drinking enough water?
Please visit PURWater.com to learn more!